3 August 2022
By PDSNET
America
There has been a massive shift towards "risk-off" among international investors since the US Federal Reserve Bank's monetary policy committee (MPC) began raising rates to contain inflation. Perhaps the most notable impact of this is that the euro has weakened to the point where it is almost at parity with the US dollar. In June 2021, the exchange rate was around 82 euro cents to a dollar. Today it is at 97 euro cents. So, there has been a huge movement of money into US dollar-denominated assets and away from emerging economies and Europe. This must partly be due to the on-going war in Ukraine, but the primary cause is the general perception that US Treasury Bills are the best place to have your money in times of high inflation and rising interest rates. Of course, the impact on the rand has been substantial. It weakened to more than R17 to the US dollar – at which price it was keeping the price of fuel high, with a direct impact on the local inflation rate. At the time of the last Confidential Report (CR) on 6th July 2022, the S&P500 was recovering from its worst levels, but was still below the key resistance at 3900. Consider the chart of the S&P500 index: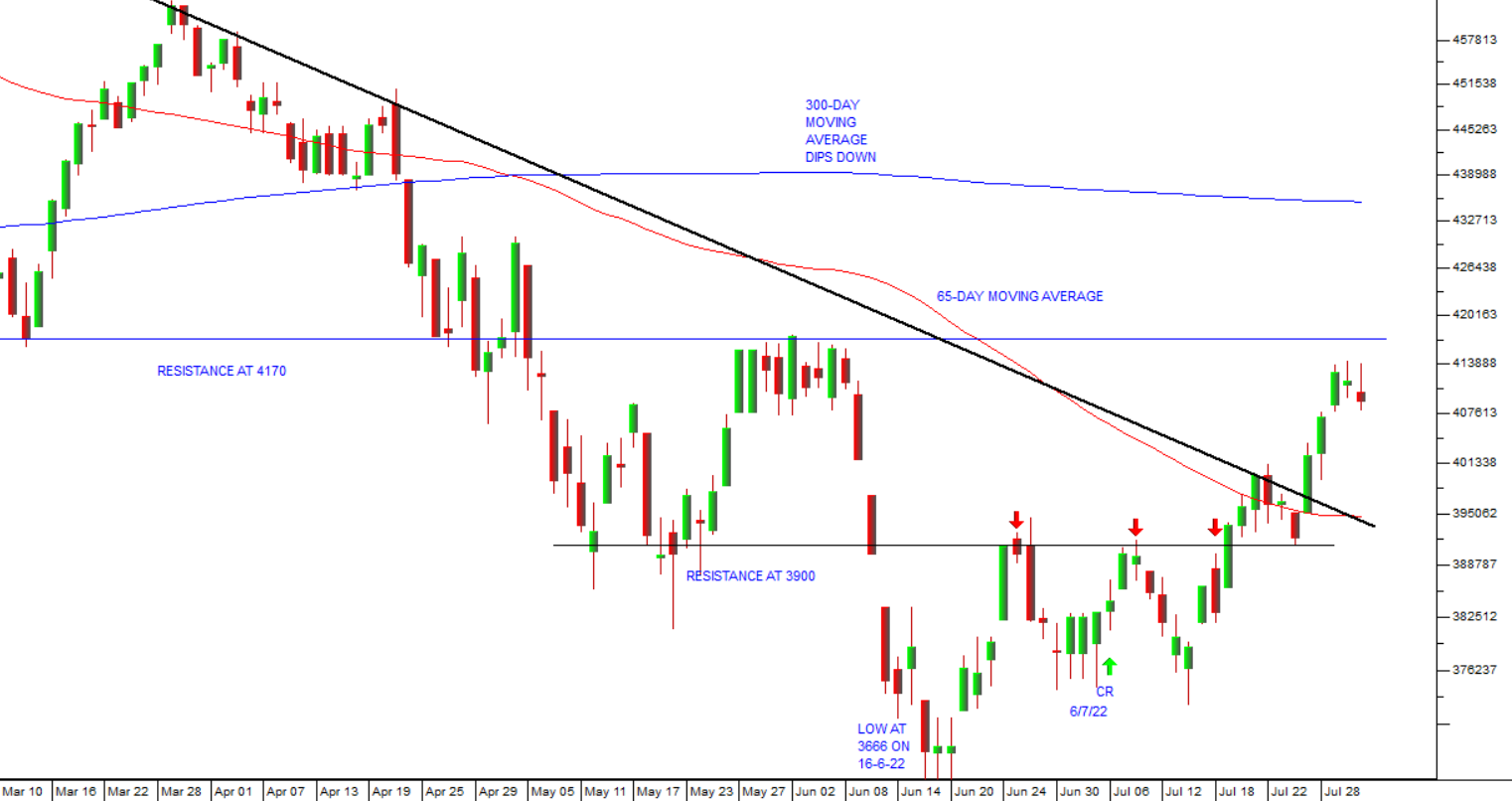 Here you can see the anatomy of the bear trend as it stands today. Beginning from its record high at 4796 made on 3rd January 2022, the S&P has fallen through a series of cycles to reach a low point at 3666 on 16th June 2022. After that it moved into a strong cyclical recovery and began to test the resistance level of 3900. It tested that level 3 times (shown by the red arrows), falling back each time. On the third attempt, however, bolstered by the evident effect on the oil price of President Biden's visit to Saudi Arabia, it broke up strongly through that resistance.
That upside break saw the index encounter further resistance at the downward trendline which resulted in it coming back to test the 3900 level (which then became a support level) on Tuesday last week (26th July 2022). Once that hurdle was surpassed, the index had substantial technical momentum and rose powerfully to close at 4130 on Friday. This is a rally in an overall bear trend – we do not believe that it is the beginning of a new bull trend.
Investors took heart from the fact that the price of oil fell back from its peak at around $125. They pushed the S&P500 up based on the idea that with lower oil prices there would be less pressure on the monetary policy committee (MPC) to raise interest rates. Biden's negotiations with the Saudi's were seen as critical because Saudi Arabia has the world's largest known reserves of oil and is said to able to continue pumping at current levels for at least 200 years without running out. Its cost of production is also extremely low at less than $20 per barrel. The country has been making an absolute fortune since the Ukraine war started spiking the price of North Sea Brent oil to above $125 per barrel. Obviously, Biden has or intends to negotiate some kind of deal whereby Saudi Arabia will substantially increase production causing the oil price to come off its highs. Consider the chart: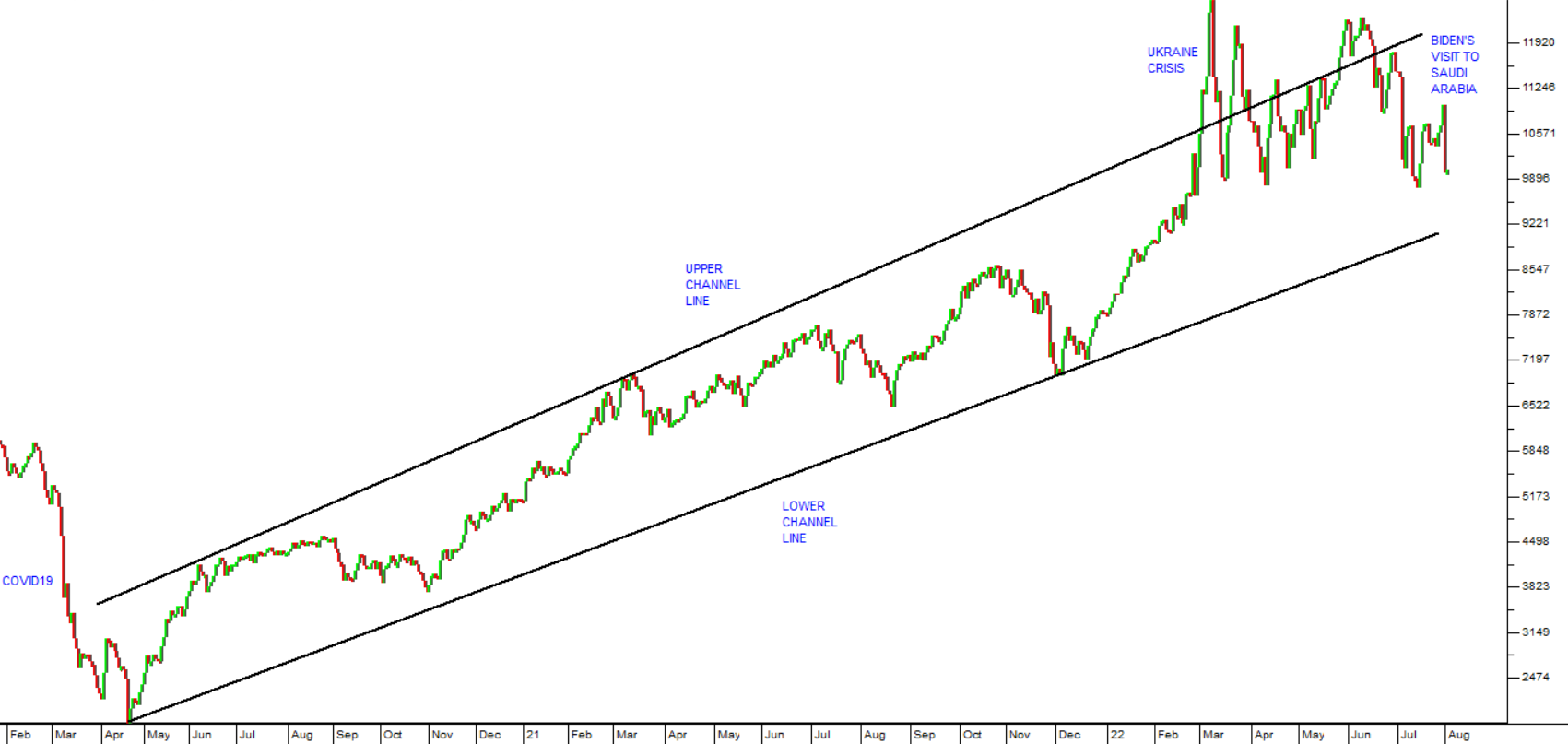 The question is, "For how long can this be sustained?"
As you can see from the above chart, the oil price has been rising steadily as the world economy recovered from COVID-19. The Ukraine war which began in February 2022 spiked the price up to over $125 taking it well above the upper channel line. Then, since mid-June 2022 the price fell back inside the channel lines, but encountered strong support at about $98. It is now trading for around $100 and it looks like the downward trend in oil may be over.
The effect of this recent decline in the oil price was to bring the price of petrol in the US down from its Independence Day high of around $5 per gallon to levels around $4 per gallon. Biden apparently "killed two birds with one stone" improving his popularity at home while delivering a substantial blow to NATO's sworn enemy, Russia.
We are not convinced about the sustainability of this downward move. Technically, it has already become apparent that the price is moving back up after testing resistance at $107 per barrel. It bounced off that level three times since its initial fall to below $100 on 6th July 2022 and it is now at $101. In our view, the oil price will continue to move up from these levels in due course.
The US economy is teetering on the edge of a recession after two 75-basis point hikes in interest rates. GDP contracted by 1,6% in the first quarter of 2022 and by 0,9% in the second quarter. Most economists are saying that the economy is already in recession, but the government is still trying to sound an optimistic note, pointing out that the economy generated more than a million new jobs in the second quarter and unemployment is at record lows. In our view, the economy is definitely moving into a recession. Although it has not yet hit personal consumption expenditure (PCE) which is still rising.
The strong US jobs figures for June 2022 non-farm payrolls shows that the US economy created an impressive 372 000 new jobs in that month alone. While this is somewhat lower than recent months, it is substantially higher than the estimates of economists. It shows that the US economy is still performing despite increasing signs of recession. The jobs number will also make room for the US monetary policy committee, having already hiked rates by 150 basis points at its last two meetings, to continue raising rates aggressively. The June 2022 consumer price index (CPI) or inflation rate was a shock at 9,1% and well ahead of economists' expectations of 8,8%.
After these two 75-basis point hikes, the federal funds interest rate is now between 2,25% and 2,5%. This means there is still a substantial gap between interest rates and the inflation rate. The prime overdraft rate in America consists of the repo rate plus the "mismatch factor" of about 3% - which means it is under 6% against an inflation rate of over 9%. In other words, the US still has negative real interest rates of over 3%. The mismatch factor is the bank's profit margin between the cost of borrowing from the central bank and the prime overdraft rate which they charge to their best clients. Theoretically, for inflation to come down, the real interest rate which savers can get by depositing their funds at the bank must exceed the inflation rate for an extended period of time. This gives people an incentive to save rather than spend. When the interest rates are below the inflation rate consumers are still incentivised to spend, because they are getting a negative rate of return on their savings. In the 1980's the Federal Reserve Bank increased rates to above 20% in order to bring runaway inflation back under control. At this stage, the futures market is pricing in a federal funds rate of 3,4% by the early 2023 – which will probably still be well below the inflation rate. There is an outside possibility that the inflation rate will begin to fall by then without the dampening effect of much higher interest rates, but we are not optimistic for that outcome. More likely, inflation will remain where it is or even rise.
One wild card is the quantitative tightening (Q/T) program being run by the Federal Reserve Bank. Nobody quite knows what the effect of this will be on the inflation rate, the economy or the stock market because it has never been done on this scale before. Right now, the Bank is taking $47,5bn a month out of the system and it plans to increase that to $95bn per month from September this year. In any event, it is our opinion that interest rates will have to increase to well above the current inflation rate – and that would almost certainly cause the economy to fall firmly into a recession by next year. Whether that is politically possible just before the 2024 presidential elections remains to be seen. No doubt Joe Biden will do everything in his power to prevent the economy moving into recession, but in our opinion, it is already too late.
Obviously, if the oil price does continue to fall that will have a significant impact on inflation in America, here in South Africa and all around the world. If Biden can bring petrol in America down sufficiently, he may have a chance of avoiding a recession, but we are not hopeful. The reality is that Saudi Arabia has been reaping an absolute fortune from the higher oil price – a benefit which they are unlikely to forgo for long, especially at the behest of America. Relations between Saudi Arabia and the USA have been strained in recent years.
The level of hypocrisy in American politics at the moment is thrown into sharp relief by the fact that Donald Trump is hosting the LIV Golf Tournament at his facility in Bedminster, New Jersey, which is sponsored by the Saudi Arabian government. 15 of the 19 hijackers involved in the attack on the World Trade Center in New York on 11th September 2001 were Saudi Arabian nationals which brings into question the Republican Party and Trump's "America First" slogan.
Ukraine
The war in Ukraine is now in its sixth month and has entered a third phase with the effective use of American HIMARS rocket systems by the Ukrainians. The first phase was Russia's failed attempt to take the city of Kyiv. This was followed by the Russian focus on taking the Donbas region which has resulted in the fall of some key cities in that region. The latest phase has seen the Ukrainians targeting Russian ammunition dumps and other facilities using HIMARS and launching a counter offensive. Current reporting is that at least 40 targets have been effectively neutralized in the East and the South of the country leading to a slowdown in Russian advances and opening the possibility of a Ukrainian counterattack, especially in the South around the key city of Kherson. Ukraine has 12 HIMARS with a further 4 on their way and the US Congress has just approved another military aid package for Ukraine. The HIMARS system has a range of more than 70km and can move very quickly after it has fired which making it very difficult for Russia to destroy. They have effectively taken out a key bridge which Russia has been using to re-supply its troops in Kherson. Ukraine is now apparently in the process of retaking that city.
In our view, however, the situation is gradually escalating as both sides use longer range weapons. It is becoming more and more difficult for Russia to carry the high cost in men and materials, a factor which may ultimately force them to consider some sort of peace negotiation.
A major effect of the war has been the impact on international energy prices and supplies. The supply of gas to Europe ahead of winter has become an important factor, with the Nord Stream pipeline sometimes delivering gas to Europe at only 20% of its capacity. Gas rationing ahead of winter in Germany, which is the most vulnerable country, appears to be inevitable and could thrust the German economy into recession.
Political
The new rules for succession set out by the ANC's Acting Secretary General, Paul Mashatile, prevent anyone who has been charged with a crime from being allowed to run for leadership positions. This means that Ace Magashule and Zweli Mkhize will not be allowed to run – eliminating two of President Ramaphosa's political adversaries. It is also an indication that the investigations into the president's Phala Phala farm matter are unlikely to result in charges being brought. The ANC is trying to clean up its reputation and root out corruption from its ranks, but this move is likely to be seen as a political move which will benefit the Ramaphosa camp and disadvantage the Zuma camp.
The upcoming ANC elective conference in December is becoming a key focus for both ANC factions. The Zuma camp scored a resounding victory with the recent defeat of the current Kwa-Zulu Natal ANC chairperson, Sihle Zikalala and his replacement by Zuma supporter, Siboniso Duma. It remains to be seen whether President Ramaphosa can retain his position without the support of KwaZulu Natal. If he cannot, the country may be thrown in turmoil. In our view, Ramaphosa will manage to retain his position in November this year, but we think that the ANC may lose its outright majority at the next general election, which is due in 2024.
Economy
This year began on a strong note with the South African economy recovering well from the COVID-19 pandemic. Gross domestic product (GDP) growth was back at 2019 levels and in the absence of significant loadshedding, confidence was high. Since then, the illegal strike at Eskom has plunged the country into the worst bout of loadshedding since 2008 and the war in Ukraine has forced the oil price up causing the petrol price to rise sharply. All of this, combined with rising administered prices like electricity, has had the effect of raising inflation on food and fuel to the point where millions of South Africans are struggling to make ends meet. There is some temporary relief in the recent drop in the oil price which brought the petrol price down by about R1.30 per liter – but the situation is still dire for many households.
The jump in the consumer price index (CPI) from 6,5% in May 2022 to 7,4% in June was well above what was anticipated by economists and the Reserve Bank. It has meant that the pattern of interest rate hikes has had to accelerate with the latest 75 basis point hike by the monetary policy committee. This, in turn, puts more pressure on mortgage bond holders. South Africa is more-or-less forced to maintain high real rates of interest to attract overseas funds. Our monetary policy committee (MPC) has had to follow the rate hikes of first world central banks, especially in America and the European Union. Obviously, rising interest rates will tend to cause a decline in economic activity and consumer spending. It will be bad for property prices as property owners struggle to make higher bond repayments. The MPC's goal has been to keep the CPI at or close to the mid-point of the target range between 3% and 6%, but for the past 14 months the CPI has been well above this level. A major component of the higher inflation is the cost of fuel with petrol reaching record levels. We think that the drop in the price of petrol will be temporary because we do not think that the oil price will remain at current levels for long. So South Africans are being squeezed between the rising oil price and the weakening rand.
Retail sales in May 2022 came in at a dismal 0,1% growth year-on-year. This was considerably below economists' estimates of 1,5% and well below the April figure of 3,4%. This reflects a sharp drop in consumer confidence as inflation spikes up, driven by sharp increases in the cost of petrol and food. Clearly, consumers are battling to make ends meet. Level 4 loadshedding has damaged businesses and cost the economy substantially, causing further job losses. Consumer spending makes up about two thirds of gross domestic product (GDP) and so these poor spending figures will impact on 2022 growth.
New vehicle sales (including commercial vehicles) in June 2022 were slightly above 41000 – almost 8% higher than in the same month in 2021. This lift was both unexpected and surprising given the relative parlous state of the South African economy and the pattern of rising interest rates. For the six months ending on 30th June 2022, sales rose by 11,5% over 2021. Toyota's sales fell in March because of the temporary closure of its plant as a result of the flooding in Natal. Vehicle sales are expected to slow as higher interest rates discourage local buyers together with rising fuel prices.
The social relief of distress grant which was extended by a year at a cost of R44bn to the fiscus has become a major issue within the ANC and may have a big impact on the elective conference in December. A recent study shows that a basic income grant (BIG) could be funded by a 2% increase in VAT from 15% to 17% - but that would clearly have a negative impact on inflation. The problem really is that, as the commodity boom recedes, South Africa simply cannot afford more social spending. The jump in the petrol price, the electricity price and inflation have put pressure on the poorest households, bringing many to a critical point where they cannot afford even basic food. This in turn has resulted in more protest action and a dissatisfaction with the current leadership of the ANC.
Civil service unions, locked in negotiations with government over wages have reduced their demands from a 10% increase to 6,5%. The government is offering 2% - so potentially there is now a possibility that the negotiations will result in a settlement without the need to revert to strike action. Since COVID-19, with the exceptionally high level of unemployment, the unions have been weakened and are generally accepting wage increases which are much closer to the inflation rate.
The Rand
In the past month, the rand fell to more than R17 to the US dollar. Most South African consumers find this a depressing fact, because it appears to be part of a general pattern of weakness in the rand.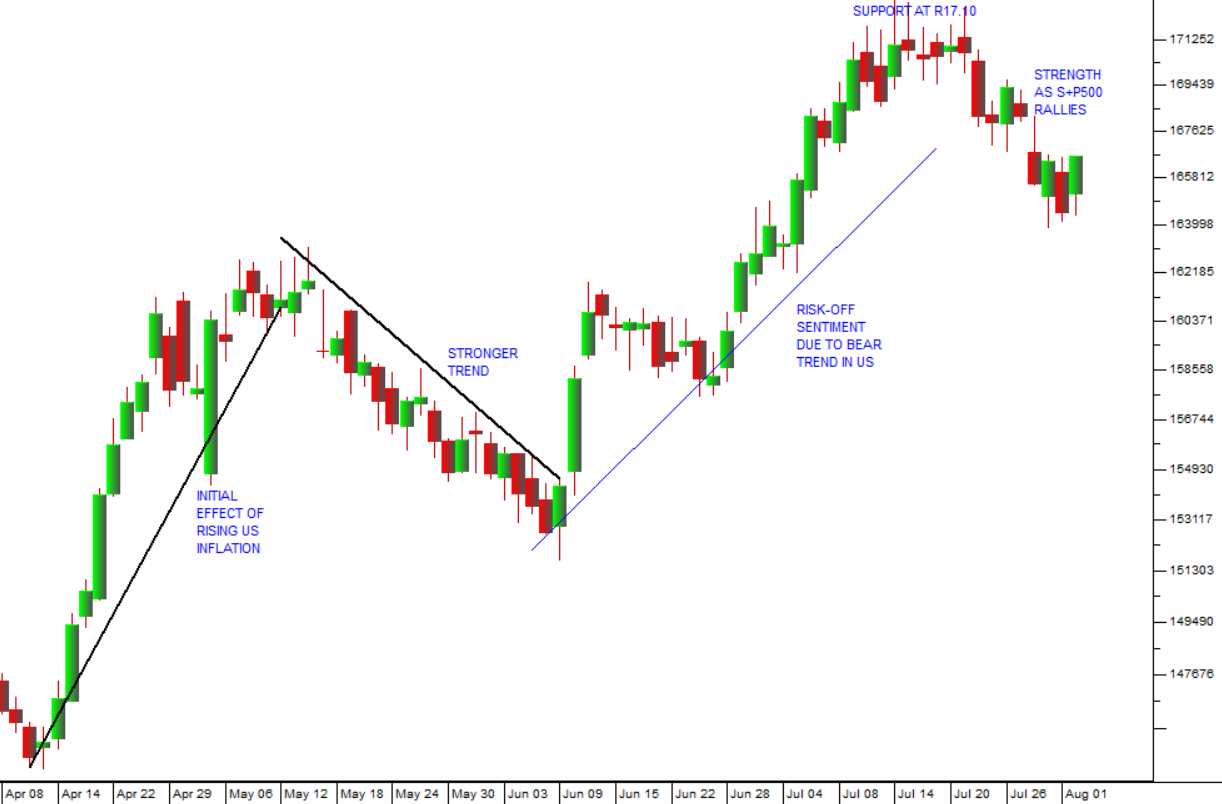 They mostly blame this weakness on the ANC government's mismanagement of the economy. However, it is important to realise that the rand has performed in line with and even considerably better than the euro over the last 15 months. On 25th May 2021, the euro was at 81,65 euro cents to the US dollar. Today it is close to parity at 97,4 euro cents to the US dollar. While the rand has certainly fallen against the US dollar, so have most of the currencies of first world countries. Consider the following chart of the euro/US dollar exchange rate over 18 months: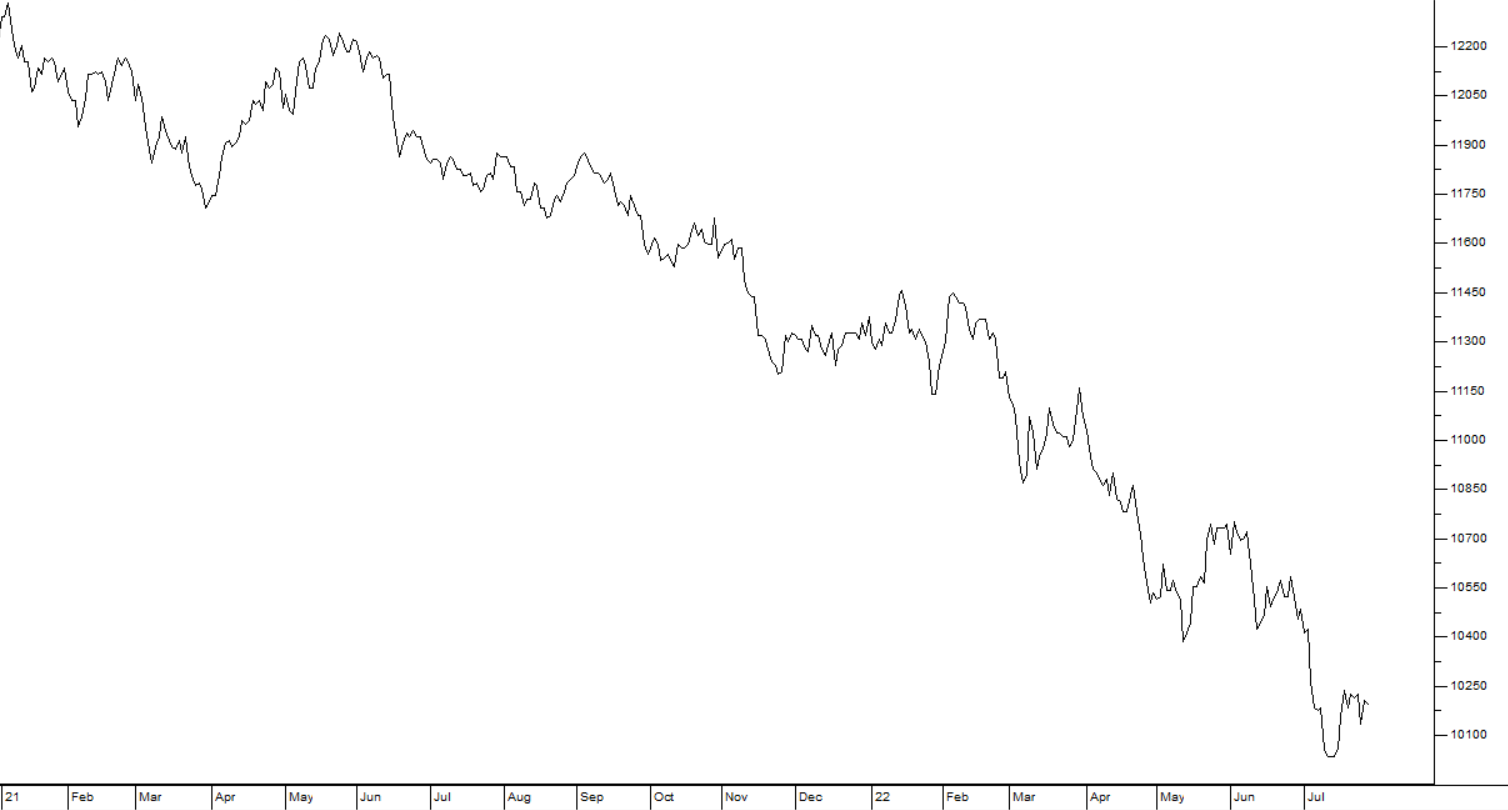 So, the fall of the rand is not something which is specific to South Africa. All currencies have felt the effects of a strengthening US dollar as that country began an aggressive pattern of raising interest rates. In fact, over the last 10 days the rand has gained 2,83% against the euro.
Of course, in this analysis it is important to also factor in the effect of the war in Ukraine since 24th February 2022, but the above chart shows that the euro was already declining against the dollar long before that conflict began.
In our opinion, the rand has been one of the strongest currencies in the world in recent months and certainly one of the strongest emerging market currencies. That strength is actually a tribute to the discipline of our Reserve Bank and has helped to keep our petrol price and inflation rate much lower than they would otherwise have been.
Eskom
The big news this month is the President's new plan to fix Eskom – which includes a number of expected improvements, including the scrapping of the 100MW license ceiling on power generation projects. Treasury is tasked with finding a sustainable method of dealing with Eskom's debt of close to R400bn and the company's budget for planned maintenance of existing power stations will be increased. This means that the Treasury will take a portion of Eskom's debt onto its own balance sheet – probably about half – which will make the government's deficit worse, but probably won't have much impact on the country's credit rating because the ratings agencies already regard the Eskom debt as being government debt. The amount of debt to be transferred will be announced in the mid-term budget policy statement (MTBPS). Looking at the plan, it seems as if the ANC is finally doing the right things to fix the loadshedding problem – it's just a pity that it took an illegal strike at Eskom to bring them to this when they have been aware of the problem and its solution for the past 14 years since loadshedding began in 2008.
Following the announcement of the President's new energy plan, the Eskom GM of strategy and planning, Matthew Mflathelwa, said that Eskom will only invest further in solar, wind and gas power generation in future. The coal-fired power stations would be retired as they reached the end of their lives. He said that it would eventually cost R1,2 trillion to build sufficient renewable generation capacity to replace coal - and that would come mostly from the private sector. Build times for solar and wind are between 18 months and 5 years and cost far less than nuclear or coal. Coal, he said, is 5 times more expensive and nuclear is 10 times more expensive than renewable energy. This statement shows that the government and Eskom have at last understood the inevitable direction of energy production and are at last switching to renewables and away from coal and nuclear. This change has enormous long-term implications for the economy.
Of Eskom's 46 gigawatts of power producing potential, only about 60% or less is available at any time due to planned maintenance and outages – which is often insufficient to meet the country's requirement of about 32 gigawatts. This, together with the wildcat strike, has caused unprecedented loadshedding. Under the new plan, the 6th renewable energy independent power producers' procurement program (REIPPPP) is to be doubled to 5,6 gigawatts. The requirements for local content and environmental approval will also be relaxed. CEO of Eskom, Andre de Ruyter has been involved in high level discussions, particularly aimed at extending his plan to lease land which has "grid access" to the private sector for the construction of renewable energy facilities.
The international estimate of the cost of taking the South African economy completely onto renewable energy over the next 30 years may be as much as $250bn – of which we currently have the $8,5bn guaranteed by the UK, US, Germany, France and the EU. There is more money for this in the pipeline with various other countries and commercial concerns showing an interest. Ultimately, however, the transition will be driven by the sheer economics of the situation. The continuous above-inflation price hikes by Eskom and its record of unreliability are making renewables an imperative for most companies and consumers. The cost of renewable energy and batteries is falling continuously making the shift away from Eskom more and more attractive.
In the middle of all the government activity in the energy sector, Eskom has launched an application to the National Energy Regulator of South Africa (NERSA) for a 32,7% tariff increase in the 2023/24 year. This is clearly absurd and unaffordable. The likely outcome is that even more businesses and consumers will seek to get away from Eskom's ever more expensive and unreliable supply. NERSA will have to decide on the application by the end of this year. At the same time our esteemed Minister of Minerals Resource and Energy, Gwede Mantashe, has suggested that the government establish a second energy supplier to compete with Eskom – a ridiculous suggestion that has been roundly criticized.
The gradual retreat from stage 6 loadshedding now that the Eskom strike has been settled is taking some weeks. The illegal strike has clearly made a bad situation worse and CEO, Andre de Ruyter, says disciplinary action will be taken against those workers who participated. He also said that all incidents of violence and intimidation would be investigated. As a result of the loadshedding, Nedbank has reduced its estimate of GDP growth in 2022. In the meantime, the heavy loadshedding has resulted in far more individuals and businesses deciding to get off the grid. It has been a major boost for the move towards renewable energy. In effect, the striking workers have done much to "kill the goose which lays the golden eggs". Eskom is basically being forced to get out of the electricity generation business much more rapidly than it would otherwise have.
Total electricity generation fell by 0,5% in February 2022 compared with February 2021. It fell by just over 1% in March and by 3,6% in April. This pattern of falling electricity generation by Eskom shows how the South African economy is moving away from Eskom because of its high cost and unreliability. The effect of loadshedding probably means that the economy contracted in the second quarter of 2022 – although we are still expecting gross domestic product (GDP) growth to be above 2% for the year as a whole.
The ratings agency, Standard & Poors, is expecting that the cost of diesel, added to the pay hike recently negotiated, will require Eskom to borrow an additional R45bn this year adding to its already unmanageable debt burden. The parastatal is estimated to have debt of just under R400bn at the moment about half of which is guaranteed by the government. Adding to its financial problems is the fact that it did not get the price increases that it asked the national energy regulator (NERSA) for. The increase was for 9,6% - which will still be a significant factor in the inflation rate.
Companies
As we have demonstrated above, world stock markets are firmly in a primary bear trend. At a time like this it is difficult to pick shares which have a reasonable chance of performing well. In a bear trend, good quality stocks can fall, not because they are not performing, but simply because the entire market is falling. Basically, your probability of choosing a "winner" is considerably lower than it would be in a bull trend. Despite that, there can be opportunities in a bear trend and there will certainly be rallies.
In our article, Uncharted Territory published on 15th June 2022, one of five major areas of uncertainty that we drew attention to was the impact of climate change. Of course, we had recently seen the impact of the Natal floods here in South Africa – and we suggest that the heat wave in the UK and Europe is a further example of the kind of extreme weather conditions that are likely to become the norm. Aside from the thousands of deaths caused by the record temperatures, there have also been wild fires and drought conditions which are impacting on agriculture. We see these type of climate excesses as becoming more common and having a deeper impact as climate change progresses. They may well become a major factor in assessing individual shares in future.
One sector of the economy that generally benefits from rising interest rates is the banking sector. This is because they immediately raise their interest rates on all the different types of loans that they offer, but the rates which they pay to depositors generally lag. Banks make their profit from what is known as the "mismatch factor" which is the difference between the repo rate and the prime overdraft rate. This is normally about 3,5%. So when the repo rate is at 5,5%, which is where it is after the most recent rate hike, the prime overdraft rate will be 3,5% higher at 9%. Banking shares will now tend to rise with their rising profits. That pattern has already begun with Nedbank's trading statement for the six months to 30th June 2022 where it estimated that headline earnings per share (HEPS) would rise by between 23% and 28%.
TESLA
On 18th July 2022, we published an article about Tesla in which we said that we thought it was one share which would go against the bear trend and do well. At the time Tesla shares were trading at around $720. On Friday last week they closed at $891 – a gain of about 23% in just two weeks. Obviously a good portion of this gain is due to the rally on Wall Street as a result of the fall in the price of Brent oil, but we expect Tesla to continue to out-perform the market going forward. Consider the chart: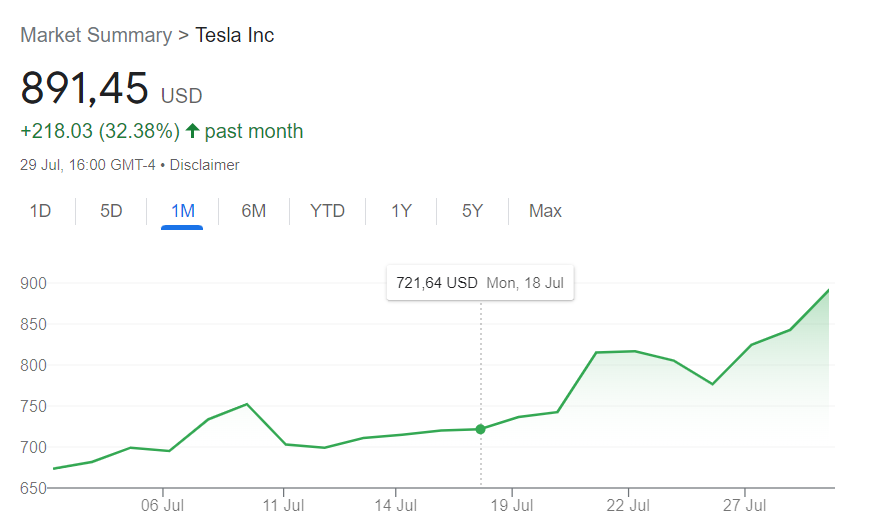 Chart by Google at: click here
In our view, Tesla, because of its technical expertise and proven ability to disrupt well-established industries, should continue to perform well. Tesla is growing rapidly, not because the US car market is growing, but because it is taking market share away from more established companies like General Motors and VW who are struggling to make the switch to electric vehicles. The blue-sky potential of this share remains substantial even in a world recession.
ANGLO AMERICAN (AGL)
In its recent financials for the six months to 30th June 2022, Anglo reported copper production down by 17% with the CEO, Duncan Wanblad, saying that the world was moving into a period of extreme copper shortages. Copper is an essential metal for the modern world and especially for certain emerging technologies like electric vehicles (EV), batteries and photovoltaics. As the world becomes more technically orientated it is going to need more copper. Consider the chart of the US dollar price of copper since March 1999 below: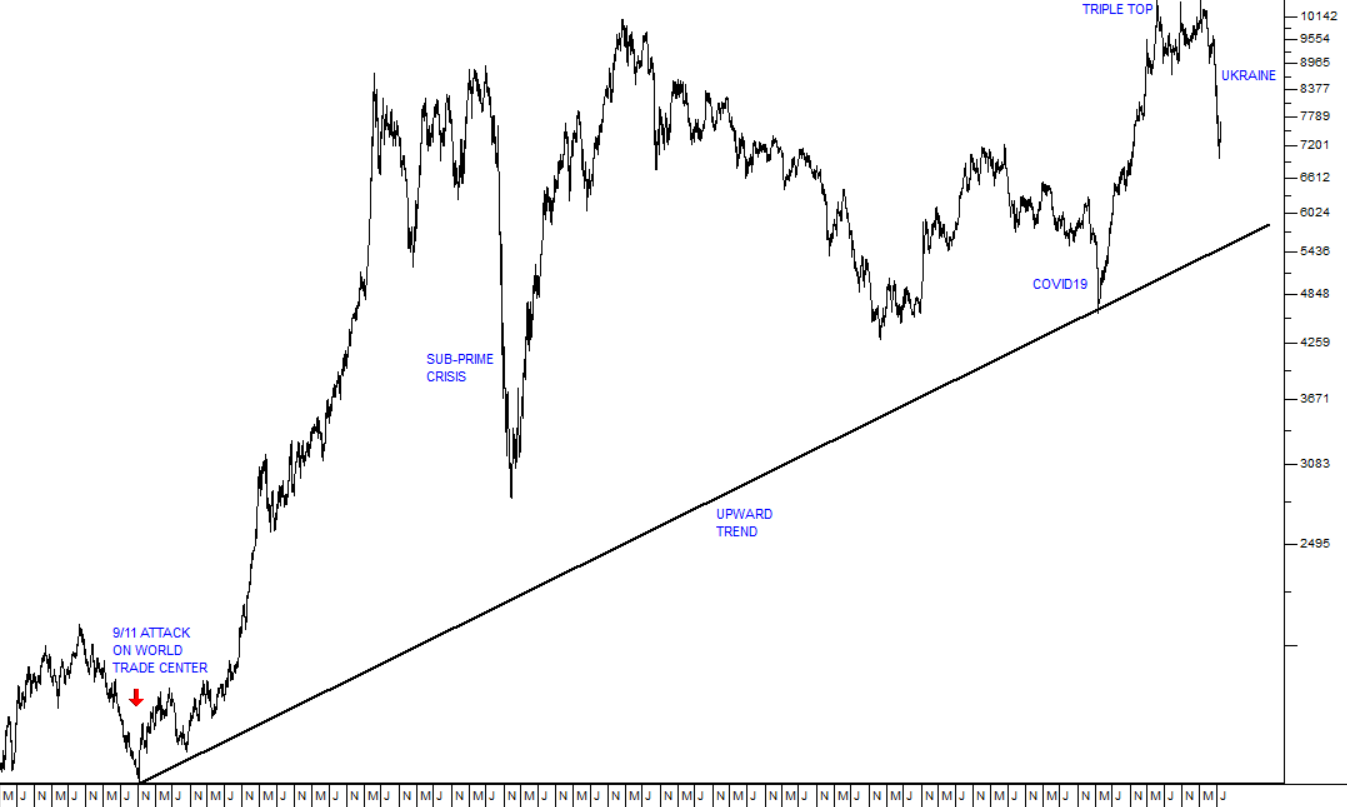 You can see here that since the low point following the attack on the World Trade Centre in New York on 11th September 2001, the price of copper, while volatile, has been in an upward trend. The chart shows the impact of the sub-prime crisis in 2008 and COVID-19 in 2020. In 2021 and this year, the metal has made a "triple top" formation at above $10 000 per ton and then with the war in Ukraine, it has fallen back to current levels around $8000.
If the CEO of Anglo American is to be believed, however, the world is heading into an extreme copper shortage. Almost all copper producers are trying to increase production to meet demand as the world moves away from fossil fuels and towards renewables. Opportunities are limited as it takes a long time to bring a new mine into production. Anglo's Quellaveco mine should produce about one million tons of copper a year, when it reaches full production in 2023. Anglo is also looking at expanding in Zambia's copper belt. Wanblad says that despite the fact that copper deposits are plentiful, we will need many more Quellaveco's to meet demand as there is insufficient development of new resources.
To summarise: The rate at which the world is moving towards renewable energy is going to cause an extreme shortage of copper.
Anglo is a very diversified mining conglomerate with operations all over the world. Its diversification offers the investor protection against the volatility of individual commodities, but if the world economy moves into recession, then the demand for commodities generally will decline. In our view, however, Anglo offers the investor an opportunity to capitalise on key shortages – like copper – in a relatively risk-free counter.
STEINHOFF (SNH)
Since it made a descending triple top in 2016 immediately before its collapse, we have not been in favour of Steinhoff as an investment. It became mired in a seemingly endless court case over its accounting irregularities, and we could not see it extracting itself in any meaningful way. Since that time, however, it has managed to come to a settlement with its major shareholders and while it still has a huge pile of debt it does appear to be gaining some traction now. Consider the chart: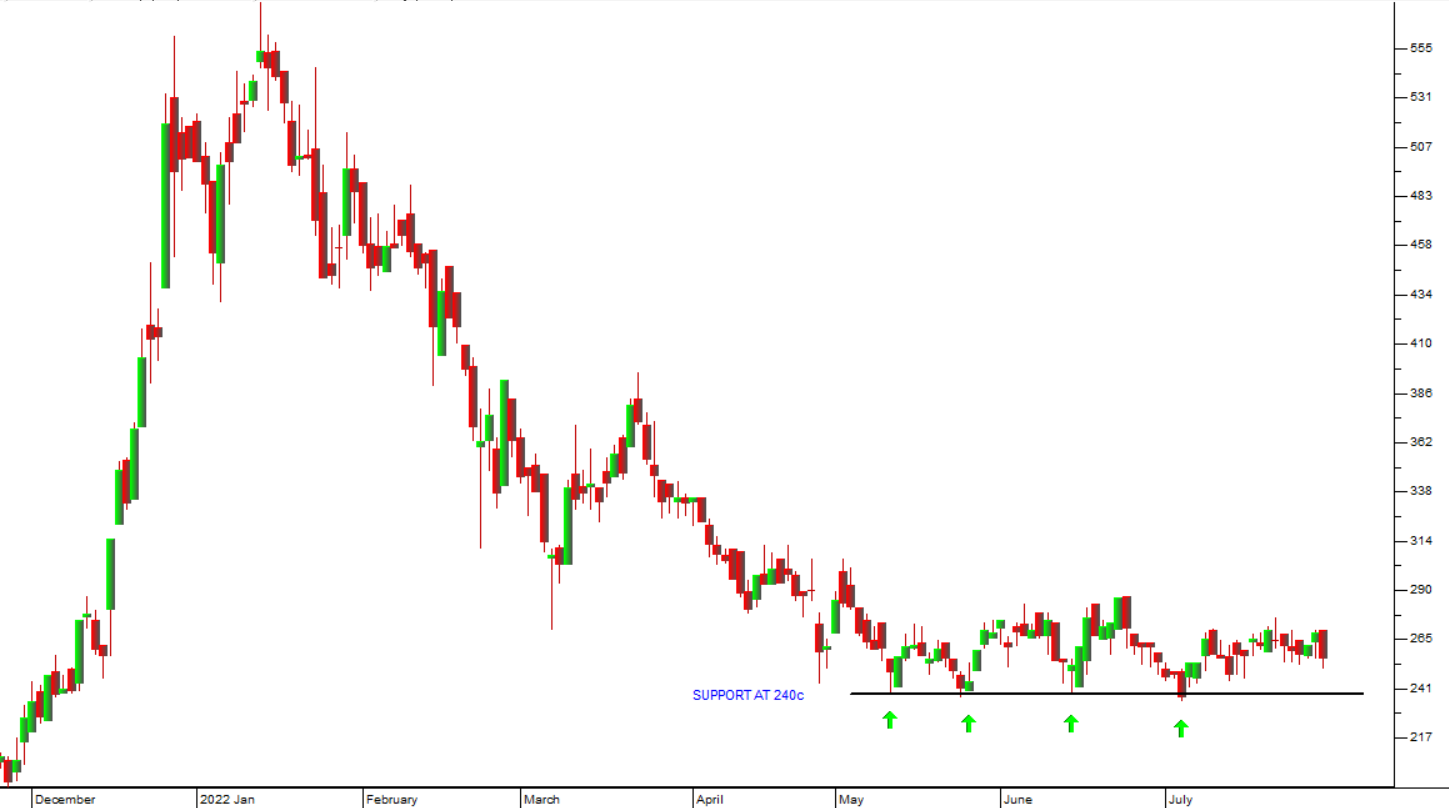 This chart shows that Steinhoff appears to have found some significant support at around 240c. That level has been tested four times this year and held. The recent results from Pepkor Holdings, of which Steinhoff owns around 50% of, are also encouraging. In its results for the six months to 31st March 2022, Pepkor reported revenue up 3,3% and headline earnings per share (HEPS) up 28,3%. This shows that Pepkor is running a tight ship with costs well under control. The company opened 144 new stores bringing its total to 5708. And this was done in an economy which was under extreme pressure from rising interest rates, the Natal Floods, the July 2021 civil unrest and COVID-19.
So, what we are saying is that it may be a good time to consider buying either Steinhoff or Pepkor. In January, this year there were investors paying around 540c a share for Steinhoff. Now it is available for 251c – so you would certainly not be paying top dollar. Just remember that we are in a bear trend so make sure to have a strict stop-loss.
FOSCHINI (TFG)
The Foschini Group (TFG) has long been one of our favourite blue-chip shares. It has shown its ability to expand overseas effectively while maintaining a strong business here in South Africa. In a trading update for the 3 months to 30th June 2022 the company reported retail turnover up 16,3% with Africa up 11,3% and like-for-like turnover up 7,1%. TFG Australia saw turnover up 15,7% and London up a whopping 39,9%. Online turnover was up 13,2%. Despite the 33000 hours of trading lost to loadshedding, this company has performed very well. Consider the chart: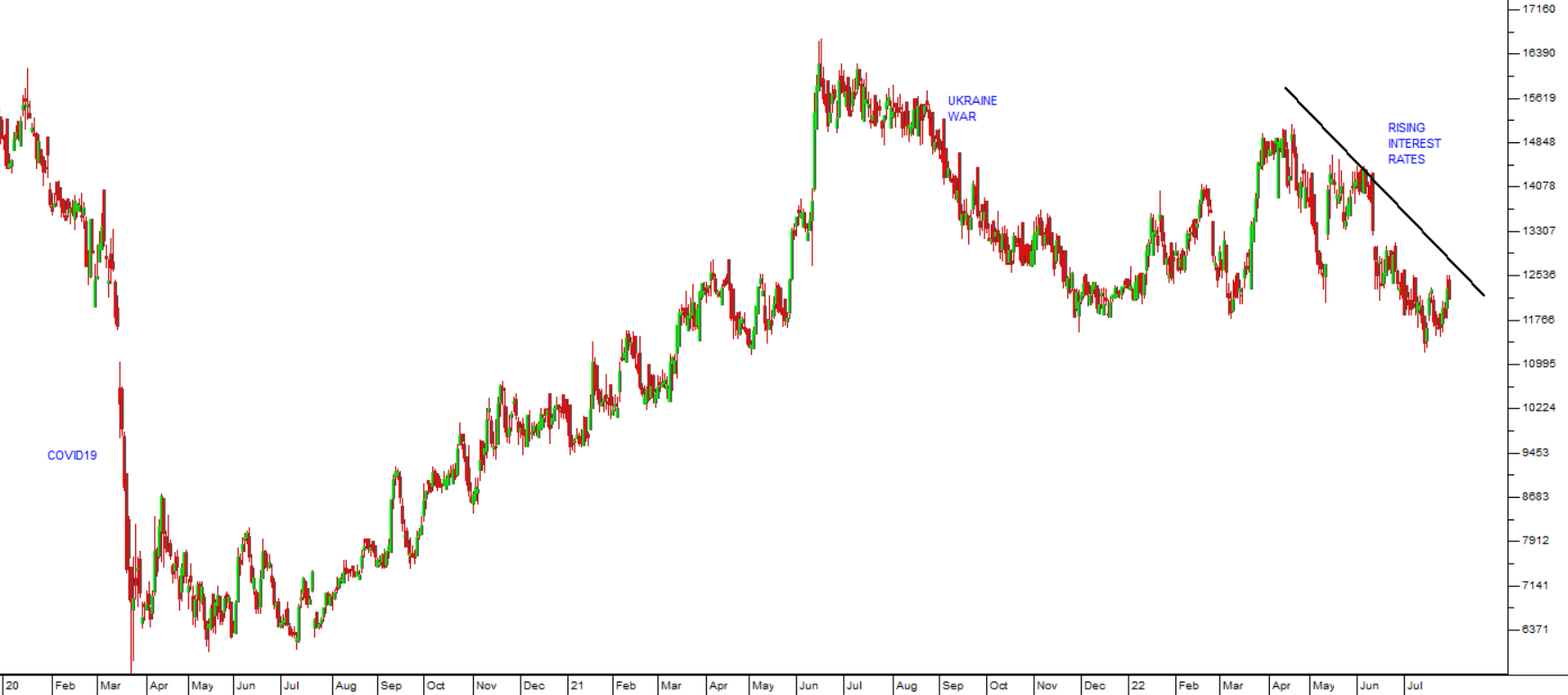 You can see here that Foschini was recovering well from the COVID-19 sell-off when the war in Ukraine began and that was followed by rising interest rates in all of Foschini's markets. Despite these headwinds, the company has made noteworthy progress in improving efficiencies and reducing debt levels to historic lows. It is highly profitable and well-structured to face any economic downturn. On a P:E multiple of 12 and a dividend yield (DY) of 3,3% we regard it as a sound investment.
MPACT (MPT)
This is a packaging company which operates mainly in Southern Africa. Clearly a company like this is at the cutting edge of the economy. Packaging is what is known as a "leading sector" because, when the economy turns and begins to improve, manufacturers have to order packaging materials well before they can produce additional products to meet demand. Mpact is interesting because it gave two On-Balance-Volume (OBV) buy signals which we drew your attention to in October and December 2020. The first signal was given on 5th October 2020 when the share was trading for 835c and the second on 15th December 2020 when the share had risen to 1323c. Since then, the share has risen further and now trades for 2900c. Consider the chart: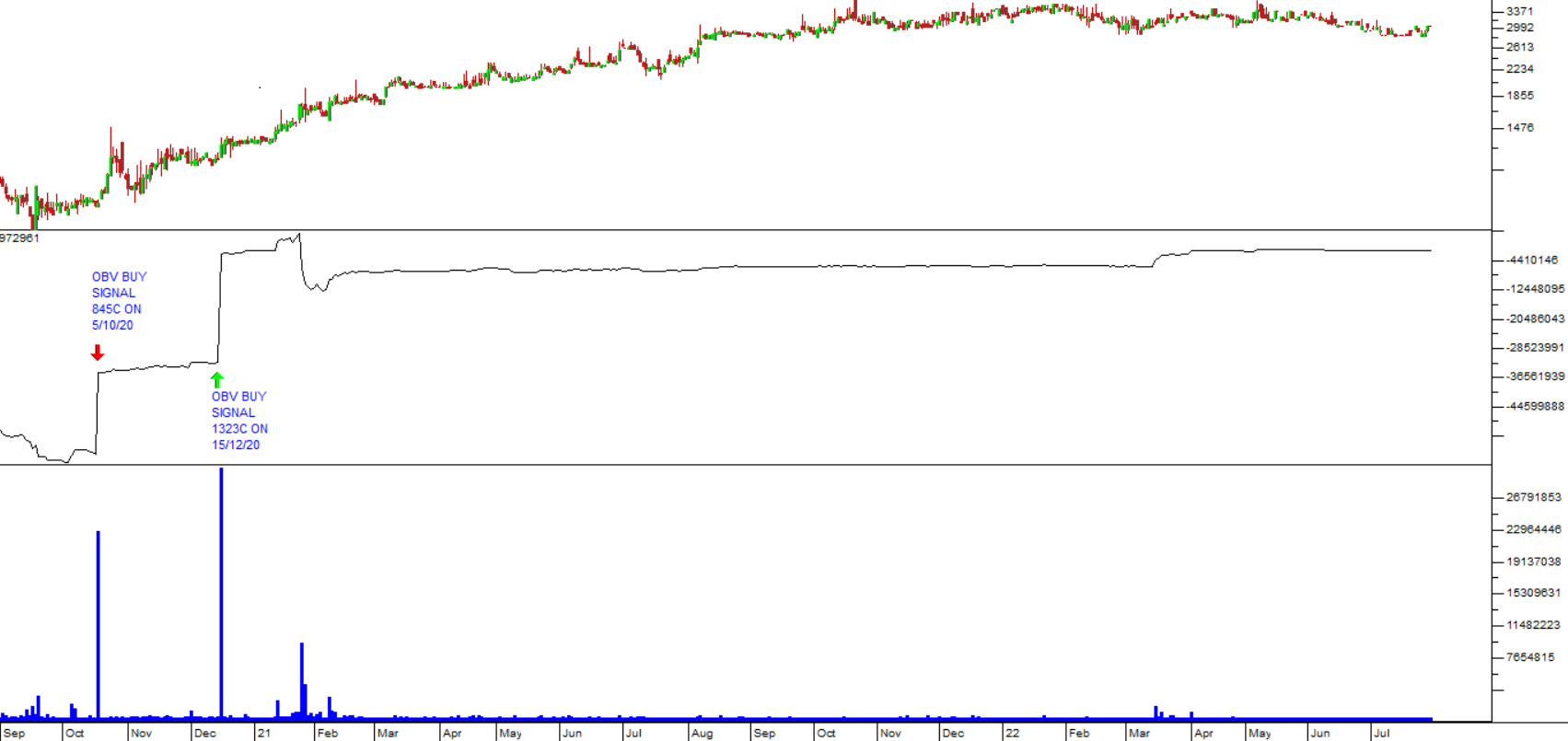 The top chart is a standard candlestick chart of MPact going back to the beginning of September 2020. The middle chart is the OBV showing the two buy signals and the bottom chart is a volume histogram showing the number of trades taking place each day. You can clearly see the volume and OBV spikes on 5-10-20 and 15-12-20.
The OBV indicator is specifically designed to pick up insider trading. It spikes up whenever there are slight increases in price accompanied by massive increases in volume traded. To learn more about OBV click here.
CURRO (COH)
This is a company involved in providing education up to matric. Curro runs 178 schools and 76 campuses with just over 66 000 students. Education is a great business because traditionally parents pay in advance for their children's education. So, the company has minimal debtors and inventory, while still being able to run its creditors out to at least 30 days. This means it effectively has negative working capital. It is also true that many parents pay school fees monthly by debit order which means the company has a high percentage of annuity income. Curro is interesting because after it was spun out of PSG and separately listed it reached an amazing price:earnings (P:E) ratio of 244 in December 2015. Since then the share has fallen back to a more normal P:E of around 26,19. Technically, to us, the share looks like it may have based out and be on the way up. Consider the chart: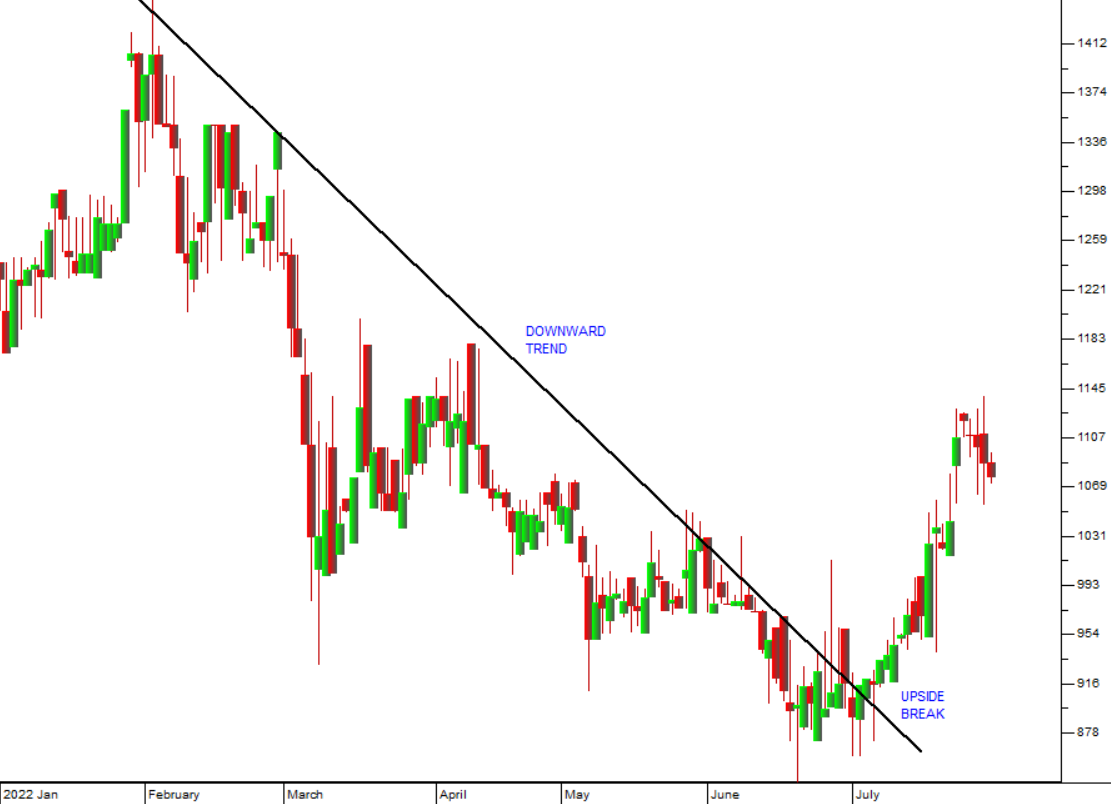 As you can see, for most of this year the share has been falling. It broke up through its downward trendline at the beginning of July and has been moving up steadily since then. We think it may have good potential for further growth.
DISCLAIMER
All information and data contained within the PDSnet Articles is for informational purposes only. PDSnet makes no representations as to the accuracy, completeness, suitability, or validity, of any information, and shall not be liable for any errors, omissions, or any losses, injuries, or damages arising from its display or use. Information in the PDSnet Articles are based on the author's opinion and experience and should not be considered professional financial investment advice. The ideas and strategies should never be used without first assessing your own personal and financial situation, or without consulting a financial professional. Thoughts and opinions will also change from time to time as more information is accumulated. PDSnet reserves the right to delete any comment or opinion for any reason.
Share this article: