18 July 2022
By PDSNET
By opening an Easy Equities account, South African investors can apparently buy shares in Elon Musk's disruptive American electric vehicle (EV) company, Tesla (TSLA).
As we have made clear in these articles, the world's share markets are firmly in a bear trend which we think will persist for some time. Despite this, it may be worth considering an investment in Tesla or at least watching the share closely for a turning point.
In anybody's language, Tesla is highly controversial. The share price has risen from $88.20 to $720 in just 30 months – a gain of over 800%. Charlie Munger, Warren Buffett's long-time partner, has said that Elon Musk would either do amazingly well or fail miserably, and that it was almost impossible to know which it would be.
On 4th November 2021, the share reached its all-time high of $1243.49 and since then it has been falling. Some of that fall has undoubtedly been because of the bear trend which has impacted high-technology companies the most. And part of it has been because of the deal which Musk signed to buy Twitter which he has backed away from and which is now the subject of a lawsuit.
Consider the chart: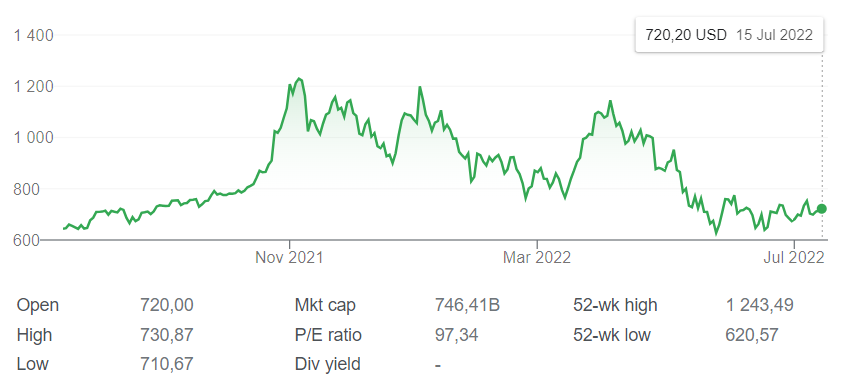 Tesla has fallen about 37% since April 2022 when the deal to buy Twitter was signed, which compares with the 15,7% fall in the S&P500 index. Technicians will also note that the share has made a "descending triple top" – which is arguably one of the most bearish formations in the share market. They will also see that the share bottomed in late May 2022 and has been trending up since then – despite the fall in the S&P.
The chart shows the market's serious discomfort with the Twitter deal. In our view, Musk made a serious tactical error with Twitter and is now trying to extract himself from it. We think that Twitter may well win this case forcing Musk to either pay the $1bn cancellation fee and walk away - or go through with the transaction and buy Twitter for $44bn. The sell-off in Tesla shares as a result may, however, be an opportunity to invest in a truly unique company which shows every sign of becoming the world-wide dominant player in various highly disruptive sectors, starting with the EV market.
From an investor's perspective, however, it is clear that Tesla shares are trading at relatively low values, especially considering the "blue sky" potential which the company has. So, buying Tesla shares at this level would involve considerable risk but would also give the investor a rand-hedge which is quite likely to completely dominate the world car market and other markets in the future.
You will note that, even at these levels, the share is trading on a P:E of 97,34 and that it does not pay dividends. This high P:E ratio reflects the company's perceived future potential. You have to decide whether that optimism is justified. We think that it is.
What Musk has demonstrated is his ability to take on one of the most capital-intensive and entrenched industries in the world and completely overturn it. He has shown outstanding brilliance in both his engineering ability and his management skills. Tesla has very modest levels of debt and Musk has said that he intends to reduce his staff compliment by 10% because of the impending recession. This shows that he is more than just an engineer – he is also a very astute businessman who is very aware of the environment within which he operates.
Clearly, buying Tesla is a risk – but it holds the distinct possibility of being an exceptional winner.
By now, I am sure it is unnecessary to tell you to always maintain and stick to a strict stop-loss strategy. This is especially true when buying shares in a bear trend.
DISCLAIMER
All information and data contained within the PDSnet Articles is for informational purposes only. PDSnet makes no representations as to the accuracy, completeness, suitability, or validity, of any information, and shall not be liable for any errors, omissions, or any losses, injuries, or damages arising from its display or use. Information in the PDSnet Articles are based on the author's opinion and experience and should not be considered professional financial investment advice. The ideas and strategies should never be used without first assessing your own personal and financial situation, or without consulting a financial professional. Thoughts and opinions will also change from time to time as more information is accumulated. PDSnet reserves the right to delete any comment or opinion for any reason.
Share this article: