8 November 2021
By PDSNET
Finding winning shares is not just about looking for quality. It is about finding quality when it is cheap – which usually means finding it when it has fallen heavily and is out of favour with institutional fund managers. We advise you to look for the "mountain behind you" in the chart.
As a private investor you need to be aware that about 90% of the trades on the JSE are done by the big institutions (unit trusts, large portfolio managers, pension funds and insurance companies) while only about 10% are done by investors such as yourself. For this reason, it is very important to have some understanding of how the fund managers, who manage the massive portfolios of these institutions, make their decisions.
The first lesson to learn is that fund managers tend to move like a herd of sheep. When one crosses the bridge, they all cross the bridge. Being a maverick and acting independently can get you fired as a fund manager. If you make a mistake – buy the wrong share or buy it at the wrong time - then you are far better off if other fund managers working for other big institutions made the same mistake at the same time – because then you are in good company. You cannot really be fired for making the same mistake as the fund managers at Old Mutual or Sanlam.
So, fund managers tend to stick together. They will tend to cross that bridge, even if they think it is wrong to do so, because being left on this side of the bridge, when everyone else is on that side, is how you can lose your job as a fund manager.
As a private investor, your livelihood and your job do not depend on the decisions that you make in the share market. You are simply trying to do the best that you can with your life savings.
The second important point to understand about the fund managers at big institutions is that they are almost all fundamentalists. In other words, they spend hours poring over company financials, but they pay little or no attention to the charts. This causes them to miss critical turning points in share prices. There are dozens of examples of this in JSE history, but perhaps the clearest recent example is that of Steinhoff where the fund managers completely ignored a blatant "descending triple top" formation which occurred in 2016 (in March, May and August) well before the collapse of this iconic share. For a more detailed explanation of this read our article - Learning from Steinhoff. It has been estimated that the fund managers collectively lost at least R200bn as a direct result of not seeing the importance of that triple top.
In another article, Two Interesting Shares on 6th September 2020, we drew your attention to two companies that seemed to us to have been over-looked by the fund managers and which both had strong potential. Those shares were Massmart and Blue Tel. At that time, in September last year, both of them had fallen from glory and were wallowing in the valley of desperation. The fund managers as a group didn't like them and had sold them down to very low levels. Consider their charts:
Massmart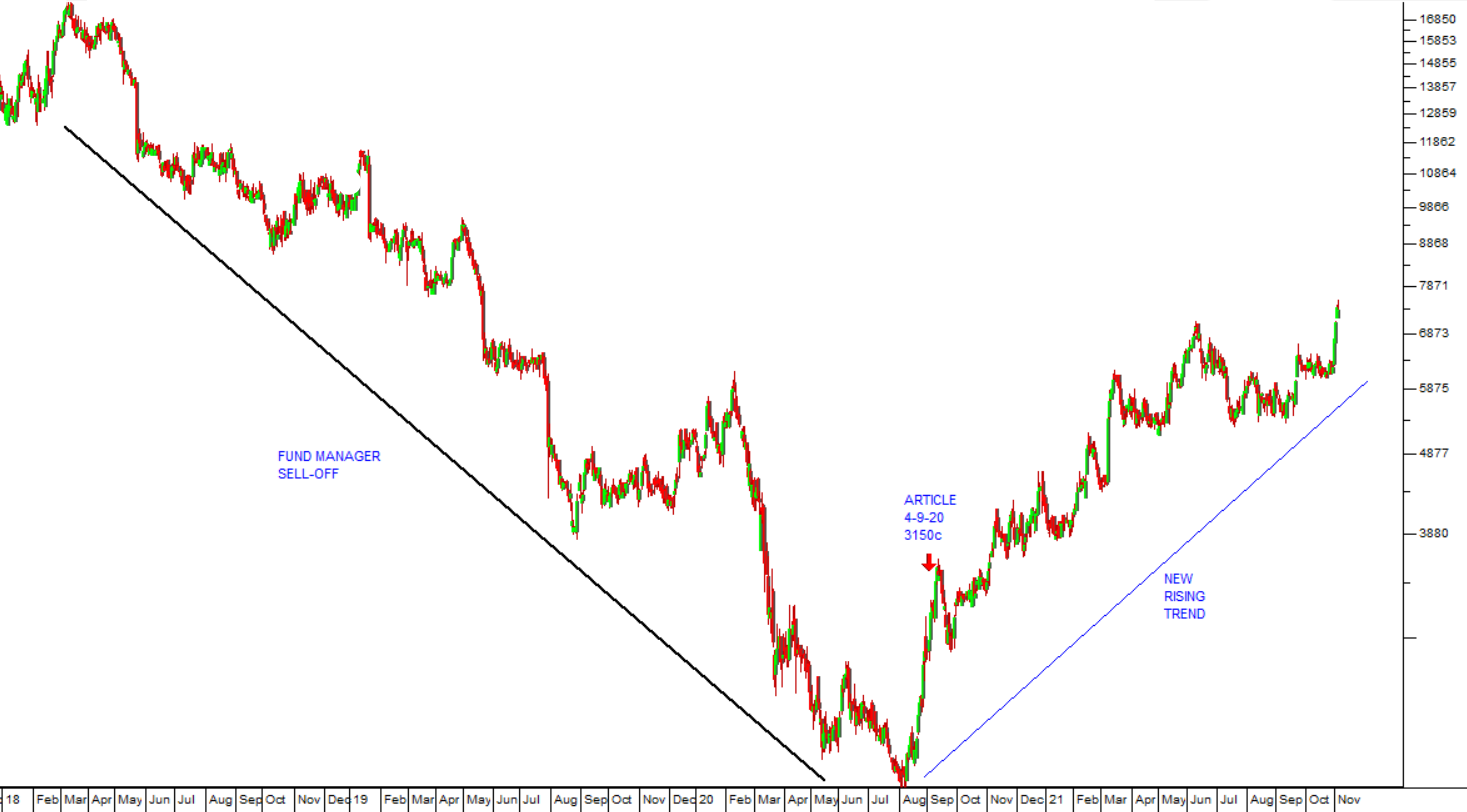 Blue Tel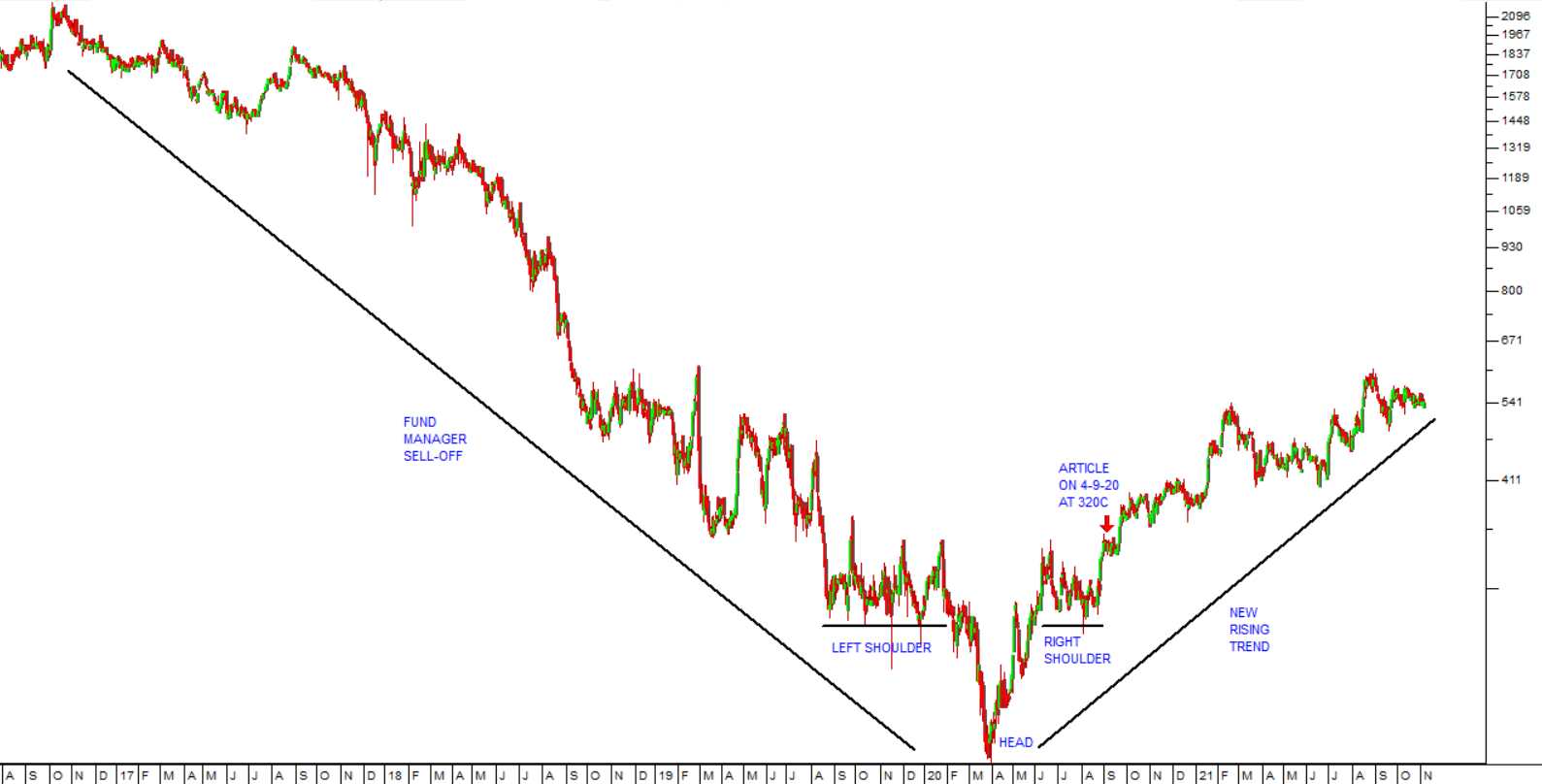 You can see the similarities in these charts. Both shares had fallen heavily from great heights indicating that they were out of favour with fund managers – which made them relatively cheap in our opinion. At that time, they had a "mountain behind them" as we like to say. Also, at the time we saw both of them as offering an opportunity for the private investor to profit.
In the case of Massmart, the newly appointed CEO, Mitchell Slape, had bought 300 000 Massmart shares at R29 for himself personally, with his own money. This has surely got to be a sign of great confidence. In the case of Blue Tel the share had performed an almost perfect "reverse head-and-shoulders" formation – which is a strong positive indication of a powerful new upward trend.
With the advantage of hindsight we can now see that Blue Tel has risen 69% and Massmart has risen 134% in the 14 months since we wrote that article. So, our message to you is to study the collective behaviour of fund managers, because when you make money in the share market, you will almost always be making it at their expense.
DISCLAIMER
All information and data contained within the PDSnet Articles is for informational purposes only. PDSnet makes no representations as to the accuracy, completeness, suitability, or validity, of any information, and shall not be liable for any errors, omissions, or any losses, injuries, or damages arising from its display or use. Information in the PDSnet Articles are based on the author's opinion and experience and should not be considered professional financial investment advice. The ideas and strategies should never be used without first assessing your own personal and financial situation, or without consulting a financial professional. Thoughts and opinions will also change from time to time as more information is accumulated. PDSnet reserves the right to delete any comment or opinion for any reason.
Share this article: