6 September 2020
By PDSNET
Warren Buffett has famously been quoted as saying "Be fearful when others are greedy and greedy when other are fearful". Right now, investors are understandably fearful and for that reason there are some unusual opportunities in the market. The shares which would obviously benefit in the post-COVID-19 period have already moved – shares like Prosus and Sibanye. In fact, mining shares generally have benefited from the fact that the commodity boom appears to be resuming its upward trend with base metals such as copper, nickel, zinc and precious metals, especially gold, palladium and rhodium rising to new highs.
So that begs the question, "Where should the private investor be looking now?"
Well there are some secondary shares which have been taking a real beating. They have fallen out of favour with the big institutions, but they are in industries which benefit from the economic recovery which is expected both here in South Africa and world-wide. In this article we are looking at two.
MASSMART
Is it just possible that Massmart is going to recover? Right now, most investors are quite rightly fearful of Massmart. But the new CEO, Mitchell Slape, imported from Walmart, has just bought R8,37m worth of Massmart shares – being 300 000 shares at an average price of R27.29 each. This is a rare display of faith by the man in charge. His opinion of what is going to happen at Massmart must surely be worth more than all the analysts combined. He is a high-flyer with a reputation for turning businesses around. He stands to lose not just his money but also his reputation.
Notably, his purchase of shares has been done at the exact moment when Massmart's shares appear to be on the cusp of breaking above their long-term downward trendline. Consider the chart:
Slape has had enough time in charge of Massmart to have made a clear assessment of its potential and its value. We doubt that there is anything negative which he is not by now aware of. It is highly unlikely that he would make such an investment unless he believed that he would make a good return out of it.
And there is little doubt that if Massmart can be turned around, it will become a retailing powerhouse, not just in South Africa but also in the rest of Africa. South Africans have been putting off purchases of big-ticket items like fridges and washing machines because of the uncertainty surrounding the fallout from COVID-19. As the impact of the pandemic begins to fade, they will begin to buy again and Massmart stocks the kind of products that they will be looking for. We believe that there is some considerable pent up demand waiting for a return to some degree of normality in the economy.
If the share breaks strongly above that long-term downward trendline, then it must mean that institutional investors are buying up the shares at these low prices. In other words, perhaps you should add this share to your "watch list".
BLUE LABEL (BLU)
This is a company which was pounded, because of its questionable purchase of 45% of Cell-C which is drowning under a mountain of debt. BLU has written its investment in Cell-C down to zero so that should no longer be a problem, and its remaining businesses are performing well.
The company is now looking at getting into the collection of electricity payments on behalf of municipalities. Collectively, the 257 municipalities in South Africa are estimated to be owed R191bn (of which R15bn is owed by government agencies). They are keen to install pay-as-you-go meters and turn their electricity supply back into the profit generator that it once was. To us this seems like an excellent business opportunity and one which offers considerable synergies with the existing businesses of BLU.
Technically, the BLU share looks like it might be about to begin moving upwards. Consider the chart: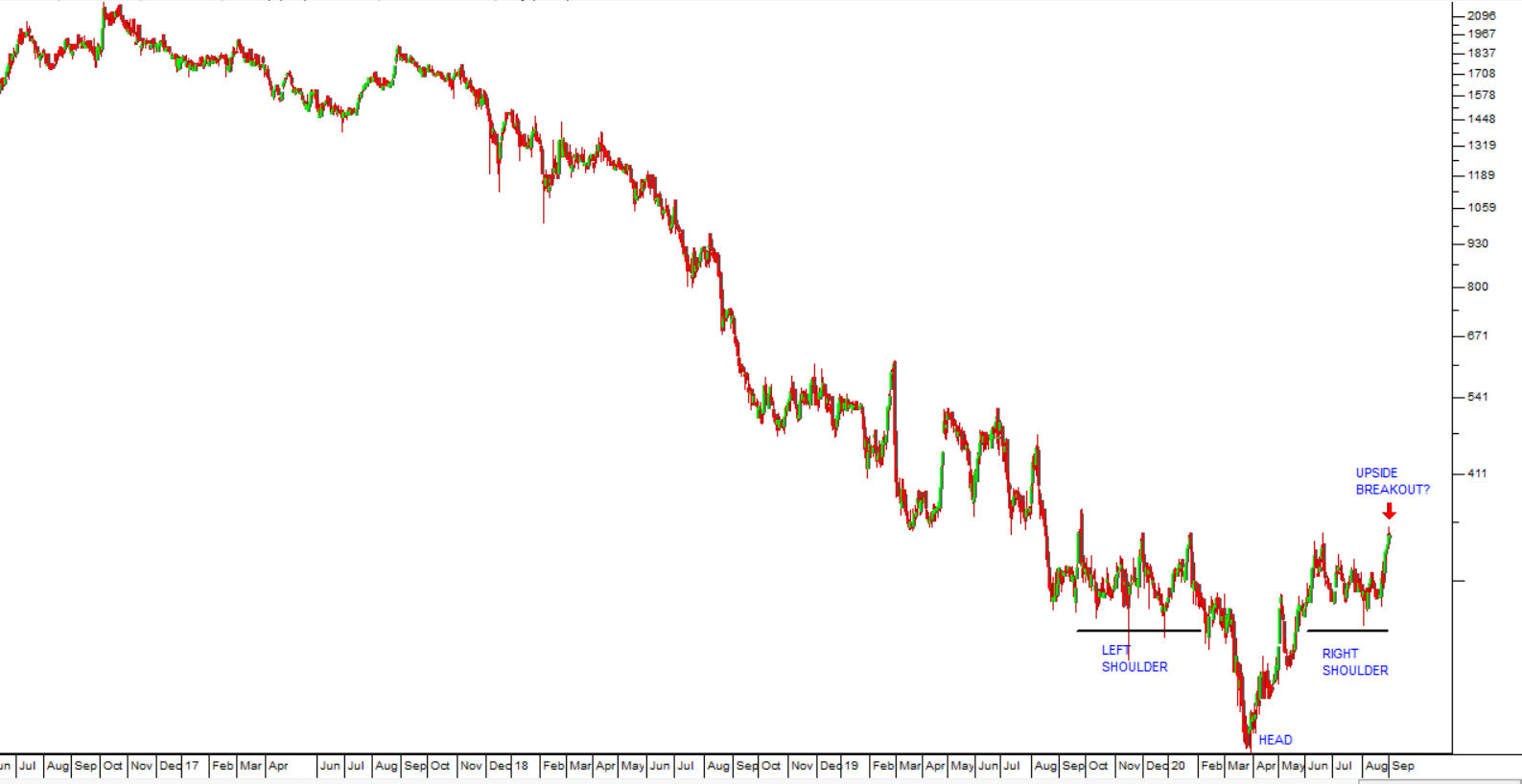 Here you can see that after a long downward trend, the share is in the process of completing a reverse head-and-shoulders formation which is one of the most bullish formations in technical analysis. You can see that it is currently on the point of breaking out of this formation on the upside. It also gave a strong on-balance volume buy signal on 31st August 2020. In our opinion, this share looks like a potential winner.
DISCLAIMER
All information and data contained within the PDSnet Articles is for informational purposes only. PDSnet makes no representations as to the accuracy, completeness, suitability, or validity, of any information, and shall not be liable for any errors, omissions, or any losses, injuries, or damages arising from its display or use. Information in the PDSnet Articles are based on the author's opinion and experience and should not be considered professional financial investment advice. The ideas and strategies should never be used without first assessing your own personal and financial situation, or without consulting a financial professional. Thoughts and opinions will also change from time to time as more information is accumulated. PDSnet reserves the right to delete any comment or opinion for any reason.
Share this article: