20 May 2019
By PDSNET
Transaction Capital (TCP) describes itself as "an active investor in and operator of credit-orientated alternative assets". This is a fancy way of saying that it goes where no one else dares to go in the new South Africa. It has made highly profitable businesses out of financing and servicing the burgeoning mini-bus taxi industry and also out of buying up high-risk debtors' books for a fraction of their face value and then systematically collecting the outstanding amounts. Both of these industries are risky, but both also have enormous potential to be profitable. Transaction Capital has made an excellent business out of finding high-tech ways to reduce the risks which leaves it free to exploit these two "under-served segments of the South African and Australian financial services markets" almost without significant competition.
Essentially, the company consists of two divisions:
SA Taxi – This business finances, insures, repairs and sells mini-bus taxi's in South Africa. It dominates the entire value-chain of the taxi industry. Almost 70% of South African households use a mini-bus taxi every day to get to and from work with more than 15 million trips a day. This makes SA Taxi a defensive industry that is relatively immune to the state of the economy.
Transaction Capital Risk Services (TCRS) buys up non-performing loans in South Africa and Australia for a fraction of their face value and then makes an excellent business out of collecting them. At 31st March 2019, the company held 254 such portfolios with a face value of R23,5bn. This debt is being collected at the rate of R3,6bn per annum. As an example, during the six months to 31st March 2019, the company bought debtors' books with a face value of R2,1bn for R404m.
Both of the businesses are relatively defensive. The worse the economy gets, the more non-performing debtors books there are to buy and the more people use mini-buses rather than owning their own vehicles. This makes Transaction Capital one of the best performing shares on the JSE. It is what we describe as a "diagonal share" – one which goes from the bottom left hand corner of your screen to the top right-hand corner over an extended period of time. Consider the chart since March 2014::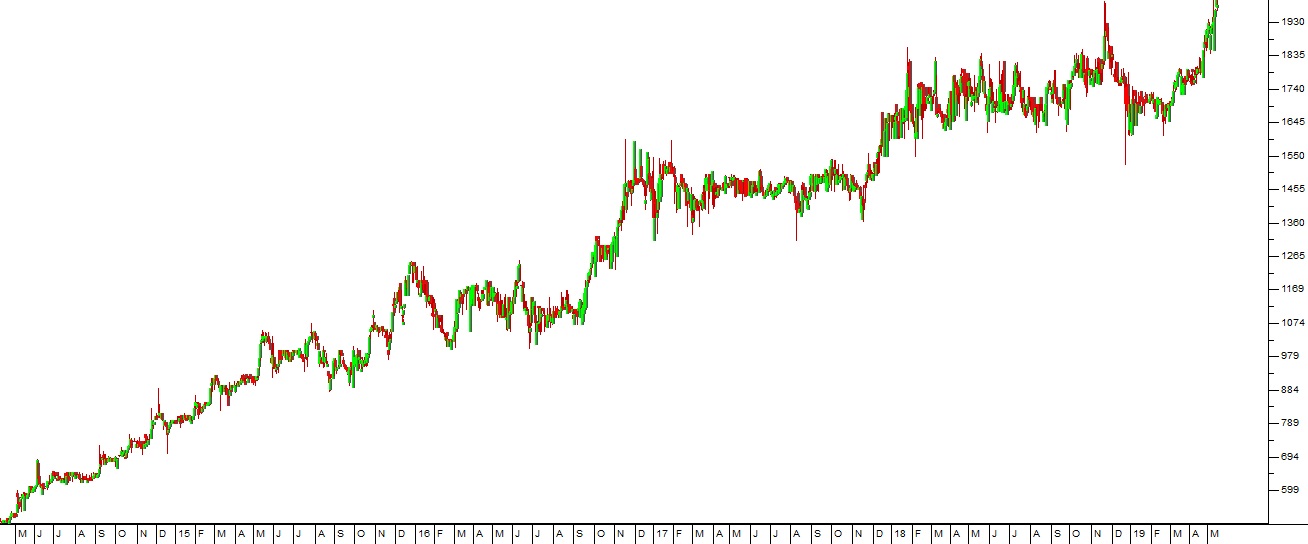 Transaction Capital (TCP) March 2014 to May 2019 - Chart by ShareFriend Pro
In its latest results for the six months to 31st March 2019, the company reported headline earnings per share (HEPS) up 17% - which gives the company a compound growth in earnings of 19% per annum for the past five years. There are not many JSE-listed companies that can claim that. And the company has excess capital of R1bn. In our view this share is a must-have for any private investor in South Africa because it exploits two exceptionally lucrative businesses which are both very much a part of the new South Africa.
DISCLAIMER
All information and data contained within the PDSnet Articles is for informational purposes only. PDSnet makes no representations as to the accuracy, completeness, suitability, or validity, of any information, and shall not be liable for any errors, omissions, or any losses, injuries, or damages arising from its display or use. Information in the PDSnet Articles are based on the author's opinion and experience and should not be considered professional financial investment advice. The ideas and strategies should never be used without first assessing your own personal and financial situation, or without consulting a financial professional. Thoughts and opinions will also change from time to time as more information is accumulated. PDSnet reserves the right to delete any comment or opinion for any reason.
Share this article: