4 November 2020
By PDSNET
America
At the close of trade on Friday (30-10-20), the S&P500 index was down 7,5% from its cycle high of 3534 made on the 12th October 2020 – and this puts the market on a knife-edge. Consider the chart: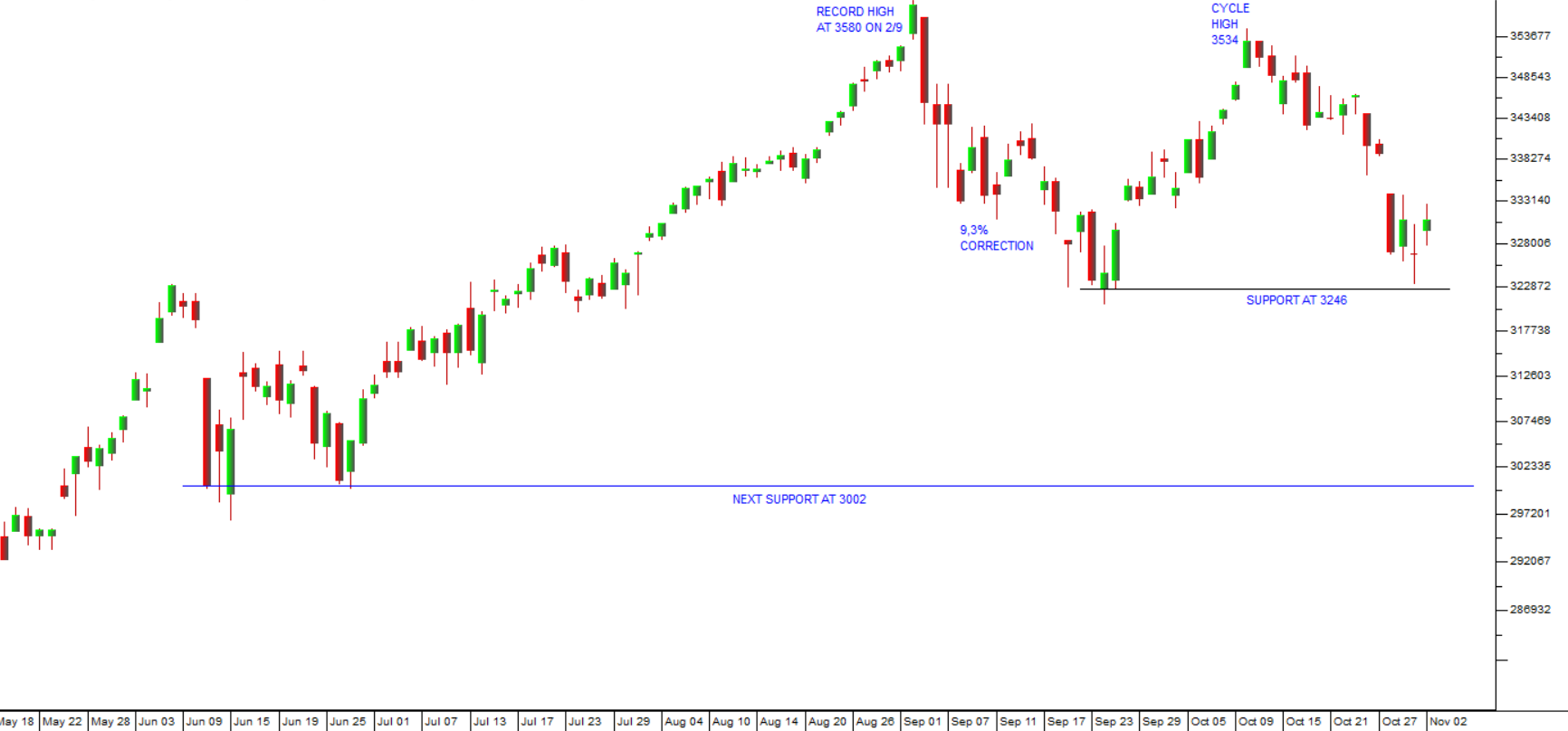 The critical level from a technical perspective is the previous cycle low of 3246 made on 24th September this year. You can see that on Friday, the S&P came down during the trading session to almost touch that level and then bounced back by the close of trade. If that level is broken convincingly to the downside, then we will have a descending double top formation – which is not good. Such formations are generally very negative and, if this happens, you should expect a fairly significant sell-off. The next support level is down at 3002 at the cycle low made on 11th June 2020.
However, it is more likely, in our opinion, that the market will bounce off that level and move up, but right now we are on the cusp technically. Inevitably, at such a point there is a strong sense of risk and instinctively we tend to draw back and be cautious. But it is at such a point where your nerve as an investor is tested – do you "grasp the nettle" or shy away? As Warren Buffett has said, "Be greedy when others are fearful and fearful when others are greedy. That is the essence of contrarianism.
Let us consider the factors driving this market at the moment. The market negativity usually associated with October month is behind us and we are moving into the year-end festive season - which is usually very positive for markets.
From a fundamental perspective, the negativity surrounding the S&P500's correction is being driven by two main factors – (1) the resurgence of COVID-19 cases both in the US and Europe and (2) the impasse in the US senate over the second stimulation package which will now probably only be passed early next year.
The second wave of the pandemic is causing governments in Europe and states in America to implement further lockdowns which are and will further restrict economic activity. However, these economies have already made massive adjustments towards working under lockdown conditions so the impact will not be as great as it was in March 2020. The second major factor is that treatments of the virus have improved rapidly with the result that percentage death rates and hospitalization rates have fallen sharply. This means that there is not nearly such a large impact on healthcare facilities. Basically, the virus is just not making people as sick as it did in the first wave. The third factor here is that the first wave of the pandemic must certainly have left a portion of the population with some level of immunity – which should mean a lower impact in the second wave.
The other major factor weighing on markets right now is the delayed passage of the second US stimulatory package. This package is projected at a massive $2,4 trillion – but it has been held up by discussions between Nany Pelosi, Mitch McConnell and Treasury Secretary, Steven Mnuchin. It will now have to wait, probably, until early next year. Indeed, this may have been the Democrat election strategy since the economy has clearly been seen as a positive for Trump. The fact that the S&P has been in a correction during the run-up to the election could have a significant impact on voting patterns. Mainly as a result of Trump's mismanagement of COVID-19, millions of Americans are unemployed, battling to put food on the table and pay the rent. Many of them will tend to blame Trump's existing administration for their discomfort and certainly Biden cannot be blamed.
However, behind all this, the US economy continues to recover steadily, with jobless claims falling and GDP rising. What is clear to us is that sooner or later the stimulation package will definitely be passed more or less irrespective of which candidate wins – and that will add to the existing massive stimulation and ultra-low interest rates that are now propelling the US economy forward. For that reason, we believe that this downward trend can only be a correction and not the start of a new bear trend.
In time, investors will look at the prospects of the world economy going forward into 2021 - and that will become the main driver of markets.
It also seems highly likely that a viable vaccine will soon be in production. Early indications are that there are several very promising options – such as that being developed by Oxford University and to be manufactured by Astra-Zeneca (AZD1222) in the UK. This vaccine has now been approved for clinical trials in South Africa, the US, the UK, Brazil and Japan. Just the prospect of widespread production of a viable vaccine will have an immediate positive impact on markets around the world. You can expect the S&P500 index to move rapidly to a new record high when that becomes a reality – probably in the early months of next year.
Our view is that the second wave of the pandemic, scary as it looks now, will not be nearly as bad as the first. We also believe that the further stimulation of the US economy is a virtual certainty within the next few months. We expect that the S&P will probably bounce off the previous cycle low at 3246 and make a reciprocal "double bottom" before moving up towards record highs again. So, nerve-wracking as the sell-off is, we see it as a correction and a potential buying opportunity which you should exploit to acquire those high-quality blue-chip shares which are still trading at significant discounts.
The acceleration in the Chinese economy's growth bodes well for the world recovery. Growth in the third quarter of 2020 was 4,9% - sharply higher than the second quarter's growth of 3,2%. Retail sales were 3,3% higher in September 2020 than in September 2019 and sharply higher than August's 0,5% improvement. The Chinese economy could well prove to be the engine which drags the world out of the COVID-19 recession. Economic growth is being driven by an increase in exports which suggests that the rest of the world is buying more Chinese products as confidence levels increase.
Mini-Budget
The Mid-Term Budget Policy Statement (MTBPS) given by Finance Minister, Tito Mboweni, last Wednesday is all about cutting the overwhelming civil service wage bill to bring the government debt under control. This not only involves reneging on their last agreement with the unions to increase wages this year, but it also involves persuading those same unions to accept three years of no increases in the future.
From the government's perspective, the logic is simple - the government wage bill has been increasing at levels above inflation for the past 15 years. Government employees have been promoted too rapidly so that in effect the entire civil service is now one promotion grade above where it was in 2006 – with the commensurate increase in salary. Something has to give. The Receiver of Revenue says that tax collections will be over R300bn below estimates and tax rates are already about as high as they can reasonably be. But, of course, the plan to freeze civil service pay must inevitably encounter the wrath of the unions and it now seems that some sort of civil service strike is a virtual certainty.
Fortunately, the union movement is not as powerful as it once was. The one-day strike by four of South Africa's major unions (Cosatu, Fedusa, Nactu and Saftu) on Wednesday 7th October 2020 was a dismal affair. Most South Africans barely even noticed it. Those of us who still have a job are happy to hold on to it and survive through the economic fallout of the pandemic. Calling a strike at this time smacks of desperation and a frantic effort to stay relevant. Relatively few union members heeded the call to stay away from work and the strike quickly fizzled out with barely a mention in the press. The unions lost face at a time when they are losing membership. We have often predicted in the past that the Ramaphosa administration would at some point come head-to-head with the unions in South Africa, but this strike seems like a very feeble first round by the unions.
There has been considerable dissension in union ranks and its radical populist leader, Joseph Mathunjwa of AMCU, has been seriously humiliated, almost emasculated, by Neal Froneman (CEO of Sibanye) just a few years ago. At the same time, Cyril Ramaphosa's political strength has increased with many of his erstwhile dissenters within the ANC in potential trouble with the law (such as Ace Magashule). Ramaphosa has the support of the country in his fight to bring down government debt levels and to counter the combined effects of the Zuma/Gupta state capture and COVID-19. He quite probably thinks that this is an ideal time for the inevitable showdown with the unions. The real question will be whether he and the government have the political will and determination to see out a long and possibly violent strike in order to bring about a new and more productive collective bargaining relationship. He has the results of Froneman's implacable five-month resistance of AMCU to reassure him. He knows that the unions, even the most radical of them, can definitely be beaten.
Finance Minister, Tito Mboweni, is not hopeful of getting a further $2bn loan from the World Bank, probably because of the government's apparently insane decision to pump a further R10,5bn into a new airline to replace SAA and its refusal to stop providing state-owned enterprises, in general, with bail-outs. This is one of the conditions which the World Bank wants to impose before lending the money. The World Bank also wants South Africa to cut its government wage bill substantially – but that is something that Mboweni plans to do anyway. This year, the government needs to borrow more than three-quarters of a trillion rand to finance its immediate needs and pay for COVID-19. The decision to continue with COVID-19 relief for a further 3 months at a cost of about R25bn will probably have to come from further reductions in the budgets of various departments.
The MTBPS now projects that the government deficit will rise to 92,9% before beginning a gradual decline to more reasonable levels. Of course, this projection rests on three critical assumptions:
that the cuts in the civil service wage bill will be possible, something that will only become clear when an agreement with the unions has been reached,
this year GDP will shrink by 7,8% followed by growth of 3,3% next year and 1,7% in the year after that, and
that there are no further shocks to the South African economy – like a second wave of COVID-19, or some other disaster.
It seems improbable that all three of these requirements will be met – but there is almost no room for any further adjustments. This is undoubtedly the tightest budget that South Africa has ever seen.
The budgeted R10,5bn ear-marked for the SAA debacle must be (as we said in the previous Confidential Report) the absolute low point for the Ramaphosa administration. It also marks the second nonsensical intervention by Pravin Gordhan in the affairs of a state-owned enterprise (SOE). His first was when he overrode the entirely logical decision by the then CEO of Eskom, Phakamani Hadebe, to freeze wages at the utility – and the over-turning of that decision ultimately led to Hadebe's resignation. His latest intervention on behalf of the defunct SAA simply defies reason. It is apparent that in the tightest budget in the history of South Africa, R10,5bn had to be scrounged by a very reluctant Tito Mboweni from other departments (mainly the police and higher education, but also 39 other departments) – and for what? To try to establish a new airline with half of the same staff that took the previous one into insolvency, despite more than R35bn of taxpayer injections and at a time when airlines are failing all over the world. There is no business plan for this new airline and commercial banks have understandably refused to have anything to do with such an insanity. So, the taxpayer is once again to be saddled with another loss-making incubus in order to satisfy the ruling party's ego. Maybe it is time for Gordhan to retire.
The Rand
As luck would have it, the presentation of the mini-budget took place on the same day that Wall Street fell by 3,5% - Wednesday, 28th October 2020. This was a total coincidence. The two events had absolutely nothing to do with each other. But, of course, the JSE fell sharply on that day, on the back of falling markets in Europe which were anticipating the fall on Wall Street. The underlying cause of this was the rapidly increasing number of COVID-19 cases in Europe and America – nothing really to do with this country. The so-called "second wave" has been "spooking" markets for some time, but the fear really took hold on 28th when both the US and UK had close to record numbers of new cases on the previous day. Journalists in South Africa and the economists that they consulted unfortunately linked these two disparate events. The Business Day's Karl Gernetzky said, "SA assets, including the rand, bonds and stocks, came under pressure on Wednesday after finance minister, Tito Mboweni, unveiled a bigger-than-expected budget deficit". This gives the impression that the MTBPS caused markets to fall – which, of course, is totally wrong. Obviously, these assets fell mostly because of a sharp shift to "risk-off" on international markets which caused investors to withdraw their funds from emerging economies like South Africa – a vital point which Gernetzky did not even mention. Consider the chart of the rand: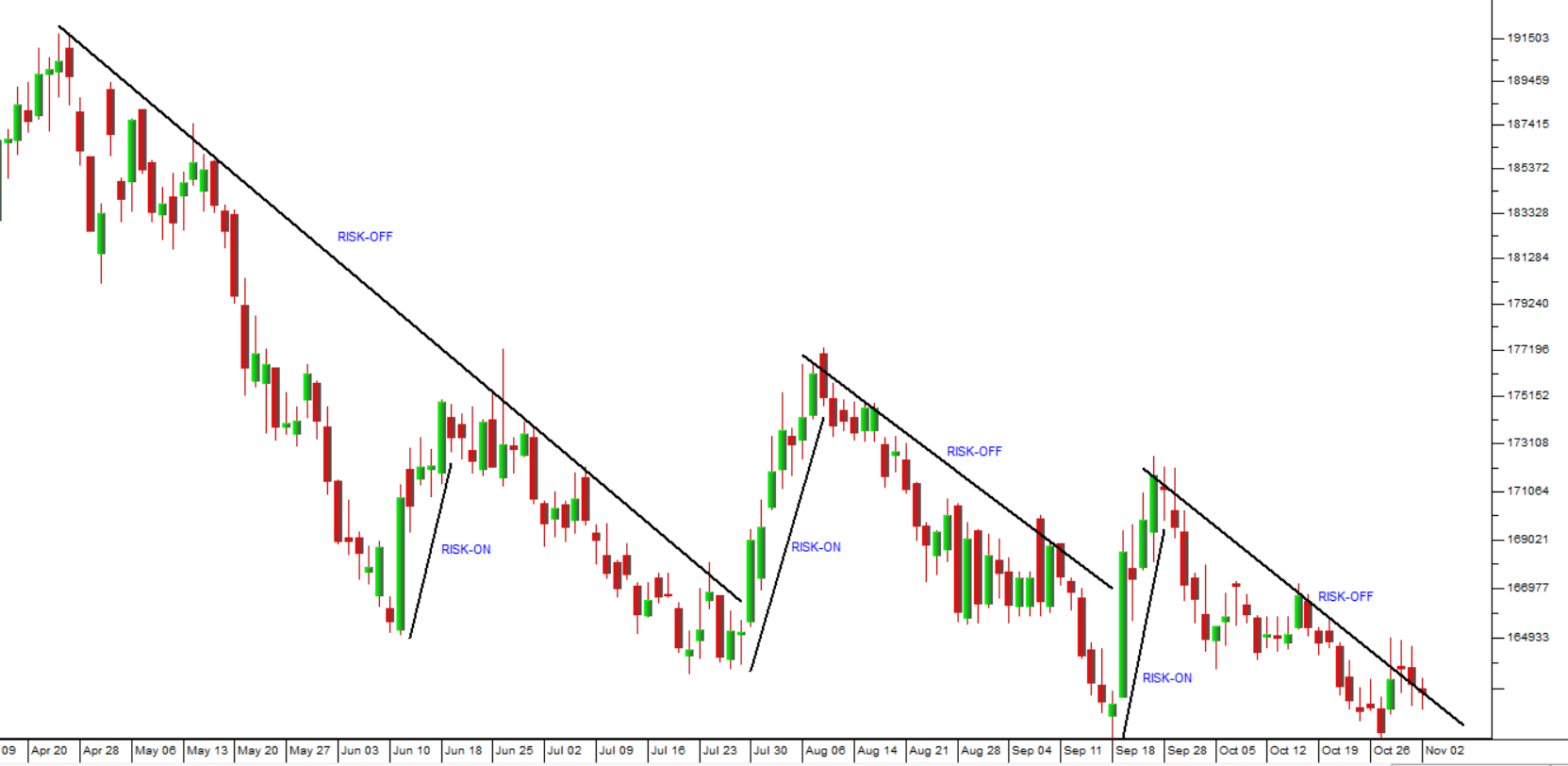 You can see in the chart above that the MTBPS accounted for a very small temporary weakness in the rand which has already been recovered. In our view, the rand will continue to strengthen in the coming days – unless there is another radical shift to "risk-on" by the international investment community.
As a private investor you must be aware that journalists will always seek to make the connections which support their story angle irrespective of the facts. But you must not allow yourself to be influenced by journalist opinions. You must establish the facts for yourself and then make your own mind up about the causes of what happened.
Eskom
The steps being taken to "transition" Eskom from coal to renewable energy and at the same time re-negotiate its debt using "concessionary finance" are potentially encouraging. For the first time there is an indication that this intolerable burden could ultimately be removed from the South African economy. The idea is simple, Eskom will take advantage of the fact that there are wealthy international funders willing to finance the transition away from expensive and polluting coal power stations to renewables. They are willing to do that with what is called "concessionary finance" – which means either that some of the money will be given to us, and/or that the interest charged on the money will be well below commercial rates. Right now, Eskom has to pay about R30bn per annum just in interest on its debt. That load could be substantially reduced if Eskom is willing to switch from coal-fired power stations to renewables much more quickly than has been previously envisaged. This would also have the advantage of reducing the cost of power while making it much more reliable. However, the main benefit is that Eskom's R490bn debt will be re-scheduled to more manageable proportions and hopefully remove what ratings agencies have called the single greatest threat to South Africa's economic stability.
The work which is being done in Eskom's administration is beginning to have a real impact on that organization. With the assistance of the "political task team" led by deputy president, David Mabuza, the way is being cleared for Eskom to solve its numerous problems, from the R191bn owed to it by municipalities, to the shoring up of its fleet of aging coal fired power stations and bringing of 11,6 gigawatts of additional power generation on board, 6,8 megawatts of which will be renewable. The new CEO, Andre de Ruyter says that by April 2021 the system will become far more reliable and by September 2021 the probability of load shedding will be significantly reduced. This bodes well for the recovery of the economy.
The change in regulations that allows municipalities to source their power outside Eskom is a major step forward. Renewable energy is now somewhat cheaper than Eskom's rates. Of course, it means that Eskom will lose even more customers which will add to its financial woes – but it is definitely a step along the path of electricity reform in South Africa. Unfortunately, the new ruling only applies to municipalities which are in good standing – and only 20 out of the 257 can claim this. But perhaps this will be an incentive for them to get their house in order and achieve a clean audit in coming years. Basically, a municipality can now contract with an independent power producer (IPP) to supply all or part of their electricity needs over a long period. The Western Cape is actively planning to move away from Eskom.
The Economy
The better-than-expected 4,2% contraction of August 2020 retail sales compared to August 2019 shows that consumer spending is picking up quickly. The recovery from the lockdowns has been faster than 6,8% average than economists were predicting. Sales were also 4% higher than in July 2020. The lifting of the ban on alcohol and cigarette sales had a major impact. It is apparent that the 3% cut in interest rates during 2020 is now beginning to have a noticeable effect on consumer spending. In our view, the economic recovery from the pandemic will generally be faster and more powerful than most economists are predicting.
The Quarterly Employment Statistics (QES) produced by Statistics SA for the second quarter of this year shows that on average people's salaries fell by 9% on an annualized basis during the quarter. The QES is different from the Quarterly Labour Force Survey (QLFS) in that it surveys 20 000 formal businesses where the QLFS surveys 30 000 households. Construction as well as Trade and Manufacturing were the hardest hit. Obviously, as the lockdown receded, the figures for the second quarter should be a lot better.
The revelation by FNB that approximately 2 million people did not receive salaries in April 2020 shows the impact of the lockdown, but FNB also says that by September spending levels were back to 97,5% of what they had been in February before the lockdown began. This bodes well for the economy as it shows how rapidly things are normalizing. Despite this, there can be little doubt that some sectors of the economy have benefited from COVID-19 while others have suffered, and some will probably never recover. It is likely that the demand for office space will be drastically reduced. With companies like Standard Bank reporting that as many as 70% of their staff are able to work from home, it will not be likely that the office market will recover. The same can probably be said for the hotel sector where business travel has slowed to a crawl – so companies like City Lodge will probably have incurred lasting damage.
The Land Bank cutting loans by as much as 60% shows the pressure which the Treasury is under at the moment. It needs to provide the Land Bank with at least R7bn to avoid a collapse of the Land Bank's lending structure of R50bn. There is also the question of providing finance to farmers for the 2020/21 planting season to avoid a shortage of maize. Current estimates show that South Africa should produce a good crop in the coming season – but it will need the cheap finance usually provided by the Land Bank to do this.
Professor Michael Sachs' paper on South Africa's fiscal difficulties supports the action taken by Tito Mboweni. It indicates that massive cuts in the government's wage bill are indicated. The level of debt will otherwise rise to unacceptable levels where some type of default is inevitable. But, in Sachs' opinion, cutting the civil service wage bill by R310bn over the next 3 years will be politically impossible – and yet it must be done. Of course, the only other real alternative would be to begin a carefully controlled program of quantitative easing (Q/E) to close the gap. In time this would obviously be inflationary, but right now our inflation is very low and, provided the Q/E was well controlled, it could be a viable solution. At this stage, the Governor of the Reserve Bank, Lesetja Kganyago, has set himself against Q/E, saying it is unnecessary right now, but we think that it may be inevitable.
Lesetja Kganyago, Governor of the Reserve Bank, has drawn attention to the fact that administered prices have been rising faster than the inflation rate for some years. Electricity is up 6,2%, water 10,1% and municipal rates 4,6% - against an inflation rate of 3,1%. Obviously, these increases are ultimately inflationary. They mean that the rest of the economy's inflation was even lower than the official 3,1% - mainly because of lower oil prices.
President Ramaphosa's recovery plan is largely dependent on funds from the private sector for the massive R1 trillion infrastructure build program which he envisages. This program will be managed by the Development Bank of Southern Africa (DBSA) and the fund will get about R100bn of "seed capital" from government which it hopes can be leveraged into ten times that amount with contributions from the private sector. The Development Bank of Southern Africa (DBSA) is a government-run banking organization that provides funding for development projects and private/public partnerships. In its results for the year to 31st March 2020 the state-owned enterprise (SOE) reported profits down from R3,6bn to R504m – mainly because of provisions for bad and doubtful debts – which have not yet materialized but are expected. The bank said it is receiving payments on all its loans at this stage. This organization is one of the few SOE's that is profitable and potentially a source of funds for the government.
The objective of the plan is to create 800 000 new jobs before the end of February 2021 on "shovel-ready" projects. Obviously, that in turn depends on the willingness of the private sector to commit to public/private partnerships and for it to raise the capital. A recent IMF survey indicates that the South African economy will raise total capital of just 13% of GDP in 2020 – a new low figure which compares with Nigeria's 25% of GDP. Confidence levels are low at the moment and investors generally are very cautious. The main concern is that this plan, like the many government plans that have come before it, will not be implemented.
General
An international survey by Cisco has found that 53% of large companies plan to reduce their office space as more people work from home. Ninety percent of respondents said that they would not return to work full-time and about 12% said they would work from home full-time. This signals a major shift in the world economy as working from home becomes the new normal.
The rising number of arrests in various state capture cases is having a positive impact on overseas perceptions of South Africa and hence on the strength of the rand. The plea and sentence agreement reached with the former CFO of VBS Bank, Philip Truter, will significantly strengthen the state's case against a variety of offenders in that case. Then there is the rumoured imminent arrest of Ace Magashule who is the general secretary of the ANC and a member of the National Executive Council (NEC). These are all positive developments because they strengthen President Ramaphosa's position and weaken the Zuma/Gupta camp.
The publication of the new land expropriation bill will probably put investors' minds at rest. Evidently there is to be no Zimbabwe-style indiscriminate land grab. Land which is not being used and is held with the sole purpose of capital gain can be expropriated without compensation – but the courts will decide. We believe that the EFF will say that this is insufficient. They were always looking for a populist land grab. Overseas investors will take some comfort from the fact that such expropriations are likely to be few and far between – and will not happen where the land is being gainfully used.
The SABC, which received a R3,2bn bailout from the government in 2019, now says it will run at least a R1,5bn loss this year and is looking for further funds from government. The government is busy with a change to the law that will oblige pay-TV channels to pay for the free content which they get from SABC. This is the "must carry" content of the free-to-air SABC channels 1, 2 and 3. Perhaps this is a mechanism to ensure SABC's survival, but we believe that the organisation should become more business-like and reduce its over-burgeoning staff of 3000 employees.
A recent survey by the University of Johannesburg has highlighted the fact that South Africans are definitely suffering from "COVID-19 fatigue". Most people do not think that they will contract COVID-19 and many believe that the threat has been exaggerated. It is probable that the lack of seriousness has resulted in an uptick in cases in various areas. Mask-wearing has declined, and many people are wearing masks without covering their noses. Social distancing has also reduced, and many stores are no longer taking temperatures or limiting the number of people in the store. Sanitizing is left to customers to do as they walk in without supervision. Most people are not wearing masks when traveling in their cars and most taxis are not insisting on the wearing of masks or keeping their windows open. Some of this is probably due to the fact that South Africa has had a much lower mortality rate than elsewhere in the world. The economic crisis appears to have become more important to most people than the threat of the disease.
The public's perception of President Ramaphosa's handling of the crisis has also deteriorated with only 65% saying he was doing a good job – down from 85% at the start of the pandemic. Comparing South Africa's handling of the pandemic to that of Australia is interesting. Australia has a population of about 25m people compared to South Africa's 58m, but they have managed to contain their number of deaths to a total of 907 while we have had over 19000 confirmed deaths. Australia is getting about 25 new cases a day while we are getting between 1000 and 2000. Clearly, this is the difference between a relatively undisciplined emerging economy with almost no border control and a highly disciplined first world economy where most of the population follows the government's rules without question.
The Medical Research Council (MRC) reports that the number of "natural" deaths was above the upper range of its forecast for the second week in a row in the week to 20th October 2020 – indicating that the pandemic is once again becoming a factor. The MRC says that the increase is coming mainly from the Free State, Mpumalanga and the North West provinces – which were also the provinces that experienced the pandemic later than the others so maybe they are catching up. What is notable is that there have been more COVID-19 cases recorded in the Western Cape in the past two weeks, especially among younger people, but the number of hospitalisations has not increased – which suggests that these new cases were largely asymptomatic. From the evidence at this stage, it seems unlikely that South Africa will experience a second wave such as is impacting Europe and America at the moment.
Commodities
Mining production in August 2020 was considerably better than expected and only 3,3% down on last year. This follows June's drop of 25% and July's 6,5%. The rising demand from China for our raw materials combined with rising commodity prices has made this one of the fastest-recovering sectors in the economy. Mining contributes 7% of GDP – a figure which has fallen over the years. The sector is constrained by the rising cost of electricity and its unreliability.
It is notable that the new R250m manganese mine in the Northern Cape, East Manganese, will be powered entirely by solar power. Eskom's unreliability and rising cost is increasingly driving mining companies and other businesses to build their own electricity solutions. In seven- or eight-months' time, this new mine should reach steady state and be producing about 30 000 tons of manganese ore per month.
The worldwide demand for coal and oil has dropped quite sharply as a result of the COVID-19 pandemic. Some estimates are that energy demand is down by about 5% in 2020. At the same time there has been a sharp rise in renewable energy production and the uptake of electric motor vehicles. Investors are shying away from investment in coal, oil and other carbon energy production. BP is suggesting that 2019 may prove to be the peak of world oil consumption. In their plans for recovery from the pandemic, most governments are emphasizing the development of renewable energy sources. Obviously, the outcome of the US elections will be critical to global warming. A Trump victory will almost certainly mean that the world will pass the "tipping point" while a Biden victory could signal that there is still some hope of reducing emissions rapidly enough to avoid the worst of climate change.
The significant second find of gas and condensate in the Outeniqua Basin, added to the earlier Brulpadda find, makes exploitation viable and potentially a huge game changer for South Africa over the next 20 years. Of course, much depends on the investor friendliness of the new Upstream Petroleum Development Resources Bill which is currently being processed. The resource will enable the export of gas and condensate and could be used to boost local energy availability significantly. In any event it is some good news following the tightest mini-budget in South African history.
Companies
FAIRVEST
Fairvest (FVT) is a real estate investment trust which specialises in investing in smaller rural and non-urban shopping centres that are focused on consumers who have a lower living standard. The company boasts that it is the top-performing real estate investment trust (REIT) in South Africa with a return to investors of just under 18% for the year. The balance sheet remains conservative, with R132.8 million of undrawn debt facilities to consider opportunistic yield accretive acquisitions. It has a net asset value of 221c compared to a current share price of 170c. Technically, the share fell in April this year because of COVID-19, but has been in a steady upward trend since then. In our view this is a well-managed REIT which is in a niche market that has been performing relatively well during the lockdown. Consider the chart: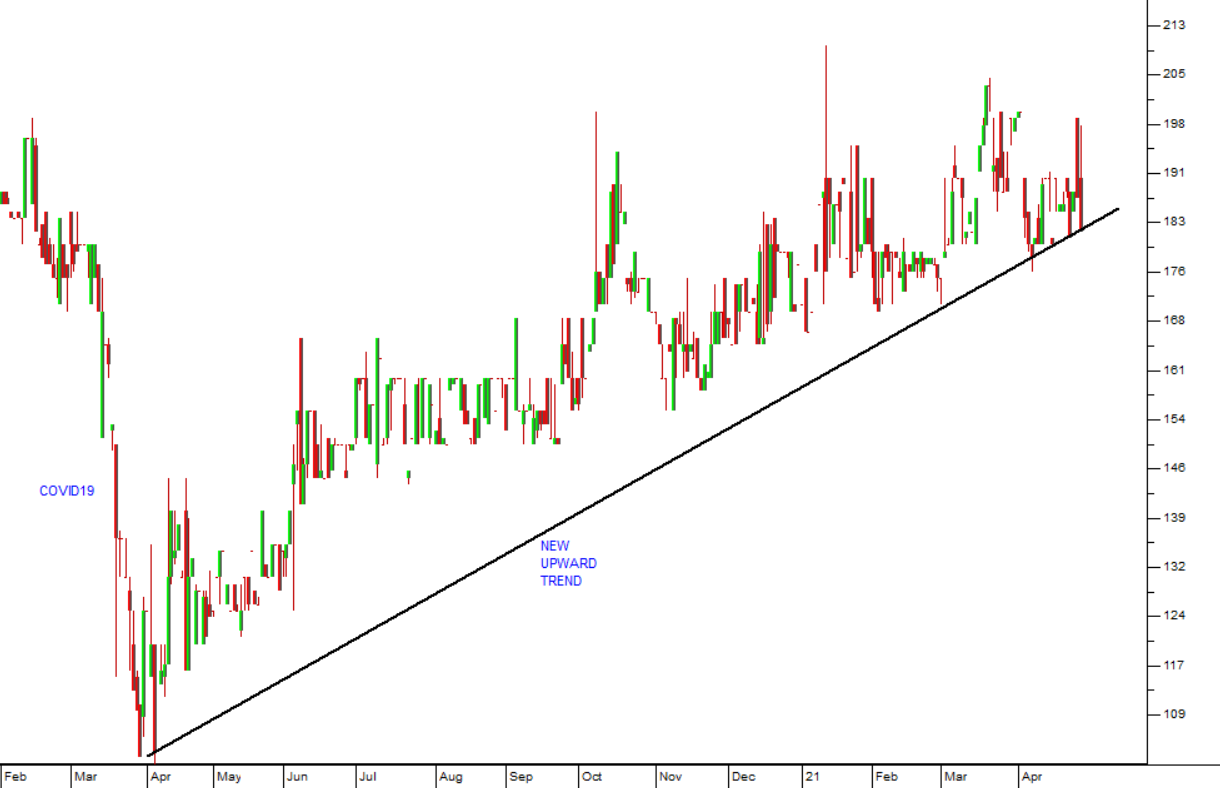 MULTICHOICE
Multichoice (MCG) is a leading entertainment company in Africa and one of the fastest-growing pay-TV broadcast providers in the world with 19,5m subscribers in 50 countries. Its subscriber base has grown by 14% per annum compound for the past two financial years. The share was spun out of Naspers and separately listed on the JSE on 27th February 2019. This company is probably close to an ideal company for the private investor because its income is mostly annuity income, in the form of debit orders, with a very diverse client group. It has virtually no working capital because it is essentially a service company and does not need to carry a large inventory. It also does not have a large unskilled or semi-skilled workforce, although it has had union problems in the past. The potential for pay-TV in Africa appears to be substantial but may be eroded by 5G internet access in the future and the existence of free online access through platforms. In our view this is a solid blue-chip share which is growing rapidly. Technically, the share reached a low of R75 in March 2020 during the lockdown, but has recovered since to over R100, mainly because of buying by the French media group, Groupe Canal which has now built its stake up to 12% and may well be making a take-over bid. The chart shows how this has impacted on the share's volume and price as far back as September this year.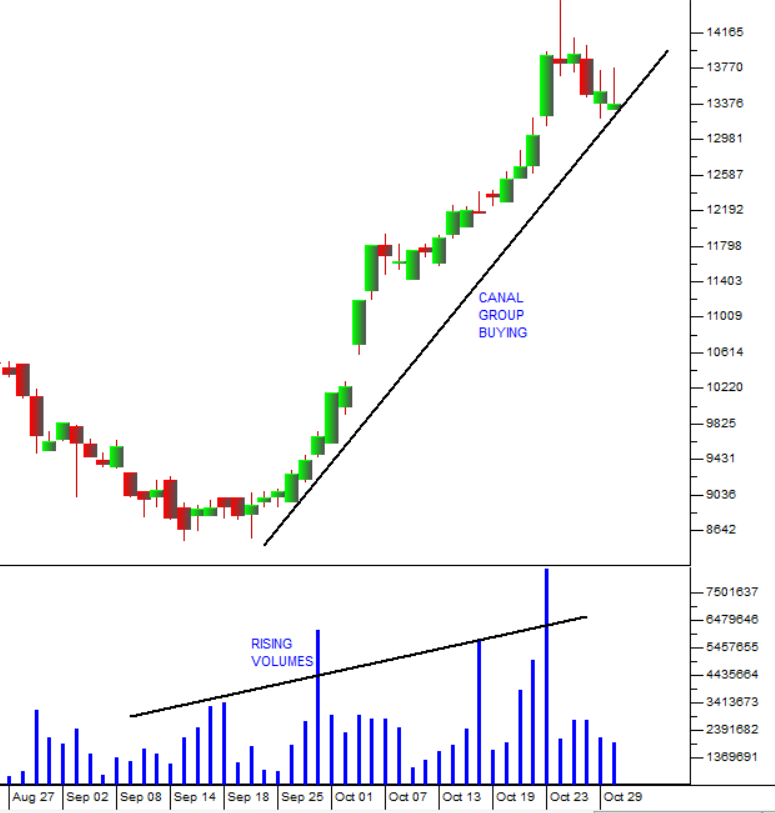 CAPITEC
Capitec Bank (CPI), launched by PSG, has been a major disrupter in the South African banking system. It has steadily taken retail market share from the other banks by offering a cheaper and easier solution, especially for the previously unbanked section of our population. The company is adding about 90 000 new funeral policies every month. In our view, this share is a "must-have" for any private investor's portfolio. Its parent company, PSG has now unbundled its holding of Capitec shares to release shareholder value. Capitec clients' incomes have recovered to 95% of what they were before the pandemic began. In early September 2020 we suggested that buying this share at below R1000 would be a bargain and we pointed out the fact that it was about to break up out of its sideways pattern. Since then the share has moved up strongly to R1140. The chart shows the sideways "triangle formation" out of which the share has now broken to begin a new upward trend.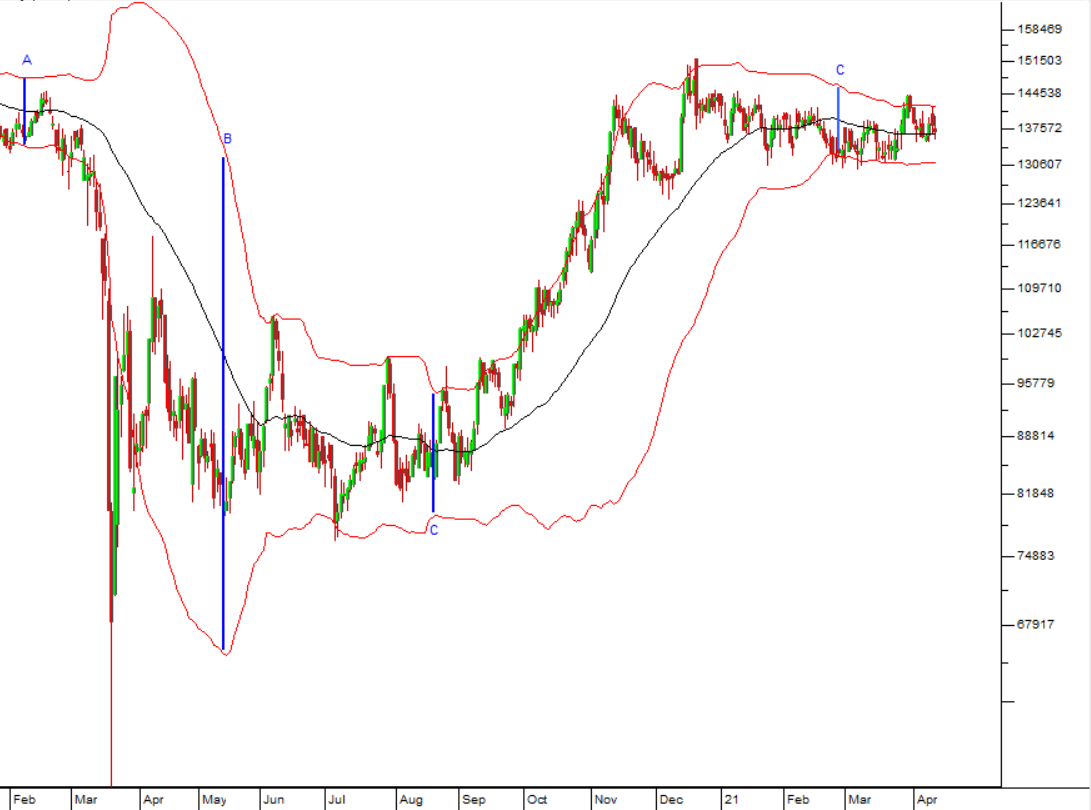 OMNIA
In our update of the Omnia opinion on 28th July 2020 we said of the share, "you may not see it much cheaper than it is now". The share had recently broken up through its 200-day simple moving average and was trading for just 2760c. We drew attention to the fact that the share was well below its net asset value (NAV) of 5800c and that it looked like good value to us. Since then the company has managed to sell some of its assets and reduce its debt considerably, thus releasing some of the value that it had tied up. On 19th October 2020 the company announced that it had managed to sell its Oro Agri Business for a value of R2,5bn which would be applied to its debt. Consider the chart: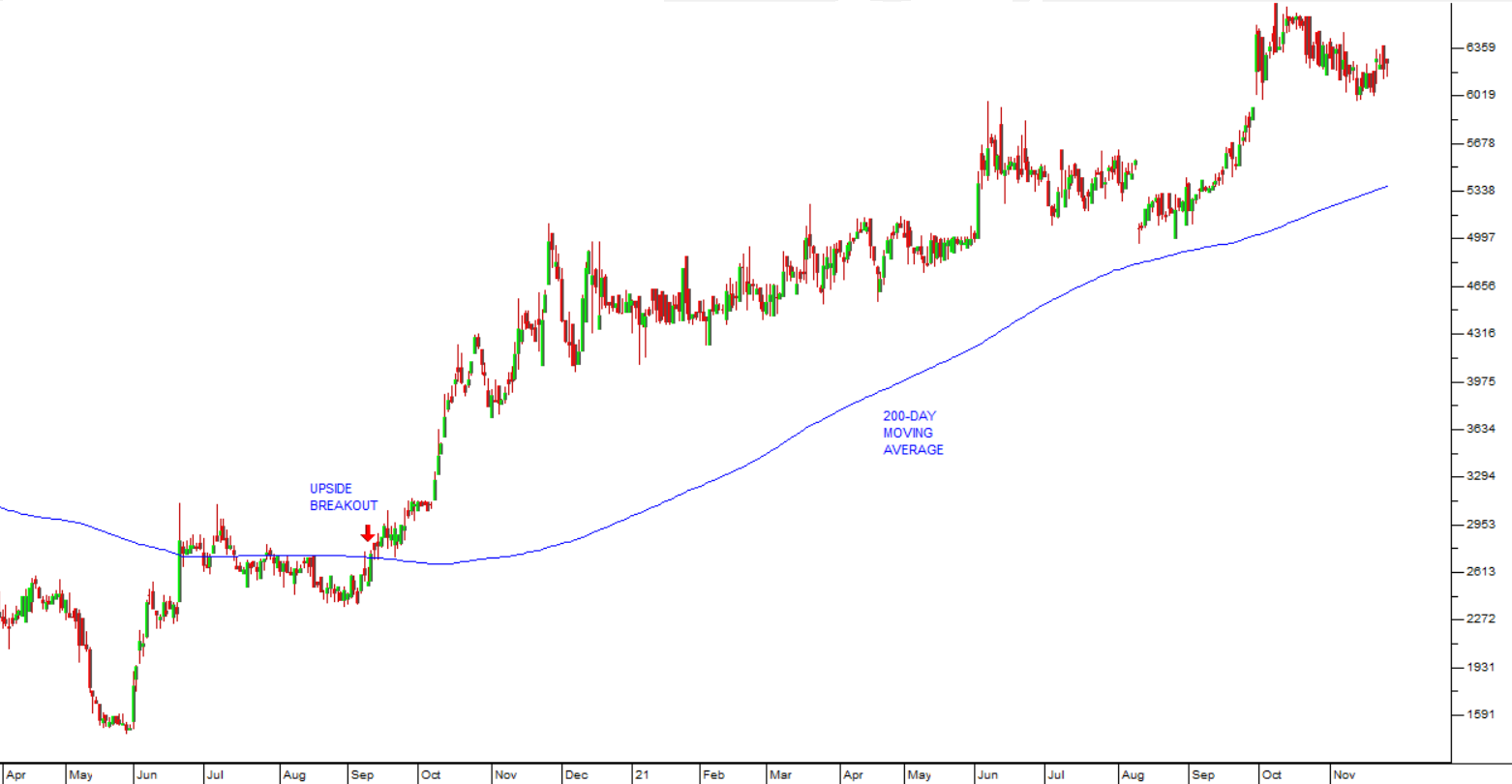 Here you can see the breakup through the 200-day moving average and the date when we updated the opinion (22-7-2020). Since that update the share has appreciated by 38% in about 3 months.
EOH
Enterprise Outsourcing Holdings (EOH) was Africa's largest information technology company with involvement in almost every aspect of computer applications. The company had 11000 staff members and 2500 "large enterprise customers" in South Africa, Africa and the Middle East. It was, until August 2015, the darling of the JSE because it had a long track-record of steadily improving profits. It made a peak of R178 per share at a P:E of 35. An unsuccessful attempt to exceed that high (i.e. a double top) came a year later in September 2016 and since then the share has fallen steadily to reach a low of 230c in March 2020. This fall has been accompanied by allegations that the company was involved in and owed its success to state capture in collaboration with the Guptas. The CEO and founder, Asher Bohbot, resigned in May of 2017 and handed over to Zunaid Mayet, who has now handed over to Stephen van Coller. Usually, when a company is run by a strong charismatic leader and that leader (like Bhobot) resigns, it's time to sell the share. The company announced on 13th December 2019 that it had exceeded its target of raising R1bn through asset sales to address its debt problem. The company's 200 subsidiaries have been consolidated into 3 divisions with centralised debt collection and procurement. This news boosted the share 45% in a single day as investors regained hope in the company's eventual recovery. We have long urged caution and suggested waiting for a convincing break above the 200-day simple moving average before buying - that upside break has now occurred. Consider the chart: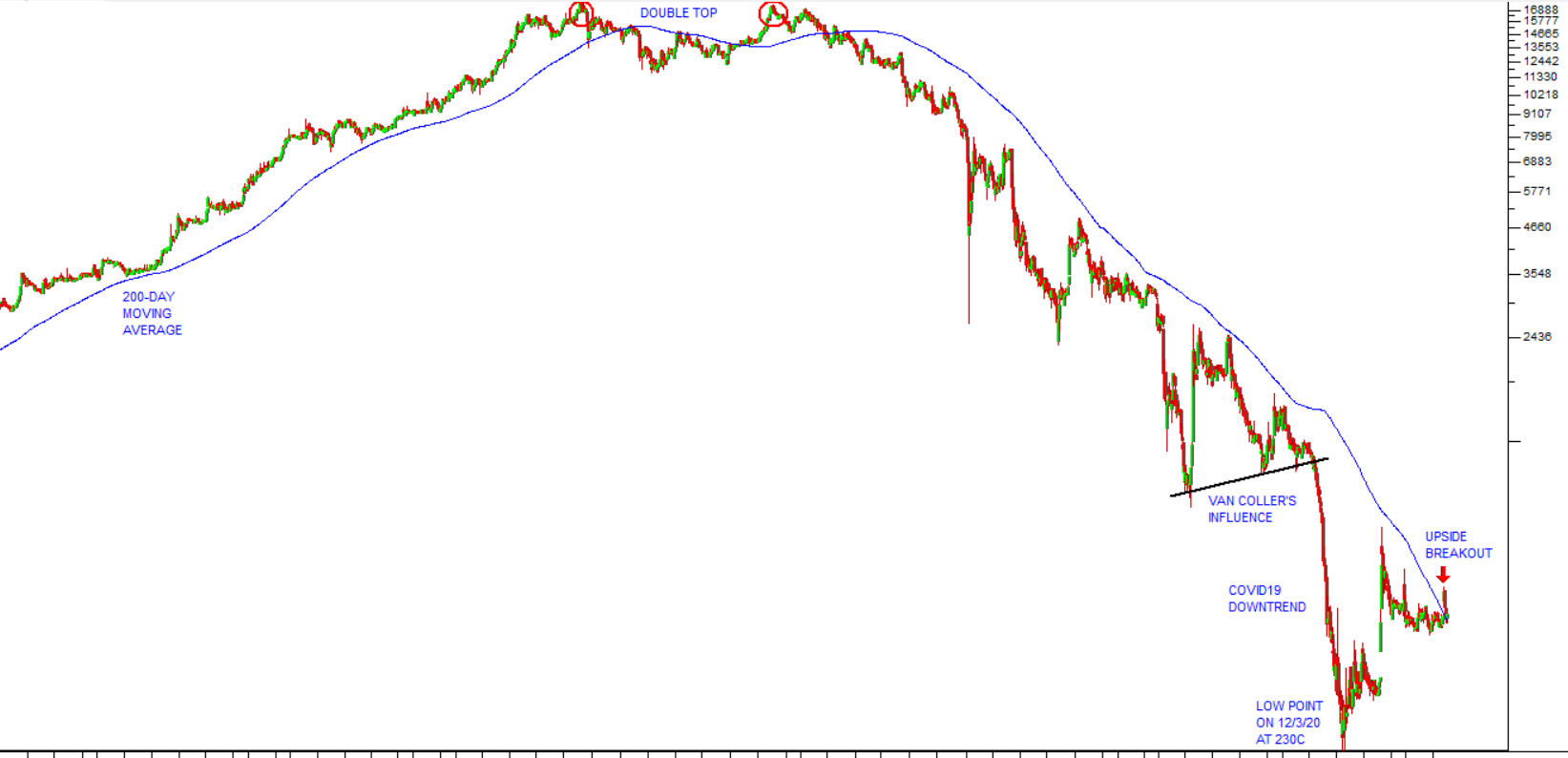 Here you can see the upward trend and the "double top" formation. The new CEO, van Coller, was beginning to have an impact when COVID-19 struck. However, since March this year the share has been climbing steadily and has now broken above its 200-day moving average to give a clear buy signal.
IAPF
Investec Australia Property Fund (IAP) is a real estate investment trust (REIT) which concentrates on property investments in Australia and New Zealand. It is owned 23% by Investec Property Fund and 17% by Investec itself - giving Investec effective control. It owns 30 properties worth a total of AU$1,1bn mostly in New South Wales. Obviously, the performance of this REIT is dependent on the Australian economy which has managed the COVID-19 pandemic very well compared to other countries. The past yield of 8,8% on the company's portfolio represents a very good return on a well-capitalised and well-managed rand hedge. In its results for the six months to 30th September 2020 the company reported headline earnings up 16%. Occupancy was 97,5% with a weighted expiry of 4,8 years and rental collections of 99%. The company's net asset value (NAV) was flat at AUD1.34 and its loan-to-value (LTV) is below 30%. The company's units trade on a relatively undemanding multiple (P:E) of 18.59. As with all property shares, IAPF fell during COVID-19, but it has recovered most of what it lost, and we believe that it represents good value at current levels. IAPF is benefiting from the excellent control of COVID-19 in Australia where there have been less than 1000 deaths and the country has only 2500 confirmed cases with about 25 new cases per day. Consider the chart: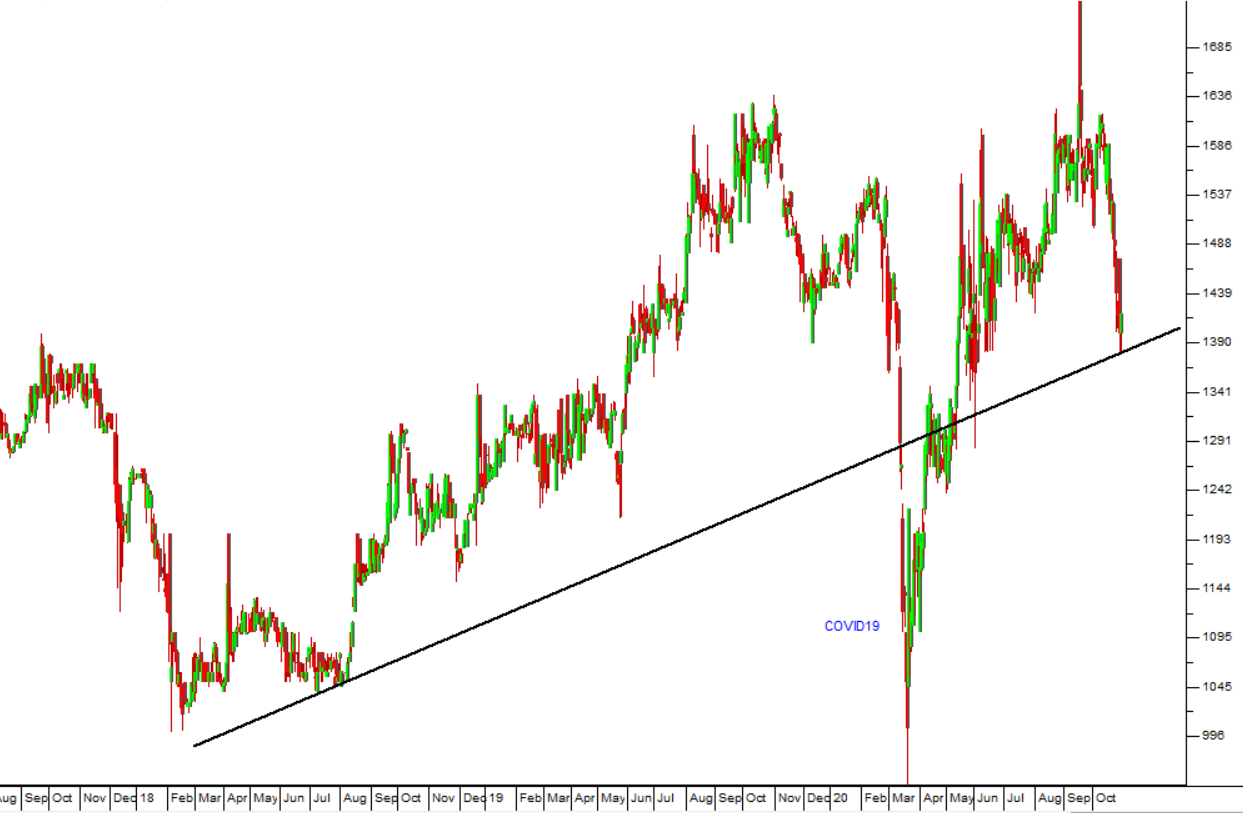 DISCLAIMER
All information and data contained within the PDSnet Articles is for informational purposes only. PDSnet makes no representations as to the accuracy, completeness, suitability, or validity, of any information, and shall not be liable for any errors, omissions, or any losses, injuries, or damages arising from its display or use. Information in the PDSnet Articles are based on the author's opinion and experience and should not be considered professional financial investment advice. The ideas and strategies should never be used without first assessing your own personal and financial situation, or without consulting a financial professional. Thoughts and opinions will also change from time to time as more information is accumulated. PDSnet reserves the right to delete any comment or opinion for any reason.
Share this article: