4 March 2020
By PDSNET
This month's Confidential Report is dominated by two major developments:
Internationally, by the

correction

in world markets caused by the coronavirus - which has been gaining some momentum with the

S&P500 index

down 12,75% at one stage from its highest point.
And locally by the South African

Budget

– especially the plan to cut R160bn from the wages of 1,3m public servants.
Corona
The progress of the virus has been rapid. The number of cases and deaths in China appears to be reaching a plateau, but the virus has spread to Italy, South Korea and Iran. What has unnerved the markets is the growing realisation that corona is looking more and more like a world-wide pandemic with over 85000 infections and 3000 deaths so far. If it is going to impact every country in the world then it will certainly impact on business and hence the stock market. Already companies like AB Inbev are blaming some of their poor results on Corona because Chinese people are not going out in public and consuming beer.
However, corrections are usually the most dramatic at the start and then tend to settle down after a while. The S&P has been falling for 8 trading days now and is down about 11%. In our article on 29th January 2020, we suggested that this correction would probably take the market down between 10% and 20% from its highest point – so we are well on our way to that.
We expect that the market will soon enter a period of "backing and filling" as investors try to assess the true impact of the virus. Gradually, as more clarity emerges, the downward movement will probably be arrested, move sideways, and then eventually give way to a new upward trend.
As a private investor you need to consider whether you believe that this is the start of a new bear trend or simply a long-overdue, and thus healthy, correction. There can be no doubt that by 19th February 2020, when the S&P500 index made its last record high at 3386, markets were ready for and looking for some sort of correction. Your decision as to whether this new downward trend represents a correction in a bull trend or the start of a new bear trend is critical because if you think that this is the start of a new bear trend, then you need to be completely out of the market, whereas if you believe that it is a correction, then you need to treat it as a buying opportunity.
In our view, despite the rapid spread of corona, it is more likely to be a correction than a new bear trend. We base this position on the slowing infection and death rates in China and on the fact that the rest of the world is rapidly implementing policies which will minimise the spread of the disease. In the longer term, it is likely that some sort of vaccine will be produced. Consider the chart of the S&P500 index: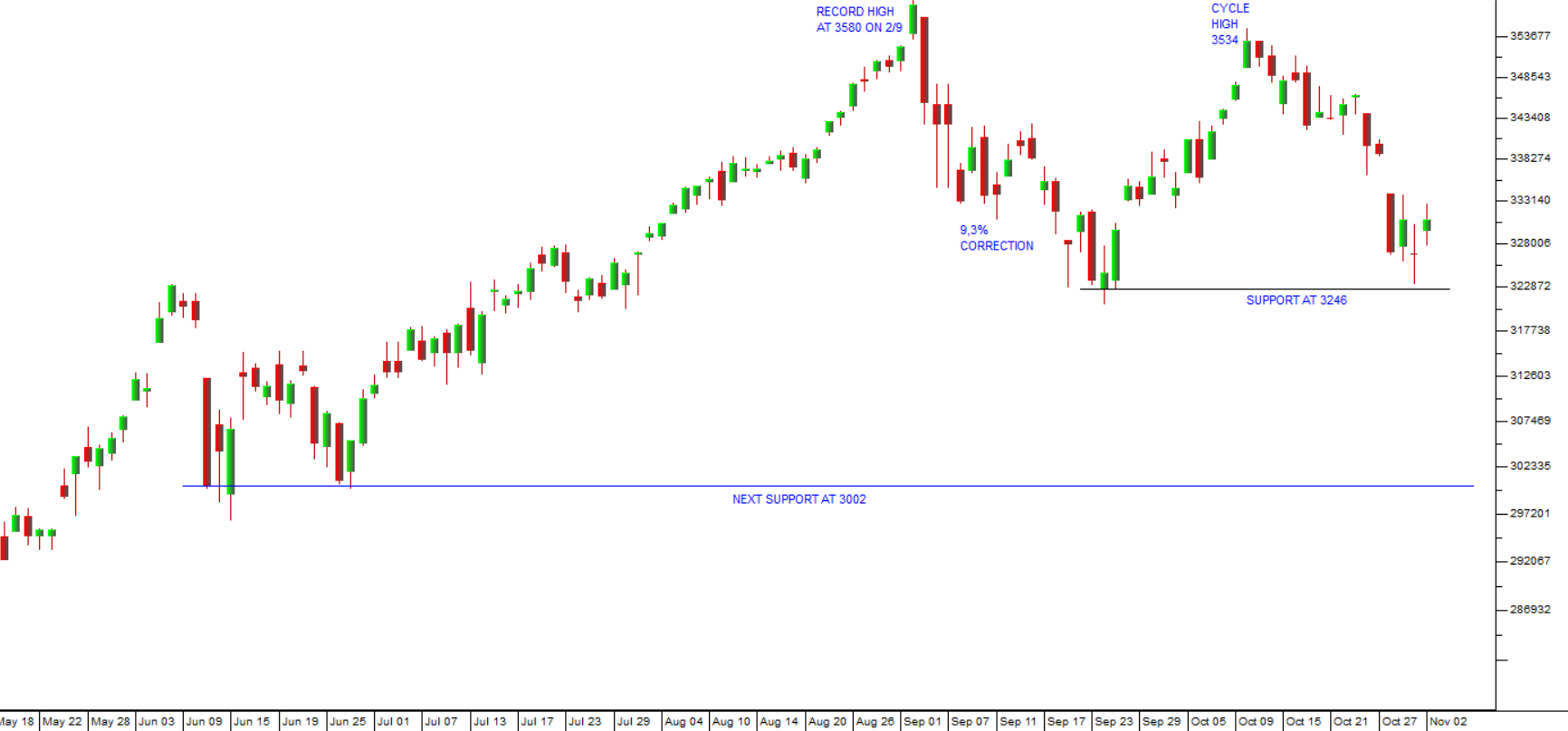 Here you can see the fall from the record high made about two weeks ago. The fall has taken the S&P down through the 200-day simple moving average and on Friday it tested the previous cycle low at 2887, but bounced sharply off it to close well above its opening level (hence the green candle).
Technical analysis indicates the average perception of the smart money. At this point some will be looking for bargains and some sort of short-term "relief rally". It is very rare for the S&P to fall for such an extended period without some sort of rally. In essence, the market has to become used to the daily progress of the coronavirus and factor it into their valuations.
Having said that, you should be aware that downward trends usually have a "dead cat bounce" on their way down. This is a strong rally which normally recovers roughly half of what has been lost before the downward trend resumes and goes to new lower lows. You need to be very sure that, whatever rally there is, it is not a dead cat bounce before you get involved. Remember the old Wall Street wisdom, "If you drop a dead cat from high enough, it will bounce – but it is still dead".
The recent sell-off in stocks has the effect of making investors lose context and forget where we are in the long-term sequence of events. Can the coronavirus really derail the massive economic boom that has been gathering momentum in America? At this stage that seems unlikely. There have been patchy reports of industries impacted by the restrictions imposed by the Chinese authorities but shares which have exposure to China have been hammered down disproportionately by investors. For example, AB Inbev in its recent results for the December 2019 quarter estimated that it had lost about $285m worth of sales in China - which is about 0,5% of its December quarter sales. Investors have taken the share down by a massive 21% in the past 9 trading days. Surely that is an over-reaction? Consider the S&P500 chart: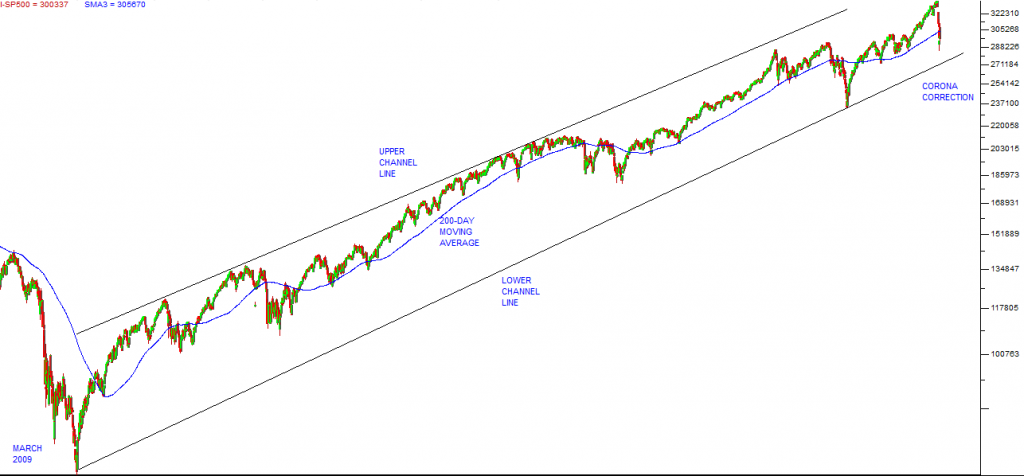 The great bull market, which began on Friday 6th March 2009 when the S&P touched 666 has now been in progress for 11 years – longer than any previous bull trend. The balance of probabilities must be that the corona correction now in progress does not signal the end of that bull trend. This too is reflected in commodity prices which have been in a strong upward trend since the start of 2016. For example, the palladium price made a new record high on Friday last week at $2795. Clearly, the manufacturers of auto-catalysts are not expecting world sales of motor vehicles to fall any time soon.
So, our advice is that you watch the progress of the S&P carefully and, when you feel that the downward trend may have run its course, choose your moment to take advantage of the lower prices to buy into a high-quality, blue chip share. For example, Prosus, which we previously advised you to consider, is now down about 5% from its cycle high made on 20th February 2020.
In 2003 when the SARS virus struck, also in China, China represented about 4% of the world's economic activity. Today it represents around 16% - four times as much. The Chinese are dealing with the virus very aggressively, mainly by preventing the movement of people from one place to another. This does seem to have slowed the progress of the virus somewhat, but it is impacting on business in China and that, in turn, is affecting the world economy. For example, the oil price recently rose by about 4% apparently due to news that a cure has been found for the virus – which shows that oil prices were already maybe discounting a slowdown in the world economy. Corona is expected to shave about 0,5% off the Chinese GDP growth rate in 2020 and could cut 0,2% off the world economy's growth. However, the strength of the US economy and its growth momentum makes it unlikely that the virus will slow down the record-breaking trend of the S&P500 for very long. Corona could also impact on the tourism sector in this country because we normally get as many as 100 000 Chinese tourists every year – many of whom will probably choose not to travel this year.
Budget
Tito Mboweni's budget came as a welcome relief to the business community and the ratings agencies. The only real question is whether or not he and President Ramaphosa have the political will and support within the ANC to implement what they have proposed. Cosatu, in the form of first deputy president, has confidently predicted that the President and the government will end up with "egg on their faces" – which means that he expects that they will be forced to back down. It is clear that the unions generally have the intention of opposing the cuts with some sort of militant strike action. Moodys themselves have indicated their misgivings about Mboweni's ability to put the budget into effect.
We have for several years predicted that sooner or later there would have to be a Margaret Thatcher-style show-down between the unions and President Ramaphosa's new administration. Obviously, Ramaphosa, who was recently shown by the polls to have a 62% approval rating among South Africans, feels that he now has sufficient strength to take on the union movement.
The most militant of the unions, in the form of AMCU and Joseph Mathunjwa, have just emerged from a bruising encounter with Sibanye CEO, Neal Froneman, in which they had to back down after a five-month strike and accept terms agreed by the other unions in the gold industry. This experience resulted in them quickly coming to terms in the recent negotiations in the platinum industry rather than ask their members to undergo another protracted strike.
No doubt, the Ramaphosa camp is aware of this and of the fact that the government really has no alternative but to cut costs dramatically. The country cannot be asked to pay higher taxes and it is clear that the government has more-or-less reached its borrowing limits. The Reserve Bank has shown no inclination to allow any debasement of the currency through "quantitative easing" - and so the only remaining avenue is to sharply reduce government spending - which comes down to reducing the size of our bloated civil service.
We do not expect the unions to back down any time soon, but they have been weakened and most people in South Africa can certainly see the need to make the cuts which Mboweni has suggested. But we should expect a great deal of rhetoric and posturing around the inevitable retrenchments. That will no doubt begin as the government tries to re-negotiate the third year of their existing 3-year wage deal with labour.
The balance of probabilities is that there will now be a great deal of noise around this issue, but we believe that in the end Mboweni will probably have his way – simply because there is no feasible alternative. Some sort of protracted civil service strike seems inevitable and obviously Ramaphosa is aware of this and has decided that he has sufficient political support within the ANC and among the general population to handle it. In the past, he has shown himself to be an astute judge of exactly when he can take crucial steps in the reform process. Previous civil service strikes have not really impacted on business in South Africa. Most businesses hardly noticed the last civil service strike. Over the next few years, we expect that, provided Ramaphosa and Mboweni are successful and remain in office, the government finances will improve, which will make it possible for the economy to improve.
As a footnote to this discussion - Redefine (RDF), the second largest South African property company, in a pre-close investor road show was so negative about the state of the economy and its prospects that it sent its share price down by 6,5% to level which is 45% of its net asset value. One of the most salient points it made was "Fiscal policy is a huge problem with stuttering tax collections and an apparent unwillingness of the government to cut the public sector payroll". In our view, this is the heart of the matter. Long ago we predicted that the Ramaphosa administration would, sooner or later, have to confront the unions in this country – especially in the civil service. No material progress can be made with the level of government indebtedness until this problem is dealt with. Waiting for natural attrition to rectify the situation is not going to be fast enough. They will have to undertake large-scale retrenchments.
The Rand
Obviously, the rand is the benchmark indicator of how international speculators see the budget situation playing out. On Friday, the rand touched a new cycle low of R15.74 to the US dollar before closing at R15.60. This is a clear break down through the support level at R15.50 and an indication that investors do not believe that Mboweni and Ramaphosa can put into effect what has been outlined in the budget. Consider the chart: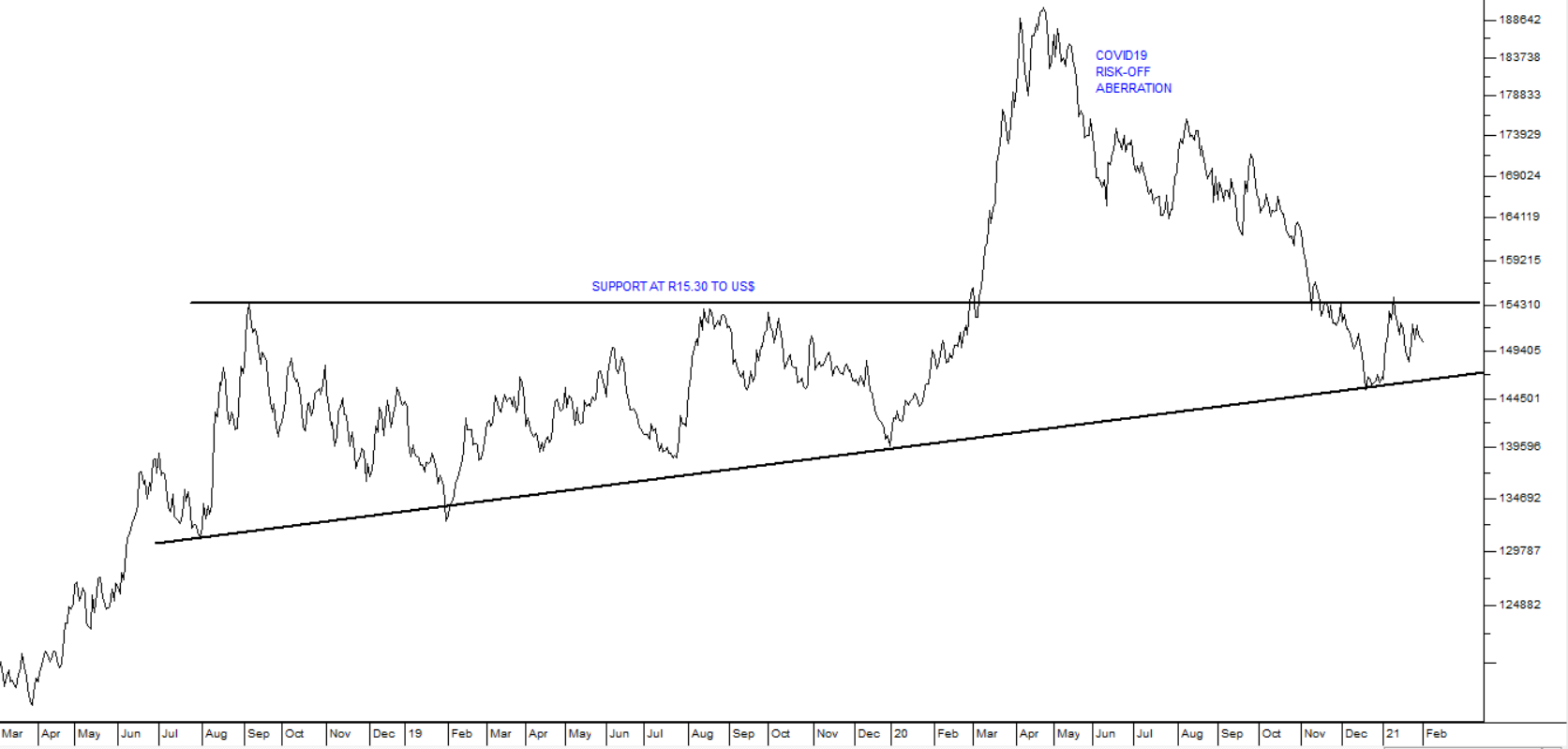 Here you can see the point at which Ramaphosa was elected at the ANC conference in late 2017, and the short period of "Ramaphoria" when the rand strengthened sharply. That came to an abrupt end in February 2018 when investors began to understand the true cost of state capture and that it would take several years to get the economy back on track. That weakness took the rand back to its cycle low of R15.50 in September 2018. Since then the rand has been moving in a sideway pattern with the ebb and flow of positive and negative news. That sideways pattern came to an end on Friday last week as the rand fell to new lows against the US dollar. International perceptions now are that Moodys will downgrade South Africa to junk status and that the Ramaphosa camp will be unable to implement the stringent cost cutting measures imposed in the Budget. This has been supported by a sharp move in the yield on the long bond which has now increased to 9,43%.
World Inflation
Throughout the world, especially the first world, inflation is subdued and has been since the 2008 sub-prime crisis. In the G7 countries, inflation remains stubbornly under 2% despite the efforts of central bankers. At the same time, in some first world economies, notably the US, unemployment rates have fallen below the level that most economists would consider to be "full employment". Economic theory says that, at this point, because of the shortage of labour, wages should begin to rise. And, indeed there are early signs that this is happening in America.
The central banks world-wide are all focused on getting inflation back above 2% and so their policies are typically "dovish" and none of them are at all concerned about any kind of resurgence in inflation.
But world inflation has been held down by two major parallel trends – the relatively low price of energy (especially oil) and the rapid spread of new technologies, such as smart phone and cloud computing, which have brought massive productivity gains. These two trends have temporarily obscured the gathering of inflationary pressures in the world economy.
The world has just come through a decade of the most intense monetary policy stimulation in history. In their scramble to avert the fall-out from the 2008 sub-prime crisis, the central banks of the world maintained interest rates at close to zero for ten years and injected more than US$12,5 trillion into their economies through quantitative easing. Where has all that cash gone? Why has inflation not been on the rise? Nobody seems to be asking those questions. It's as if that massive injection of funds never happened - but it did.
That cash is still out there. We know for a fact that the non-financial companies of the world (i.e. excluding financial institutions like banks, insurance companies and asset managers) are sitting on at least $7 trillion in cash – which they have been too frightened to spend. Indeed, it is their renewed spending which is now driving the US economy towards and beyond full employment. And we believe that, in time, they will not only spend that $7 trillion, but they will borrow five times as much and spend that too.
Here at PDSnet, this is the fulfillment of what we have been writing about for many years – an economic boom which is gaining momentum and the inexorable rise of the S&P500 index together with all the markets of the world. We see the resurgence of world inflation as an inevitable next step in this great bull market. Although the signs of renewed inflation are still muted, they are there for those who care to look. For example, the sharp rise in commodity prices and a growing shortage of skilled workers as the economies of the world reach full employment.
But perhaps the most telling sign is the fact that central bankers are looking the other way. They are totally unprepared for a sharp rise in inflation. Ken Griffin of Citadel makes this point as does Ethan Harris of BoFA Securities and others. We feel certain that this decade of the twenty-twenties will be characterised by rising inflation and boom conditions world-wide. The smart investors of the world already know this – which is why the S&P500 keeps making new record highs despite the frantic admonishments of the so-called "experts". You should understand that while the JSE has been a comparatively poor performer because of local factors, it will almost certainly catch up at some point.
Political
KICKING THE CAN DOWN THE ROAD
Thankfully, the government has abandoned a deal that it was working on with Cosatu in terms of which Cosatu would have allowed the Public Investment Corporation (PIC) to lend R250bn to Eskom. In return for that, they wanted a guarantee that Eskom employees would not lose their jobs and guarantee that Eskom would not be privatised. Apparently, President Ramaphosa and Pravin Gordhan were favourable towards the idea. This suggestion came from Cosatu originally, and we have had some serious misgivings about it. Firstly, it assumes that all the members of the PIC are Cosatu members – which is not the case. The other members might have problems with the idea. Secondly, it sidesteps the procedures of the PIC when selecting investments – which is normally done on their risk and potential return. Thirdly, if it had gone ahead, it would have entrenched the status quo at Eskom – which is a hopelessly inefficient organisation in dire need of some substantial staff reductions. Hopefully, the new CEO, Andre de Ruyter was not too disturbed by these negotiations or he might well have resigned like Hadebe. A recent audit indicates that Eskom has 16000 staff too many. Of course, a transaction like this involves what is known as a "moral hazard". In other words, once Eskom was bailed out in this way, it would then become easier for government and organised labour to bail out other state-owned enterprises (SOE) in a similar way. The long-term consequences of that would be to enable SOEs to escape from the financial consequences of their actions, while impoverishing the government pension fund. In the meantime, Amplats, in its latest results, revealed that it had lost 38 000 ounces of PGMs worth about R1,5bn in profits due to load shedding in 2019. That profit, had it been realised, would have resulted in R500m more tax for the government – which is now lost. The cost of Eskom's inefficiency goes well beyond its massive indebtedness.
In a move with a potentially devastating impact on the South African economy, Donald Trump has removed South Africa from the list of countries that get preferential trade benefits with the US. South Africa does about R125bn worth of trade with the US each year. We export precious metals and stones and motor vehicles to the US. The danger is that this move will ultimately lead to South Africa being removed from the African Growth and Opportunity Act (AGOA).
Economy
Retail sales in December 2019 came in down 3,1% on a seasonally adjusted month-on-month basis. This shows that the Black Friday sales in November were more than negated and that the South African consumer is under extreme pressure. To this must now be added load-shedding which resumed in December. The 3,1% contraction is far worse than the 2% growth predicted by Bloomberg and shows the parlous state of the economy. Unemployment remained stubbornly high at 29,1% in December 2019 – indicating that about 10,4m people in South Africa are now out of work. It seems likely that the Monetary Policy Committee (MPC) will cut rates more aggressively in 2020.
The Moodys estimate that the South African economy would grow by just 0,7% in 2020 and then 0,9% in 2021 is depressing – not least because it indicates that they will probably be downgrading us to junk status, but also because they are falling in line with most other dismal forecasts for our growth. Their forecast pushed the rand beyond R15 to the US dollar as investors let go of whatever slim hope we may have had of avoiding a downgrade. The South African economy is caught in a low-growth trap from which it does not seem able to extract itself. Until the February budget, the government was running around looking for the "magic powder" (such as the PIC bailout of Eskom). Now they have clearly acknowledged the need to cut the burgeoning size of the civil service by retrenching a large number of government employees. Eskom too needs a sizeable haircut. We do not have the luxury of being able to wait while early retirement or voluntary retrenchment take effect. Somebody has to show some leadership and actually fire them. Hopefully, that does not turn out to be politically impossible.
Stuart Theobald in his column for the Business Day makes a comparison of the current situation in the economy with that which existed in 2007 just before President Mbeki was ejected by the Zuma camp. At that time Trevor Manuel was the Minister of Finance and in his budget, he reported a surplus of 0,7% of GDP in an economy that had grown by just under 5% in the year. What a contrast with what our current Minister of Finance faces. The problem with this destruction of value at a national level is that it is the poorest of the poor who will end up paying for it. Over the past 10 years, the ANC has done the exact opposite of upliftment. They have actually taken the country to the brink of an economic implosion. And still President Ramaphosa faces continuous opposition to his reforms by various powerful people who are placing their personal interests above those of the country.
Energy
News on the energy front is that Eskom plans to decommission 3 coal-fired power stations in the next four years. Clearly, the 11gw that these power stations are currently supplying will not be replaced by more coal-fired power stations. The logical solution is for this deficit to be made up by distributed generation where companies can install their own power generation capacity. Gwede Mantashe has apparently finally accepted this idea in principle. At the same time municipalities are to be allowed to buy power from sources other than Eskom. This last stimulated the Cape Town municipality to announce an end to load-shedding in that city as it rapidly negotiates deals with outside renewable power providers. Clearly, Manatshe is being forced reluctantly to face the reality that Eskom will have considerable competition from other sources of power. Nonetheless, his comments at the African Mining Indaba on 3rd January 2020 were generally positive and signal a change is the government's attitude towards energy. In our view, it is inevitable that Eskom will gradually get out of the power generation business. Vedanta, which runs a large Zinc smelting operation is planning to install solar or wind power and use Eskom just for "base load". And apparently the government is now considering establishing another company to generate electricity, maybe using gas, which will be separate from Eskom – although this idea makes little sense to us given the government's track record. The mining industry can install up to 1500mw of power over the next three years for its own use – which will reduce the load on Eskom substantially. The 2000mw of power which Eskom will take out of the system with stage 2 load-shedding over the next 18 months could be replaced. Load shedding will be a problem for mining which saw mining production coming down by 2% in 2019 - after a 1,8% fall in 2018 mainly due to power supply problems.
Commodities
The coal industry has suffered a mortal blow from the 2019 Integrated Resource Plan (IRP) which envisages a sharp reduction in coal consumption in South Africa by 2030. The coal industry is still a major contributor to the South African economy producing 7% of GDP, accounting for 22% of the country's foreign exchange earnings and employing almost 20% of the total number of people employed in the mining industry. The problem goes much wider than South Africa's IRP. Internationally, there is a general move away from coal with coal-fired power stations closing down all over the world. That is reducing the demand for coal and hence the export price. It has also become far more difficult to obtain finance for investment into coal mining or coal-fired power stations. All-in-all, the industry appears to be in a long-term decline from which it probably will not recover.
The sharp drop in oil prices in 2020 has seen the price of North sea brent fall from around $70 a barrel the current level of $50.52 – which means that it has broken down through the previous cycle low of $50.80 which occurred on 24th December 2018. Consider the chart: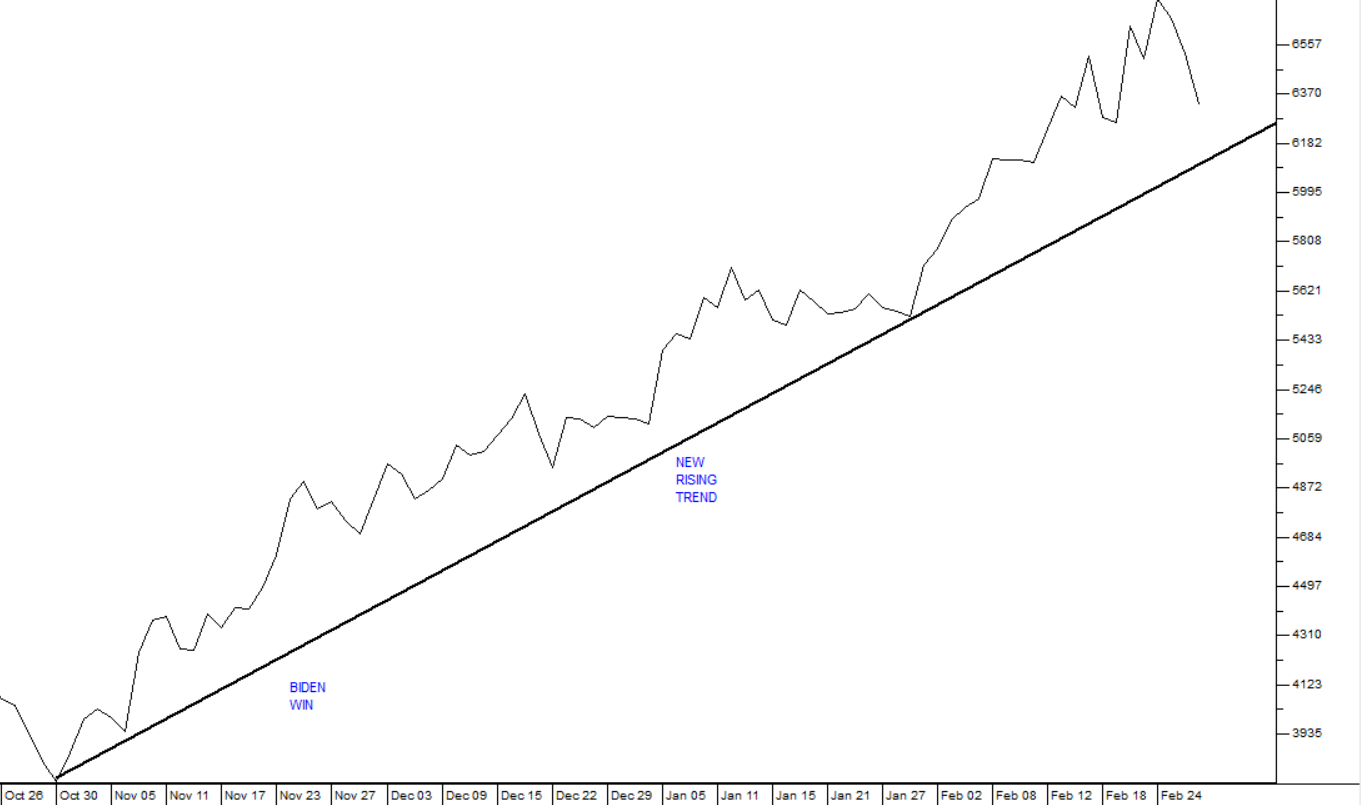 It is not easy to establish the true reasons for this sudden fall. Oil is notoriously volatile and subject to wild price swings. Perhaps though this fall represents the growing awareness that the future of carbon-based energy is now limited. The strong growth in electric vehicles and the fact they are now about 20% cheaper to run than those with internal combustion engines, indicates that the demand for oil may be waning. It is estimated that by 2040 roughly half of all motor vehicles will be powered by electric motors.
Companies
HUDACO (HDC)
Hudaco (HDC) is an importer and supplier of "automotive, industrial and consumer products" mostly in Southern Africa. Its business has two sides (1) supplying automotive security, power tools, communications and business supply products to the consumer market and (2) supplying mainly the mining and manufacturing industries with mechanical and electrical power transmissions, diesel engines, hydraulics and pneumatics, steel and thermoplastics, and fittings and bearings.
The company has a very well-established business with 26 warehouses, 800 international suppliers and 140 branches. Through this network the company supplies about 230 000 products.
In its results for the year to 30th November 2019, the company reported turnover and headline earnings per share (HEPS) up 5,1%. The company said, "Considering that two of the key drivers of Hudaco's business are South Africa's GDP growth rate and the rand exchange rate, 2019 proved to be yet another year in which the business environment was extremely difficult. With business confidence dropping to its lowest since 1985, we consider it an achievement that we were able to grow headline earnings by 5.1% to 1 355 cents and comparable earnings by 3.5% to 1 240 cents".
The trading environment was extremely difficult with no noticeable impact yet from President Ramaphosa's efforts to revitalise the economy. The group constantly makes bolt-on acquisitions to build and enhance its business and has proven over the years very effective at choosing the right acquisitions. It is an extremely well-managed company operating in a very difficult economy. As soon as the economy improves, its results will surely benefit directly.
The share trades on a P:E or 7 and a dividend yield (DY) of 4,8%. In our view, this share should be bought on weakness and offers solid, long-term investment potential, especially if the South African economy improves. We see it as being at or close to its lowest point. Consider the chart:

KUMBA (KIO)
Kumba (KIO) is a highly successful iron mining operation which is owned (79%) and controlled by Anglo American. The share price doubled from R250 in December 2018 to levels around R500 in June 2019. Since then it has been trending downwards. Importantly, exports make up 94% of the company's total sales - which means that it is not heavily dependent on local sales and is a rand hedge.
In its results for the year to 31st December 2019, the company reported free cash flow of R17,1bn and a return on capital employed of 83%. Earnings before interest taxation, depreciation and amortisation (EBITDA) margin was up to 52% and they paid a cash dividend of R15.99 per share. Iron ore prices were 35% higher in 2019 than in 2018.
The CEO, Themba Mkhwanazi, said, "Our financial performance reflects the benefits of higher iron ore prices, improved efficiencies and further cost savings ahead of our target, which have cushioned the impact of the operational challenges experienced during the period. These results were also achieved through a relentless focus on safety as we maintained our fatality free track record since May 2016."
We believe that this is a good share, but it remains subject to international commodity prices and so must be seen as speculative. The corona pandemic has scared investors out of the share which now trades at a multiple of 5,8 and a dividend yield (DY) of 12,6%. That seems to more than compensate for the commodity risk in this rand-hedge share.
AVENG (AEG)
The once-massive construction company, Aveng (AEG), which traded at R69 a share in 2008, has been reduced to a 2c penny stock. This sad demise has been brought about by a number of factors. Among these, the reduction in construction spending following the sub-prime crisis has been critical. The government ceased infrastructure development after the 2010 World Cup which had a further detrimental impact. This was then followed up by the competition commission's R1,4bn fines in the construction industry. The difficult operating environment was made worse by losses on various construction contracts which have required extensive write downs and impairments.
Aveng has been selling "non-core assets" in the form of Aveng Trident Steel, Aveng Grinaker-LTA, Aveng Manufacturing, Aveng Water, Aveng Namibia and Infraset. It has raised over R1bn so far through asset sales. Its objective is to focus on McConnell Dowell in Australia and the local mining contractor Moolmans.
In its results for the six months to 31st December 2019, the company reported turnover of R11,2bn - down from R13,4bn in the previous period. Moolmans returned to profitability and was cash-positive while McConnell Dowell maintained its profitability. The order book was R17,9bn of which 72% was international. The headline loss improved from 5,5c a share to 1,1c per share.
The company's net asset value (NAV) was 12,3c which should be compared to the current share price of around 2c. The group's debt:equity ratio has improved from 127% to 87%. If Aveng recovers, as looks more likely after these results, it is almost certain they will eventually undertake at least a 10-for-1 consolidation at some point. Fortunately, the company has sufficient volume traded to accommodate most private investors - but it is inherently volatile and risky. The point is that there is an opportunity to buy 12,3c of assets for 2c if Aveng can return to profitability. For R10 000 you can buy 500 000 Aveng shares.
Three Property Shares
GRIT (GTR)
Grit (GTR) is a "pan-African" real estate company - which means that it invests in property on the African continent, but not in South Africa. It has a focus on what are known as "frontier" economies - which are economies that are too small to be classified as "emerging". The company is listed in Mauritius, the JSE and London. In late September 2018, the company obtained approval to become part of the S&P Africa Frontier Index - which should see the share re-rated as overseas investment houses include it in their index funds.
It owns 25 properties in Ghana, Botswana, Morocco, Kenya, Mauritius, Zambia and Mozambique with a weighted average lease expiry of 6,5 years and annual escalations of 3,1%. Grit finds properties in retail, offices, hotels, and distribution that have long-term US dollar-denominated leases. Grit has really been too thinly-traded for private investors and not a favourite with institutional investors in South Africa, but that situation could change quickly.
Grit recently acquired an 80,1% stake in the Acacia estate in Maputo for $23m. This estate has long-term tenants in the form of the US embassy in Maputo with a 12-year lease and Anadarko which is busy with the exploitation of natural gas in Mozambique. This is an excellent acquisition which will improve Grit's portfolio. In its results for the year to 30th June 2019, the company reported a loan-to-vale (LTV) ratio of 40,6% with assets worth US$825,2m. 95,4% of Grit's income is in hard currencies and they have a 97,1% occupancy rate.
The company delivered a yield of 8,5% in US dollars and is targeting a yield of 12% for the 2020 year. Headline earnings per share (HEPS) was up 27,4%. On 25th October 2019, Grit announced that it had a pipeline of 7 properties that it was in the process of acquiring - 2 in Ghana, 2 in Kenya, 2 in Mauritius and 1 in Mozambique. The cost is just over $100m.
This property company offers a rand-hedge which is dependent on the growth of the African continent outside South Africa. We think that private investors should be considering the quality of its management and its definite potential to attract institutional investors in the future.
NEPI (NRP)
Nepi-Rockcastle (NRP) is a R74bn real estate investment trust (REIT) which operates more than 50 shopping malls in 9 central and eastern European countries, mostly in Poland (24%), Romania (36%), Slovakia (9%), Bulgaria (8%) and Hungary (10%). It was very closely associated with the Resilient group of REITs following the merger with Rockcastle, but has decided to distance itself from that company by removing key directors (Spiro Noussels and Nick Matulovich).
Technically, the share fell with the rest of the Resilient group (as a result of the 360ne report in January 2018) from its high of R217 in December 2017 to as low as R108. The company's total portfolio is worth 6,3bn euros and it ranks as the largest property share on the JSE. On 13th September 2018, Nepi announced that it had acquired the Mammut shopping centre in Budapest for 254m euros. This acquisition makes Nepi the largest shopping centre owner in Budapest. Mammut receives 15,6m visitors each year.
In its results for the year to 31st December 2019, the company reported rental income up 15,8% and headline earnings per share (HEPS) up 148,15%. The net asset value (NAV) per share rose 2,55% to 683 euro cents (about R118.50). The CEO, Alex Morar, said, "We are delighted to report that the Group has achieved the targeted results in a competitive market. Twelve years since inception and three since the successful merger, our assets continue to outperform. Solidly growing footfall and retail sales are driven by our continued asset management efforts, focused on delivering locally- optimal tenant mixes and customer experience. The retail portfolio has further increased with the opening of high-quality developments and remains the largest and most dominant in the CEE (Central and Eastern Europe). As we maintain a sound business profile with strong liquidity, we are delivering on our growing development pipeline and are confident of our ability to take advantage of all attractive opportunities in our markets."
We believe that this share is currently under-priced and due for a significant upward re-rating based on its results and continued growth. Therefore, it represents a good buy for private investors. Technically and fundamentally, it looks cheap at about R114.
HYPROP (HYP)
Hyprop (HYP) is a leading property real estate investment trust (REIT) that specialises in high-quality shopping malls in South Africa and some interests in Eastern Europe and Africa to the North. It owns some of South Africa's best-known shopping malls like Rosebank, Canal Walk, Hyde Park and Clearwater. It has been impacted to some extent by the fall-off in consumer spending through lower trading densities.
This share is currently trading at less than half its net asset value (NAV) of R95.78 - which in our view makes it a good buy. At the end of May 2019, the company announced that it would be selling its rest-of-Africa portfolio, worth about R4bn, to improve its loan-to-value (LTV) ratio. This sale would take until mid-2020 to complete. On 5th August 2019, the company announced that it sold its 37,5% interest in Manda Hill shopping center in Zambia as part of this strategy.The objective is to reduce the loan-to-value (LTV) to 35%.
In its results for the six months to 31st December 2019, the company reported trading density up by 0,6% and that it had repaid R1,3bn of its debt. Vacancies were 1,6% in South Africa and 0,2% in Eastern Europe. The company reported headline earnings per share (HEPS) of 329,9c compared to a loss of 80,7c in the previous period. The company's net asset value (NAV) was 9107c per share, down from 9987c.
The company said, "Market conditions in the SA and S-SA regions have deteriorated and tenants, face significant challenges as a result of the poor economic growth and currency volatility, respectively. Consumer demand remains depressed and shopping preferences are changing, impacting on the ability to maintain rental rates and growth in distributions." The resignation of Peter Prinsloo is a negative, but we do not believe that the share will fall much further and that it is a very conservative, but good investment at these levels.
The CEO, Morne Wilken, is intent on building roof-top gardens and offering shared workspaces to lure customers back to its shopping malls. We advise applying a simple moving average and waiting for a clear upward breakout. There is no doubt that the value in this share must sooner or later be realised.
You can view a visual presentation of this report here.
To be added to our mailing list for the next webinar, click here.
For more up to date, expert opinions on JSE listed companies, subscribe to our online software by clicking here.
DISCLAIMER
All information and data contained within the PDSnet Articles is for informational purposes only. PDSnet makes no representations as to the accuracy, completeness, suitability, or validity, of any information, and shall not be liable for any errors, omissions, or any losses, injuries, or damages arising from its display or use. Information in the PDSnet Articles are based on the author's opinion and experience and should not be considered professional financial investment advice. The ideas and strategies should never be used without first assessing your own personal and financial situation, or without consulting a financial professional. Thoughts and opinions will also change from time to time as more information is accumulated. PDSnet reserves the right to delete any comment or opinion for any reason.
Share this article: