6 July 2022
By PDSNET
America
The failure of the S&P500 index to rise above resistance at 4170 signalled a new downward move which took it firmly into bear market territory. By Monday 13th June 2022 the situation was clear, and we sold out of all our equity holdings. Measured from the record high on 3rd January 2022, the S&P had fallen by more than 20% and so was officially in a bear trend.
We now have to acknowledge that our prediction that this would be a major correction of between 10% and 20% rather than a bear trend has proven to be wrong. To be fair, at the time that we made that prediction (in the Confidential Report of November 2021) the war in Ukraine had not begun and it has clearly had a major impact on the oil price and hence on US and world inflation. Consider the chart: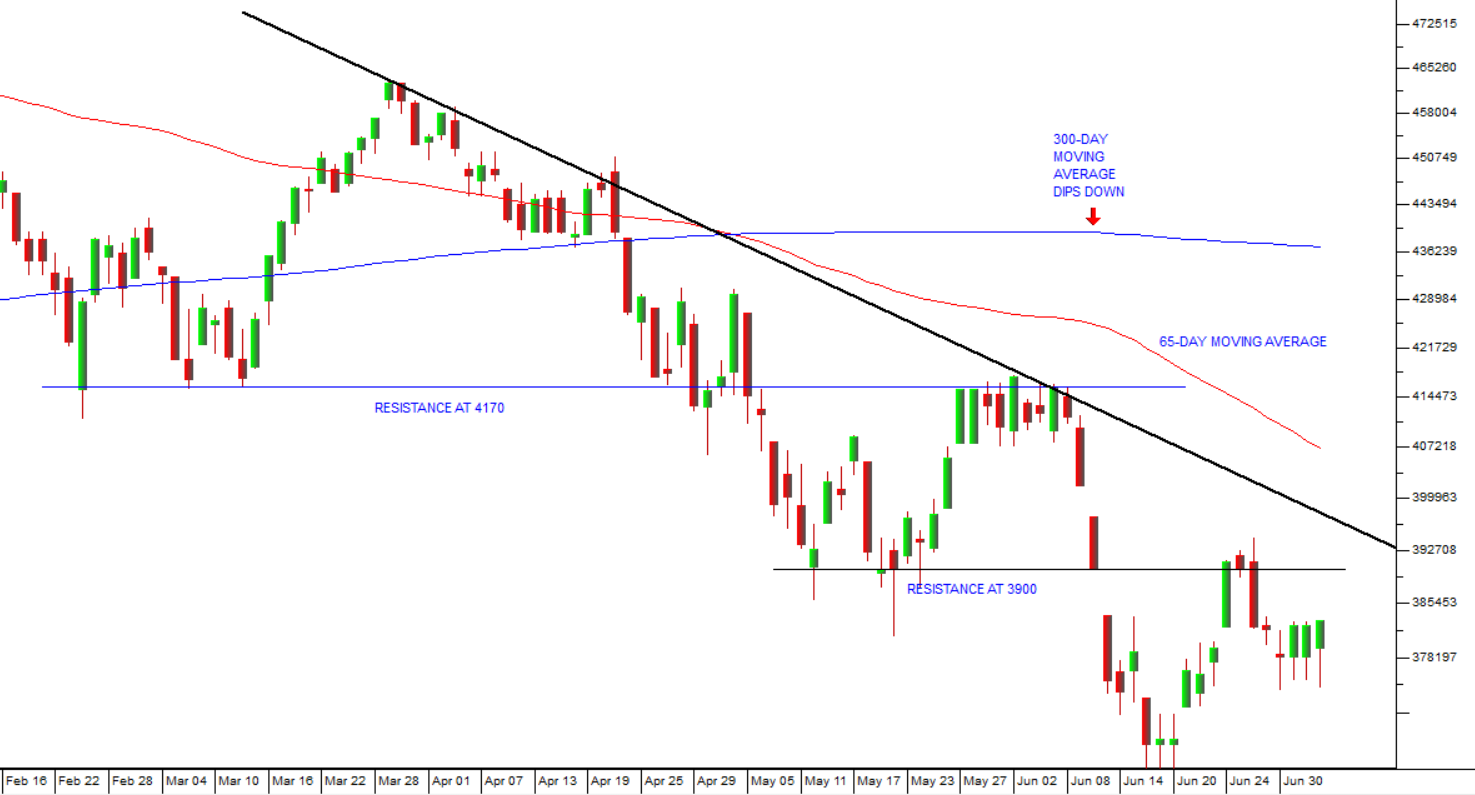 Here you can see the progress of the S&P500 index. Following its failure to break above resistance at 4170, the bears took control and drove the index down through the final resistance at 3900 and into bear market territory. At the same time, the 300-day moving average also turned down – a further strong indication of a bear trend. On the chart above we have also included a 65-day moving average, which is falling steadily, but is obviously far more sensitive than the long-dated average. As you can see, we have now been able to establish a clear downward trendline connecting the successive lower cycle tops.
The index made a low at 3666 on 16th June 2022 and then rallied to the resistance level at 3900 which it was unable to penetrate. So now 3666 becomes the next support level – but we do not think it will stop the downward trend for long. A bear trend usually falls by at least 50% from its peak – which in this case was at 4796 on 3rd January 2022. So that means that we can probably expect the S&P to fall to somewhere close to 2400 over time. The downward trend is likely to be a slow, dribbling pattern, interrupted periodically by short-lived and futile bursts of investor optimism.
With petrol now costing more than $5 per gallon in the US and the inflation rate coming in at a 41-year record of 8,6% in May 2022, investors are running for cover. The Federal Reserve Bank's monetary policy committee (MPC) have been forced to raise rates even more aggressively than they had expected by seventy-five basis points. The pattern of rising interest rates, combined with quantitative tightening will inevitably push the US economy into a recession, probably in the second half of next year as the profits of S&P500 companies and consumers begin to feel the effects of higher interest costs.
Against this, the MPC, for the past 35 years since the 1987 crash, has been careful to prevent the US economy from ever entering a major recession. They have used a combination of quantitative easing and lower interest rates on at least four occasions to cushion the US consumer from a protracted recession. The Democrats and Joe Biden face another election in 2024 and they will certainly do everything they can to prevent the economy being in recession at that time. It remains to be seen whether they will be successful, but Biden's ratings are at very low levels already.
The rise in the petrol price in America to above the psychological level of $5 per US gallon, which is a new record, has brought home to American consumers the impact of the high inflation rate in their country. A US gallon is about 3,785 litres – so that converts to about R21,14 per litre in rands – which is still a little less than we are paying in South Africa. Inflation in America hit 8,6% in May – slightly more than was expected by economists. Clearly, the Federal Reserve Bank has to continue with its tightening monetary policy for some time to come to have a significant impact on inflation. Consider that even after the recent rate hikes, the repo rate in America is still less than 2% against an inflation rate of more than 8,5%. There is some distance to go before the inflation genie can be put back in the bottle.
The US economy is still generating just under 500 000 new jobs every month – so there is no immediate concern about a recession. Global growth rates are, however, expected to decline sharply to 2,9% this year from 2021's 5,7%. This is as a result of rising oil prices and food shortages from the Ukraine war, as well as on-going supply constraints and COVID-19 lockdowns in China. The per capita income in emerging economies is expected to be 5% below 2019 levels. Deloitte is predicting that US inflation will be back to 2% by mid-2023, but we find this hard to imagine. We believe that the protracted period of quantitative easing (Q/E) and its impact on world inflation levels will not be so easily contained. We expect rising interest rates in the US (and elsewhere) combined with the sharp increase in the cost of fuel to seriously impact on consumer spending over the next year. As consumers spend less, corporate profits will decline and with them share prices.
The stock market tends to anticipate an economic upswing by between 9 and 12 months – so you should see the S&P500 index begin to move up strongly well before the economy resumes its growth path. Our view is that the US and world economies will continue to decline for the foreseeable future with periodic bouts of hope and optimism. We believe that, for the moment, the best place is to be in cash.
Ukraine
The situation in Ukraine has devolved into a grinding stalemate; a war between NATO and Russia which is being fought by the Ukrainians on their home ground. For NATO it has boosted both their size and unity with the imminent addition of Sweden and Finland. It has been an opportunity to evaluate all their most recently developed military technologies while at the same time systematically degrading the military and economic strength of their most significant enemy. They have the high moral ground and, so far, have not had to commit any of their own troops or fight this war on their home ground.
It seems reasonable to assume that time is not on Russia's side in this conflict. Faced with an enemy with virtually limitless resources in the form of the strengthening NATO alliance, they surely cannot hope to win in any meaningful sense. There is evidence that the Russian military are struggling to make marginal territorial gains inside Ukraine at enormous cost, both economically and in terms of their army, navy, and air force. To us it seems inevitable that eventually Russia will be forced to sue for peace – and when they do, it is unlikely that Putin will survive the political fall-out and humiliation. The war is slowly escalating as both sides use weapons with longer and longer ranges and there is always the danger that it could begin to impact directly on NATO countries – but we consider that to be a diminishing probability.
The impact of the war on stock markets and economies around the world has been to sharply increase the price of oil and basic foodstuffs. This has forced the US monetary committee (MPC) to raise interest rates, more drastically than they would otherwise, – and this, in turn, has pushed world markets into a bear trend somewhat earlier than we expected.
As yet the US economy is not in recession, but there is a growing perception that it will be by the middle of next year if the MPC continues to raise rates aggressively. We do not see US inflation coming under control easily.
Political
It is clear that the Zuma camp is making a concerted effort to dislodge President Ramaphosa. The charges against him lodged by Arthur Fraser, who is a known Zuma supporter, combined with an effort to disrupt his speech in parliament on 9th June 2022 show that his opponents are making a maximum effort to get him removed from office. No doubt, that effort will reach a crescendo at the ANC's December 2022 elective conference. Ramaphosa denies the charges and the matter is being investigated by the relevant authorities. What is does show, however, is that the Zuma camp or Radical Economic Transformation (RET) camp is still alive and functional. It remains a potential threat and impediment to Ramaphosa in his efforts to reform the ANC-led government. Our view is that Ramaphosa will ultimately survive this onslaught but that the ANC will emerge from it a weaker organisation with less support among the electorate. Various Ramaphosa supporters have come forward and urged the President to disclose all that he knows about the theft from his farm and the subsequent events in order to clear his name – but, so far, he has refused to do that until there is a hearing before the ANC's integrity commission. We believe that the ANC will probably get significantly less than 50% at the 2024 elections – which means that they will have to compromise more with opposition parties to pass key legislation. Parliament, which in the past has been used to simply rubber stamp ANC legislation, will now become much more important. In our view, this is step towards a more democratic society in South Africa, but it may result in a less decisive legislature.
This effort to dislodge Ramaphosa comes as the National Prosecuting Authority (NPA) has made noteworthy progress in getting arrests for some of the major architects and beneficiaries of state capture, including two of the three Gupta brothers. Ace Magashule, a key element of the Zuma camp's leadership, has been forced to step aside and Ramaphosa has recently suspended the public protector, Busisiwe Mkhwebane, another known Zuma supporter, pending her impeachment. Obviously, those that have benefited from state capture are beginning to feel uncomfortable, even scared. Mkhwebane's impeachment requires a two-thirds majority and so Ramaphosa will be relying on support from the DP and other parties to get that.
The arrests of the Gupta brothers Atul and Rajesh in Dubai must be seen as a major step forward in the efforts of the National Prosecuting Authority (NPA) to finally bring the perpetrators of state capture to book. The process has been slow, and it will, no doubt, take some time before they are brought back to South Africa to face trial, but it is certainly progress.
The final report of the Zondo commission into state capture was very scathing of Ramaphosa's inaction to stop state capture while he was vice-president under Zuma. Had Ramaphosa acted then to stop state capture he would certainly have been pushed out by Zuma and his colleagues – and that would have meant that Zuma or a Zuma selection would have remained in power and state capture would have continued unchecked. Ramaphosa's strategy was always to supplant Zuma from within the ANC and to do that he had to maintain a very low profile so as not to alert Zuma to his long-term intentions. To us it is clear that Ramaphosa did not give up a very lucrative position in private enterprise in order to become vice-president. It was always his intention to become president because only with that position could he gradually consolidate the anti-Zuma power base and begin to rectify state capture.
Economy
INFLATION
The shock 6,5% consumer price index figure for May 2022 will have a number of ripple effects on the economy. It is now well outside the Reserve Bank's target range of 3% to 6%. The rising prices of food and fuel are beginning to be felt. The monetary policy committee (MPC) will have to increase the repo rate by a further fifty basis points and this will need to be followed by further 50-basis-point hikes before the end of the year. Nedbank has said it is predicting an increase in the repo rate of one hundred basis points before year-end and the economy to grow by 2,2% in 2022. Our expectation now is that inflation will peak at around 7%. The rising interest rates in other parts of the world, and especially the 75-basis point hike in US rates is putting pressure on the Reserve Bank to raise rates here to keep our government bonds attractive relative of US Treasury Bills. In any event, the days of cheap interest appear to be over and mortgage bond holders will now find their minimum monthly repayments rising sharply. This, in turn, will impact on consumer spending in due course. The next monetary policy committee (MPC) meeting is on 21st July 2022, and we are expecting rates to rise by a further fifty basis points. Into this mix is that the price of petrol will rise by a further R2,37 a litre, for 93 octane. This will take petrol to over R26 per litre in Gauteng, as the government subsidy is phased out. The producer price index (PPI) rose to 14,7% in May month – its sixth month of it rising more than 10%. This obviously means that the consumer price index (CPI) will follow suit as producers pass on price increases to consumers. Food and fuel are the primary drivers of the increases.
The shock 13,6% increase in basic food stuffs over the past year shows the clear impact of the Ukraine war and rising fuel prices. This could be a major problem for the government as poor families battle to stay away from starvation. It could also cause a rise in the level of criminal activities. We can also expect a sharp rise in protest action across the country. In July 2022 Eskom's annual price hikes kick in and there will be a rise in the cost of public transport. Chicken is the staple protein consumed by South Africans, partly because it is relatively cheap compared to other sources of protein. The war in Ukraine has caused the price of maize to rise and this has had a knock-on effect on the price of chicken because maize is used as chicken feed. The price of chicken has risen by about 10% per annum for the last decade, but this year it has gone up by 17% because feed prices have risen by 20%. Obviously, because this is a staple protein, the price increases will impact directly on the lower income groups.
The price of petrol jumped by between R2.33 and 2.43 per litre as a result of the rising oil price on 1st June 2022. This was despite a continuation of the R1.50 per litre reduction in the fuel levy for another month and 75c a litre until 2nd August 2022. The cost of this extension is R4,5bn which will have to be funded by the Treasury. The oil price is still in a rising trend with North Sea Brent now at about $115 per barrel. At the same time the shift to risk-off in world markets has kept the rand under pressure which means the local price of petrol is rising rapidly despite the government subsidy.
GROWTH
Gross Domestic Product (GDP) grew by 1,9% in the first quarter of 2022 – which was well above the 1,2% expected by economists. It was also ahead of the growth in the previous quarter of 1,2%. That growth mostly came from an increase in manufacturing which is promising because previously the growth came from mining. It shows that the South African economy is getting back to pre-COVID-19 levels of production. Obviously, robust growth is needed to create a rise in employment levels. The impediments to that growth have been the rising price of petrol and loadshedding from Eskom – so it may not last long as loadshedding has reached unprecedented levels and the price of petrol is escalating rapidly.
The Governor of the Reserve Bank, Lesetja Kganyago, says that he expects the South African economy to weaken as the commodity boom ends and because of loadshedding. This is despite signs that the economy has been reviving in the first half of 2022. The pattern of rising interest rates throughout the world will ultimately have a negative impact on our economy which is mostly driven by the export of raw materials. Inevitably, South Africa will be drawn into the malaise which is gripping the world economy as it desperately tries to keep inflation down.
The level of retail sales in April 2022 was up 3,4%, somewhat higher than expected, indicating that South African consumers are spending. Consumer spending accounts for almost two-thirds of gross domestic product in South Africa, so the increase could mean higher levels of growth – at least in the short term. The unemployment rate dropped slightly in the first quarter of 2022 – another indication that the economy has been recovering. Obviously, the rising price of fuel is a negative and increased inflation resulting from the war in Ukraine is inevitable. Rising interest rates are also gradually putting a damper on economic activity as consumers face higher bond repayments. Despite all these negatives, it is apparent that consumers have been buying big ticket items like furniture and motor vehicles.
Vehicle exports in May dropped by almost 30% mainly because of the flood damage to Toyota's Prospecton assembly plant in KwaZulu-Natal. Before the floods, the company was exporting close to 7000 vehicles per month. In May month just over 140 were exported. This is obviously a huge blow to local industry. At this time there is no certainty on when the plant will resume full operation. Toyota is South Africa's market leader in vehicle production and export. Despite this, total new vehicle sales in May were more than 12% up compared to May 2021.
The ABSA purchasing managers index (PMI) rose to 54,8 in May from April's 50,7 showing that manufacturing activity in South Africa has been beginning to improve. There was a sharp drop in the index in April due to the floods in KwaZulu-Natal. New sales orders were up significantly as a result of increased demand both locally and for exports. Expected business conditions in 6 months' time are also expected to improve sharply. Import cost inflation was slightly lower than in April.
April 2022 was a terrible month for South Africa's mining industry with output falling by almost 15%. This drop in output was due primarily to three factors – increased loadshedding, the strike at Sibanye gold and the floods in KwaZulu-Natal province. It contrasts sharply with the 3,2% increase in output in March 2022. Obviously, South Africa is relying on the international boom in commodity prices to help it reduce its deficit and improve the financial position of the government.
Stats SA reported that unemployment in South Africa fell to 34,5% in the 3 months to 31st March 2022 compared with 35,3% in the 3 months to 31st December 2021. This reflects a slight improvement in the economy this year. We are not convinced by these official statistics because we believe that the impact of the informal sector is not properly accounted for. What is clear, however, is that the economy did make some small gains in the first quarter, mainly as a result of the continued boom in commodities.
The trade surplus over the past year to the end of May has come in at about R106bn – sharply lower than the R200bn recorded last year. This shows that the boom in commodity prices is slowing as the world economy faces the prospect of a recession in 2023. South Africa should prepare for the fact that the bonanza it has earned from commodities will shortly be coming to an end. This will impact directly on tax revenues and the national deficit, making it far more difficult to continue with debt consolidation. The wisdom of extending the R350 social relief grant for a year at the cost of R44bn must now come into question. Obviously, the weakening rand has helped our exports while making imports more expensive – which should help to improve the trade surplus while it lasts.
OTHER FACTORS
The revelation by Meridian Economics that loadshedding could have been avoided if there had been no interruption of the Renewable Energy Independent Power Producer Procurement Program (REIPPPP) in 2016 is an indictment on the ANC and especially on its Minister of Mineral Resources and Energy, Gwede Mantashe. Had the REIPPPP been embraced and promoted instead of delayed, the national grid could by now have had an additional five gigawatts of power which would have made almost all of the loadshedding that South Africans have endured over the past two years avoidable. We can only imagine the immediate and long-term cost to the economy of this ridiculous decision.
The fact that a group of disgruntled truck drivers were able to hold the country to ransom by blockading the N3 highway indicates the lack of clear leadership and authority in the ruling party. The knock-on costs of such an action are enormous. Obviously, blockading a major highway is illegal and those involved should immediately be arrested and the blockade removed. The message now being conveyed by negotiating with these criminals and other like-minded people is that they can do this with impunity whenever they are dissatisfied with their circumstances.
The most recent general households report from Stats SA shows that an inordinate number of households are dependent on government grants to a greater or lesser extent. In the Free State government grants are the main source of income in 60% of households. This figure rises to 63% in the Eastern Cape and in Limpopo and Mpumalanga it is at two-thirds. While it is laudable that these households are kept from poverty, the government needs to consider that the tax base in South Africa is not growing as quickly as the cost of social grants – a situation which cannot persist indefinitely.
Foreign direct investment (FDI) increased to R27,2bn in the 3 months to 31st March 2022 – compared to R22,7bn in the last quarter of last year. This shows the continued benefits of South Africa's high real rates of interest on government bonds. Overseas investors are attracted to these high real rates of return because of our relatively low inflation rate. This advantage may reduce now that overseas interest rates are rising. There is also evidence that South Africa has benefited from the sanctions being applied to Russia following the Ukraine war as investors look for other places to invest their capital.
The Rand
The South African rand is one of the most heavily traded of the emerging market currencies. For this reason, it is a favourite with international currency traders and as such it tends to be impacted by everything that affects emerging markets. When Wall Street entered a bear trend on 13th June 2022, there was a massive shift towards "risk-on" sentiment among international investors and this has had a negative impact on all emerging market currencies – especially the rand. Consider the chart: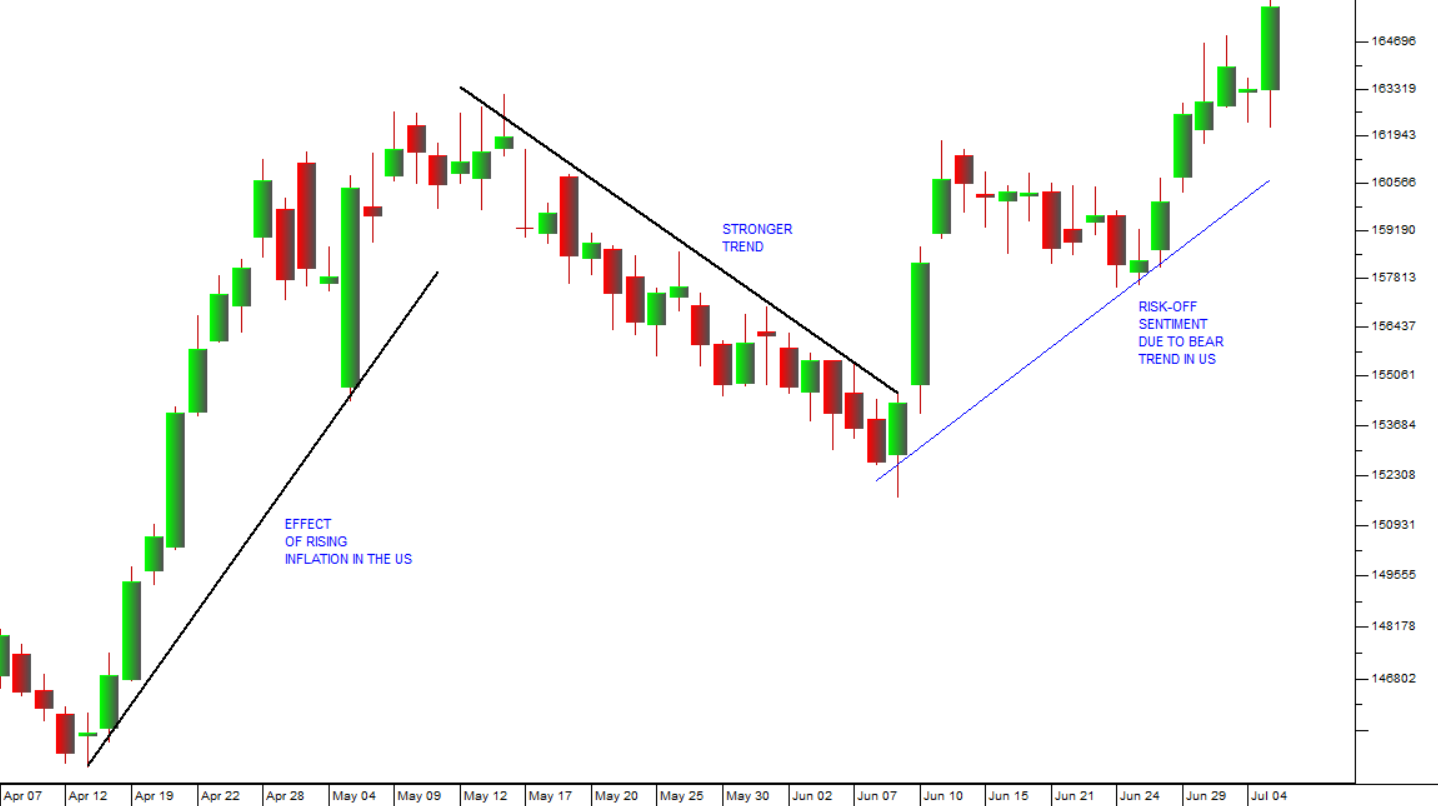 The rand had been in a strengthening trend prior to the middle of April 2022 when the full extent of rising inflation in the US finally began to be understood. This led to a weakening trend which lasted until the middle of May. Following this, as the US monetary policy committee (MPC) began to raise interest rates rapidly, the rand began to weaken again as international investors fled emerging markets and moved to US Treasury Bills. This weakness has gained momentum with the latest seventy-five basis point rate hike in America and the latest bout of severe loadshedding which has taken us up to level 6.
What is surprising to us is relative strength of the rand in the face of these substantial negatives. The rand has fallen to R16.56 to the US dollar, but we would have expected it to fall further given the circumstances. Obviously, however, the rand's weakness against the dollar will have negative impacts on local inflation and may force our MPC to raise interest rates more aggressively in coming meetings.
Commodities
The elimination of Russian oil and gas from the world market is having a major impact on the oil price. Saudi Arabia and other Middle Eastern countries could easily make up the shortfall, but OPEC appears to be trying to profit from the situation in Central Europe. Consider the chart of North Sea Brent oil: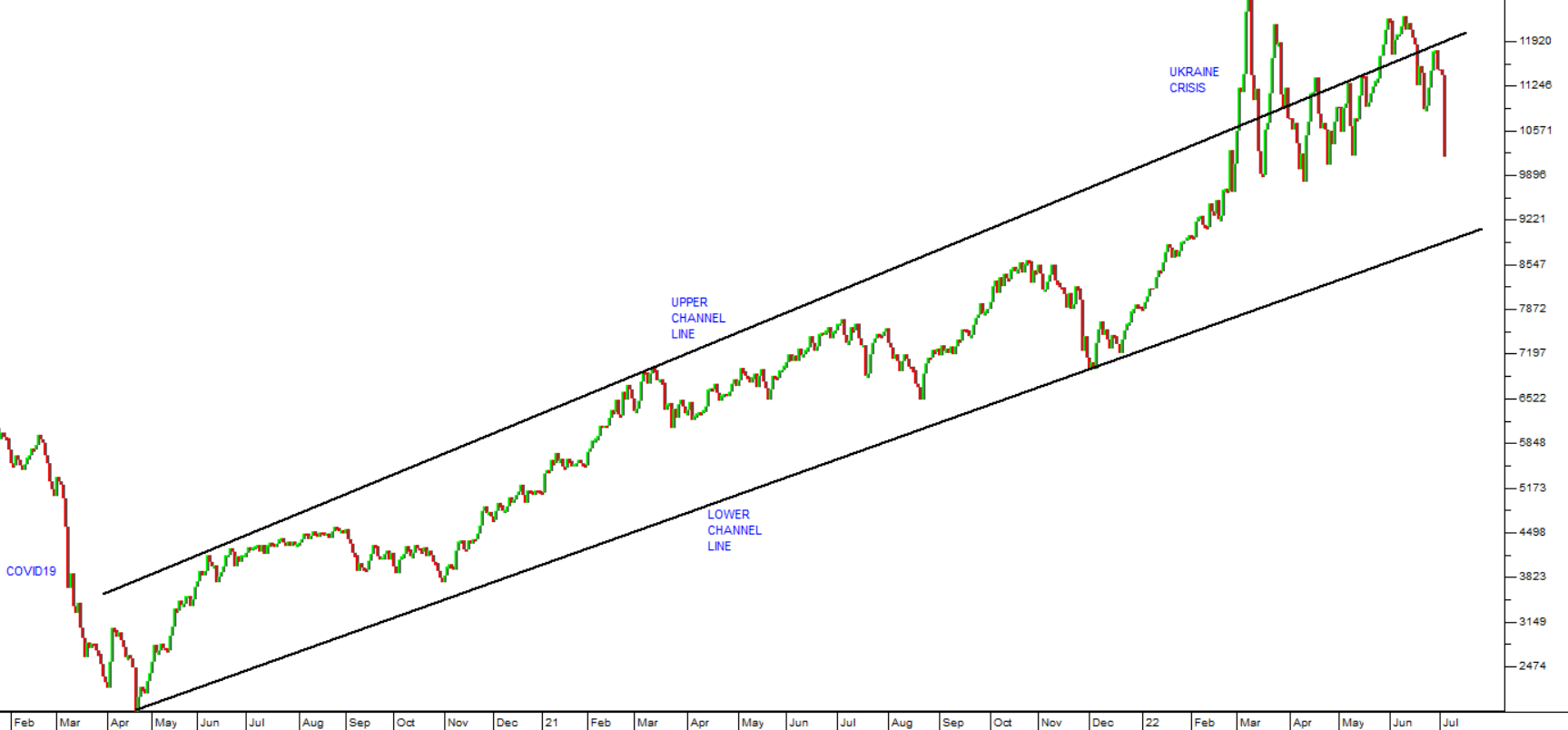 You can see here that Brent oil has fallen back from to its upper channel of $115 per barrel, to around $102 per barrel. The rising petrol price will certainly have an impact on inflation even with the temporary reduction of the fuel levy.
It is no secret that South Africa owes its relatively good economic performance since COVID-19 to a boom in commodity prices. Tax revenues have soared above budget mainly because of the super-profits being made by mining companies. Despite this, there is a huge backlog of 3500 mining licence applications being held up by the Ministry of Minerals and Energy. This year the backlog has been reduced by about one thousand but about 80% of the responses coming from the Ministry have been unsatisfactory with mistakes and omissions which have meant that they needed to be sent back. Canada and Australia are both attracting about $2bn per annum in capital aimed at mining exploration. South Africa gets less than 10% of that – which means that the pipeline of new mining projects is gradually drying up – mainly due, in our opinion, to government incompetence and indolence.
Mining production is suffering from bottlenecks as Transnet battles to keep rail lines open and ports running efficiently. Coal exports have fallen 20% from 2017 even as coal prices have tripled. The bottlenecks are also impacting exports of manganese, iron, chrome, and other minerals. It is estimated that the opportunity cost of these lost exports is at least R50bn per annum. April 2022 was the worst month for two years with mining production down almost 15%. These figures show that South Africa is not capitalising on the boom in commodity prices.
Eskom
Andre de Ruyter, CEO of Eskom has arranged for eighteen independent power producers (IPP) to lease 4000 hectares of land which Eskom owns adjacent to its existing power stations. Each IPP will use solar or wind energy to produce 100mw of power which they will be able to supply directly to the grid or to other power consumers in the area. This will increase the electricity supply by 1,8 gigawatts and thus relieve the national grid appreciably. Eskom has a total 36 000 hectares of land which it could use for the same purpose. These new IPP's will bear the cost of development which means that the additional power will not cost Eskom, the Treasury, or the taxpayer one cent. In fact, Eskom will earn an income from the leases. This is indeed a very good idea that will help address South Africa's electricity power problems. Eskom plans to have more similar auctions in the future.
Facing an illegal strike since 23rd June 2022 combined with intimidation and damage to power plants, President Ramaphosa and Minister Pravin Gordhan have stepped in to arrange a 7% wage increase for workers, despite the fact the CEO, Andre de Ruyter, has said that the company cannot afford more than 5,5%. Faced with stage 6 and the possibility of stage 8 loadshedding, the government has been forced to negotiate with an illegal strike to settle its dispute with NUM and NUMSA who have most of Eskom's workers as members. This is a clear win for illegal strike action and will encourage more such strikes. The current offer is below the 15% which the unions were demanding but nonetheless well above the going inflation rate. Eskom, which has debt of close to R400bn and already relies on government bailouts to stay afloat, cannot afford the increases being demanded by its unions. In fact, it is estimated that the current Eskom workforce is about twice as large as is needed for the quantity of electricity which it produces. This strike has involved intimidation which has prevented as many as 90% of employees from performing their functions which, in turn has resulted in loadshedding. This has a massive negative impact on the economy at large. We see this is a capitulation by government and a victory for populism in South Africa. The prolonged level 6 loadshedding is now causing in further weakness in the rand – which has become a major factor the recent fuel price hikes and inflation. In 2020 there were 54 days of loadshedding, in 2021 there were 75 days and this year so far, we have already had more than 40 days – which shows an accelerating pattern. Eskom's average energy availability has dropped from 72% in 2018 to 67% in 2019, and 62% in 2021. Renewable energy is now about 7% of total energy production in South Africa. In 2021 over 700mw of renewable power was added to the grid.
The decision by Eskom to "retire" the Komati coal power station, which produces about one thousand megawatts of power, by September this year marks the beginning of a process whereby electricity generation will be done more and more by independent power producers (IPP) and less and less by Eskom. It is a necessary and inevitable shift. The Komati power station employs about 250 people who Eskom will endeavour to move to other positions to ensure a "just transition". By 2035, Eskom plans to retire as much as twenty-two gigawatts of generation capacity, relying on IPPs to fill the gap. This has been made possible by the government's decision to abandon licencing requirements for IPP up to 100MW. There is now pressure on the government to abandon all licencing requirements to speed up the transition process.
General
Over the years we have published various articles warning investors to stay away from cryptocurrencies. In general, our advice has been, "If you have them sell them and if you don't have them don't buy them." At one point it was suggested that cryptocurrencies might be a good hedge against any weakness in equity prices, but that has been shown to be incorrect, especially now that the S&P500 index has entered a bear trend. Bitcoin had been falling prior to the bear trend, but collapsed once it began, breaking sharply down through support at $29000. Consider the chart: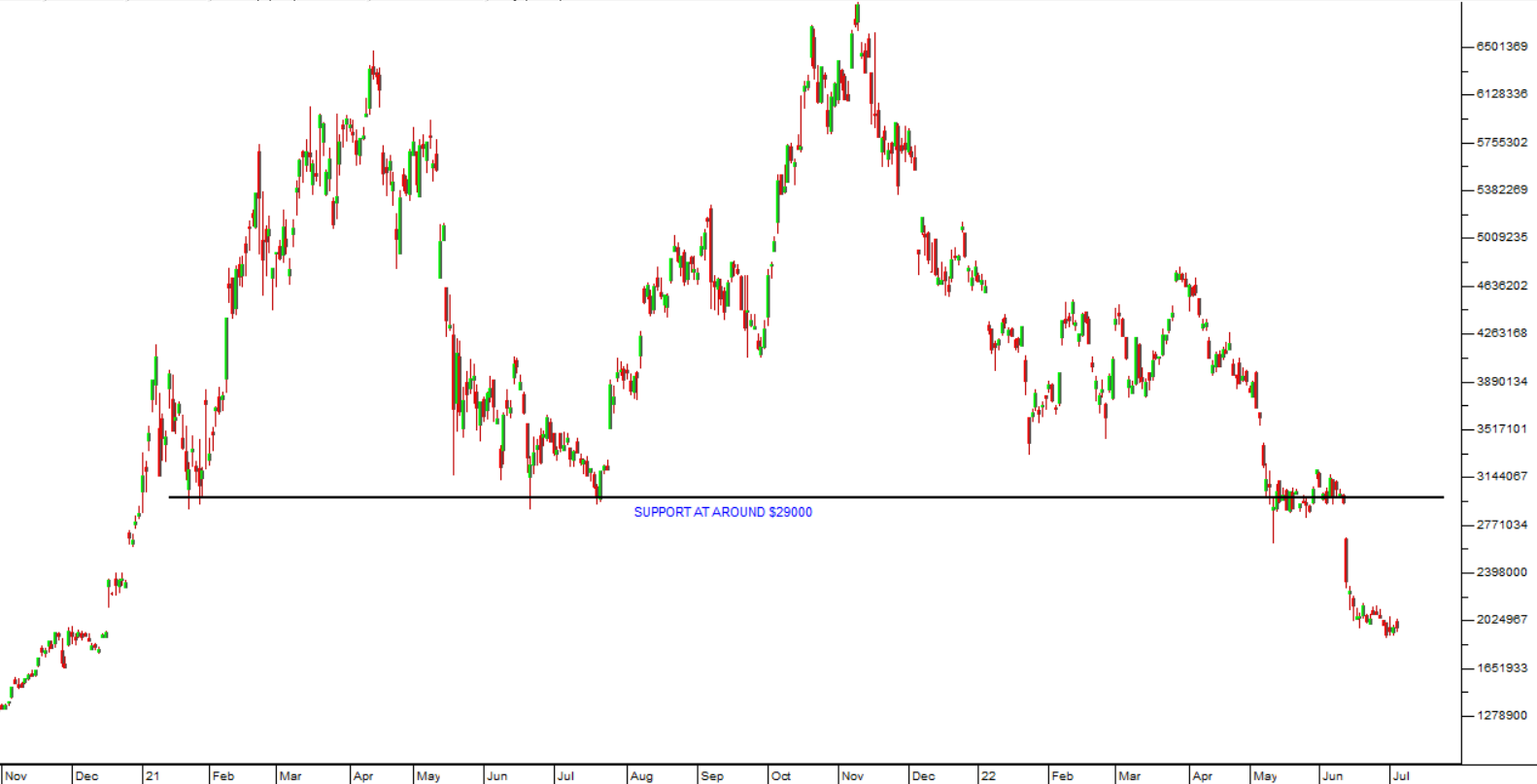 Here you can see that the major support level for Bitcoin has been broken as a direct response to the fact that the S&P has entered a bear trend. We still regard cryptocurrencies as highly speculative and advise against them.
The recent court ruling that the "certificate of need" proposed by the department of health in its pursuit of the National Health Insurance (NHI) program is unconstitutional marks a significant step in the demise of this ill-considered populist idea. The proposed National Health Act would allow the government to determine where doctors and other health professionals must work – which is a clear violation of their constitutional rights to freedom of movement. The judge said that the requirement to supply poor people with access to medical care cannot be met by depriving the people who currently enjoy such benefits of their access to health-care services. The NHI is similar to other populist ideas like the expropriation of land without compensation. It is an impractical and unconstitutional idea that it mired in legal problems from which it is unlikely to be extracted.
The inflation rate in Zimbabwe is once again running out of control. The monetary policy committee (MPC) has now raised interest rates to 200% in an effort to contain it. However, inflation of this sort cannot really be reduced by raising rates because it is being caused by an excessive expansion of the money supply. In simple terms the government is printing money to pay its bills because it has been spending more than it brings in from taxation. We expect that the Zimbabwean currency will once again collapse as a result. The country's inflation rate reached 192% per annum and the government has been forced to allow the use of the American dollar once again as a payment mechanism. Obviously, the high level of inflation has huge negative effects on companies trying to operate there, including some JSE-listed companies.
Companies
NEW LISTINGS
CA Sales, which was previously listed on the Botswana Stock Exchange and the Cape Town Stock Exchange, listed on the JSE on 27th June 2022 and traded 34 deals on the day opening at 505c and closing at 754c. It has subsequently risen to around 1400c – which shows that the company left a huge amount of value on the table for shareholders. It has literally tripled its market capitalisation. The company participates in warehousing, distribution, marketing, and point-of-sale for fast-moving consumer goods (FMCG) throughout Southern Africa. In its most recent results, the company recorded a profit of R390m and says that it is on track to reach R20bn in turnover. This is one of the only new listings on the JSE over the past year.
Brait is looking to separately list its main asset, Premier Foods, on the JSE. Premier produces brands like Iwisa, Snowflake and Blue Ribbon and has been benefiting from the shift to staples caused by rising food prices as a result of the war in Ukraine. Brait owns 49% and plans to sell 30% as part of the listing to pay down its R2bn in debt. The balance of the Premier shares could then be unbundled into the hands of Brait shareholders. Brait also owns 70% of Virgin Active. The timing of the Premier listing is not certain and depends on the performance of the markets which are currently in a downward trend. However, they might follow the example of CA Sales and leave a lot of value on the table for investors.
OMNIA
Omnia (OMN) is a diversified chemicals company supplying products to the agricultural, chemicals and mining industries in South Africa and 25 other countries. The Agricultural division is the leader in fertilizers in Southern Africa. It supplies granular, liquid and speciality fertilizers in Southern Africa, Eastern Africa, Australia, New Zealand, and Brazil. The mining division is a leading supplier of explosives in South Africa, Mali, Swaziland, Sierra Leone, Senegal, Zambia, Zimbabwe, Botswana, Mozambique, and the DRC. The chemicals division is a manufacturer and distributor of speciality, functional and effect chemicals and polymers operating throughout the African continent. The company gets most of its sales from agriculture for fertilizers and the mining industry for explosives. In its results for the six months to 30th September 2021 the company reported revenue from continuing operations up 30,2% and headline earnings per share (HEPS) of 286c compared with 125c in the previous period. In a trading statement for the year to 31st March 2022 the company estimated that HEPS would increase by between 70% and 90% compared to the previous year. On 10th September 2020, we drew your attention to the fact that Omnia had broken up through its 200-day moving average giving a clear buy signal at 2747c. Since then, it has been in a strong upward trend and reached 8709c on 1st June 2022. It has subsequently fallen back towards the 200-day moving average probably because of the bear trend in world markets. It is now starting to look relatively cheap to us. Consider the chart: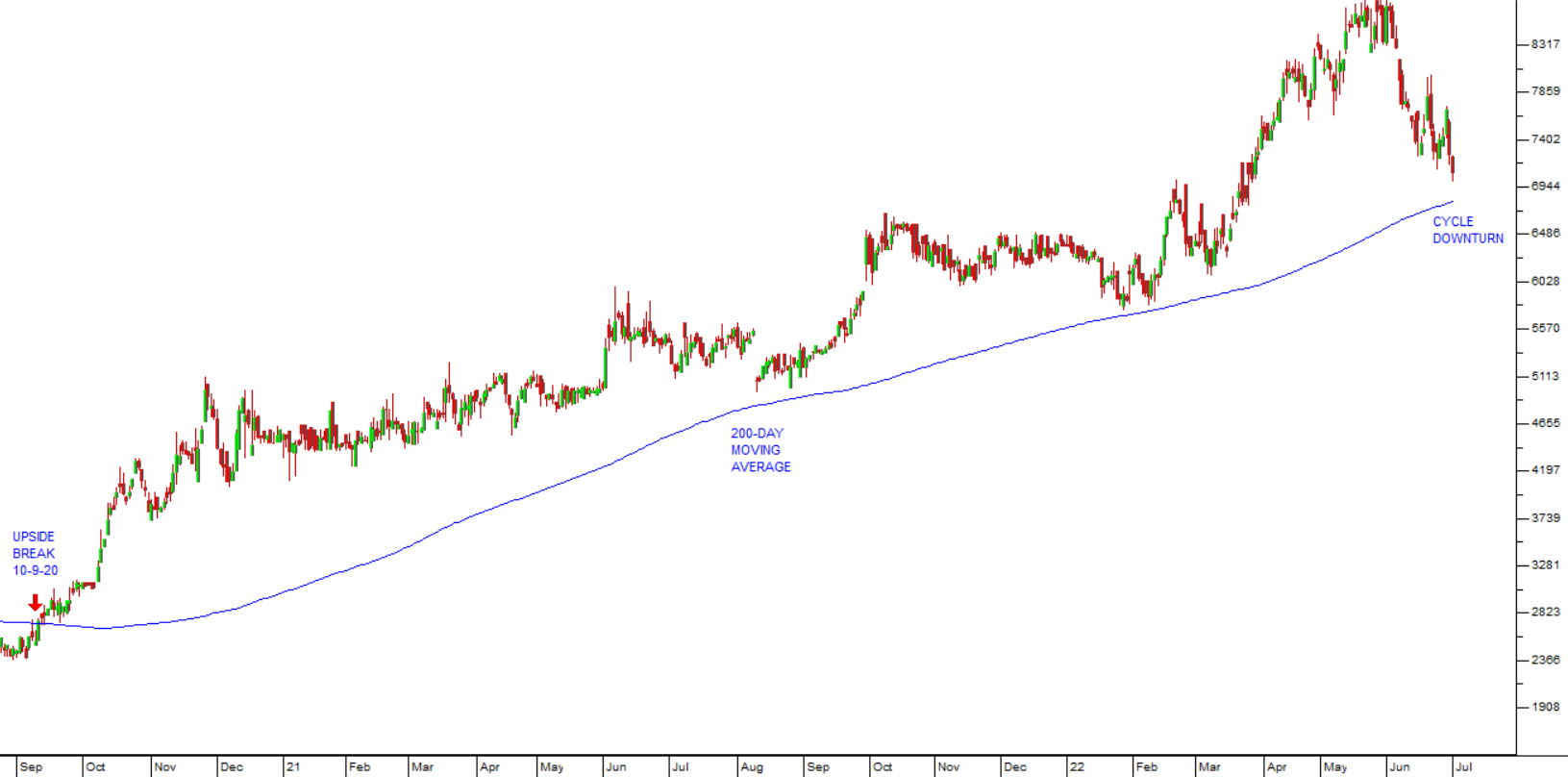 You can see on the right-hand side of the chart the cycle downturn in the share's price – which is to be expected given that world markets are in a bear trend. On fundamentals the share is looking cheap, but it may still fall further.
SYGNIA
Sygnia describes itself as a "specialist financial services group". It is South Africa's largest provider of exchange traded funds (ETF) and has a number of unit trusts. Sygnia Itrix makes it possible for Sygnia to attract funds looking for offshore exposure. In its results for the six months to 31st March 2022 the company reported revenue up 13,4% and headline earnings per share (HEPS) up 23,8%. Assets under management (AUM) increased by 6,1% to R295,3bn. The share drifted down for most of the past 4 years, entered a sideways market, and culminating in a low of 701c on 23rd April 2020. It has now entered a new bull trend rising to 1880c. It is on a P:E of 10,01 with a dividend yield of 6,71% - which looks like good value to us. The fact that Sygnia was able to increase assets under management during such a challenging time, indicates that it has caught the attention of fund managers. The company's revenue is a function of its ability to continue to attract funds for management. We believe that this company could be quite similar to Coronation in early 2012 - when that company was relatively cheap and subsequently grew four-fold. Consider the chart: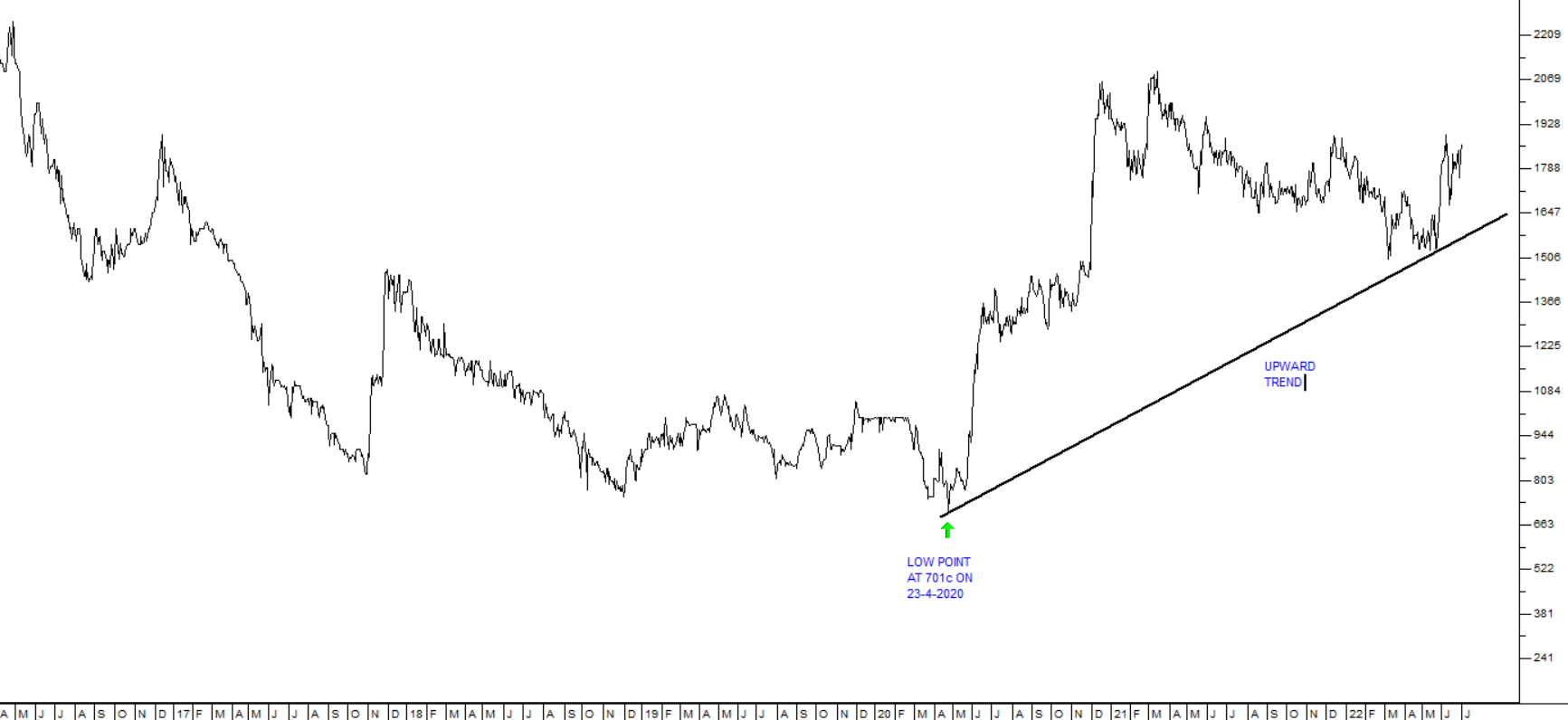 STOR-AGE
Stor-age (SSS) is the JSE's only real estate investment trust (REIT) which specialises in buying and running domestic storage facilities in all major South African cities and in the UK. Its business is split about 60% in South Africa and 40% in the UK. The company owns eighty-five properties worth R4,9bn in SA and R5,3bn in the UK. The business of Stor-age tends to do well in recession as well as in boom periods of the economy. The average client keeps their storage unit for 2 years. The client base is widely diversified and very stable from a statistical point of view. The company's foray into the UK demonstrates its ability to find appropriate properties and add them to its portfolio. It also gives the share a rand-hedge element. In its results for the year to 31st March 2022 the company reported rental income up 15% and total occupancy of 88,1%.The company's loan-to-value (LTV) was 27,9% which is particularly good. We believe that this is one of the better property investments available on the JSE. It offers a steady growth and minimal risk. The company has been exceptionally well-positioned to survive COVID-19 with a strong balance sheet and a business which tends to benefit from people down-sizing their homes. Technically the share has been rising steadily since the COVID-19 downward spike. We expect this to continue. Consider the chart: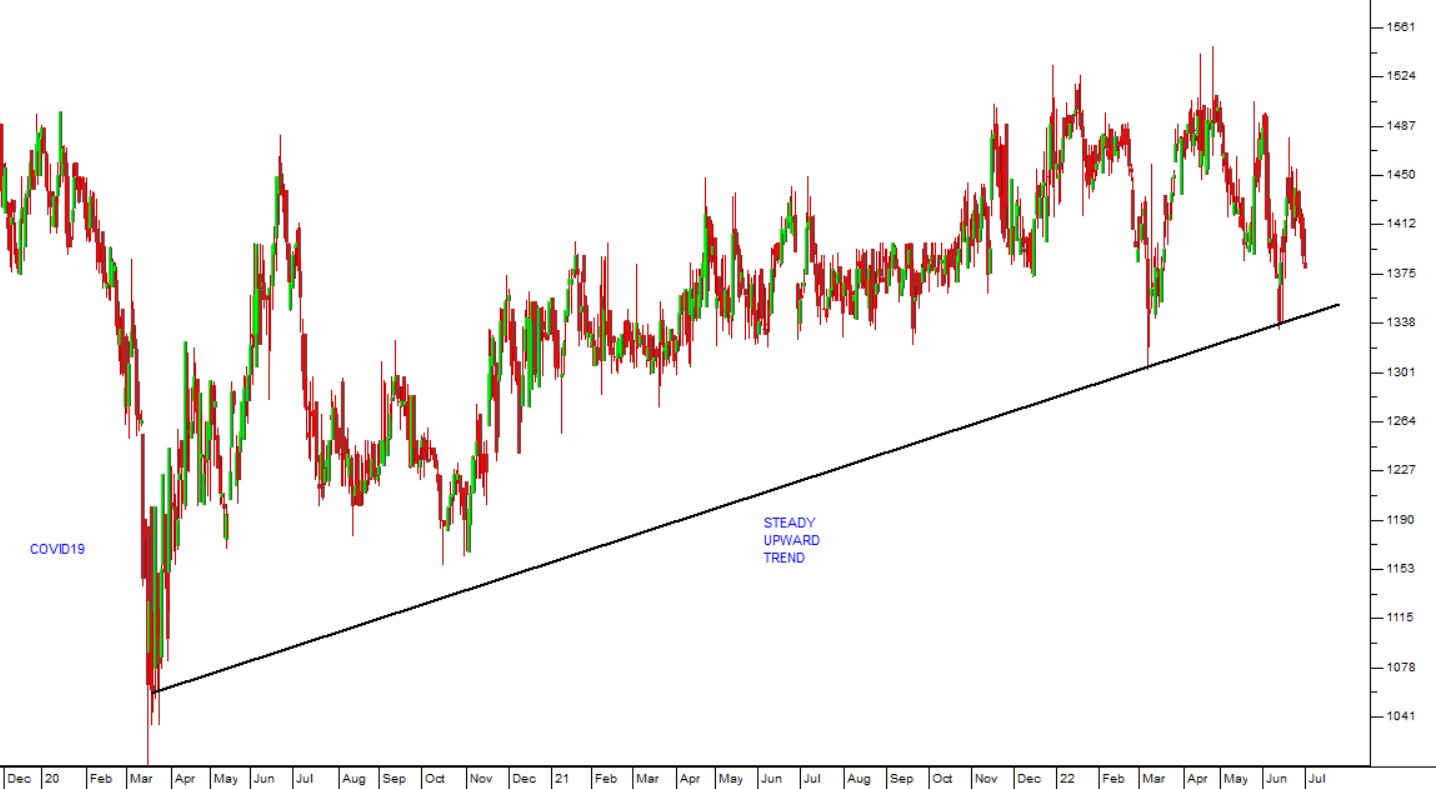 PROSUS
In last month's Confidential Report published on 1st June 2022, we suggested to you that Prosus was cheap because it was trading then at a fraction of its net asset value (NAV) of R1823. We advised applying a 65-day exponentially smoothed moving average and waiting for a clear upside break. That break came just five trading days later on 8th June 2022, when the share was trading at R842.80. Since then, the share has moved up to R1126.74 – a gain of 33.7% in one month! Consider the chart: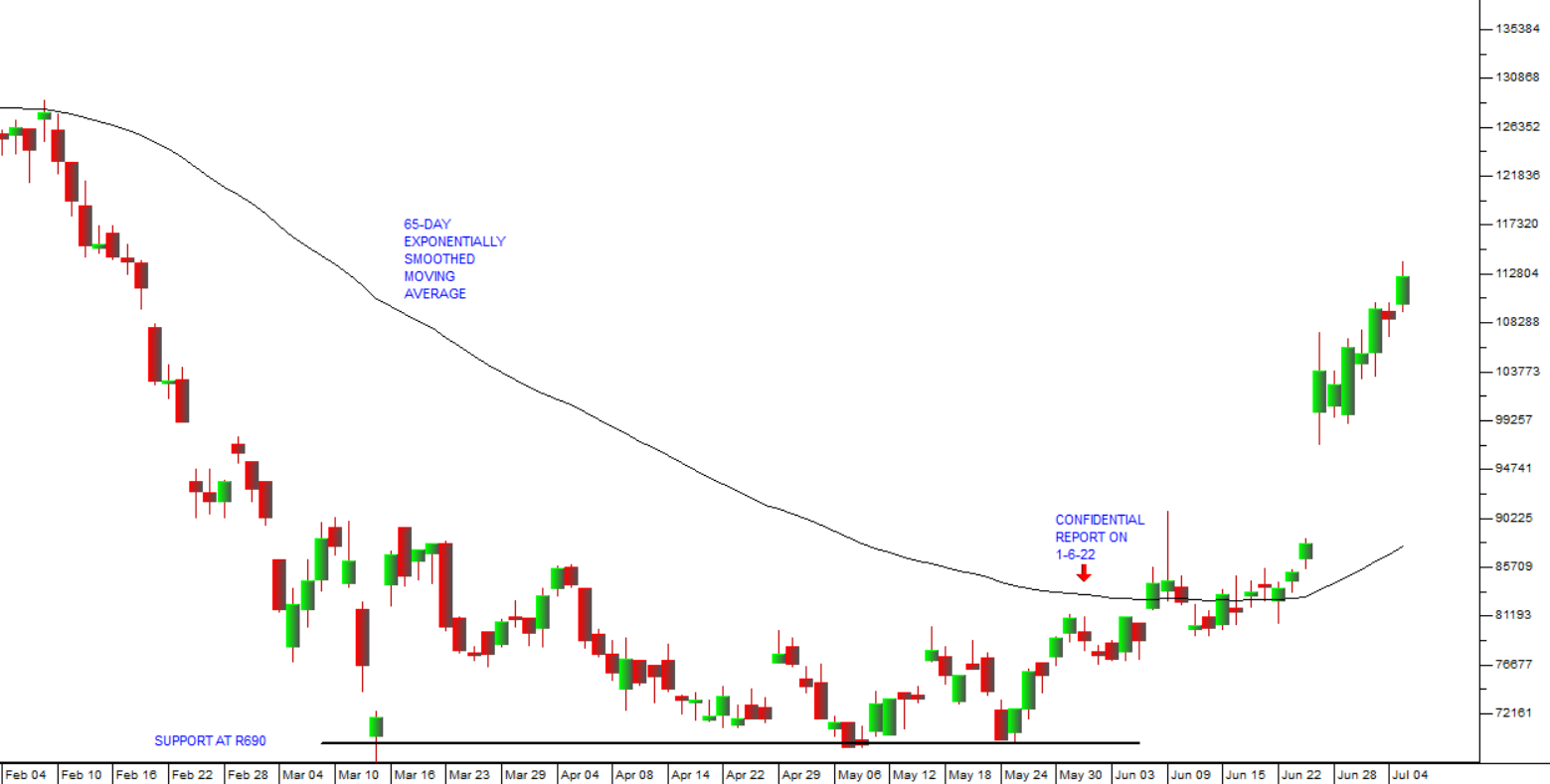 You can see here the steep decline of the Prosus share price and the accompanying 65-day exponential moving average. Advanced moving averages are explained in modules 23 and 24 in our online-course. The upside break in the share price on 27th June 2022 was caused by the announcement that they would sell some of their holding in Tencent to engage in an on-going share buy-back program.
Warning
When considering the share suggestions given above, it is important for you to understand that we are in a primary bear trend – and therefore, your probability of making a good investment at this time is significantly reduced. During a bear trend approximately 80% of shares fall – even if they have excellent fundamentals. So, if you decide to invest in one of these shares, make sure that sure that you have a strict stop-loss strategy in place and that you adhere to it.
DISCLAIMER
All information and data contained within the PDSnet Articles is for informational purposes only. PDSnet makes no representations as to the accuracy, completeness, suitability, or validity, of any information, and shall not be liable for any errors, omissions, or any losses, injuries, or damages arising from its display or use. Information in the PDSnet Articles are based on the author's opinion and experience and should not be considered professional financial investment advice. The ideas and strategies should never be used without first assessing your own personal and financial situation, or without consulting a financial professional. Thoughts and opinions will also change from time to time as more information is accumulated. PDSnet reserves the right to delete any comment or opinion for any reason.
Share this article: