30 November 2020
By PDSNET
We have come to the end of a tumultuous and unique year marked by the "black swan" event of COVID-19, various Trump excesses and, finally, his vanquishing. The long-term progress of the S&P500 as outlined in "our Background Approach" on our web site remains in tact. In that scenario, the world economy is moving into a strong boom phase stimulated by unprecedented monetary stimulation and temporarily arrested by the unexpected impact of the virus.
We continue to believe that we are in the throes of the greatest bull market this century and that the "V-bottom" caused by the virus was a technical aberration and does not derail the underlying bull trend. Of course, we understand that, ultimately, this bull market, like all bull markets, will come to an end. But, in our opinion, that event is still some years away and the bull trend still presents many good opportunities for investors
The advent of Joe Biden as President in America heralds a major turning point and a victory for liberal policies across the world. The second massive aid package in America, likely to be at least $2 trillion, is already being eagerly anticipated by investors. The "second wave" of the virus in America and parts of Europe is concerning, but the imminence of a practical vaccine is increasingly bullish.
All in all, the financial world, post COVID-19, will be noticeably different, benefiting some players and disadvantaging others. As a private investor your job is to try to see which businesses are likely to benefit and patronize them.
America
Overall, America has come out of 2020 in much better economic shape than many other countries, which is surprising because it has had and continues to have the highest rates of infection and death from COVID-19. The US economy is expected to shrink by about 4,4% in 2020, which is far less than other first world countries (Germany -6%, Japan -5,3%, and the UK -10%).
One of the major reasons for this is that the US economy is just so massive that it is not really dependent on international trade like most other countries. For example, only about 12% of US GDP comes from international trade. That compares with Germany where almost half of their GDP (47%) results from trade. America is also expected to bounce back from COVID-19 much more quickly, growing 4,5% next year. This expectation probably accounts for the run up in the S&P500 to new record highs.
Biden's appointment of Janet Yellen as Treasury Secretary is very sound. Biden is accumulating a team of unprecedented experience and capability – which will make a welcome change from his predecessor. Aside from being a top class academic, Yellen was the first woman who served as Federal Reserve Bank Governor and she has decades of experience. She was known to be dovish in her time as Governor, being more concerned about unemployment than inflation, and she will certainly do what she can to put together a strong stimulus package to help Americans through the current crisis. In general, she is more likely to put her foot on the economic accelerator than the brake. She will have significant influence over the President's economic decisions for the next four years - on taxes, bank regulation and the growing US government debt.
Monday 9th November was an extremely interesting day for Wall Street for three reasons: (1) It was the first trading day after the American media declared Biden the winner of the election, and (2) Pfizer announced that they had a vaccine which was at least 90% effective in preventing people from contracting COVID-19. (3) The US jobs report for October said that the US economy added 638000 new jobs in that month and the unemployment rate fell back to 6,9%.
Investors took the position that, with Biden in the White House, a stimulatory package was probably a certainty sometime early in the new year. Pfizer's announcement held out the reasonable probability that COVID-19 could now be controlled and eliminated some time in the first half of next year. The jobs report showed that even without the stimulatory package the US economy was recovering quickly. All of this was enough good news to take the market up 6,6% at one point in the trading day – which is an exceptionally large move in the S&P500. However, the bulls were not able to hold on to this level and the S&P fell back to close below its opening level.
What was interesting from a technical perspective was that the candle formation on the S&P500 came within a whisker of being a "shooting star". Consider the chart: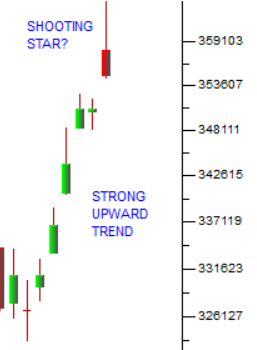 A shooting star usually comes at the end of a strong upward trend and it is a candle where the body of the candle (i.e. the range between the open and close prices) is half the size of the upper shadow. In this case the body is 193,4% of the upper shadow – which means that it is very close to being a shooting star.
In Japanese candlestick charting, each day's trade is regarded as a battle between the bulls and the bears. A shooting star occurs where the bulls get very excited and drive the price up very far – but they cannot hold those heights and the price comes down to close to where it opened. This is what happened on 9th November 2020 on Wall Street.
In the two weeks which followed 9th November, which include the Thanksgiving holiday, the S&P has consolidated well above the previous cycle high at 3580, but it has not yet managed to close above the high of that day. Consider the chart: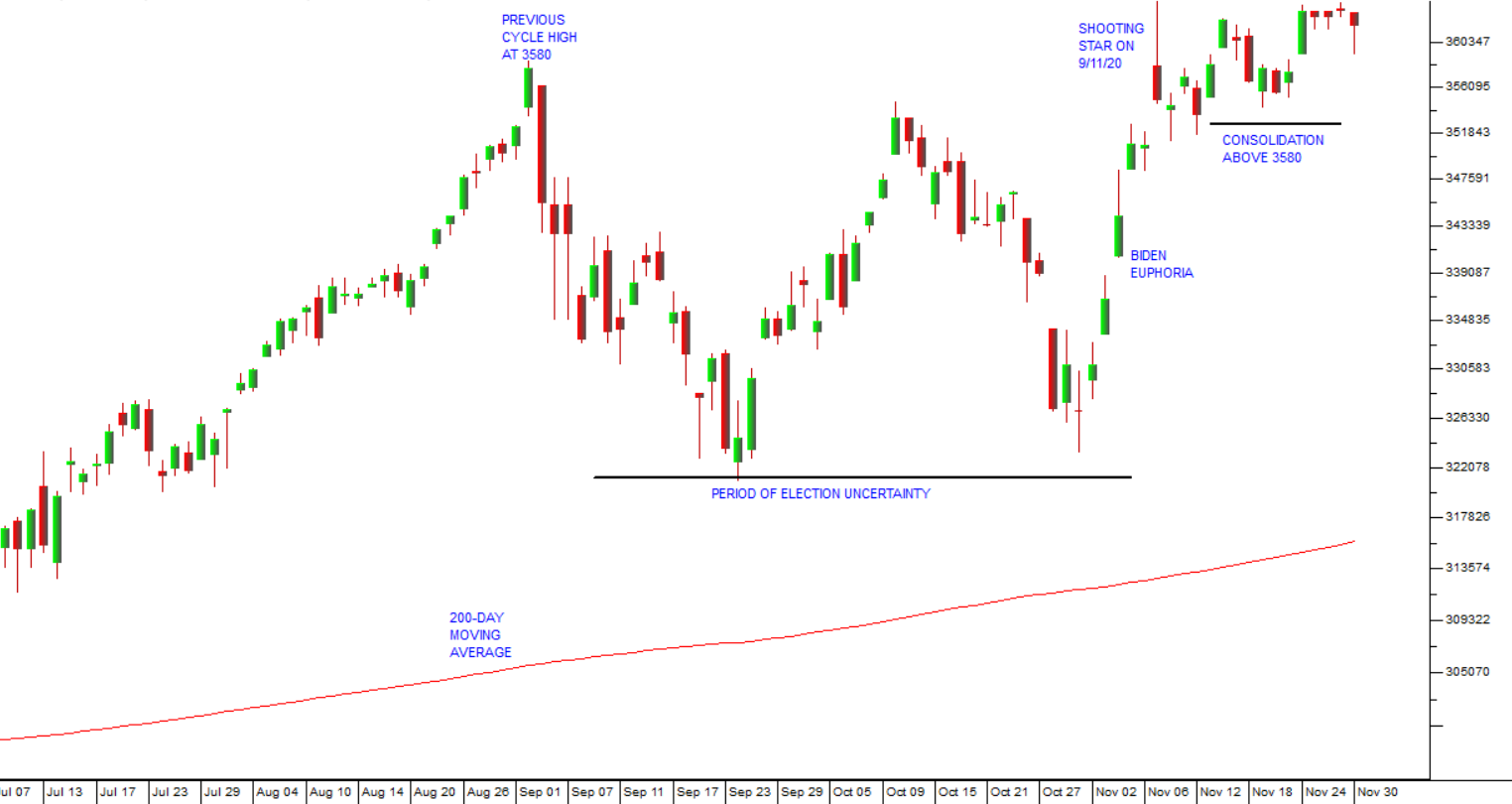 Here you can see the previous cycle high made at 3580 on 2nd September 2020. This has been followed by a period of sideways movement which, in our view, was a result of the uncertainty of the election itself. Once it became apparent that Biden was going to win, the market rapidly became more confident. A steep upward trend with several "break-away gaps" followed, culminating in the "shooting star" candle on 9th November 2020. Since that day, the S&P has consolidated above the 3580 level and now looks set for a further upward move.
There can be no doubt that, as the Trump era fades into history, a new optimism has gripped world markets – which can also be seen in the rapid recovery of the JSE Overall index.
The news in America this past week has been dominated by pictures of people lined up in "food queues" at the various "food banks" around America. What is striking about these food queues is that they are "drive-by's". The people are queuing in the cars. That highlights a striking difference between a first world country like America and an emerging economy like South Africa. In this country, if you have a car, then you are certainly wealthy enough to feed your family.
Economy
The Debt
Tito Mboweni has warned that South Africa is "now in the danger zone" – if the government's debt level, which is projected to reach 95% of GDP, goes beyond 100%, then we will probably be unable to make the interest payments on it and we will land in the same predicament as other failed states such as Ecuador, Greece and Argentina – countries which have had to renege on their debt obligations. The medium to long term consequences of such a situation are extremely difficult. Hopefully, our parliamentarians understand the seriousness of his warning and give the government their full support in the impending conflict with the civil service unions.
The further downgrading by the ratings agencies – notably Fitch – caused Finance Minister, Tito Mboweni, to stress the importance of keeping the "sanctity of the fiscal framework and implement much needed structural economic reforms". The fiscal framework is the one in which the government keeps its spending inside its income plus reasonable borrowing. The alternative is to begin printing money (quantitative easing). Mboweni refers to "structural reforms", which has become a euphemism for cutting the size of the civil service wage bill and getting the unions under control. The wage negotiations with the civil service unions covering the next three years will be crucial. The budget says that they are getting no increases at all, but the ratings agencies think that there is almost no chance that this will be implemented – hence their downgrades. This battle between the unions and government will certainly determine the long-term future of this country.
Professor Michael Sachs has warned that there will have to be severe and unprecedented cuts to the budgets of most government departments and provinces which may well endanger specific projects. Home Affairs will have to cut 13,5% and Defence 9,3%. Basic education will have no cuts, but will also get no increases. If they stick to the budget, there are going to have to be some radical changes to the way that government operates. Perhaps we will end up with a leaner and more efficient civil service.
The Recovery
The economy is running with inflation at 3%, unemployment at record highs and negative growth for the year projected at -8%. The low inflation rate follows declines in fuel prices as a result of the stronger rand. It probably does not mean that there will be further rate cuts, but it does seem likely that rates will remain at these low levels for some time – at least through 2021. The longer they stay down there, especially with falling fuel prices, the better off the South African consumer will become. Those consumers who were able to keep their jobs through the COVID-19 crisis, even if they had to take a pay cut, will find that they have far more surplus cash. During 2020, most of that surplus is probably being applied to bringing down debt levels or increase savings, but with rates likely to be kept at these low levels, by next year we should see noticeably increased spending. That is already becoming apparent in the results of various retailers.
The dismal retail sales figures for 2020 resulting from the lockdown may well be given a boost by Black Friday (27th November) sales. This event has come to overshadow the usual sales bump in festive season sales as consumers rush out to buy heavily discounted products. The danger to festive season sales this year is that there could be further restrictions due to COVID-19, especially if there a second wave similar to what is happening in Europe and America. Stores might have to limit the number of customers they are allowed to take into the store at one time, thereby reducing sales substantially. Those stores that have managed to get their online sales working will seek to maximise through this mechanism. Another solution has been for retailers to offer discounts over several days or even weeks leading up to Black Friday – and most retailers have done this.
The ABSA purchasing managers index (PMI) for October 2020 jumped to 60,9 from September's 58,3 – indicating a significant increase in manufacturing activity. Any PMI level above 50 shows growth. The figure was backed up by the IHS Markit PMI which rose to 51 in October month. This is the first time in 28 months that the Markit PMI has been above 50 indicating growth in manufacturing. Manufacturing is benefiting from gradually improving local demand and a considerable increase in export demand. The export demand may be impacted by the second wave of COVID-19 being experienced in Europe which is leading to lockdowns in some areas (like the UK). However, it is apparent that manufacturing is improving rapidly and returning to pre-lockdown levels. This supports the general perception that South African economic recoveries are usually export-led.
The unemployment figures for the third quarter of 2020 show that almost 500 000 new jobs were created from the 2nd quarter's very low jobs figure when 1,2m jobs were lost. This shows that the economy is performing relatively well, even though, inevitably, some businesses have been forced into liquidation by COVID-19. The stronger businesses which survived are filling the gaps left by those that did not. Many of those which failed did so because they had insufficient cash reserves while others failed because they had not embraced technological shifts within their industry. There can be no doubt that the pandemic has caused a significant shift in the way in which business is conducted, with far more online buying and far more people working from home. These changes and others have created opportunities for start-ups and for those businesses which were already moving in that direction before the pandemic began.
The second wave of the pandemic, taking place in the Western and Eastern Cape and especially in Nelson Mandela Bay and along the Garden Route, is a concern. The number of cases there has jumped from 167 at the end of October 2020 to over 6000 cases. Extra teams of medical professionals have been sent to assist in the area and some public hospitals have run out of beds. At this stage there is no indication that the surge in infections has moved outside of the Eastern Cape, but there is obviously a danger. Hopefully, there will not need to be further lockdowns which would damage the economy. The Western Cape is considering new measures to curb the resurgence as their hospitals fill up.
Business confidence is a measure of the potential of the economy to perform in the future. When companies have confidence then they tend to make plans to expand and employ more people. So, the jump in the RMB business confidence index in the December quarter is good news. RMB says it is the highest level in two-and-a-half years. Clearly, South Africans are putting the pandemic behind them and focusing on the future. Of course, the index is based on a survey of 1800 executives and hence cannot be seen as a very precise measure. Nonetheless, it is an indication of how company directors are feeling.
The Rand
The rand has been subject to an array of different influences this month. Firstly, the massive shift to "risk-on" which followed the announcement by Pfizer that they had a vaccine which was 90% effective. This was followed by further shift to risk-on as it became clear that Joe Biden would win the US election. Finally, the arrest of Ace Magashule and others on charges of corruption has given the international community hope that South Africa is finally getting to grips with its corruption problem.
The rand is constantly impacted by both internal and external factors as overseas investors rush in or out of emerging markets and as the international perceptions of reform in the country gain or lose hope. The arrest of Magashule and other revelations before the Zondo Commission will certainly be seen as a positive for the reform process and there is positive for our currency. The extent of the corruption and state capture is becoming apparent with more and more ANC officials implicated and arrested.
Last month we showed the impact of alternating episodes of risk-on and risk-off on the rand. As you can see from the chart below, we have now had a sustained run of risk-on which looks set to continue for some time: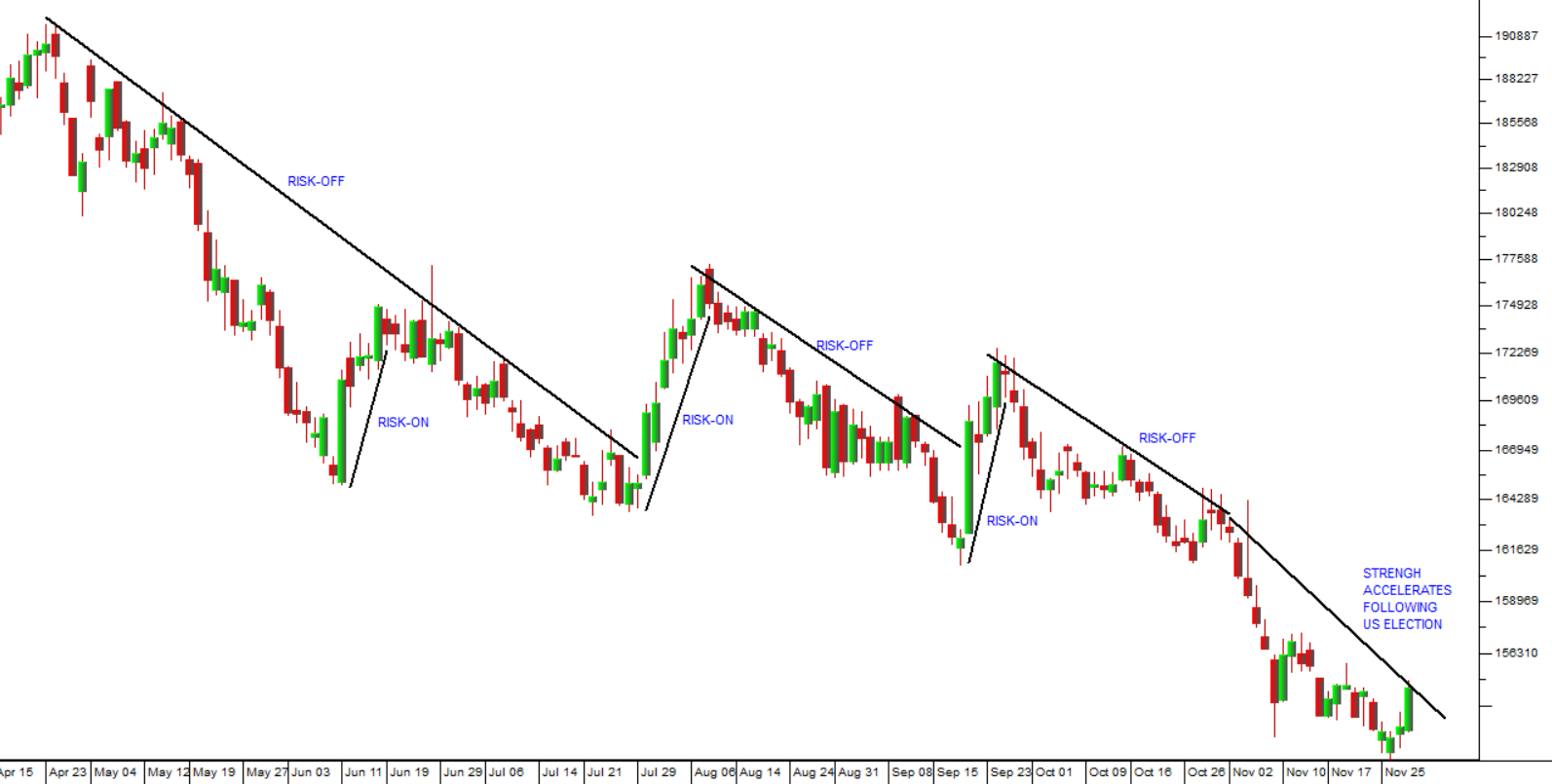 Obviously, this strengthening trend will have a negative impact on rand-hedge shares and a positive impact on inflation and the petrol price in South Africa.
State Owned Enterprises
Eskom reported another R20bn loss in 2020, following the R20bn it lost in 2019 – but the fact that the loss has not increased is probably due to the efforts of the new CEO, Andre de Ruyter who has been diligently trying to prevent the theft of power from the utility while at the same time trying to recover monies owed to it, especially by the municipalities. Clearly, Eskom is and will be for some time dependent on bailouts from the government. The cost of servicing its debt of R490bn is roughly R70bn per annum – which is unsustainable. Hopefully, de Ruyter's efforts to arrange the "concessional finance", which we spoke of in last month's Confidential Report, will be successful and he will be able to make a dent in this problem.
The road accident fund (RAF) is probably the next major liability (after Eskom) which the government must consider. This fund which provides loss of income insurance for people involved in road accidents is in debt to the tune of about R300bn – a figure which is expected to rise to around R600bn by 2022. This huge and growing debt consists of court judgements which have not yet been paid out. Obviously, in the government's current cash-strapped condition this is a major burden and one which is growing rapidly as lawyers, working mostly on a contingency basis, take advantage of road accidents to earn substantial percentage fees.
Commodities
The new Luiperd gas and condensate find, adjacent to the 2019 Brulpadda find, should be a massive boost for the South African economy over the next twenty or thirty years. The two finds and the field they are in is expected to yield about R1,5 trillion of additional economic activity. Of course, there is still much testing to be done and production will probably only begin in a few years' time. The find could also provide the Mossgas refinery with additional material as well as powering a gas turbine which would ease power restrictions.
The second wave of COVID-19 which has been impacting on Europe and America and had an effect on the oil price. The probability of further lockdowns in key first-world economies would mean lower oil consumption. Oil supplies from non-OPEC members is also rising putting further downward pressure on the price. Below a price of $50, shale gas is mostly uneconomic so that should slow down supply in time. But there has been a build-up of oil stocks and with the UK in a 4-week lockdown demand is likely to stall.
The oil price, encouraged by the improved prospects for the world economy following the Biden win and news of various vaccines for COVID-19, is on the rise again. From the date of the US election (3-11-20) the price has been rising steadily and it is now closing in on $50 per barrel. At these levels, more and more shale gas operations in America become profitable, which tends to put a lid on further gains. Consider the chart of North Sea Brent: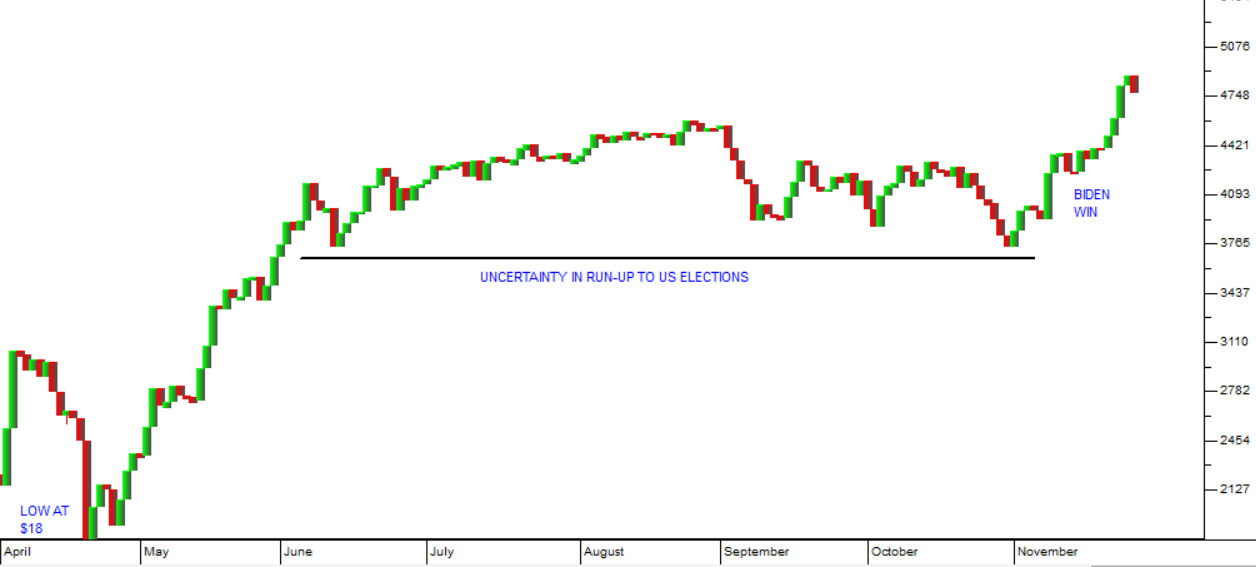 Here you can see the COVID-19 low at about $18 per barrel in April 2020. As the initial wave of pandemic faded the price recovered to around $40 where it stabilized in the run-up to the US elections. As it became clear that Biden was going to win the price strengthened, a trend that gained momentum with the news of various vaccines becoming available.
Companies
Two shares which we recommended in our articles earlier in the year have done very well. They are:
Prosus which we suggested as the best

investment

in the thick of the COVID-19 panic on 29/1/20 at 108288c. It

closed

on Friday at 168800 – a gain of 55,9% in 10 months. Consider the chart:



PROSUS (PRX): January 2020 - November 2020 - Chart by ShareFriend Pro.

Afrimat – recommended on 25th May 2020 at 2900c. It closed on Friday at 4155c – a gain of 43,3% in 6 months. Consider the chart:


AFRIMAT (AFT): 08 May 2020 - 25th November 2020 - Chart by ShareFriend Pro.




TEXTON

Texton (TEX) is a small property real estate investment trust (REIT) which we drew to your attention, on 29th September 2020, in our opinion. It was trading at 89c - well below its net asset value (NAV) of 584c – making it a potential take-over target. The volumes traded on the share were averaging around 170 000 shares each day. Then on Thursday 29th October 2020, the company suddenly traded 28,3m shares in 4 deals – all of which changed hands at 78c. The next day (Friday 30th October 2020) the company announced a mandatory offer to buy out minority shareholders at 120c – and the share price shot up to close at 115c. Consider the chart:

TEXTON (TEX): 25th June 2020 - 29th October 2020 - Chart by ShareFriend Pro

This chart shows the low average volume traded prior to Thursday 29th October 2020 and then the huge spike in volume on the day before a vital public announcement. This is clear evidence of insider trading. Those 4 buyers (the "strong hands") of the shares on that day made a quick paper profit of over R10m – and they made that profit at the expense of those who sold (the "weak hands"). What is also clear is that this type of illegal activity cannot be hidden from the observant private investor. It is clearly apparent in the "on balance volume" (OBV) indicator which spiked up immediately.

HYPROP

Hyprop (HYP) is a leading property real estate investment trust (REIT) that specialises in high-quality shopping malls in South Africa and has some interests in Eastern Europe and Africa to the North. It owns some of South Africa's best-known shopping malls like Rosebank, Canal Walk, Hyde Park and Clearwater. It has been impacted to some extent by the fall-off in consumer spending through lower trading densities. This share is currently trading on a little more than a third of its net asset value (NAV) of R76.09 - which in our view makes it a good buy.

The company's loan-to-value (LTV) was 41,4% at the end of the period and it had 2,4% of vacancies with a 7,1% escalation. On 23rd September 2020 the Business Day ran an article in which it said that Hyprop was in talks to sell its Rosebank and Hyde Park shopping malls in order to reduce debt levels. With this share, we advised applying a 200-day simple moving average and waiting for a clear upward breakout. That has now happened. Technically, the share has completed an extended "island formation" and broken up - so we consider this to be a buy at current levels.

HYPROP (HYP): February 2020- November 2020 - Chart by ShareFriend Pro.

NOVUS

Novus (NVS) is South Africa's largest printing company with 11 printing plants. Until a couple of years ago, it had the monopoly contract to do all of Media24's printing. With effect from 1-4-18, that contract was reduced to roughly 58% of Media24's printing and the price paid by Media24 for printing was also reduced. The company appointed a new CEO, Neil Birch, who has decided in the short term to abandon the company's acquisitions and focus on consolidating the business and improving its operating performance. Birch is something of a turnaround specialist and has been taking the company back to basics.

Technically, the share price has been falling steadily since it listed in March 2015. The net asset value (792,6c) is about eight times the current share price of 95c. At this price, the share looks like reasonable value to us, and could begin to perform as the South African economy recovers.

The share has made a convincing break up through a 65-day moving average and it looks like the share is in a new upward trend. The share trades about R100 000 worth of shares a day which makes it practical for a small investment.

NOVUS (NVS): September 2019 - November 2020 - Chart by ShareFriend Pro.

LEWIS

Lewis (LEW) is a retailer of furniture and electrical appliances operating through 794 stores under the Lewis (415 stores), Beares (87 stores), Best Home (126 stores), and most recently, United Furniture Outlets (41 stores) brands. Of these, 125 are in neighbouring countries. The company does 65,7% of its business on credit and offers customers credit insurance and other financial products.

In its results for the six months to 30th September 2020 the company reported revenue down 1,6% and headline earnings per share (HEPS) up by 9,9%. The company said, "Lewis Group overcame severe trading restrictions in the first two months of the national Covid-19 lockdown to recover strongly and increase operating profit by 13.6% for the first six months of the 2021 financial year. The debtors' book grew by 6.5% to R5.7 billion and debtor costs increased by 35.7%. Good expense management contributed to operating profit increasing by 13.6%, with the operating profit margin improving by 120 basis points to 9.1%".

The company's balance sheet is ungeared, and the business is strongly cash generative with R563.9m in cash. At current levels, the share is trading on a P:E of 7,82 and just over a third of its net asset value (NAV). The company is in the process of buying back 10% of its issued share capital.

We have always said that this share represents a bargain - especially if the South African economy is expected to improve once COVID-19 is behind us. It will benefit from any increase in consumer spending. It is an extremely tightly managed company which has no debt and a huge store footprint. It has been growing both organically and by acquisition. Obviously, as a retailer of furniture and white goods it is vulnerable to any economic downturn, but we see it as cheap right now and expect its share to rise as the economy improves. Consider the chart:

LEWIS (LEW): January 2020 - November 2020 - Chart by ShareFriend Pro.

You can see here that the share fell heavily on COVID-19 and has subsequently made an extended reverse head-and-shoulders formation. It has now broken convincingly out of that formation and looks to be in a strong new upward trend.

NAMPAK

Nampak (NPK) is Africa's largest packaging company with interests in South Africa and 10 other African countries. About 60% of its turnover comes from South Africa, but only 36% of its trading profit. The rest of Africa accounts for 59% of trading profit and only 31% of turnover. The company also has small interests in the UK and Ireland. It produces 4 kinds of packaging products - plastics, metals, paper and glass. The great preponderance of its trading profits come from metals - which consists mainly of beverage cans.

Nampak has been able to remove R3,5bn (US$265m) of surplus cash from Zimbabwe, Nigeria and Angola. In an announcement on 27th September 2019, the company announced that it has sold its glass business for approximately R1,5bn which has been used to reduce debt.

The company blamed the loss in the year to end-September 2020 on COVID-19, R4bn of impairments, devaluation losses from the Angolan and Nigerian currencies and a loss of R141m from capital and other items. The share peaked at over R45 in November 2014 and then fell back to a low around 60c - which is well below its net asset value (NAV) of 1295c. From there it has rallied to about 154c on its latest results.

The share looks cheap, but it is vulnerable to developments in a variety of African countries which is perceived to add to risk. Nonetheless, this is a good quality, well-managed company. Importantly, management appears to have the ability to re-patriate profits from the various African countries where it operates. It has halted its strategy of expanding into Africa after writing down its businesses in Angola and Nigeria by R3bn.

NAMPAK (NPK): February 2020 - November 2020 - Chart by ShareFriend Pro.

Technically, you can see that the share reached its low of 60c in September and has been strengthening since then. It appears to be making an upside break after a protracted sideways market. We would not be surprised to see it in a new uptrend.

On behalf of the staff at PDSnet we wish you all the best for the festive season and the coming year.

There will be no confidential report in January 2021, so the next confidential report will be delivered on 3rd February 2021.

Thank you for listening.
DISCLAIMER
All information and data contained within the PDSnet Articles is for informational purposes only. PDSnet makes no representations as to the accuracy, completeness, suitability, or validity, of any information, and shall not be liable for any errors, omissions, or any losses, injuries, or damages arising from its display or use. Information in the PDSnet Articles are based on the author's opinion and experience and should not be considered professional financial investment advice. The ideas and strategies should never be used without first assessing your own personal and financial situation, or without consulting a financial professional. Thoughts and opinions will also change from time to time as more information is accumulated. PDSnet reserves the right to delete any comment or opinion for any reason.
Share this article: