23 August 2020
By PDSNET
For many decades the grocery retail sector in South Africa has been dominated by two major players – Pick 'n Pay and Shoprite. During much of that time, Raymond Ackerman dominated the market and Shoprite/Checkers played second fiddle under former CEO, Whitey Basson. Following Ackerman's retirement, Pick 'n Pay went into a slump and Basson was able to steer Shoprite into a position of dominance by expanding aggressively into Africa and pouring money into improving Shoprite's warehousing, distribution and stock management. Finally, Richard Brasher, formerly from Tesco in the UK, was brought in to turn Pick 'n Pay around, and he has done a great job, although he is now reaching the end of his tenure.
Shoprite has, however, become the dominant player with a market capitalization of R71,5bn compared to Pick 'n Pay's R21,9bn. Both shares are on an earnings multiple of around 16 and both have positives and negatives from a private investor's perspective. Shoprite is benefiting from the growing confidence of its CEO, Pieter Engelbrecht, while Pick 'n Pay may find itself in a leadership vacuum once Brasher leaves. Engelbrecht took the decision to extract Shoprite from Nigeria because that country is apparently too corrupt to run the business effectively. Despite this, Shoprite remains heavily invested in Africa, outside South Africa.
Technically, we see Shoprite as the better option. Consider the chart: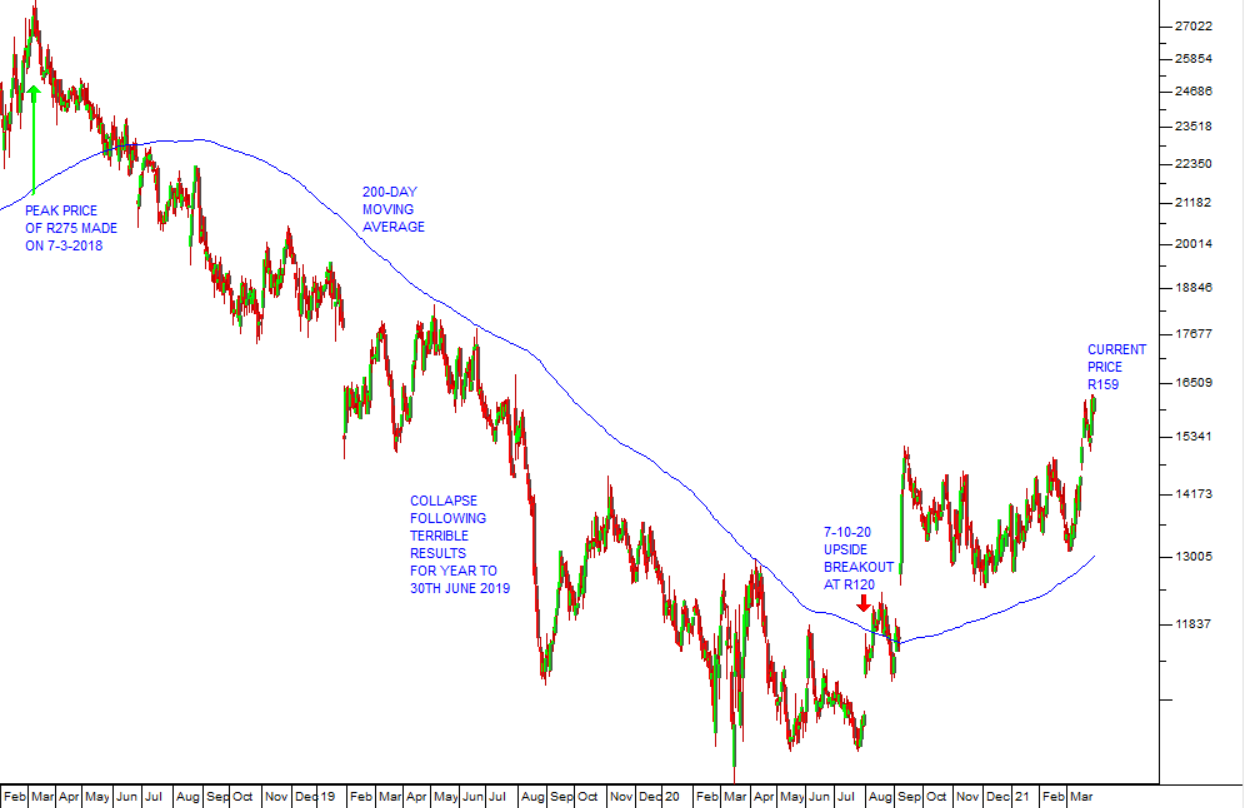 Here you can see the point at which Basson shrewdly sold out his Shoprite shares for R201 a share, back in September 2017, netting over R1bn for his more than 30 years of service. The peak price came just a few months later in March 2018 at R275 and since then the share has been in a steady downward trend. We have been advising private investors to apply a 200-day simple moving average and wait patiently for a clear upward break. The company produced very bad results in the year to 30th June 2019. Obviously like all retailers it has suffered from COVID-19. But now it has broken convincingly above its 200-day simple moving average and we believe that this is probably a result of Engelbrecht's leadership. In retail, quality leadership is everything.
Buying Shoprite at below R120 looks like a good deal. The pandemic is steadily retreating, and the South African economy is normalizing. Shoprite have embraced the new reality with a strong emphasis on their on-line offering. It is always good to buy a high-quality share after it has fallen heavily. We believe that this share can return to a P:E of 25 – which basically means that it can double from current levels – and the downside risk is limited.
DISCLAIMER
All information and data contained within the PDSnet Articles is for informational purposes only. PDSnet makes no representations as to the accuracy, completeness, suitability, or validity, of any information, and shall not be liable for any errors, omissions, or any losses, injuries, or damages arising from its display or use. Information in the PDSnet Articles are based on the author's opinion and experience and should not be considered professional financial investment advice. The ideas and strategies should never be used without first assessing your own personal and financial situation, or without consulting a financial professional. Thoughts and opinions will also change from time to time as more information is accumulated. PDSnet reserves the right to delete any comment or opinion for any reason.
Share this article: