10 January 2022
By PDSNET
Private investors often accumulate a portfolio over a number of years, as and when they have surplus capital available. Typically, they do not give much thought about how that portfolio should be structured to maximize return and minimize risk.
To begin it is important to think about how many shares you want to have in your portfolio. If you are a complete beginner, it is usually best to begin a with small quantity of a single share. This is because, when you begin, you have no experience and your knowledge is entirely theoretical. The mistakes that you make with an investment of R10 000 are exactly the same as the mistakes you can make with R100 000 or even with R1m – they are just less painful.
We advise beginners to save up until you have at least R10 000 before carefully selecting a single share. The dealing costs in an investment of less than R10 000 will be a relatively high percentage of the value of the transaction – which means that the investment will have to grow significantly before it is "in-the-money". Then, once you have saved up another R10 000 buy a second share – and so on.
The next question to ask is, "How many shares should you have in your portfolio?"
The objective of having a diversified portfolio is to reduce unsystematic risk. If you have only one share then you are totally exposed to what happens to that particular company. When you have two shares the risk is reduced by 50% assuming that you have the same amount of money in each. If you add a third share you reduce your risk further (by 33%), the fourth share reduces risk by a further 25%. Studies in the United States have shown that by the time you reach 15 shares, adding a 16th share has an almost negligible impact on your risk.
But of course, each share that you add to your portfolio will spread your available time more thinly. And in the share market, time is your most important resource, not money – because how you spend your time will determine how you spend your money.
So, we advise private investors to aim for a portfolio of between 5 and 8 shares. If you are working in an investment club, you could perhaps increase this by getting individual members of the club to focus on specific shares and report back to the group. Individual private investors typically have to go to work during the day and so have a limited amount of time to focus on their investments. They must use that time wisely.
Take the time to watch the following video: Portfolio Structure attached to our lecture Module 6, "Choosing Winners".
The video lays out the mechanism that we suggest you use when structuring your portfolio. Obviously, your watchlist must only include those shares which you consider to offer the best opportunities in the market at the moment. You do not want to waste your precious time on shares which are going nowhere. If you intend to have 30 shares in your watchlist, then it follows that you are looking for the top 1% of opportunities in the market. If the share that you are looking is not, in your opinion, in the top 1% of opportunities then you should discard it.
In your search for good investment opportunities, look for those companies that have survived the COVID-19 pandemic and are poised for growth as the economy recovers.
A good example of this might be Lewis – which we recommended to you on 2nd September 2020 in our Confidential Report, when it was trading for 1668c. We drew your attention to the fact that it was then trading on a P:E of 6.41 and a dividend yield of 8,87%. It also had the salutary advantage of being completely debt-free – which enabled it to get through the pandemic and even grow. Today that share is trading for 4900c – a gain of 193,8% in 16 months. Consider the chart: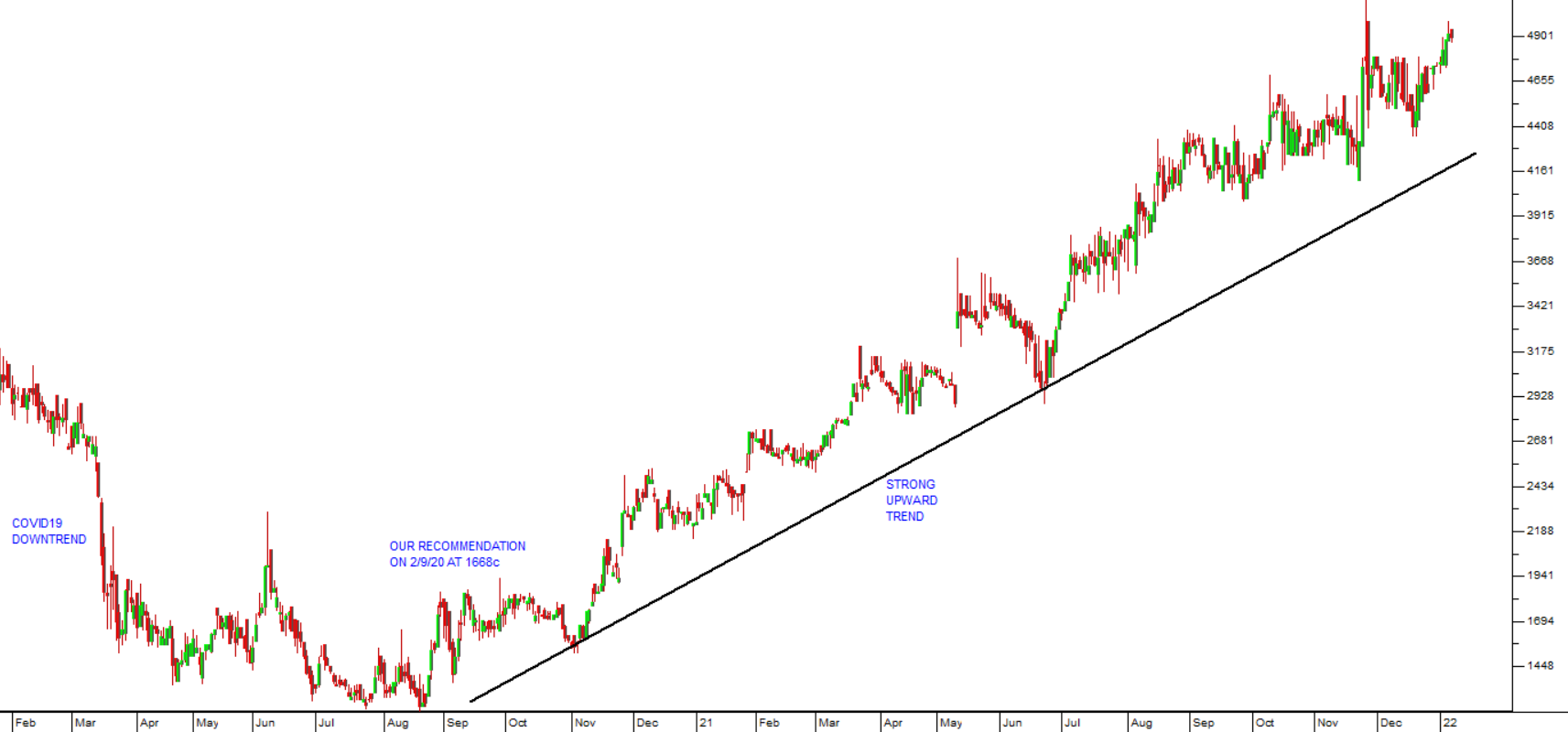 We still see Lewis as a good buy today on a P:E of 6,9 and a dividend yield of 6,37%.
DISCLAIMER
All information and data contained within the PDSnet Articles is for informational purposes only. PDSnet makes no representations as to the accuracy, completeness, suitability, or validity, of any information, and shall not be liable for any errors, omissions, or any losses, injuries, or damages arising from its display or use. Information in the PDSnet Articles are based on the author's opinion and experience and should not be considered professional financial investment advice. The ideas and strategies should never be used without first assessing your own personal and financial situation, or without consulting a financial professional. Thoughts and opinions will also change from time to time as more information is accumulated. PDSnet reserves the right to delete any comment or opinion for any reason.
Share this article: