12 July 2020
By PDSNET
In previous articles we have suggested that the price of North Sea Brent Oil would be a good benchmark for the world's economic recovery from the COVID-19 pandemic. The first indication of this predictive role was when oil broke down clearly through support at $50,80 per barrel on 28th February 2020. At the time, this downside break was difficult to understand because the full scope of the pandemic was not appreciated, but the drop in the oil price was an early indication of what was to come. Consider the chart: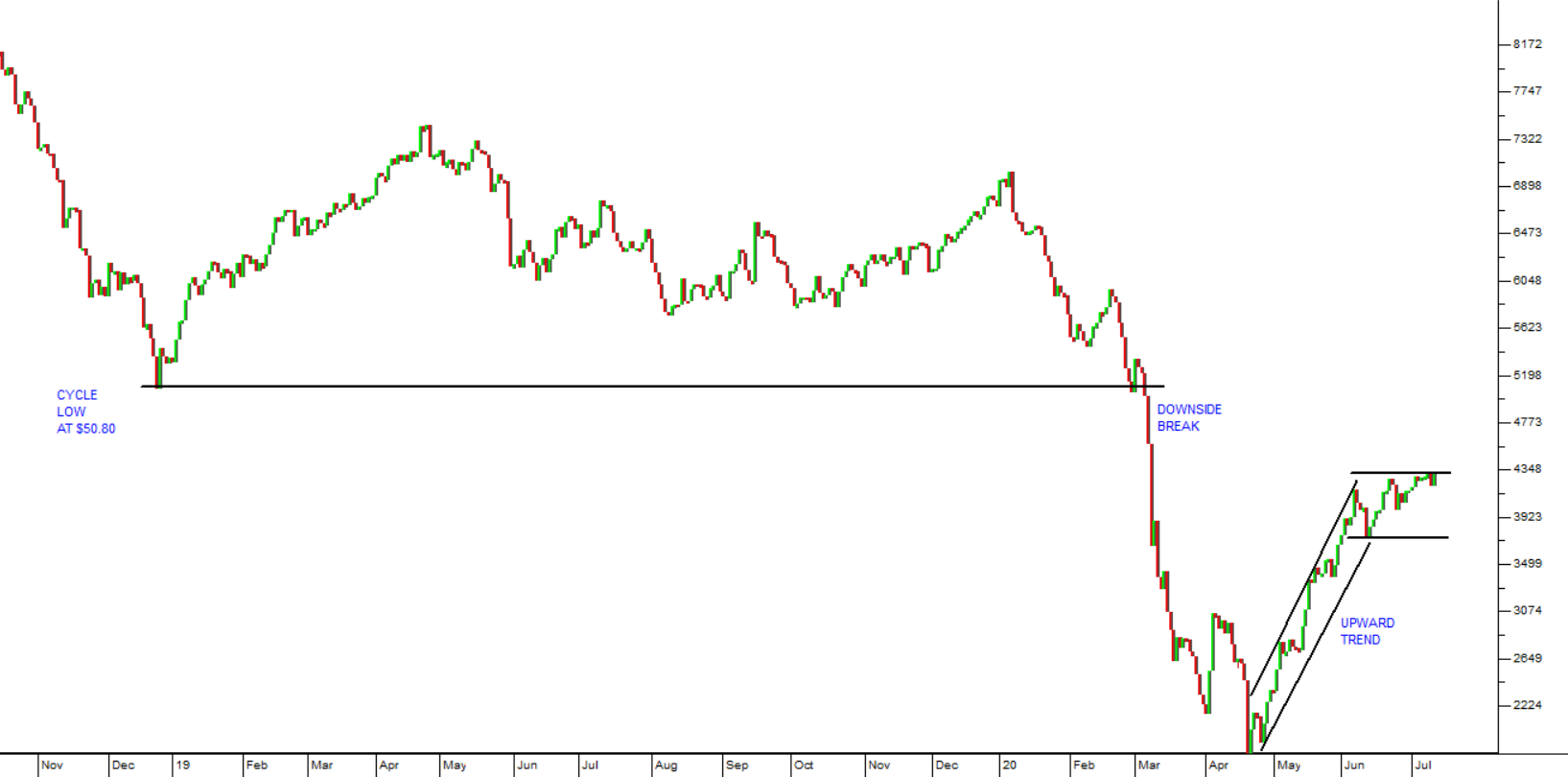 You can see here the cycle low at $50,80 made on the 21st December 2018 and then the sideways market which followed. Then in early January 2020, the oil price began to fall and by the end of that month it had broken down through that cycle low.
As the impact of COVID-19 became more apparent, oil prices collapsed to reach a low of $18 per barrel on 21st April 2020. After that, oil trended up to a level around $40 per barrel where it seems to have found some resistance. More recently, it has been moving sideways as investors considered the medium-term economic impact of the pandemic.
The US Energy Information Administration (EIA) now estimates that Brent will average around $34 for the rest of this year before rising to $48 next year and to $79 by 2025. In other words, they are anticipating a fairly strong recovery in the world economy next year and over the next 4 years.
This is pretty much in line with our perceptions of what will happen. We are expecting that by the end of this year there will be much improved treatments and possibly a vaccine available for COVID-19. This will steadily obviate the need for further shutting down of economies and result in a rapid return to economic growth – and hence greater oil consumption.
What is perhaps more interesting is the IEA's prediction that by 2030 the oil price will rise to about $98 and then to about $146 by 2040 and finally $215 by 2050. The sharp increase in the price of oil after 2030 is due to the expectation that at current rates of consumption, the world's cheap sources of oil will be exhausted after 2030 and that the cost of production will rise steadily after that.
In our view, the development of renewable energy over the next 20 – 30 years will probably interfere markedly with the demand for crude oil in three to five years from now. So, while we agree that the oil price will rise this year and next, after that we see the demand for oil declining consistently. In fact, we see Middle East countries like Saudi Arabia ending up with a lake of crude oil that nobody wants.
From the perspective of a private investor, this means that the economy will remain tough for the rest of this year and then probably begin a sharp recovery next year. Most of this forecast is already discounted into share prices but tempered by considerations of the impact of a second wave of infections and other concerns. As elements of the future become more certain and predictable, we expect that share prices will rise further.
DISCLAIMER
All information and data contained within the PDSnet Articles is for informational purposes only. PDSnet makes no representations as to the accuracy, completeness, suitability, or validity, of any information, and shall not be liable for any errors, omissions, or any losses, injuries, or damages arising from its display or use. Information in the PDSnet Articles are based on the author's opinion and experience and should not be considered professional financial investment advice. The ideas and strategies should never be used without first assessing your own personal and financial situation, or without consulting a financial professional. Thoughts and opinions will also change from time to time as more information is accumulated. PDSnet reserves the right to delete any comment or opinion for any reason.
Share this article: