9 November 2020
By PDSNET
The JSE has just witnessed one of the most blatant examples of insider trading in many decades. It involved a small real estate investment trust (REIT) called Texton. This company owns 53 properties, 56% of which are in South Africa and the balance in the UK. After it listed on the JSE in August 2011, the share rose to a high of 1235c on 6th March 2015 before beginning a steady fall towards a low of 74c on Wednesday, 28th October 2020.
For the 90 trading days prior to that day, the share had been trading an average of 111335 shares per day. Then suddenly, inexplicably, on the next day, Thursday, 29th October 2020, it traded a massive 28,2m shares – at a price 4c higher than the previous day (78c). Then on Friday (30th October 2020) a SENS announcement was published in which Texton disclosed that a consortium of investors who already owned 32% of the company had decided to increase their holding to 40% - thereby triggering a mandatory offer to the remaining shareholders at 120c per share.
The effect of this announcement was that the share closed at 115c on that Friday – giving the insiders who bought the day before (Thursday 29th October 2020) a tidy paper profit of R10,43m, being 28,2m X (115c-78c) – a 47% return in a single day! One can only imagine how those who sold their shares on that Thursday felt when they found out the truth the next day.
Consider the chart: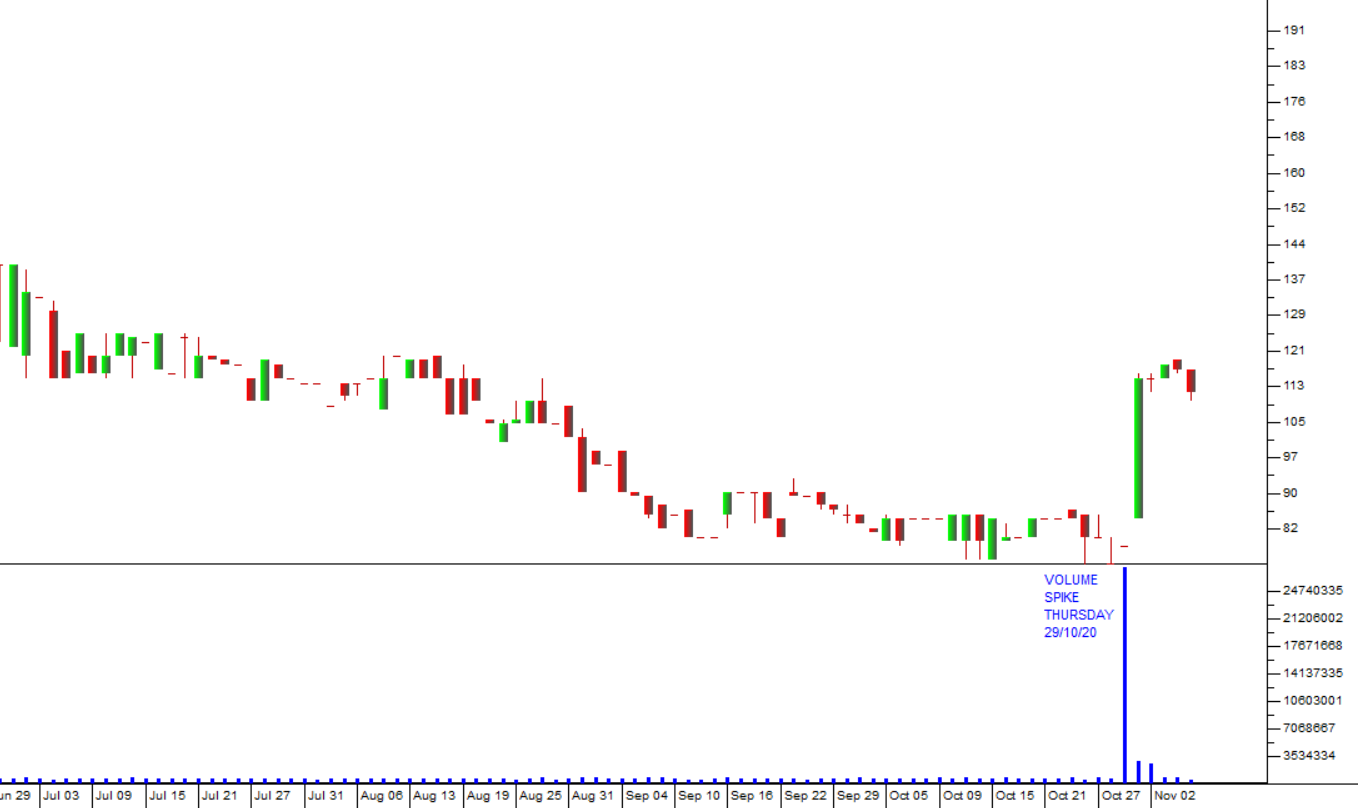 The point is that whenever there is an event which is likely to move the price of a listed company significantly, it is known to a few insiders before the broader market is informed. Sometimes it is just the day before (as in this case) and sometimes it is a few weeks before, but the result is usually the same. The insiders cannot resist the opportunity to make a quick profit at the expense of those shareholders that are ignorant of what is going down. Insiders don't usually trade in their own names, because insider trading is illegal, but they work though a friend or relative who cannot easily be traced back to them. What they can't hide from you is the volume traded. That always gives you the clue that something is about to happen – small increases in price accompanied by massive increases in volume.
As a private investor, you need to be aware of effect that insider trading has on share price charts. It is particularly bad in small, relatively thinly traded shares like Texton, but it does also happen in large blue-chip shares. For example, Steinhoff which made a descending triple top formation in 2016. Consider the chart:
That triple top was caused by the fact that a major shareholder knew what was coming and steadily sold out of his shares long before the truth became public knowledge. A series of declining tops like this indicates that the insider liquidated a huge holding over a year. His trades took this share down to levels around R70. The big institutions (pension funds, insurance companies and unit trusts) were only too happy to buy these "high quality, blue chip" shares from him at these lower levels.
The bad news finally surfaced 15 months later in December 2017 and the share dropped to just R5. It is estimated that the big institutions lost about R200bn in Steinhoff – but then they are not students of technical analysis and know nothing of declining triple tops.
DISCLAIMER
All information and data contained within the PDSnet Articles is for informational purposes only. PDSnet makes no representations as to the accuracy, completeness, suitability, or validity, of any information, and shall not be liable for any errors, omissions, or any losses, injuries, or damages arising from its display or use. Information in the PDSnet Articles are based on the author's opinion and experience and should not be considered professional financial investment advice. The ideas and strategies should never be used without first assessing your own personal and financial situation, or without consulting a financial professional. Thoughts and opinions will also change from time to time as more information is accumulated. PDSnet reserves the right to delete any comment or opinion for any reason.
Share this article: