26 October 2020
By PDSNET
Enterprise Outsourcing Holdings (EOH) offers the private investor a very instructive example of a quality share that gave a clear signal of its impending troubles. It shows that, just because a share is an institutional favourite, does not mean that it is immune to the vagaries of the market. Any share can fall on hard times – and the secret is to watch the technical signals as they unfold – because they will show you what the insiders are really doing.
EOH used to be Africa's largest information technology company with involvement in almost every aspect of computer applications. The company had 11000 staff members and 2500 "large enterprise customers" in South Africa, Africa and the Middle East. It was, until August 2015, the darling of the JSE because it had a long track-record of steadily improving profits. It made a peak of R178 per share at a P:E of 35. An unsuccessful attempt to exceed that high (i.e. a "double top") came a year later in September 2016 – and that was the clue for private investors. A descending double top of that sort is a clear indication that at least one big shareholder with good inside information is off-loading. That type of off-loading (very similar to the descending "triple top" in Steinhoff during 2016) shows clearly that the upward trend is over.
EOH, since its double top, has fallen steadily to reach a low of 230c on 12th March 2020.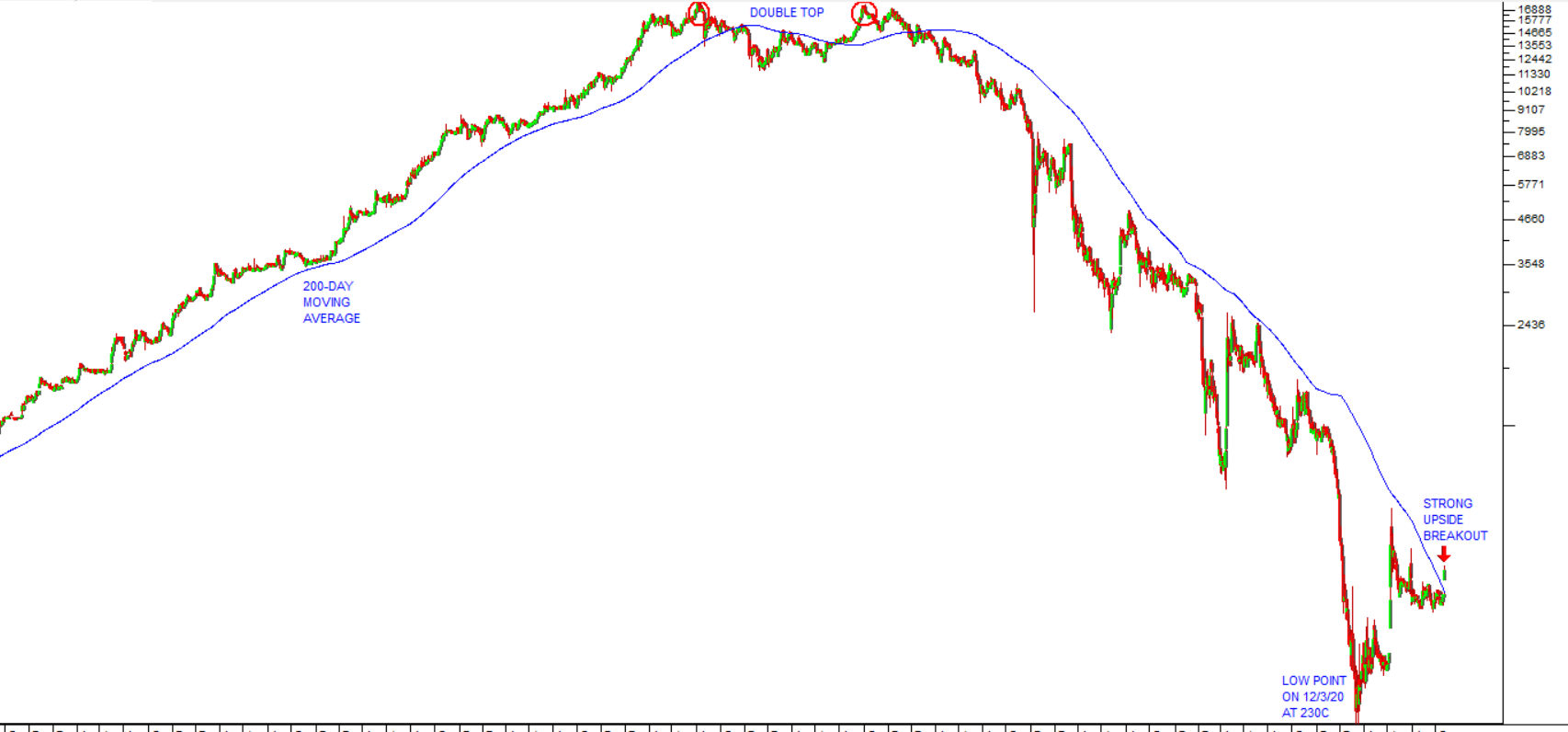 For a long while we have suggested that applying a simple 200-day moving average (MA) to the EOH share price was the best strategy for private investors to follow. That MA has now (on Friday) given a clear upside breakout signal, indicating that EOH is moving up again.
The share's fall had been accompanied by allegations that the company had been involved in and owed its success to state capture in collaboration with the Guptas. Furthermore, the CEO and founder, Asher Bohbot, resigned in May of 2017. It is never a good sign when a founder and charismatic CEO resigns. Such resignations are often followed by a downward trend. In the case of EOH, the double top came before his resignation and anticipated it.
The company is now in the hands of Stephen van Coller who has made a number of significant moves. In an effort to turn the company around, he took on a new BEE transaction with an investment company called Lebashe, which increased the black shareholding from 30% to over 50% (level 1). Van Coller said that this would give the company a powerful competitive advantage when bidding for government contracts. Then the company announced on 13th December 2019 that it had exceeded its target of raising R1bn through asset sales to address its debt problem. The company's 200 subsidiaries were consolidated into 3 divisions with centralised debt collection and procurement.
In its results for the year to 31st January 2020, the company reported turnover down 21,8% and a headline loss per share of 395c per share compared with the loss of 827c in the previous period. The CEO said, "Our key businesses have delivered sound performances demonstrated by improved gross margins over the reporting period. We have made good progress on cost management projects and achieved both our disposal and closure targets resulting in access to cash and a continued simplification of the business."
That was followed by the advent of the COVID-19 pandemic – which has a disproportionately large impact on the EOH share in our view. Like most IT companies, EOH's primary businesses could still operate relatively comfortably during the lockdown, with its staff working from home.
Then, in a market update on 9th June 2020, the company said, "The Group has continued to see good collections from its debtors' book for the months of February, March, April as well as May with all months recording collections in excess of R1 billion. As at 3 June 2020, the Group had cash balances of R893 million, while also de-leveraging in line with its strategy. The Group has agreed to a R1.6 billion de-leverage plan with its lenders and has achieved its first capital repayment milestone having repaid R540 million of the R1.6 billion. This is in excess of the R500 million agreed with lenders and well ahead of the 31 August 2020 deadline. Since 1 August 2018, the Group has repaid R1.77 billion to its lenders - R1,140 million in capital and R626 million in interest". This news boosted the share 45% in a single day as investors regained hope in the company's eventual recovery – but it was not yet sufficient to take it above that 200-day moving average.
In an update on 29th July 2020 the company said, "Cash balances have increased from approximately R893 million reported at 3 June 2020, to approximately R1,004 million as at 28 July 2020." Then in a trading statement for the year to 31st July 2020 the company estimated a headline loss of between 406c and 496c - compared to a loss of 1681c in the previous year. The company said, "EOH generated both positive EBITDA, before normalisation adjustments, and positive operating cash flow for FY2020. Notwithstanding the large payments to the lenders, cash balances remain healthy at R943 million as at 19 October 2020".
All this good news was slowing driving the share back up and it has now (Friday, 23rd October 2020) broken convincingly up through its 200-day MA giving a clear buy signal.
Of course, share market investment is never about certainties – it is always about probabilities. But in our view, van Coller's influence has now reached the point where it is safe to take a bet on the steady and continuing recovery of this company. If you were to buy it at current levels, you would certainly be doing a whole lot better than those big institutions that were filling their pockets with it at over R170 in October 2016 – but then, of course, they never pay attention to technical signals like a descending double top.
DISCLAIMER
All information and data contained within the PDSnet Articles is for informational purposes only. PDSnet makes no representations as to the accuracy, completeness, suitability, or validity, of any information, and shall not be liable for any errors, omissions, or any losses, injuries, or damages arising from its display or use. Information in the PDSnet Articles are based on the author's opinion and experience and should not be considered professional financial investment advice. The ideas and strategies should never be used without first assessing your own personal and financial situation, or without consulting a financial professional. Thoughts and opinions will also change from time to time as more information is accumulated. PDSnet reserves the right to delete any comment or opinion for any reason.
Share this article: