14 January 2022
By PDSNET
Over the past few years, we have consistently recommended Aveng (AEG) as an opportunity. Those who have followed our advice have more than doubled their money.
By the start of 2022, the company had substantially reduced its debt and completed a 500-for-1 consolidation. These two events have returned the share from being a marginal penny stock to being a solid institutional investment with good prospects. At this stage the company earns two-thirds of its income in Australia from its subsidiary McConnel Douglas – which makes it a rand hedge. In South Africa it has been benefiting from the increased profitability of mining companies as a result of the boom in commodity prices.
In its most recent financials for the year to 30th June 2021, the company reported headline earnings per share (HEPS) of 2c – which translates to R10 per share after the consolidation. At its current price of R28.33, this puts the company on a price:earnings (P:E) multiple of just 2,83 – which is extraordinarily cheap for a profitable business of this sort which has a turnover of over R20bn per annum.
It has just completed its interim period for the six months to 31st December 2021 and will probably report in February or March 2022. In the meantime, investors can look forward to a trading statement at some point in the next month or so which will give an indication of where the company expects its HEPS for the interim period to be.
In the meantime, it is worth watching the share's price and volume charts to see if there is any accumulation of the share going on ahead of the results. Consider the chart: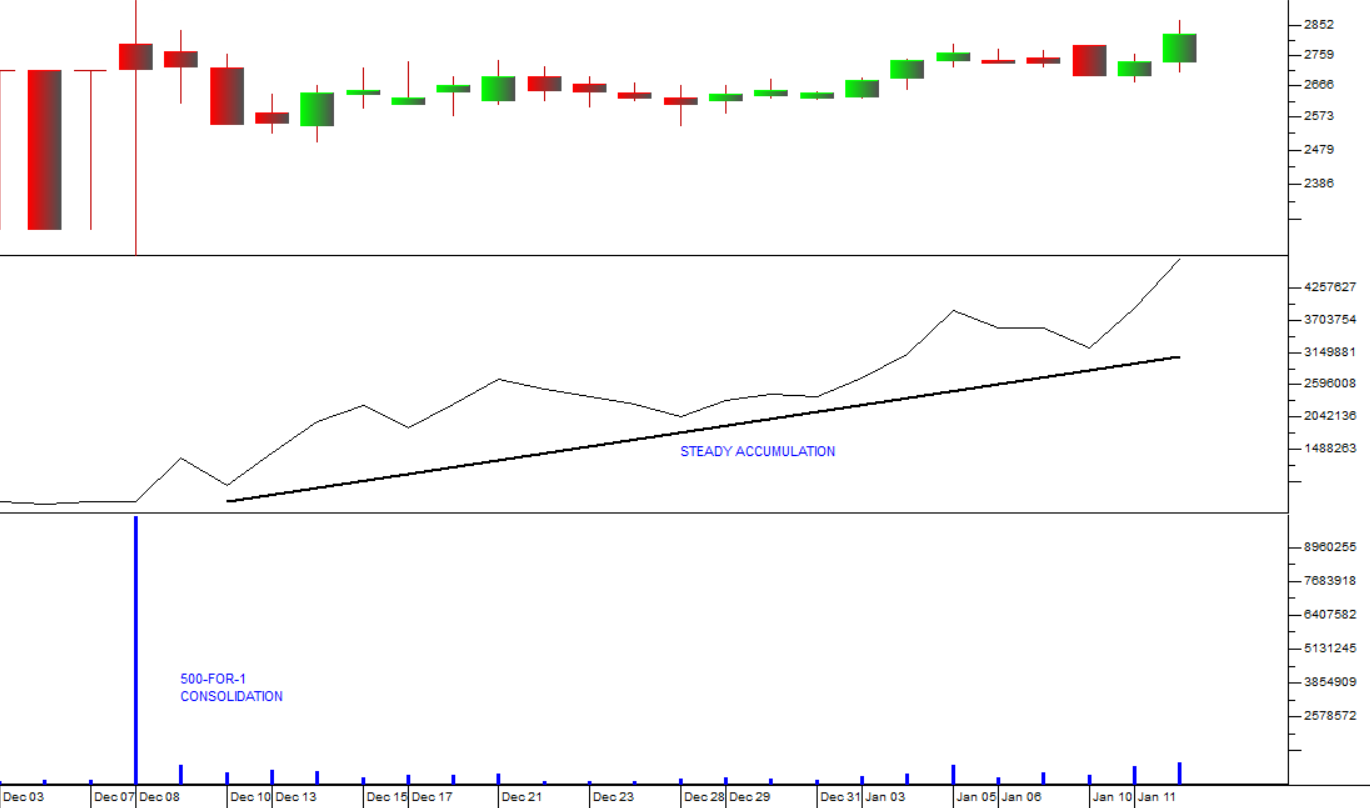 This chart shows the progress of the share since the consolidation on 7th December 2021. The top chart is a standard candle stick; the middle chart is an on-balance-volume (OBV) chart; and the bottom chart is a volume histogram.
The OBV shows that the share is being steadily accumulated by the "smart money". A lot of this is probably institutional buying as the fund managers return from their Christmas holidays and realise just how cheap this company really is. Overseas banks like JP Morgan, which now owns 22,45% and Bank of America which now owns 9,64% have been buying as much as they can lay their hands on. They are certainly alive to the fact that, at these prices, Aveng represents a screaming bargain.
So, once again, we suggest that you could do worse than add this share to your portfolio. If you already hold it, our recommendation is that you keep it and perhaps even add to your holding.
DISCLAIMER
All information and data contained within the PDSnet Articles is for informational purposes only. PDSnet makes no representations as to the accuracy, completeness, suitability, or validity, of any information, and shall not be liable for any errors, omissions, or any losses, injuries, or damages arising from its display or use. Information in the PDSnet Articles are based on the author's opinion and experience and should not be considered professional financial investment advice. The ideas and strategies should never be used without first assessing your own personal and financial situation, or without consulting a financial professional. Thoughts and opinions will also change from time to time as more information is accumulated. PDSnet reserves the right to delete any comment or opinion for any reason.
Share this article: