4 July 2016
By PDSNET
Because the stock markets of the world generally follow Wall Street, it is always wise to keep an eye on what is happening to the S&P500. Last night the S&P closed above its all-time record high of 2130 – a high that was made on 21st May 2015.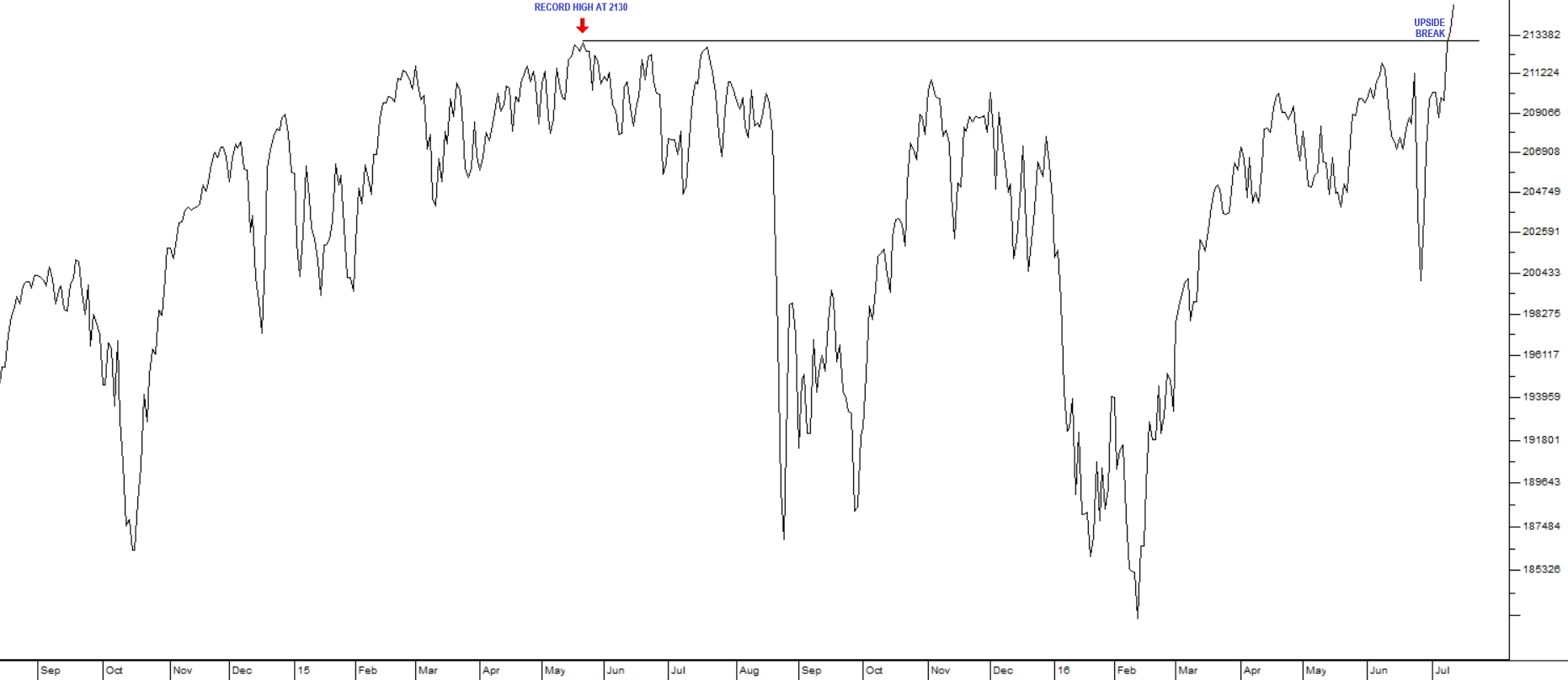 Does this portend the resumption of the great bull market which began in April/May of 2009? Or is it a "double top" formation which will soon see investors retreating again? These are the questions that should be occupying the minds of private investors on the JSE. On the first scenario, you should be filling your pockets with shares in anticipation of a renewed bull market, and on the second, you should be running for cover. So which is it?
To answer this question let us consider the immediate news that stimulated this sudden enthusiasm for shares on Wall Street. That was the June jobs report in America – which showed that the US economy added an impressive 287 000 new jobs in June month – well ahead of expectations and much better than the disappointing May jobs number of just 38 000.
This indicates, fairly convincingly, that the recovery in the US economy remains well on track – and that it is even gaining momentum. Obviously and historically, the stock market must always ultimately reflect the underlying economy sooner or later - and it usually anticipates the economy by at least 9 months – because smart investors are always looking ahead. So, clearly, investors as a group are telling us that this June jobs report is not a "flash in the pan", but a clear indication of further growth in the future.
And that is not really surprising. Since the 2008 sub-prime crisis began in 2007/8, the US economy has been subjected to the most intensive and continuous monetary stimulation ever. Ultra-low interest rates on top of unprecedented quantitative easing over the past several years seem to be finally having the desired result – strong GDP growth. That this comes just in time for the US presidential election in November cannot be entirely a coincidence. Obviously, the ruling democrats want to be able to point to a strongly recovering economy as they seek to keep Donald Trump out and get the first woman president elected.
In our view, it seems likely that, while there may be some considerably "backing and filling" as the record level of 2130 is surmounted, the road ahead is almost certain. The S&P500 will sustain its break to a new all-time record high and the stock markets of the world, including the JSE, will follow it up. The "double top" possibility will remain a potential threat, but, we believe that the bull trend is, once again, on its way.
DISCLAIMER
All information and data contained within the PDSnet Articles is for informational purposes only. PDSnet makes no representations as to the accuracy, completeness, suitability, or validity, of any information, and shall not be liable for any errors, omissions, or any losses, injuries, or damages arising from its display or use. Information in the PDSnet Articles are based on the author's opinion and experience and should not be considered professional financial investment advice. The ideas and strategies should never be used without first assessing your own personal and financial situation, or without consulting a financial professional. Thoughts and opinions will also change from time to time as more information is accumulated. PDSnet reserves the right to delete any comment or opinion for any reason.
Share this article: