7 October 2020
By PDSNET
America
Technically, September 2020 was a correction month on Wall Street, with the S&P500 falling about 9,3%. The market was certainly due for some sort of correction following its record high of 3580 on 2nd September. Consider the chart: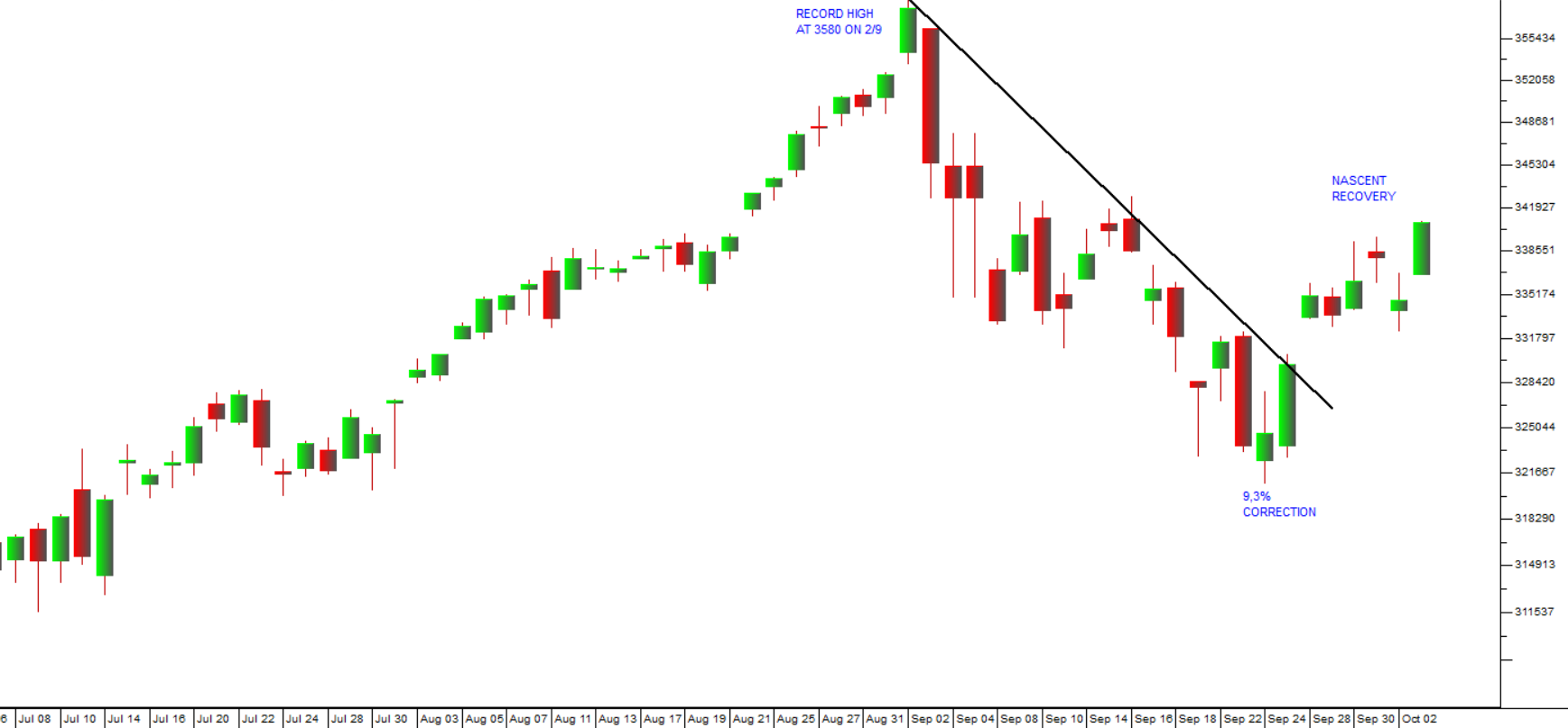 You can see here that over the past month the S&P has been correcting, falling almost 10% from its record high of 3580 on 2nd September 2020. About a week ago it appeared to have found a bottom and then began recovering.
There are various fundamental reasons which can be attached to the correction such as the resurgence of COVID-19 in the United Kingdom and western Europe (Spain and France). There has also been a slight uptick in cases in the US, topped by the news of Trump testing positive for the virus. There is some concern that parts of Europe and the UK and perhaps even some US states will have to go back into lockdown. Obviously, the UK's anti-COVID-19 measures have proved to be inadequate and too short-lived for them to get the virus under control and keep it there. In our view, this second wave will not be prolonged and certainly not as impactful as the first. The virus is now far better understood than it was in March 2020 and treatments have improved significantly, leading to much lower mortality rates. The wave is also taking place in first world countries which generally have the resources to deal with it effectively.
The US jobs report for September 2020 shows that the economy added 661 000 jobs – which was less than the 850 000 jobs expected by economists. Bars and restaurants accounted for about 200 000 of those jobs and retailers around 142 000. The lower than expected job creation, combined with the news of Trump's positive COVID-19 test, caused the S&P to fall by about 1% on Friday last week. The unemployment rate fell to 7,9% which is a big improvement on the 14,7% unemployment in April 2020, but a long way from the 3,5% "full employment" figures prior to the pandemic. Economists were expecting it to fall to 8,2%. The US Congress is arguing over a "phase 4" spending package, but has yet to reach agreement. Trump's positive diagnosis has temporarily spooked markets and may change the dynamic for the stimulus package, making it more likely. However, we do not think his condition is a major factor.
The American election is now less than a month away and so there is uncertainty surrounding who the next president will be and the economic policies that they might put in place. On paper, the democrats should win this election by a landslide. Biden is leading in all the major swing states – but then Trump has surprised analysts before and may do so again. In our view, the US economy and stock market will not be impacted by the election to any great extent or for a very long period. The policies of the past will probably remain in place whoever wins. If Biden wins, he will only take office in the second half of January next year and so his policies will not have any immediate impact. A Trump win will be more of the same. Therefore we can expect the S&P to continue in the bull trend that it has been in for almost 12 years.
Political
In the on-going battle for political leadership of the ANC, it appears that President Ramaphosa won a significant battle by getting the National Executive Council (NEC) to agree to a rule that ANC members and government officials accused of a crime or charged with a crime should step aside from holding all official positions until their names are cleared. This has to be seen as a milestone in the fight against the corruption of the Zuma/Gupta state capture faction. It will impact many senior leaders within the ANC including the deputy president and Ace Magashule among others. It remains to be seen whether any senior ANC members will actually step aside as a result. So far the signs are not encouraging.
The corruption which has been uncovered by the Auditor-General in the Temporary Employer/Employee Relief Scheme (TERS) being administered by the Unemployment Insurance Fund (UIF) highlights a systemic problem in South Africa. Decisions which are made by parliament or the President cannot be reliably executed because the civil service is too corrupt, indolent or incompetent to give them effect. The stories of corruption are endemic affecting almost every government department, state-owned enterprise (SOE) and municipality. In effect this emasculates the leadership of the country and renders it impotent.
The trip by Ace Magashule and other senior ANC members to Zimbabwe and Magashule's subsequent apology to the nation are interesting because they show an apparent awareness that the government and the ANC are two separate entities and government resources cannot be used for party purposes. The apology also indicates that President Ramaphosa's power within the ANC and the NEC has increased to the point where he can oblige someone like Magashule to apologise for such a breach of protocol.
Economy
The 16,4% contraction of gross domestic product (GDP) in the second quarter of this year was worse than expected. But no one expects that to be repeated in the third or fourth quarters, and yet the financial media persists in annualizing it into a seasonally adjusted 51% decline. This is just sensationalism.
The Reserve Bank has re-worked its forecast for GDP over the whole year to -8,2%. Obviously, the third quarter is now also behind us and the figure for that quarter must be considerably better. Of course, the contraction in the second quarter was also the 4th quarterly contraction in a row – so we are firmly in a recession. However, the major part of the projected -8,2% contraction is due to the pandemic, which now appears to be under control, at least in South Africa. The way should be clear for President Ramaphosa to use this situation to motivate for economic reforms. The move to level 1 will help the economy and especially the tourism sector, get back on its feet.
The Organisation for Economic Co-operation and Development (OECD) has predicted that South Africa's economy will contract by 11,5% this year – possibly the worst prediction so far – but that was based on an expectation of further load-shedding by Eskom – and that has not happened yet. Obviously, the reforms which President Ramaphosa can implement will depend on the degree to which he is impeded by the opposing forces which still exist within the ANC – but there are signs that the pandemic has improved his position and his dominance of the party. The recent state capture arrests by the Hawks must surely have rattled those in the Zuma camp still occupying key posts. The OECD also expects the world economy to shrink by 4,5% this year – but then to bounce back with 5% growth in 2021.
Despite the best efforts of the government, including record low interest rates and other incentives, consumers and businesses are not borrowing as indicated by the July 2020 private credit extension figure of just 5,1% - down from 5,6% in June. There is still considerable uncertainty in the economy as people try to understand the true impact of the lockdown on their personal finances and their businesses. When there is uncertainty, consumers and businesses always hoard cash, in case the impact was worse than expected or there is a resurgence of the pandemic. It will take a while before people feel confident enough to begin spending seriously again. In the meantime they are paying off debt and holding onto cash.
Economists on average were expecting the ABSA's Purchasing Managers Index (PMI) for August 2020 to be 50,7. In fact it came in at 57,3 – the highest level recorded in 13 years. This shows that the economists in South Africa (like the financial press) have been unduly pessimistic about the recovery of the economy. Many of them predicted a 10% or worse decline in GDP for 2020 and have been forced to adjust that down to somewhere around 8%. We believe that the final figure will probably be better than that. The economy will recover quickly because of pent up demand and because of considerable spare capacity which can be quickly brought back into production. The new sales sub-component of the PMI rose by an impressive 71,1% - showing that companies are getting plenty of orders.
Small and medium sized enterprises (SME's) in South Africa are a very important part of the economy. They account for about 38% of gross domestic product (GDP) and employ a vast number of people. Yoko is a company which assists SME's with point-of sale equipment and systems, so it is in a unique position to see how they are performing from week to week. Yoko says that in the weeks following the move to level 2 lockdown, SME's managed to reach about 95% of pre-lockdown levels of business, but indicates that as many as 30% of them have indicated a preference for card payments rather than cash because of the lower COVID-19 risk. Clearly, South Africa is getting back to business and consumers are rapidly resuming most of their spending habits. Of course, the pre-lockdown levels of business were not ideal. The country was already in recession at that point and SME's were already taking strain.
One of the tools which the Reserve Bank has at its disposal to manage the economy is the buying and selling of bonds in the bond market. These purchases and sales are known as "open market operations". During the COVID-19 crisis, the Reserve Bank engaged in a massive program of open market operations buying up about R39bn worth of government bonds. Buying bonds like this injects cash into the economy because the Bank pays money for something (bonds) which is not money. In August month, the Reserve Bank's bond buying had slowed to a trickle (just R350m) which indicates that the crisis is probably past. The Bank will now gradually sell those bonds back into the market as the economy improves. Open market operations were implemented in addition to a 300-basis point drop in the repo rate and a reduced commercial bank reserve rate (which allowed commercial banks to lend more). The combined effect of these measures has stimulated the economy at a time when it most needed it. The Bank has remained steadfastly against any form of quantitative easing (Q/E) saying that it is unnecessary. However, we think that sooner or later Q/E will be required because of the massive government debt which is looming.
Tax collections up to the end of August 2020 were R416bn – about 20% or R103bn less than collections for the same period last year. And SARS is expecting an under-recovery of R300bn for the full year against the February budget. This comes on top of the R70bn of tax relief which was agreed to by the government in order to counter the impact of COVID-19. The massive drop in tax collections combined with radically increased government expenditure means that the government will face a deficit of at least 15,7% by the end of this year. That huge deficit will need to be funded and the funding will mean a much higher interest bill, leaving less for other government projects.
The unemployment statistics in South Africa have always been fairly unreliable because of our large informal sector. The informal sector is a euphemism for tax evasion since it conducts its business in cash and does not pay tax. The formal sector consists of those businesses which are too large not to have a bank account. The official unemployment rate only looks at those adults who are seeking work – and so are "commercially active" and that tends to reduce the percentage substantially. If that distinction is set aside the unemployment rate for South Africa is currently 42% - having risen from 39,7% before the impact of COVID-19. This also means that the impact of COVID-19 has been to cause 2,2m job losses – which means that the number of employed people in this country has dropped from 15,4m to 14,2m and over 80% of those people had their salary cut by an average of about 20%. The Reserve Bank Bulletin shows that household income fell by about 50% in the second quarter. Economists were talking about a loss of over 3m jobs as a result of COVID-19, so the reality is actually somewhat better than expected. Of course, we also need to consider that many of the people who still have jobs have had to take a temporary pay cut. Our view is that many of the jobs which were lost will come back as the local and world economies recover.
Both the mining sector and the manufacturing sector showed clear signs of recovery in July, figures issued by Stats SA indicate. Mining showed a 20% rise in month-on-month seasonally adjusted change while manufacturing grew by 7,6%. The figures indicate that the South African economy is recovering from the COVID-19 pandemic and the lockdowns somewhat more quickly than previous estimated. It would appear that the third quarter of this year is going to be much better than the second quarter was. August month is also likely to show improvements with the move to level 2 lockdown. A potential problem is the return of electricity outages which could have a negative impact.
Motor vehicle sales for the year up to August (8 months) are trailing 34,6% below 2019 – although each month the level of sales is better than it was in the previous month. Vehicle exports are about 40% behind those of last year. The CEO of the National Automobile Association of South Africa (NAAMS) is asking the government to keep interest rates low for the next two years to allow the industry to return to normal. Obviously, South African consumers have taken a big hit with the lockdowns and subsequent retrenchments. Vehicle sales will be a good barometer of the economy's recovery.
The July retail sales figures showed a 9% drop from July 2019 – which was worse than expected by economists. The Bankserv take-home pay index shows that consumers have suffered a 20% decline in their take-home pay from a year ago – which must impact on consumer spending. Many have had their salaries reduced and others have been retrenched. Obviously, also there are entire sectors of the economy that are still not operating such as the tourism sector, the hotels industry and many parts of the entertainment industry. It will undoubtedly take some time for these parts of the economy to resume functioning, even after the move to level 1 lockdown.
The commercial banks in South Africa have provided for more than R14bn of bad debts following the COVID-19 pandemic and the lockdown. Those bad debts are beginning to manifest with the number of credit-active consumers being at least 3 months or more behind on their payments has increased from just under 4% to just under 8% in the second quarter. Most of those consumers will have benefited from the 3% drop in rates this year, but despite that many of them are battling to keep up with their bond repayments and their repayments on other debt like credit cards, overdrafts, trade accounts and personal loans. Clearly, the true economic fallout from the pandemic will only become apparent in the third and fourth quarters of this year. Hopefully consumers will now realise the importance of not over-extending themselves in future. At the same time there has been a sharp drop in consumer demand for credit. Battling households are not keen to take on additional debt at this time.
State-Owned Enterprises
The government is desperately trying to find the R10,4bn needed to resuscitate SAA by taking the money away from other departments so that it does not impact on debt levels. Apparently, the Business rescue practitioners have been successful in getting some of the required funding but not all – so now they have suspended all of SAA's flights. Presumably, the Treasury will have to come up with the balance in due course, but no one appears to have done a business plan for the new SAA in which it is demonstrated that the new airline will be successful and profitable, where the old one was not. Using some of the same staff and equipment, the new SAA will seek to launch an airline at a time when air travel has come under extreme pressure and many airlines worldwide are failing. Clearly, there has been no attempt to evaluate this idea from a business perspective – and so the result is likely to be a need for further injections of taxpayer money in the future. In our opinion, the management of the SAA crisis represents a definite low point for the Ramaphosa administration.
The revelation that Eskom's debt had risen to R488bn by the 31st March 2020, up from R440bn at the end of 2019 indicates that the Eskom financial problem is far from being resolved and has, in fact, become much worse. The cost of servicing this massive debt is now about R70bn per annum, almost double the company's operating cash surplus. The government injected R49bn which helped to close the gap – but the situation is clearly not sustainable. The government has been procrastinating and allowing the problem to reach uncontrollable levels. The recent "social compact" now finalized at the National Economic Development and Labour Council (NEDLAC) does not address the problem in specifics. Rather it talks vaguely about "the need to reduce Eskom's debt level and collect all outstanding debt" and "jointly raising adequate financial resources" – but it does not say from where. In the 2020/21 year almost R100bn will be required just to meet interest and capital payments. In our view, sooner or later, the government will have to open Pandora's Box and, despite Governor Kganyago's resistance, engage in quantitative easing (Q/E) to solve this problem. It will be interesting to see the Eskom results which are due for publication by the end of September 2020. The seizure of the Matjhabeng municipality's bank account marks the second seizure in 3 months (Maluti-a-Phofung municipality's bank account was seized in July). This came after the suspension of the managers of Tutuka and Kendal power stations. It shows that the new CEO, Andre de Ruyter, is acting quickly to restore Eskom's financial position and stop the bleeding – but the massive, growing debt cannot be ignored forever.
The Post Office's R925m loss in the first quarter of this year is horrifying – close to its full loss for the whole of last year. It is looking for R7bn of additional funding from government – which hopefully it won't get. The Post Office has been losing money for the past 13 years and it has become a singularly useless organisation. Mark Barnes resigned as CEO and then Lindiwe Kwele, his replacement, was suspended after 4 months. Ivumile Nongogo, who replaced Kwele, then resigned because the board threatened to take disciplinary action against him. Currently there is no CEO. The Post Office's income has dropped from R781m to R480m this year and it has only been managing to make 39% of postal deliveries. Clearly, like SAA, this is an organisation that South Africa no longer needs.
COVID-19
The study done in the Western Cape on anti-bodies found in pregnant women and HIV positive people has showed a significant degree of "herd immunity" especially in informal settlements – indicating that the decline in cases in the Western Cape is probably because a significant portion of the population has had the virus and is now immune. This is probably also true in the informal settlements in Gauteng and elsewhere in the country. Immunity among higher income groups appears to be much lower because they generally protected themselves from contracting the virus by using, masks and sanitizing and social distancing.
The fact that the Actuarial Society of South Africa (ASSA) has cut its projections for the number of deaths from COVID-19 by almost half is good news for this country. It means that the impact of the virus was less than expected and thus further measures to curb the spread of the virus are unlikely. This gives the economy room to recover rapidly and for business to return to normality. The government's decision to reduce the lockdown to level 1 should boost those industries which still remain in difficulties – such as the tourism sector.
The lack of control over our borders is costing South Africa a fortune. This begins with the flood of illegal immigrants, especially now from Zimbabwe where the economy is imploding and continues with illegal clothing, liquor, cigarettes and motor vehicles. It is estimated that about 30 000 motor vehicles a month come into South Africa every month illegally. This, of course, means that less new and used vehicles are sold here which impacts on the government's efforts to build a vehicle manufacturing industry in this country. Illegal immigration also impacts directly on the jobs market and the housing market. It is also a major factor in rising crime levels.
The government's effort to establish an infrastructure office is laudable. They plan to tap into the huge overseas market for "green bonds" to finance everything from renewable energy to water provision. The first phase is looking at raising R140bn. Obviously, this money cannot come from the government which is battling to keep its head above water. So, it must come from the private sector. Mexico managed to raise 750m euros by issuing a sustainable bond and other countries have had similar success. Infrastructure projects have previously been handled in a piece-meal fashion with each department, state-owned enterprise (SOE), province or municipality trying to handle its own projects often without the necessary expertise. Centralising the function makes sense, especially when the government is asking the private sector to second some of its experts to the infrastructure office.
The Rand
The latest bout of corruption in the allocation of tenders for personal protective equipment (PPE) has impacted directly on the strength of the rand. The revelation by Edward Kieswetter, the SARS Commissioner, that 63% of the companies that won tenders for personal protective equipment (PPE) from the government were not tax compliant and 22 of them had connections to politically connected people will come as no surprise to most South Africans. Altogether, 65% or R1,3bn of the R2bn worth of tenders were given to politically connected people. It is a standard requirement of government tender policy that tenders can only be given to companies that are tax compliant. It was also true that most of the companies that won tenders had no previous experience in the production of PPE's. The culture of corruption runs deep among South African civil servants and politicians. This particular scam has impacted international investor sentiment and at one point threatened to derail the rand's steady recovery. The recent arrests by the Hawks have instilled some confidence that our legal system is still functioning, but the government needs to be aware that steady progress must be seen to be made in bringing corrupt officials to book.
With the second wave of the pandemic in the UK, France, Spain and to a lesser extent in the US, investors have been alternating between risk-on and risk-off in a series of cycles.
Consider the chart: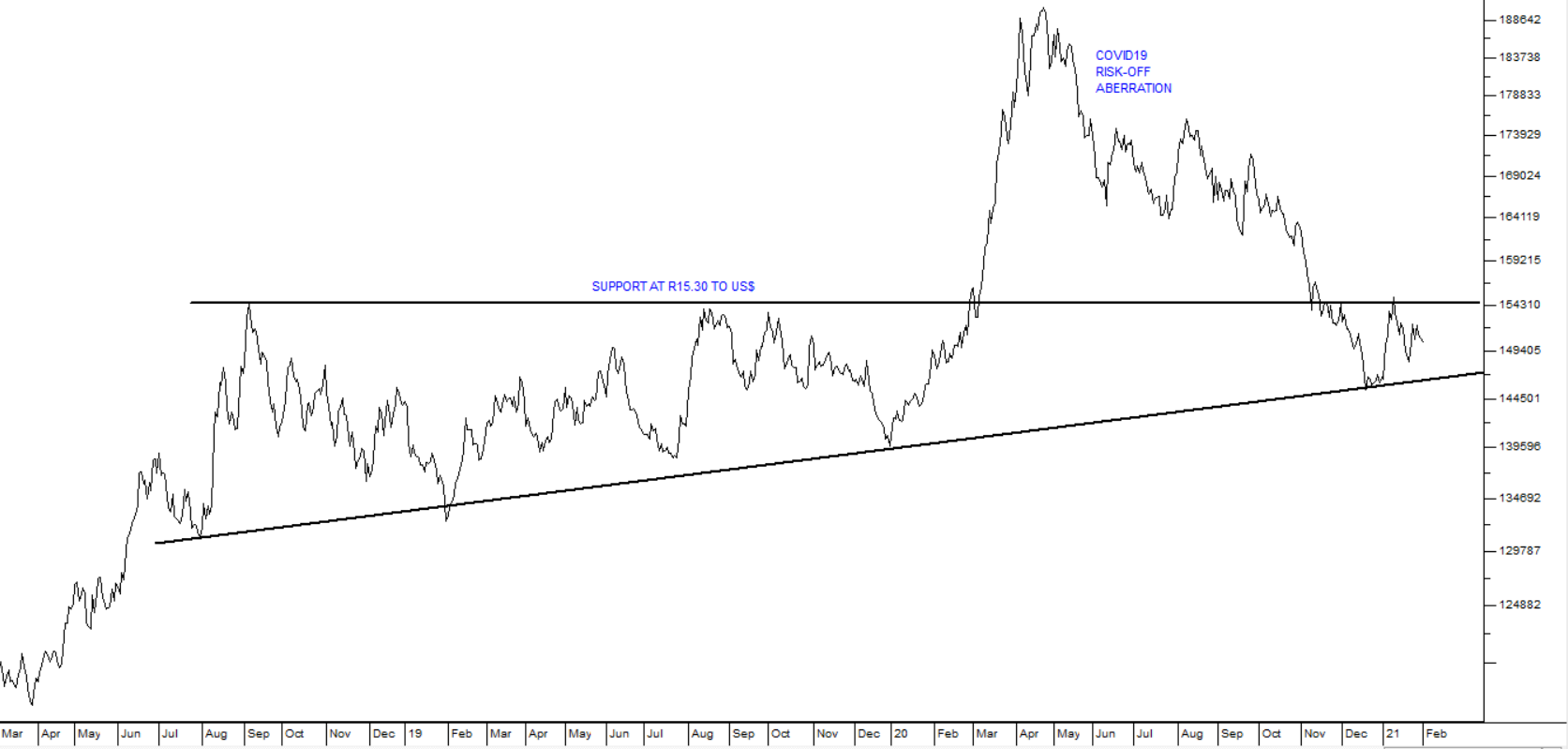 The latest scare which caused investors world-wide to switch from risk-on to risk-off occurred on Tuesday 21st September 2020. The impact was impressive. The stock markets of the world were already in a correction, but the sudden renewed fear saw the S&P500 index fall to as low as 3230 before it recovered somewhat. The rand, which is a key emerging market currency, fell by 3,5% before finding some support at around R17.10 to the US dollar. Notably the fear was much more short-term this time and the recovery has been impressively steep. We expect it to break below the previous cycle low of R16.08 in the fairly near future and then go on to break below R15 to the US$ in due course.
We believe that these episodes of risk-on represent buying opportunities for those who did not buy quality blue-chips when they were over-sold earlier in the year. Obviously, a new wave of the pandemic will negatively impact tourism-related shares like City Lodge and the commercial banks have also been negatively affected. The volatility on Wall Street and the constant shifts between "risk-on" and "risk-off" as the situation unfolds are impacting directly on the rand as international investors alternately bring their money in and take it out of emerging markets. We expect that this volatility is resolving itself and the rand is resuming its strengthening trend.
In our view the rand is undervalued on world markets and there is considerable room for it to improve against hard currencies. The current strength is being fueled, not only by the drop off in COVID-19 cases, but also by the surge of arrests being made by the Hawks as a result of their being allowed to work with the evidence gathered by the State Capture Commission. This is leading to renewed optimism about South Africa's long-term future and its prospect of becoming a more law-abiding state.
We think that a second wave in South Africa is unlikely because we believe that the reason our rate of infection has come down is not because of the measures put in place to control it (such as masks, social distancing and sanitizing) but rather because the virus has substantially run its course in the country leading to a significant herd immunity. Tests done in various informal settlements indicate that as many as 41% of people have had the virus and now display antibodies.
General
The decision by the Industrial Development Corporation (IDC) and the Development Bank of Southern Africa (DBSA) to give Mashudu Ramano's company, Mitochodria, R50m to progress its work on the development of fuel cells is important. The company aims to produce a 250kw fuel cell that could power about 250 households. If South Africa could pioneer and produce such a fuel cell it would have an enormous market worldwide and provide a new source of demand for our platinum group metals (PGM). Let us hope that it does not turn out to be another of South Africa's white elephants.
The rapid recovery of the Chinese economy is very significant for the recovery of the world economy. China reported that its exports rose for the 3rd month in August 2020 and were almost 10% above those of August 2019. This obviously has implications for the Chinese economy, which recorded a trade surplus of $59bn in August 2020 (of which $32bn was its surplus with the US alone). It shows that Trump's trade war is almost irrelevant to the Chinese economy and that world demand for Chinese products is rising sharply. The increase was above analysts' expectations and probably means that the world economy is recovering far more quickly than was previously supposed. We have always said that the spare capacity in the world economy and in the world labour force would mean that COVID-19 would be a "V-bottom" and that the recovery would be rapid – especially given the enormous stimulation of economies around the world (which is now estimated to be in the region of $20 trillion).
The Ministry of Minerals and Energy and the National Energy Regulator have now both agreed to solicit a further 11,8 gigawatts of power from independent power producers (IPP) to boost the national grid. Now the Ministry must issue a "request for proposals" (RFP) and after that it will probably take about another 18 months for construction to begin. The process is like watching paint dry, but hopefully by 2022 the IPP's will begin to meaningfully contribute to South Africa's power needs and compete with Eskom. So, the next two years are likely to be characterized by on-going load shedding as Eskom battles to keep its aging fleet of coal-fired power stations producing.
The taxi industry in South Africa is completely unregulated. It transports 15m people per day, generates an income of R50bn per annum and buys about R20bn worth of fuel per annum – and yet this industry operates almost completely outside the law. It is an unregulated industry which pays no tax and there is no database of taxi-owners. The government is intent on regulating the industry and subsidizing taxi costs to the tune of R50bn per annum. On the face of it, this would be good for the economy because it will put money into the pockets of the millions of daily commuters who use taxis. The conditions are that taxi owners must register and must have a bank account into which the subsidies can be paid. Obviously, this would also mean that they have to register with South African Revenue Services (SARS) and become taxpayers like all other businesses. Registration would probably also mean that taxi-owners would have to show that they have a public transport drivers licence. The taxi industry has so far resisted the idea of becoming regulated. South Africans would like to hope that the formalizing of the taxi industry leads to an improvement in their behaviour on the roads.
Perhaps once of the benefits of the post-apartheid South Africa is that it no longer needs to have a strong and capable defence force. That department of government has seen its budget systematically reduced and now it faces the fact that, Denel which was plundered by the Gupta's during state capture, is in a financial crisis from which Treasury cannot rescue it. This means that it cannot perform in its various contracts with the defence force meaning that various critical and strategic systems are falling into disrepair. The Department of Defence and Armscor are doing what they can to hold the situation at Denel together until next year, when hopefully additional funding from government can be obtained.
Companies
About a month ago, on 5th September 2020 we published an article in which suggested you look at Massmart and Bluetel. Since then both shares have moved up well:
MASSMART (MSM)
Is it just possible that Massmart is going to recover? Given its track record it seems difficult to believe, but Warren Buffett has famously been quoted as saying "Be fearful when others are greedy and greedy when other are fearful". Right now, most investors are quite rightly fearful of Massmart. But the new CEO, Mitchell Slape, imported from Walmart, has just bought R8,37m worth of Massmart shares – being 300 000 shares at R27.29 each. This is a rare display of faith by the man in charge. His opinion of what is going to happen at Massmart must surely be worth more than all the analysts combined. He is a high-flyer with a reputation for turning businesses around. He stands to lose not just his money but also his reputation.
Notably his purchase of shares has been done at the exact moment when Massmart's shares are on the cusp of breaking above their long-term downward trendline. Consider the chart:
Slape has had enough time in charge of Massmart to have made a clear assessment of its potential. We doubt that there is anything negative which he is not by now aware of. It is highly unlikely that he would make such an investment unless he believed that he would make good money out of it.
And there can be little doubt that if Massmart can be turned around, it will become a retailing powerhouse, not just in South Africa but also in the rest of Africa. South Africans have been putting off purchases of big-ticket items like fridges and washing machines because of the uncertainty surrounding the fallout from COVID-19. However as the impact of the pandemic begins to fade, they will begin to buy again and Massmart stocks the kind of products that they will be looking for. We believe that there is some considerable pent up demand waiting for the return to some degree of normality in the economy.
If the share breaks strongly above that long-term downward trendline, then it must mean that institutional investors are buying up the shares at these low prices. In other words, perhaps you should add this share to your "watch list".
BLUE LABEL (BLU)
This is a company which has been pounded, because of its purchase of 45% of Cell-C which is drowning under a mountain of debt. BLU has written its investment in Cell-C down to zero so that should no longer be a problem and its remaining businesses are performing well.
The company is now looking at getting into the collection of electricity payments on behalf of municipalities. Collectively, the 257 municipalities in South Africa are estimated to be owed R191bn (of which R15bn is owed by government agencies). They are keen to install pay-as-you-go meters and turn their electricity supply back into the profit generator that it once was. To us this seems like an excellent business opportunity and one which offers considerable synergies with the existing businesses of BLU.
Technically, the BLU share looks like it might be about to begin moving upwards. Consider the chart: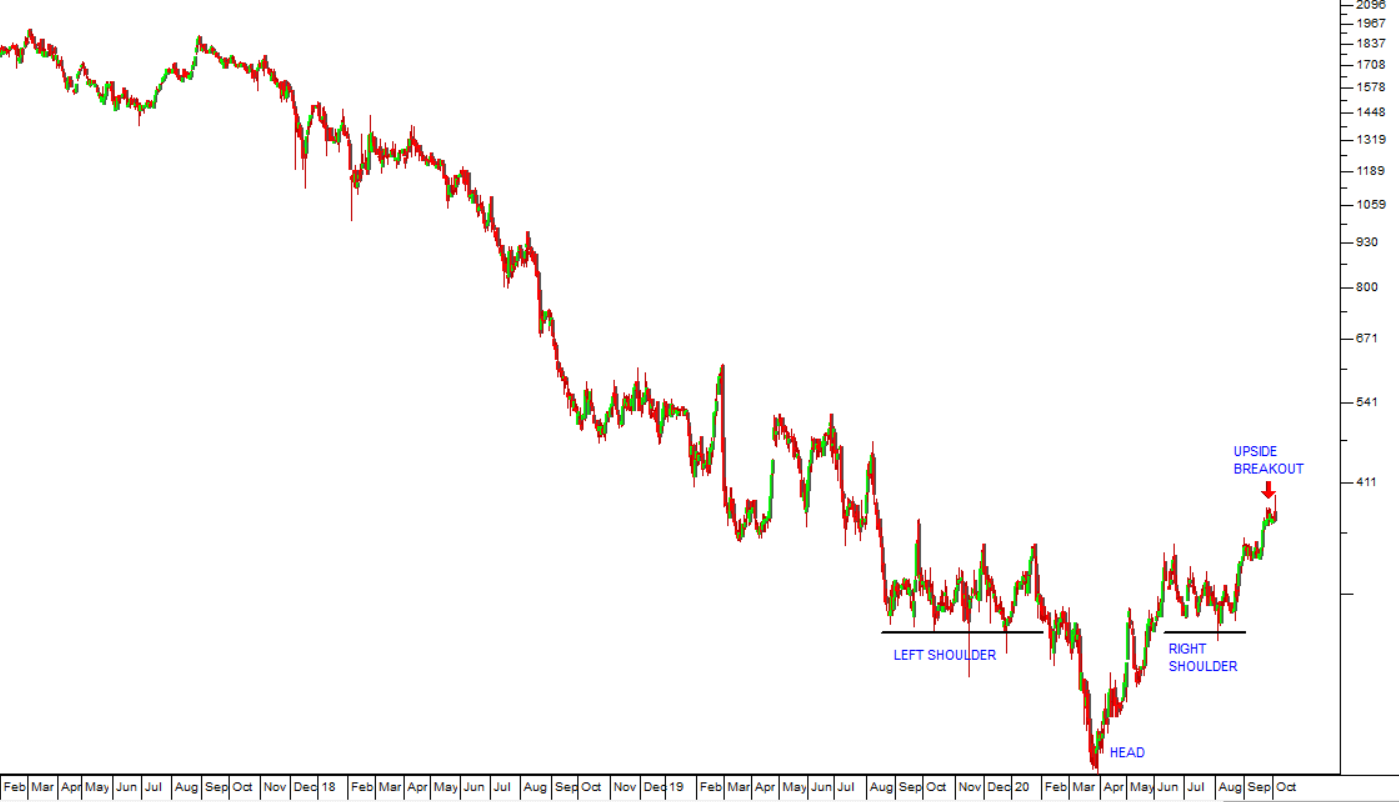 Here you can see that after a long downward trend, the share has completed a reverse head-and-shoulders formation which is one of the most bullish formations in technical analysis. You can see that it is currently on the point of breaking out of this formation on the upside. It also gave a strong on-balance volume buy signal on 31st August 2020. In our opinion, this share looks like a potential winner. Just be sure to have a strict stop-loss strategy.
SIBANYE (SSW)
The precious metals market is now dominated by Sibanye which is a major world producer of platinum, palladium and rhodium. These three metals are mainly used to produce auto catalysts, platinum in diesel engines and palladium in petrol engines with small quantities of rhodium are used in both types of engines. A major source of demand is Europe which uses about 50% of the world's platinum and 25% of its palladium. The pandemic caused vehicles sales to drop sharply in Europe. Current estimates are that 2020 vehicle sales will be down by at least 25% - mainly because of the lockdowns of various countries. Now there is a second wave becoming more and more evident in Western Europe with cases in the United Kingdom, France, Spain other major countries gaining ground. The price of platinum group metals could well be negatively impacted. Sibanye shares made a cycle high at 5759c on the 11th September 2020 and since then have been tracking downwards. Both platinum and palladium have come off their highs in recent days. Of course, the advent of a vaccine for COVID-19 is much closer now and expected by the end of this year, but it may be time to temporarily re-evaluate precious metals shares after their long bull run. However, since July 2018, Sibanye shares have risen from 708c to current levels around 4650c. This impressive 650% rise in just over 2 years has been generated by rising PGM prices and some astute acquisitions. We believe that Sibanye remains the best of the mining shares on the JSE. Consider the chart: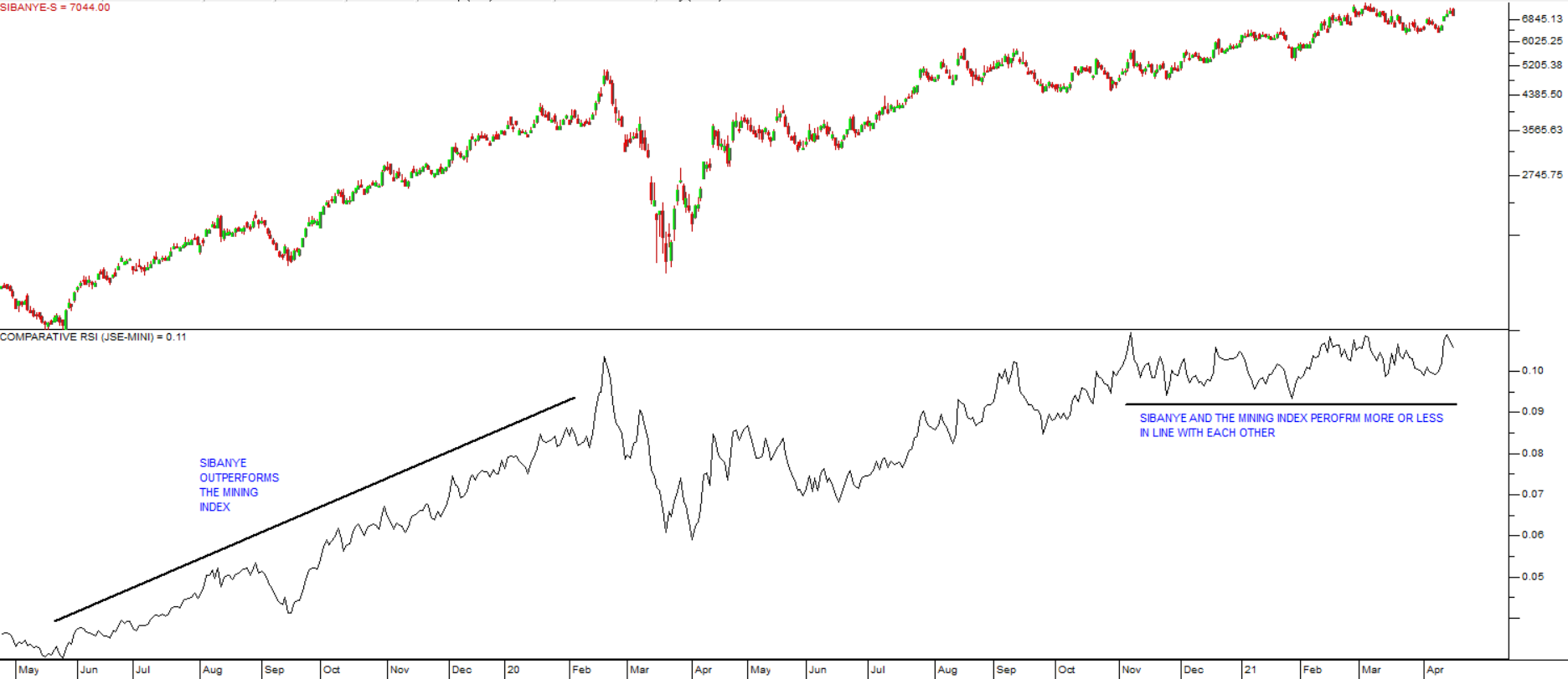 METROFILE (MFL)
Metrofile (MFL) is a company which specialises in records storage and management, image processing and backup. The company has been listed since 1995 and has a 57,4% black ownership. The Mineworkers Investment Company owns 38,64% of the business and Sanlam owns 5%. The company's record managements division has 52 facilities at 27 locations with over 100 000 square meters of offices and warehousing. In a trading statement for the year to 30th June 2020 the company estimated that HEPS would be between 16% and 25% higher than in the comparable period. Revenue from continuing operations increased by 8%. Housatonic Partners, a US company, made an offer to buy 100% of Metrofile for 330c per share, but has delayed the deal because of COVID-19 and will want to see the end-June 2020 results and "three months normal trade" before reconsidering. We see this as a good-quality small business that seems to be battling in a very tough economic climate. It now looks set for a strong recovery - especially if the Housatonic deal goes through. Consider the chart: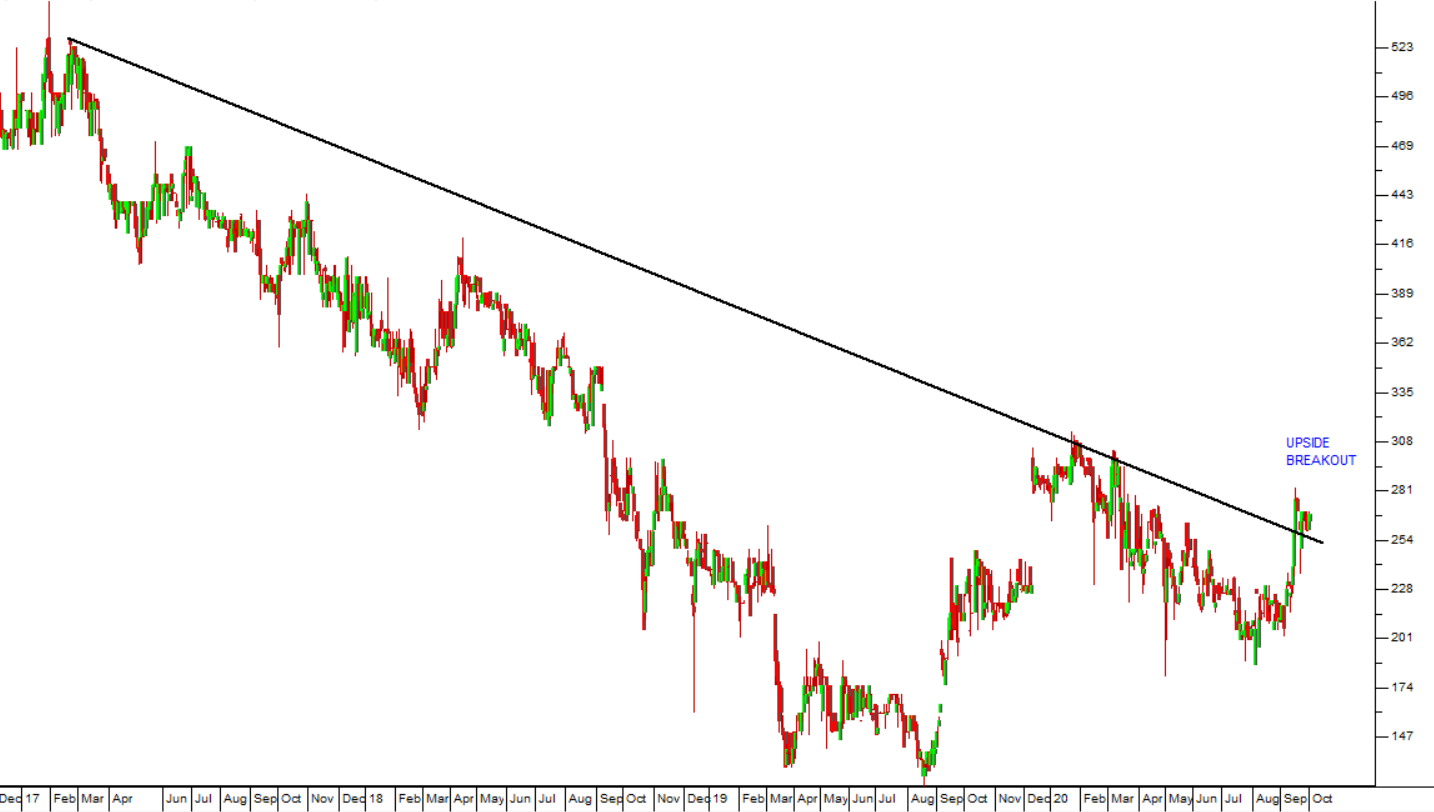 Here you can see the downward trend and the impact of COVID-19. The share is making a good recovery with a clear upside break through its downward trendline.
MOTUS (MTH)
Motus (MTH) was unbundled from Imperial (IPL) and separately listed on the JSE on 22-11-2018. It is a company that owns motor dealerships in South Africa, the UK and Australia. The company has four divisions - import and distribution, retail and rental, motor-related and financial services and aftermarket parts. It imports and sells more than 80 000 vehicles per annum and runs 356 dealerships and 134 rental outlets for Tempest and Europcar. It offers vehicle finance and fleet management in South Africa with 730 000 clients. It retails parts and accessories for older vehicles through 720 franchised outlets. Altogether it has a 20% share of the South African retail vehicle market, selling roughly 100 000 vehicles per annum. It is the importer of Hyundai, Kia, Mitsubishi and Renault. The CEO, Osman Arbee, said that the company plans to pay generous dividends because of its strong cash flows. The company generates 65% of its turnover in South Africa and 93% of its operating profit. Consider the chart: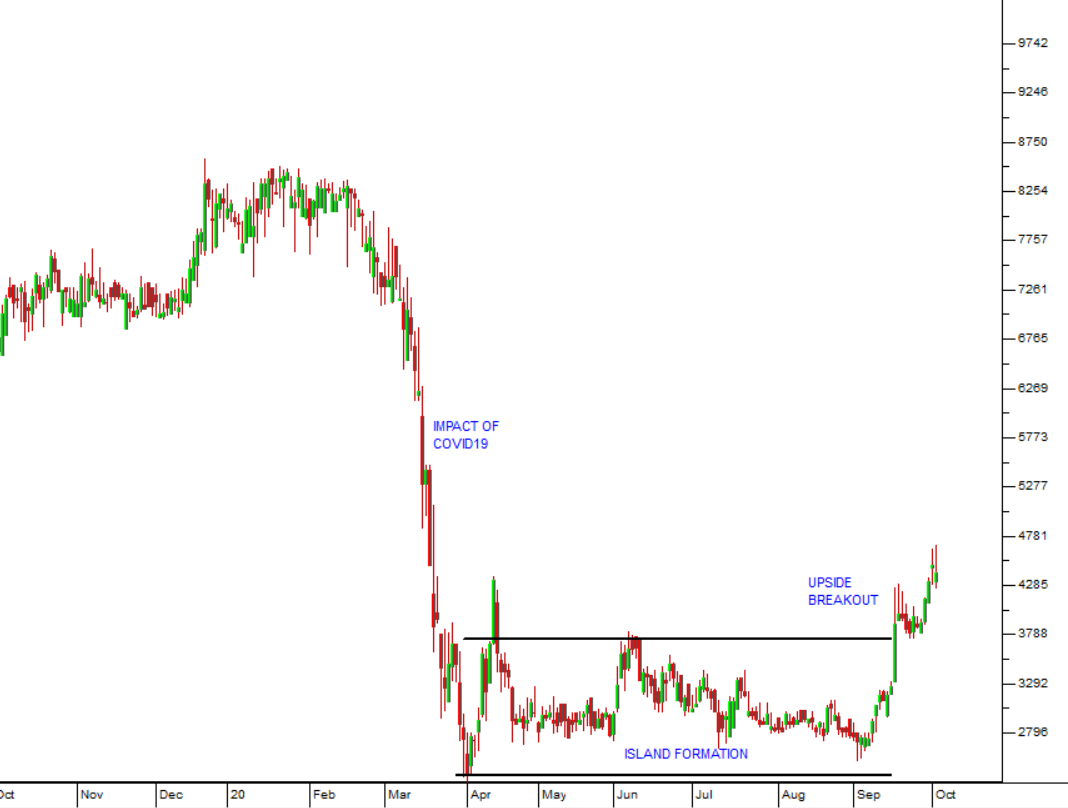 You can see here the impact of COVID-19 which took the share down sharply in March this year. Since then it has been moving in a sideways formation creating an "island formation". It has now broken convincingly up out of that formation and looks as though it is going to move up strongly. We see this as a very well-established blue-chip share that is dependent on the state of the economy and the level of consumer spending. We think it will turn out to be a good investment especially as the economy improves.
TRELLIDOR
One of the great advantages of being a private investor is that you can buy a much wider range of shares than the big institutions. Sometimes a relatively thinly traded share can offer an opportunity which institutional investors simply cannot take advantage of because they are too big. Trellidor is perhaps such an opportunity.
Trellidor (TRL) is a manufacturer of barrier security products, blinds and security shutters since 1976. The company is divided into the Trellidor business (security barriers) and the Taylor business (security and decorative blinds). Taylor also imports and distributes cornicing and skirting. The company has 70 franchise outlets in South Africa and a very strong brand name. The company has representation in 24 countries, 17 of which are in Africa. Obviously, this company is linked to the construction and home improvements industry and so it is affected by the state of the economy. It is well managed and has a strong balance sheet. So, it should benefit directly from any improvement in the economy. At its current price of around 190c the share is trading on a P:E of around 13,77 - which looks reasonable, but it is relatively thinly traded. It gave a strong on balance volume (OBV) buy signal on release of its results (22/9/20) and it appears to have good support at levels around 150c. This probably shows that an insider has been buying up the share. Obviously, security remains a priority for South Africans so the industry should perform well. Consider the chart: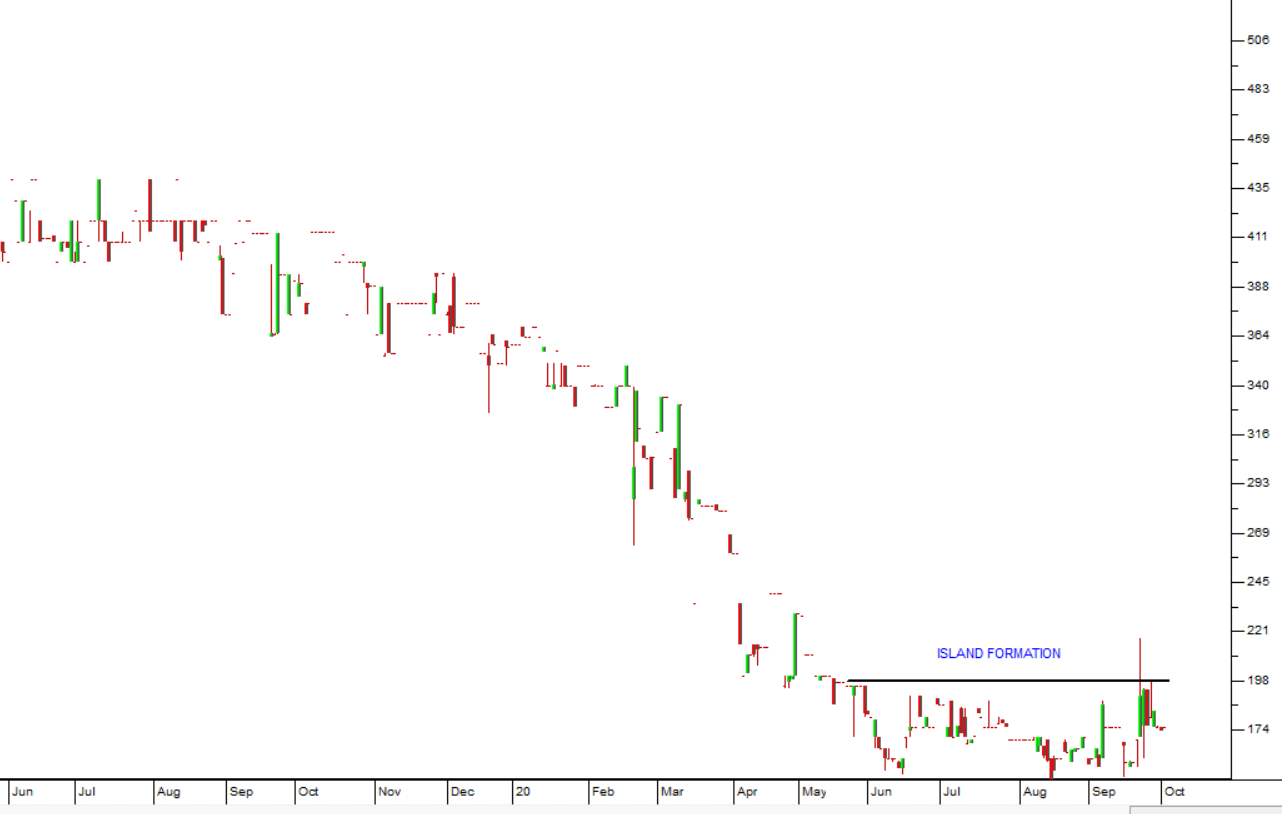 You can see here that the share has been in an island formation since May this year. We think that it may be about to break up out of this formation. The chart also shows that Trellidor is relatively thinly traded with about R220 000 worth of shares changing hands every day on average. The relatively sparse candles in the chart show that there are days when the share does not trade at all. Despite this, we think that this share has sufficient volume to accommodate a transaction of up R70 000 – which would be about 40 000 shares.
GRAND PARADE INVESTMENTS (GPL)
Grand Parade Investments (GPL) is a BEE investment holding company with interests in the gaming industry and the fast food industry listed in 2008. It has been getting out of fast foods to focus on gaming. At 200c, the share is now trading at less than half of its intrinsic net asset value (INAV) of 449c and now appears to be staging something of a recovery. It is also significant that the turnaround specialist, Venture Capital Partners, originally acquired 8,05% of the company but increased its holding to 20,88% in April 2019. Without its stake in Burger King the nature of this company is radically changed and there may be more asset sales (such as GPI Properties worth R200m) in the pipeline. It has assets of about R1,8bn with debt of around R300m. Consider the chart: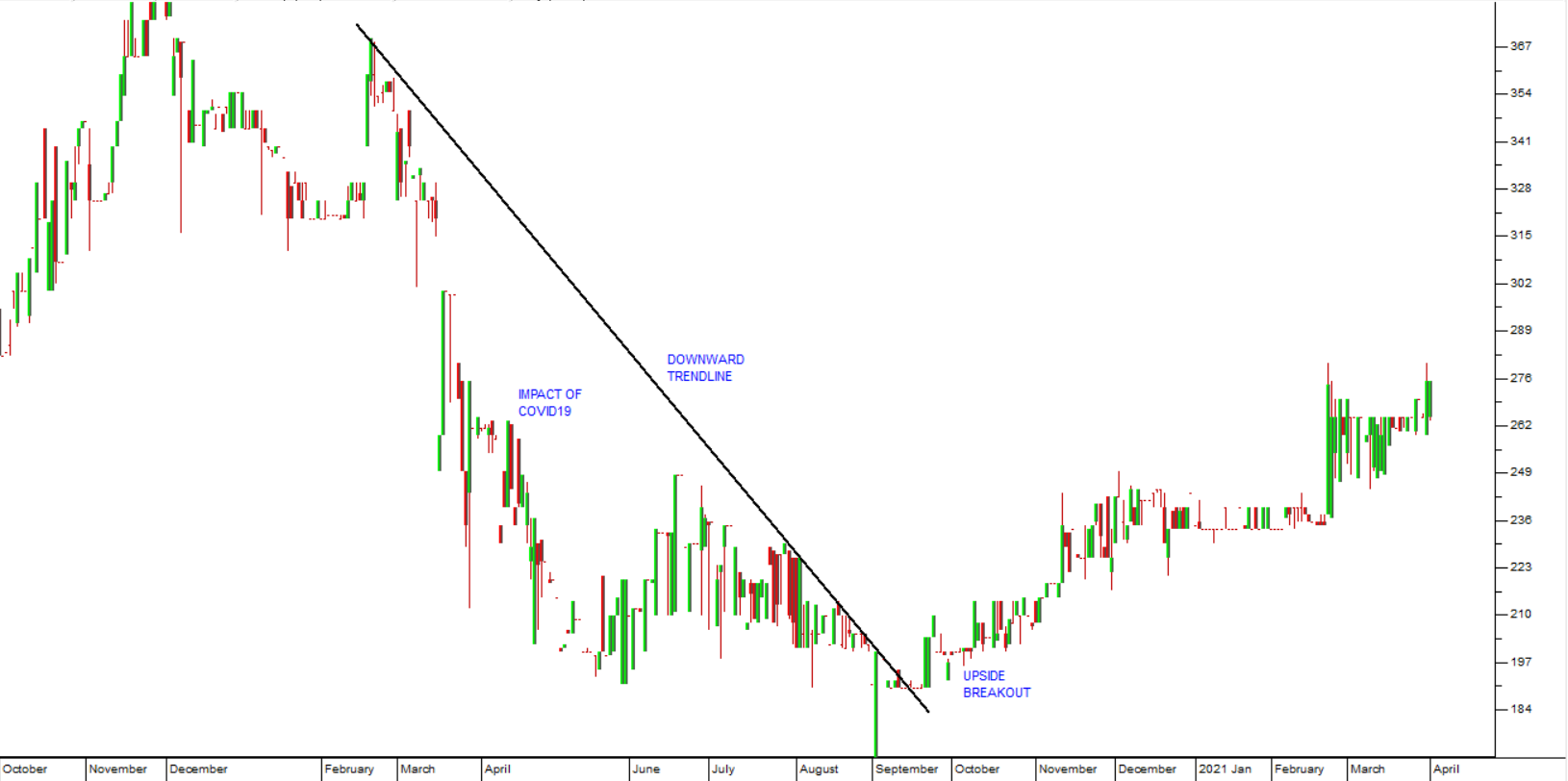 Here you can see the impact of the pandemic on the share and the resulting downward trendline. The share now seems to be breaking on the upside and may be entering a new bull trend.
CASHBUILD (CSB)
In last month's Confidential Report, we suggested that Cashbuild was a good buy because it had broken convincingly above its long-term downward trendline and the company was poised to recover rapidly from the lockdown. On 23rd September 2020 the Business Day reported that Venture Capital Partners had acquired a stake of 5,28% in the company. Cashbuild is planning to buy Pepkor's, The Building Company, for R1,1bn which would double its size. We continue to believe that Cashbuild is a buying opportunity. Consider the chart: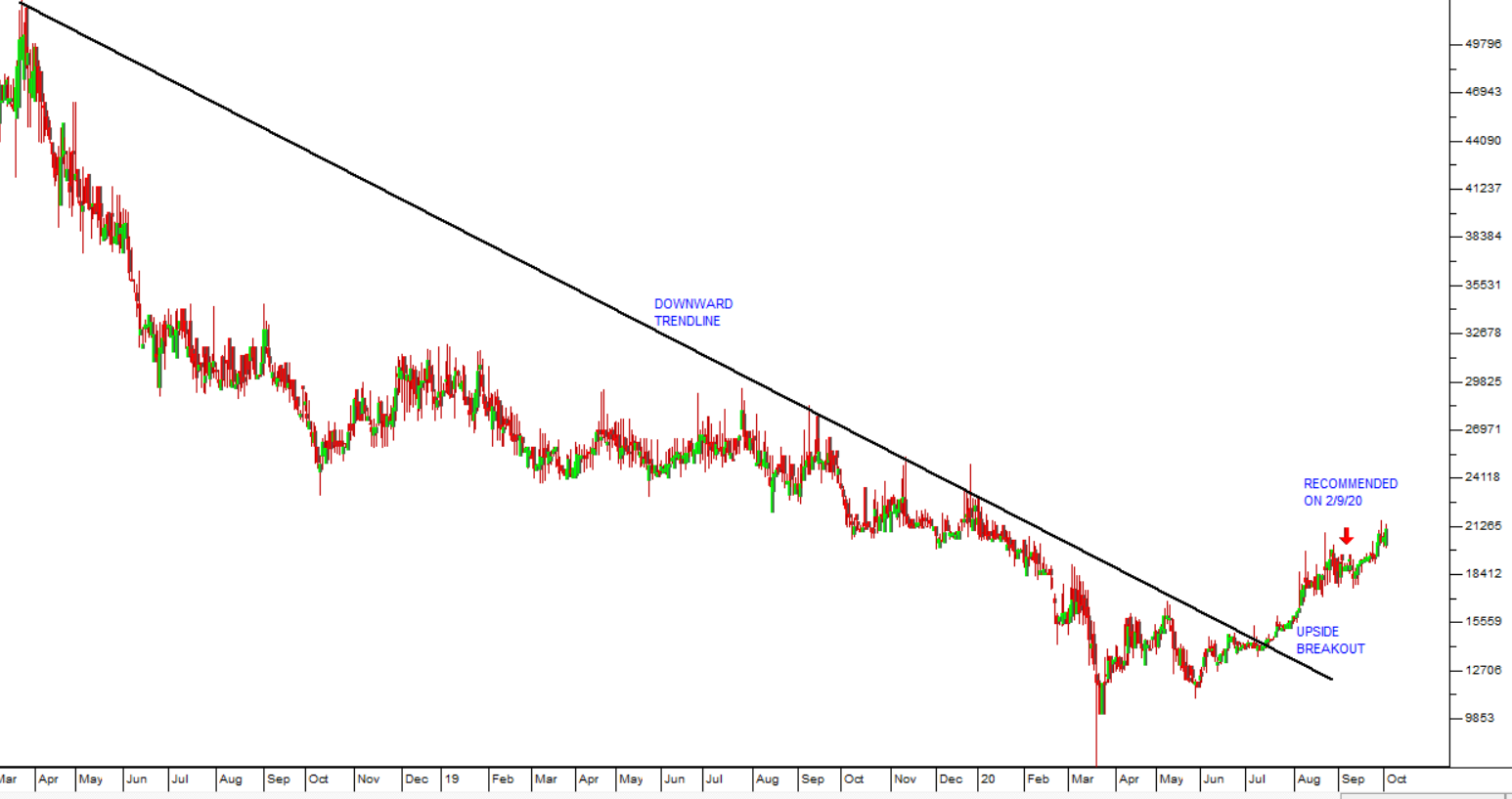 DISCLAIMER
All information and data contained within the PDSnet Articles is for informational purposes only. PDSnet makes no representations as to the accuracy, completeness, suitability, or validity, of any information, and shall not be liable for any errors, omissions, or any losses, injuries, or damages arising from its display or use. Information in the PDSnet Articles are based on the author's opinion and experience and should not be considered professional financial investment advice. The ideas and strategies should never be used without first assessing your own personal and financial situation, or without consulting a financial professional. Thoughts and opinions will also change from time to time as more information is accumulated. PDSnet reserves the right to delete any comment or opinion for any reason.
Share this article: