1 April 2020
By PDSNET
America
The US economy, along with economies around the world, is in partial lock-down. Estimates of how this will impact on economic growth vary, but the general consensus seems to be that GDP will shrink in the current quarter by between 10% and 14%. Unemployment is expected to surge from 3,5% before the pandemic to as much as 10%. Weekly jobless claims are expected to climb to around 2 million - from as little as 280 000 before the collapse. This is thought to be tolerable - so long as the lockdown does not continue for more than about 1 month. Compared to the Great Depression of 1929-1939, however, these figures are relatively mild, mainly because the contraction is expected to be much shorter. By the end of this year, most economists expect the world economy to be rapidly returning to normal. Most first world countries have dropped interest rates to close to zero and have announced massive stimulus packages (most notably, the US's $2 trillion package). During the Great Depression unemployment in America reached as much as 33% and the contraction went on for 10 years. During the 1918 Spanish flu epidemic, 50m people died world wide and GDP declined by about 7%. Because this is a truly unique event in the financial markets, investors really do not know what to make of it. The chart below shows that they initially sold the market down sharply, but in the last five or six days there has been something of a rally.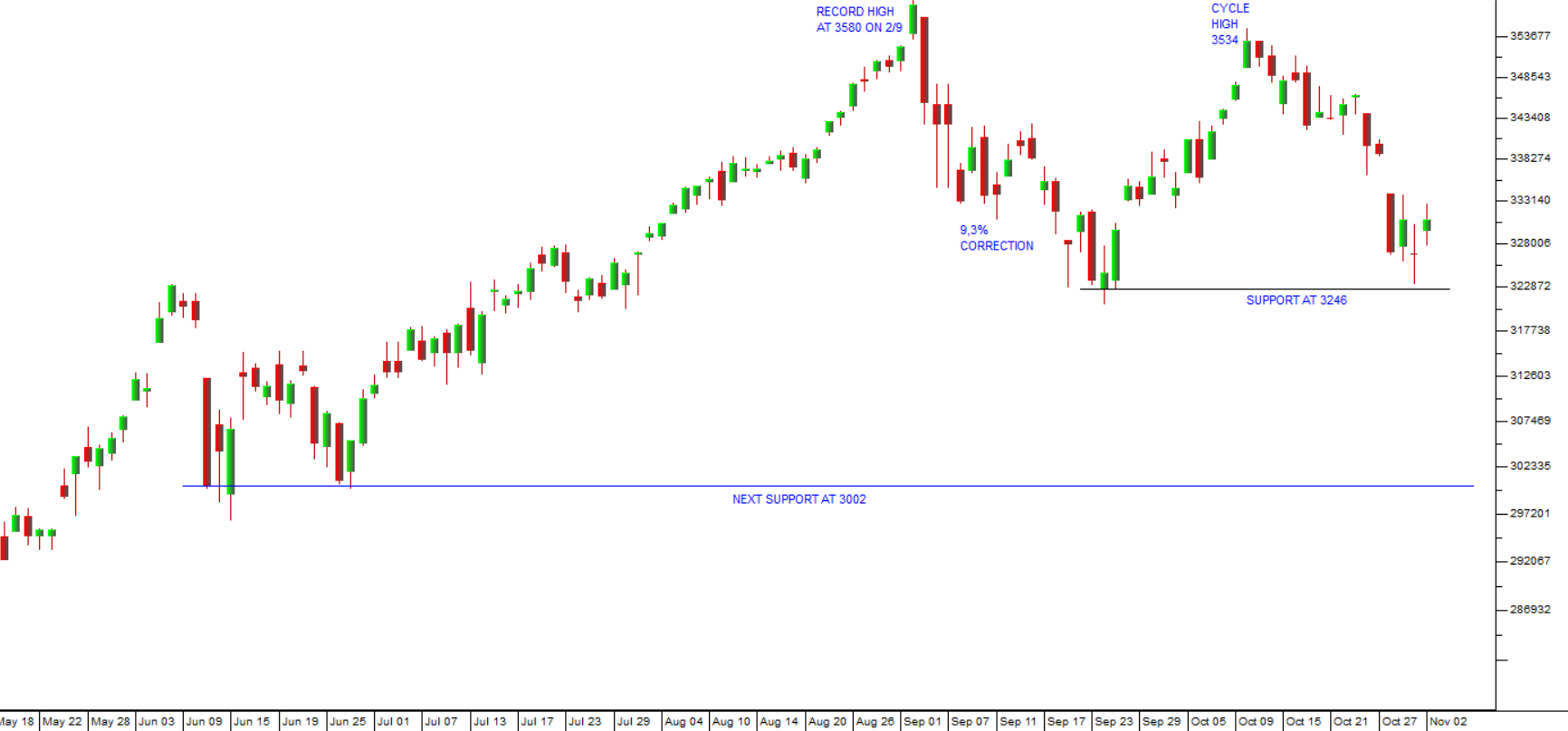 Here you can see the sharp 34%, 1-month fall - followed by a 15% recovery over six days. It is not unusual for markets in a bear trend to have a rally which recovers about half of what has been lost - before the bear trend re-asserts itself. In our view, this rally will have to be considerably stronger and longer before we can say that the bear trend is over. At this stage, it still looks like a "bull trap".
Obviously, this must be seen in the context of our earlier assertion that we believed that this bear trend would ultimately be a sharp V-bottom - and so maybe we have already seen the bottom of the bear. To assess that we need to consider the progress of the virus, especially in America where efforts to contain it have at best been patchy and late. The infection rate in the US has been startling. It now has the highest number of confirmed cases in the world and its death rate is climbing.
The world economy tends to be led by what happens in America. If that giant economy stalls, it is likely that the rest of the world will fall into at least a recession. Of course, into this mix we need to accept that the US, along with the Northern hemisphere, is moving back into summer. There is some early evidence that this virus is happiest and most virulent at a temperature of about 3 degrees Celsius. As temperatures warm up, we can expect the infection rate to top out and begin to decline. Perhaps this is what investors are anticipating in the S&P rally. We are of the opinion that by the end of this year COVID19 will be substantially behind us and the world economy will be recovering rapidly.
Clearly, if you can determine the COVID19 impact on the shares which you are considering, you will be in a strong position to capitilise on what we perceive as the inevitable recovery of the JSE. In this regard, in our article on 29th January 2020, we suggested that Prosus was one of the best shares to consider. Already trading at a 30% discount to its net asset value (NAV), this share, through its 31% holding of the Chinese gaming and social media company Tencent, was always in a good position to benefit from the surge in gaming that would come from a Chinese lockdown. It is now well positioned to benefit from the recovery of the Chinese economy where the virus appears to have been contained and to be on the way out. Consider the chart: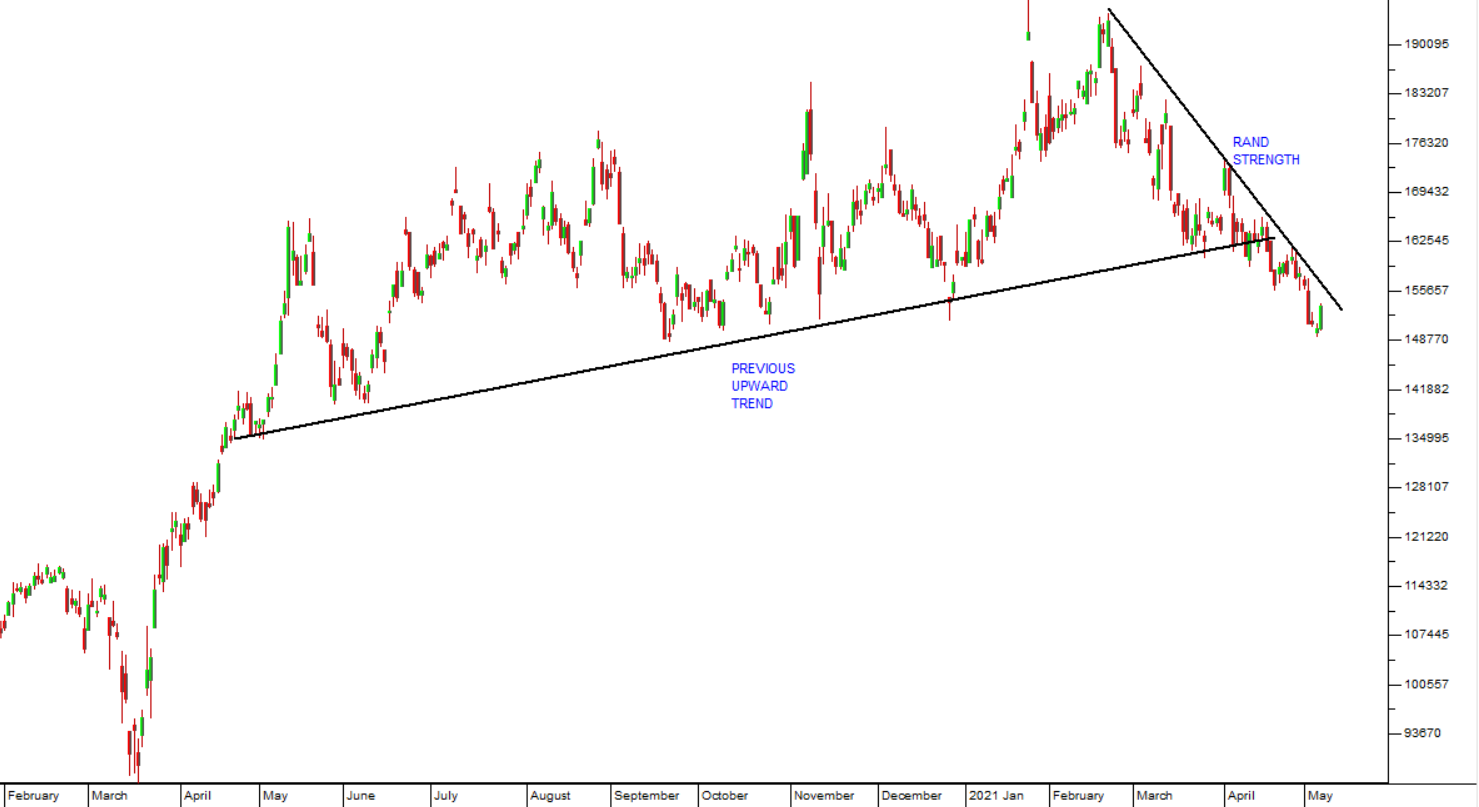 You can see that Prosus is well on its way to recovering completely from the downward trend. It is now trading at its highest level so far this year - and should go higher, provided the US markets continue their upward movement.
Of course, there is a strong possibility that investors in the US will become alarmed at the progress of the virus there and begin to sell the market down again. There is little doubt that the virus has not yet reached its peak in that country. But investors will tend to be guided by what has happened and is happening in other countries like China, Italy, the UK and Spain.
So, the decision you really have to make is whether to trust this nascent rally on the S&P500 or not. If your view is that there is "another kick left in the donkey" then you should stay out of the markets. If you see this as the recovery then you should be buying up quality shares while they are still at huge discounts. Our opinion is to err on the side of caution. We do not yet feel comfortable with this rally and think it could easily give away to a new round of bearishness.
Economy
The sweeping powers conferred on President Ramaphosa during a disaster in terms of the Disaster Management Act mean that for the next three months he can do almost anything which he deems necessary to contain and control the corona outbreak. This could be further extended by declaring a state of emergency. The normal boundaries of due process and red tape are swept aside giving him almost dictatorial powers. Ramaphosa has used those powers to declare a 21-day lockdown which will have far-reaching consequences for the South African economy. The corona problem has put the negotiations with the government unions on the backburner. The unions cannot stage protest marches when they are in lockdown and gatherings of more than 100 people are prohibited. Under a state of disaster, (in terms of section 27 of the Disaster Management Act) the president must still comply with the Bill of Rights, but if a state of emergency is declared (in terms of section 37 of the Constitution) the president can dispense with many of the rights in the bill of rights. The corona pandemic will probably not qualify for the declaration of a state of emergency.
Expensive as it is, the lockdown will not have the desired impact if people ignore it. At this stage it appears that people in some informal settlements are walking about illegally, and certain shops and liquor outlets have not closed as they are required to do. Hopefully, they will become more compliant as the lockdown proceeds. It seems unlikely that this lockdown can be sustained economically for longer than 21 days � but it may have to be.
The measures taken to constrain the coronavirus will impact both on the world economy and the South African economy. It now seems very unlikely that South Africa will have any positive growth in GDP this year. The government itself is estimating a 0,2% contraction in GDP and we think that is somewhat optimistic. Some economists are talking of a 3,5% decline in GDP this year. The sharp drop in economic activity will also mean a drop in tax revenue - which may well result in stronger measures to curtail government spending, especially the government wage bill. Thousands of businesses are at least temporarily closed while others are operating on a skeleton staff and working from home wherever possible. Many of the weaker businesses, those without cash reserves and those which depend on sales to meet overheads, will not survive. From a consumer perspective, the lockdown will, to some extent, be mitigated by a sharp drop in the petrol price (R1,76 per liter), the 100-basis point drop in interest rates and other fiscal stimulus measures.
One bright spot is that there will be much lower demand for power - which means that the new CEO of Eskom, Andre de Ruyter, has been given a window of opportunity to get as much of the backlog of maintenance done as he can. South Africa's power consumption has almost halved in the lockdown and Eskom has taken the opportunity to shut down a number of power stations for maintenance. Unfortunately, some of the planned maintenance has had to be abandoned to comply with the lockdown requirements. The government has issued a tender to acquire an additional 5000mw of emergency power. Once the coronavirus is behind us, there should be far less load-shedding. In the longer term, especially if the effect of the virus is protracted, the world economy will enter recession - which will negatively impact on the demand for metals and minerals. Already the price of most commodities has fallen sharply in anticipation of this.
The battle lines are being drawn over Tito Mboweni's budget decision to cut the civil service wage bill by R160bn over the next three years. It seems that the steps taken to control COVID19 will strengthen the government's position in these negotiations and weaken those of the unions. The first step in the negotiations is to re-negotiate the third year of the 3-year wage deal which the government currently has with labour. The union movements were flatly refusing to consider this and say that re-negotiation is not on the table, but the progress of the coronavirus may cause them to re-think their position. So now it remains to be seen whether the result will see civil servants get a 1,5% increase instead of the CPI plus 1%. This is the moment of truth that we have been waiting for. The unions have already warned the government not to use the corona situation in their negotiations, but there does not seem to be much they can do about it. We believe that a national strike of civil servants is unlikely in the situation. The emergency measures put in place by the President will blunt the edge of any such action. For example, schools are already closed until after Easter and marches will be prevented by the fact that gatherings of more than 100 people are prohibited. The government will certainly use its emergency powers to prevent significant activity by unions. Cutting the wage increase to 1,5% will save the treasury about R37,5bn - which is now sorely needed elsewhere. Notably, the government's plan does not yet envisage retrenchments - but we believe that retrenchments are inevitable because of the cost of the lockdown.
The shock 1,4% drop in GDP for the 4th quarter of 2019 put South Africa into a technical recession - the third one since the 2008 sub-prime crisis. It also means that total GDP growth in 2019 was just 0,2%. This news was followed by Moodys downgrading us to junk status on 27th March 2020. Growth in 2020 is certainly going to be negative, mostly because of the cost of the lockdown. The earlier decision by Moody's to cut South Africa's projected growth rate for 2020 to 0,4% from 0,7% now appears very optimistic. In our opinion, this downgrade had been a virtual certainty for some time and is probably already fully discounted into both the rand and our long bonds.
At the time of writing, South Africa had 1353 confirmed cases of COVID19 and there are probably many more that have not yet been tested. We expect the virus to spread through the country rapidly and to have a death rate much higher than in other countries because we have 8 million people whose immune systems are already compromised by AIDS and we have millions of people suffering from tuberculosis and other debilitating diseases such as bilharzia. In addition to that, the South African population has come to regard laws and rules as arbitrary (as can be seen from their behavior on the roads) and so they are not likely to strictly follow the lockdown. Finally, the government does not have significant resources to throw at a health system which is already severely impaired. The relatively warm weather may mean that we have a much lower death rate than in China, Europe and America. Theoretically, this country is going be one of the worst sufferers from this pandemic, but we may be lucky. Our chances are improved by President Ramaphosa's rapid early declaration of a lockdown. Bill Gates, Chairman of Microsoft, who warned of a coronavirus pandemic in 2015, has said that those countries that implement a lockdown before they have their first death are likely to be able to contain the virus.
Central bankers are considering mechanisms to counter the impact of the coronavirus on world growth. The US Federal Reserve Bank led the way with a cut in interest rates which took them back to around zero. The US government then injected $2 trillion into their economy, while the Chinese authorities have been taking economic measures to counter a slow-down in their economy for some time. Other countries have followed suit. It is now expected that the spread of the virus could cut 2% or more off Chinese growth for 2020 - which would have ripple effects on most other economies. South Africa, already in a technical recession, does not really have the fiscal space to stimulate the economy at this time and will probably have to rely mostly on the efforts of other countries. It is still possible for South Africa to approach the International Monetary Fund (IMF), the World Bank or the New Development Bank for assistance. It is also possible for them to change the liquidity coverage ratio (LCR) or to reduce the reserve requirements of banks. This could potentially release an additional R300m or more for banks to lend and ease up the liquidity crunch in the financial markets. The travel industry is feeling the immediate impact followed by a range of other small and medium-sized companies. Of course, the 1% cut in rates by the South African Reserve Bank (SARB) will sharply reduce the amount that people are paying on their bonds from this month. The average bond will cost about R1000 a month less.
The decision by Tito Mboweni to allocate an additional R2,4bn to the National Prosecuting Authority (NPA) in the February budget has gone almost unnoticed - but it is significant because it means that the battle against crime in this country is intensifying. This will enable the NPA to employ additional senior council to pursue further cases against the perpetrators of state capture. In the longer term, once the coronavirus pandemic is behind us, cleaning up corruption in our economy at all levels is its best hope.
The coronavirus has almost certainly spelled the end of SAA. Already in business rescue, it has been forced to cancel 162 flights. Consumers, in any event, are prevented from travelling, especially in airplanes, which have proven to be viral incubators. So, ultimately, the virus will probably do what the ANC government has been unwilling to do for two decades - close SAA down. In our view, South Africa will be far better off without a loss-making national airline. SAA has accumulated R26bn in losses over the past six years. Another notable casualty of COVID19 is likely to be Edcon. This battered behemoth is probably going to be laid to rest, giving way to other more agile and better capitalised clothing outlets. The liquidation will cause 18000 people to lose their jobs directly, and many more indirectly, at the worst possible time - but we have thought for may years that Edcon would not manage a turnaround.
The decision by the Reserve Bank to engage in "quantitative easing" (Q/E) by creating money and using it to buy back government bonds is to be welcomed in the current situation. The bank denies that it is engaging in Q/E, but as the economist Peter Attard Montalto says, "If it quacks like a duck, it probably is a duck". They are creating money (i.e. expanding their balance sheet) and using it to buy back government bonds. Normally, this type of Q/E is considered to be inflationary, especially if it is used too freely to overcome any shortage of cash in the government. But in the current situation where South Africa"s inflation rate is low and falling, we can afford to expand the money supply to pay for desperately needed support during the lockdown and thereafter especially given our lack of reserves. Injections of cash into the economy normally take between 9 and 18 months to be reflected in inflation, but at the moment, the velocity of circulation in the economy is so low that, provided Q/E is used judiciously, the effect should be minimal. The Reserve Bank always needs to keep in mind the example of Zimbabwe, which used Q/E to such an extent that it led to runaway inflation and the eventual collapse of the currency. At this stage the size and duration of the Q/E program have not been disclosed or indeed even admitted by the Reserve Bank. The move should also help to keep the government deficit under control - a deficit which is now expected to rise to 10% of GDP.
In effect, Q/E and indeed inflation are a form of taxation, since the government prints the money and spends it - eventually leading to a fall in the purchasing power of the rand in your pocket. The idea of inflation or, as it was known then, "debasement" was invented by the Romans more than 2000 years ago. Faced with the need to finance the next Punic war, the Roman authorities called in all the gold coins in the realm, usually on the pretext of reminting them with the new Caesar's image. Careful notes were kept of exactly who handed coins in and the number. The coins were then melted down and 20% of lead added. Once re-minted and returned to their owners the authorities were left with 20% in the bottom of the pot - which they used to finance the war. In those days this was known as debasement; today, with our fiat currencies, we call it inflation; but it is the same thing. The government prints money and spends it while the rand in your pocket goes down in purchasing power terms - hence a subtle, undisclosed form of taxation.
The problem with Q/E is that it involves what is known as "moral hazard". In other words, once money has been printed to help the economy cope with the effects of the coronavirus, it will become much easier to print it again when the next government crisis strikes. In effect it relieves the government of the strict discipline of having to "cut their coat according to their cloth".
The Rand
In last months Confidential Report which we published on 4th March 2020, we drew your attention to the fact that the rand had broken down through a key support level at R15.50 to the US dollar. At the time we thought that the break was due to the growing likelihood of a downgrade to junk status by Moodys and the international perception that Ramaphosa would not be able to enforce the civil service wage cuts in the February budget. With the advantage of hindsight, we can now see that the downward break was due to the international shift to "risk-off" as the corona pandemic gathered momentum. Such technical indicators often arrive without any clear reason and it is usually difficult to know exactly why they occur - but they are usually portentous, and you ignore them at your cost.
The corona pandemic has now taken the rand down through support at R15.50 to the US dollar to new lows at around R17.50 - a 13% fall in one month. Consider the chart: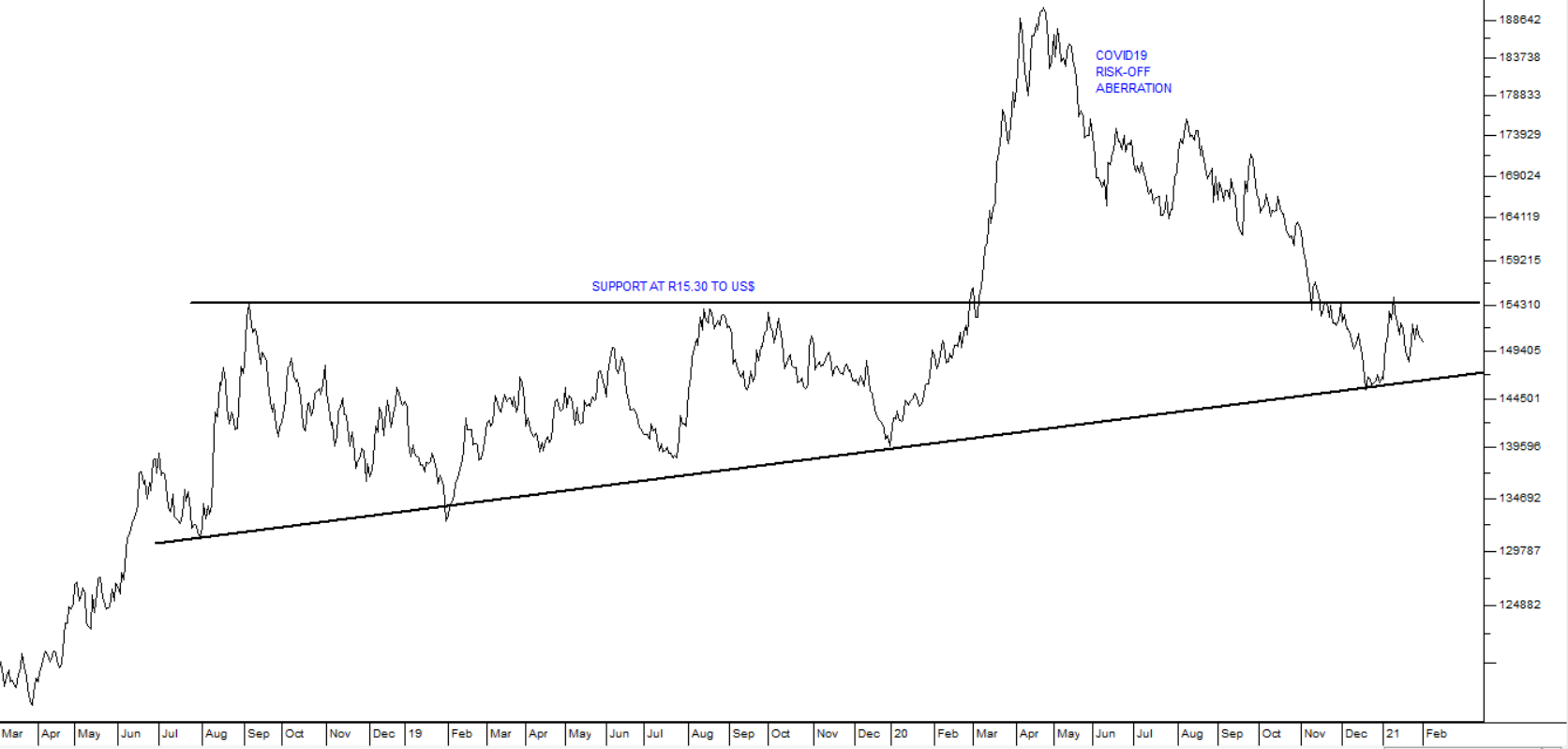 Here you can see the long period of relative stability in the rand which was abruptly broken on 27th February 2020 by the coronavirus. Emerging currencies around the world fell sharply as investor sentiment switched rapidly from "risk-on" to "risk-off" and investors rushed for the safety of the 10-year US treasury bill. The yield on the US 10-year note has fallen to 0,72% - against a US inflation rate of 2,2%. This shows how nervous international investors are if they are willing to lose almost 1,5% for the relative security of the T-bill.
During the same month (from 27th February 2020 until now) the Brazilian real has fallen 14,1%, the Mexican Peso has fallen 26,4% and even the Australian dollar has fallen 8,15% - so we are in good company and the rand's fall is relatively mild. In our view, the rand should recover rapidly once markets begin to normalise and international sentiment shifts back towards risk on. Despite the 1% drop in our interest rates, our long bonds are now offering a real return of more than 6%.
Oil
On Wednesday 4th March 2020 when we published the last Confidential Report, we drew your attention to the fact that the price of North Sea brent oil had fallen through a critical support level at around $50.80 per barrel. At the time we said that the reasons for the downward break were not immediately clear, but now we know that the real reason was the spread of the coronavirus. International commodity speculators were already then betting that the coronavirus would become a world pandemic that would severely limit the demand for oil. That was complicated at the time by an apparent price war between Saudi Arabia and Russia. The importance of that technical warning can now be clearly seen in the chart: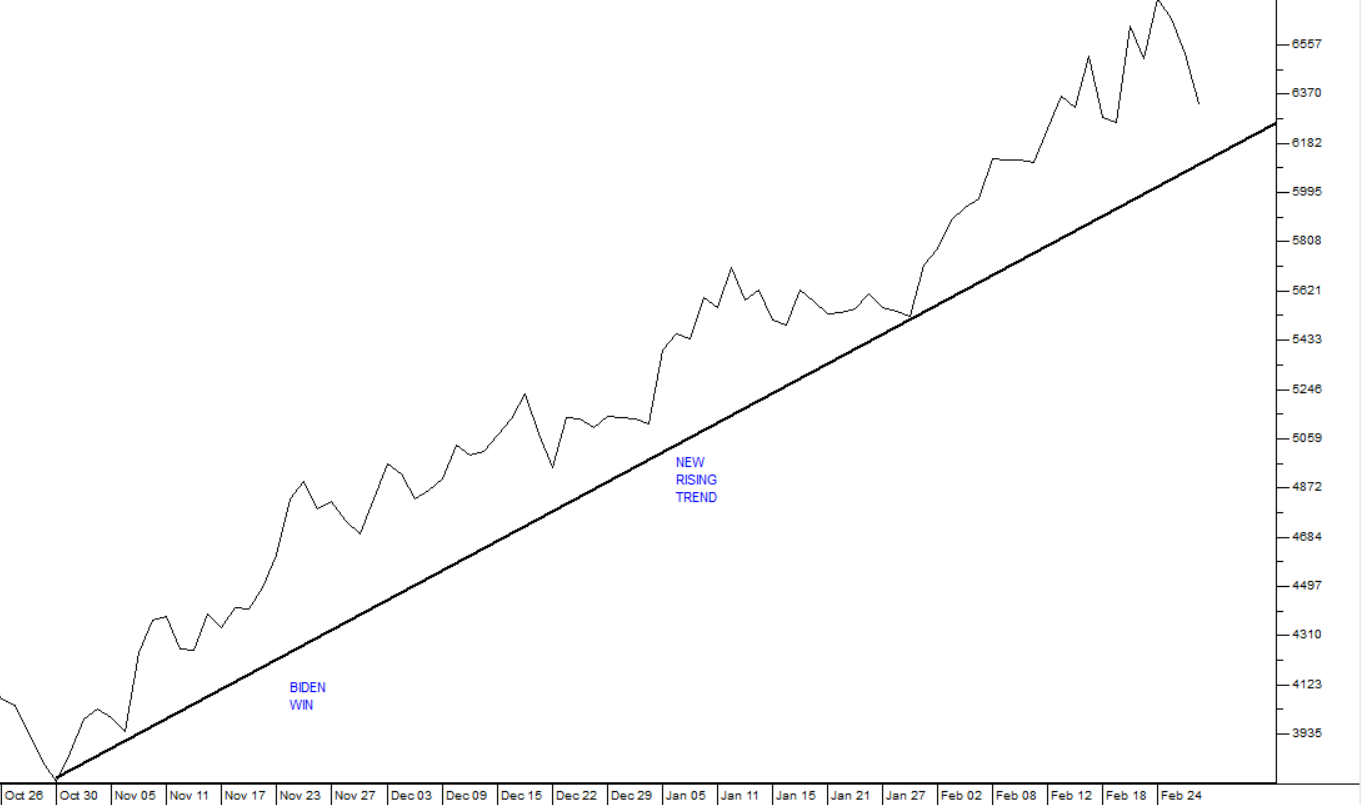 Subsequent to that downside break, the brent oil price has lost half of its value, falling to $22 per barrel. If this level is maintained, the impact on the world economy will be profound. Every person on the planet is impacted by the price of oil - firstly because most people still use an internal combustion engine for transport and secondly because almost all products include a substantial transport cost in their manufacture (through plastics) or their delivery. The falling oil price is heavily anti-inflationary world-wide. At the same time, low fuel costs immediately put money into the pockets of virtually every commercially-active person on the planet. Combining that with the massive stimulatory efforts of the various central banks of the world to counter the pandemic, the stage is set for a very rapid and powerful economic recovery as soon as the pandemic is over. Smart investors are already sniffing around the markets for the low-hanging fruit - high-quality shares that are trading at massive discounts to their inherent value.
President Ramaphosa's willingness to consider selling off the older coal-fired power stations to the private sector is a significant shift in policy because it envisages a time when Eskom is not involved in power generation. We would say it is a step in the right direction. We need to get away from Escom's power generation monopoly and allow a variety of private companies to compete on price through a government-controlled power distributor.
The proposal to fund R250bn of Eskom's debt from the Government Employees' Pension Fund (GEPF) has been considerably watered down. Now it is proposed (by Cosatu) that a special purpose vehicle (SPV) be established with voluntary investments to be made by both private and public pension funds to take on a portion of Eskom's debt. Cosatu has said that it does not expect pension funds to set asdie their investment mandates. This gives rise to two points. Firstly, most pension funds already own substantial amounts of Eskom bonds and will probably not want to increase that exposure and secondly the government will still be guaranteeing Eskom's debt at market related interest rates - so this idea really changes nothing.
Other Commodities
The platinum market could be boosted by three developments - firstly, the development by Impala and Sibanye working with BASF to produce a new autocatalyst which contains more platinum and less palladium and rhodium. Secondly, the minting of a platinum coin which will no doubt take its place among the various precious metals coins now available, and thirdly the fact that Amplats is temporarily shutting down two of its converters which will reduce platinum output by about 500 000 ounces this year. The combined impact of these three developments could cause the platinum price, which is wallowing at around $809 following the corona pandemic, to rise.
The coronavirus is expected to slice 1% off Chinese growth this year, leading to a lower demand for South Africa's minerals. China takes about 18% of South Africa's annual exports of which about 85% is mining output. A significant drop in our exports, especially of iron ore, manganese and chrome, will impact heavily on South Africa's export revenue. But China does seem to be getting its corona situation under control with the rate of infection and death falling rapidly. The larger problem is likely to be a drop in Chinese production as the rest of the world slows down due to the pandemic.
The closing of South Africa's mines during the 21-day lockdown could do long-term damage to the mining industry and force some more marginal mines into liquidation. The platinum industry has a large quantity of stockpiled ore which could be processed in this time, but the gold industry is not so fortunate. Harmony gold mine says that it is putting its mines into "care and maintenance" over the lockdown with the idea of getting them going again quickly once the 21 days is over. Some mines have supply contracts in place and may need to declare a force majeure if they cannot honour their commitments. The fall in the rand is helping the mines, because it increases the rand price of the metals and minerals that they produce.
Companies
With the fall in stock markets around the world, including the JSE, many high-quality shares have been trading at bargain prices. Perhaps the most notable of these is Capitec (CPI), which on 18th February 2020 closed at R1438.66c. Extraordinarily, it fell to an intraday low of R539.86 before recovering sharply the next day (19-3-20), but it still looks over-sold. Other blue chips like Anglovaal Industries (AVI), which has a long track record of producing solid returns for more than a decade, have fallen sharply and may offer unique opportunities to private investors. Private investors should be focused on trying to determine the bottom point of this bear trend, both fundamentally and technically.
Usually, when there is a sharp downtrend, it is followed by a period of sideways movement before a new upward trend begins. For that reason, you should never buy while the market is still falling. At least wait until there is some technical indication that you are or may be at the bottom point. Obviously, you cannot wait too long, because then you will miss out on the opportunity, but the tendency is generally to be impatient in these situations and not to wait long enough. But right now, if you do choose to buy in, you will certainly be doing much better than those who bought in a month ago, even if the share falls further. Strict stop-loss levels are essential.
Almost all listed companies have issued a statement about how COVID-19 and how the lockdown are impacting on their business. It is important to read through these statements for the companies that interest you. A company's board of directors will often have a much better understanding of its vulnerabilities than outsiders. Many companies have also decided to conserve cash by cancelling dividends which were already announced.
NINETY-ONE (NY1)
This company was spun out of Investec and separately listed on the JSE and the London Stock Exchange (LSE) on 16th March 2020. The company raised approximately GBP226,1m (R4,5bn) on listing. Hendrik du Toit, who founded Investec Asset Management in 1991, is the CEO of Ninety-One. The company has about GBP121bn under management. The shares were initially sold in a price range of between 190p and 235p. The company was valued at between GBP1,75bn and GBP2,1bn at listing. The price:earnings ratio (P:E) of about 13 was comparable to Coronation's 12,2 in January 2020, prior to the corona sell-off. The international nature of Ninety-One's client base is generally superior to that of South African asset managers. Ninety-One listed with a free-float of around 65% with Investec retaining 15%. The CEO undertook the listing despite the correction in world markets caused by the coronavirus. For this reason, the shares opened about 40% below their pre-listing price range.

As you can see from the first two weeks of trade, Niney-One appears to have stabilised at these lower levels. We consider this rand-hedge to be a good buy at the current price.
VIVO (VVO)
Vivo (VVO) is an energy share which owns over 2000 Shell service stations mainly in South Africa, but also in other countries in Africa to the North. Vivo has negotiated to buy 230 service stations from Engen which will take it into 8 new countries. Altogether the company now has 2130 petrol stations operating in 23 countries in Africa. The Engen stations must be rebranded to the Shell brand in terms of the agreement with Engen. On 20th June 2019, the company announced a joint venture to roll out 30 KFC stores in Uganda and Kenya and to launch KFC in Rwanda.
In its results for the year to 31st December 2019, the company reported turnover up by 10% and diluted headline earnings per share (HEPS) flat at 11c (US). The CEO, Christian Chammas, said, "We have delivered another strong set of results in 2019, with adjusted EBITDA rising 8% to $431 million, as we built the platform for future growth. In line with our objectives, volumes rose 11%, driven by the smooth integration of the new Engen-branded markets, which together with gross cash unit margins of $71 per thousand litres led to record gross cash profit of $743 million."
After listing on 10th May 2018 at R30 the share has fallen to around 1500c on very thin volume. We see the share as reasonably priced on a multiple of 9,5 and a dividend yield (DY) of 3%. The level of consumer spending is a factor in the future growth of the company - as well as its ability to buy further outlets. This should improve once the corona pandemic is behind us. The share is fairly thinly traded which presents a risk to investors. JP Morgan regards the share as materially under-valued at current levels.
SASOL (SOL)
The collapse of the Sasol share price to levels around R32 is amazing and almost certainly over-done. The company has a net asset value (NAV) of R353 - so despite the fact that about 50% of its revenue comes from oil, it is now looking heavily over-sold. The fact that Moody's cut Sasol to junk status will be a factor but surely cannot justify the extent of its fall. Notably, Sasol hedged its oil sales at prices above $50 per barrel which protects it against the current drop in oil prices for some time. So, what is interesting is that just 18 months ago institutional investors were paying R578 for these shares - so while they might still feel risky, if you buy them at these levels you are doing a lot better than those institutions. Consider the chart: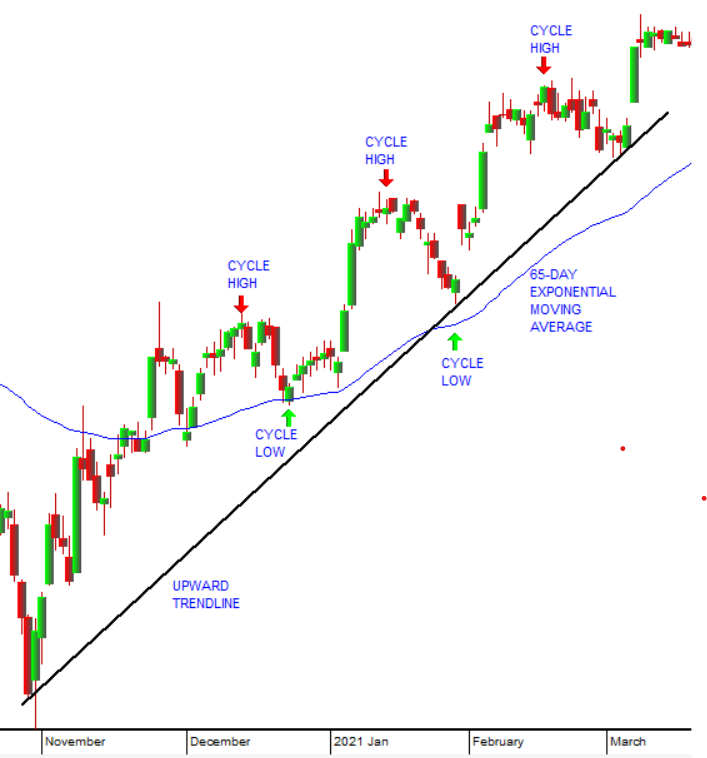 You can see here that we have superimposed a 65-day exponential moving average. The best strategy after such a sharp fall is probably to wait for a break up through this moving average before buying.
NASPERS (NPN) /PROSUS (PRX)
In our first article on the corona downtrend we suggested that Prosus and its parent Naspers might benefit from this corona pandemic because they own Tencent which is the leading games and social networking company in China. The logic was that the lockdown in China had increased their number of subscribers substantially and, as the Chinese economy recovered, they would gain more quickly than other shares. Tencent is owned 31% by Prosus - which in turn is 73% owned by Naspers and together they have a substantial impact on the JSE. Prosus is listed on the Euronext which means that it has substantial foreign investors - basically those who do not like Naspers because of its "N" share structure or because it is a South African company. In its latest results, which are recent enough to reflect some of the impact of the corona pandemic, Tencent shows that its advertising business is taking strain in the current environment, but that this is being partly compensated by a 25% growth in online gaming revenue. The Chinese appear to have beaten the coronavirus quite comprehensively and are desperately trying to revive their economy. There have been very few new cases in China in recent days and most of those have been coming in from Europe and are not Chinese infections. Consider the chart: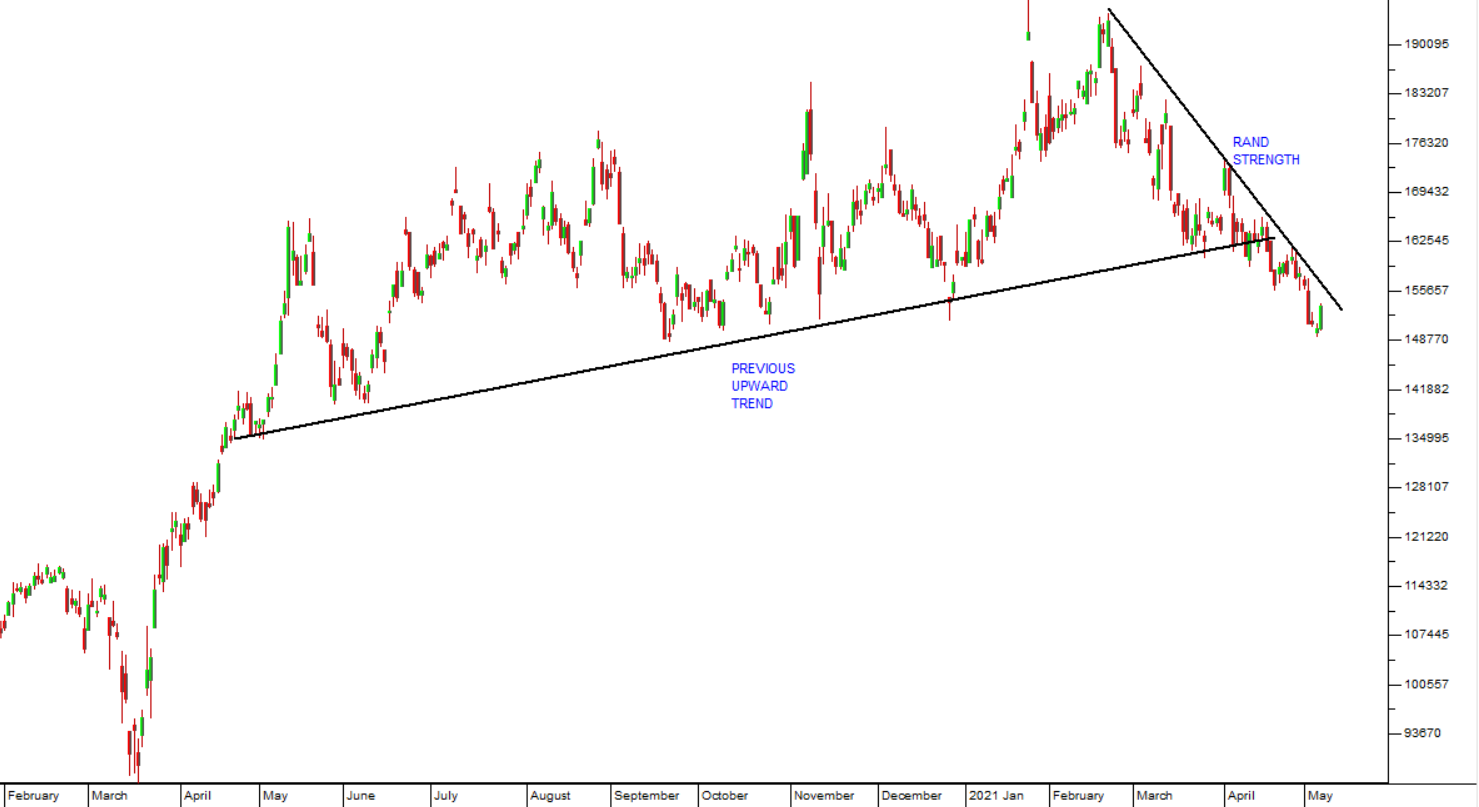 As you can see here, after an initial fall, Prosus has recovered to its highest level this year so far.
MTN
This share has been hammered down by more than 50% this year because its interests in Nigeria are thought to be threatened by the fall in the oil price added to the impact of the corona pandemic. However, these factors are both probably of a fairly short-term nature. The company has a huge pile of cash consisting of R8,3bn at year end, plus R8,9bn from the sale of ATC Uganda. This combines with its R23bn in facilities to give it over R40bn of "headroom" - more than sufficient to ride out the storm. Our assessment of the company indicates that it is probably worth at least R100bn and it is trading at least 25% below that level. For the investor with a little patience this counter could see a very substantial recovery once the pandemic is behind us.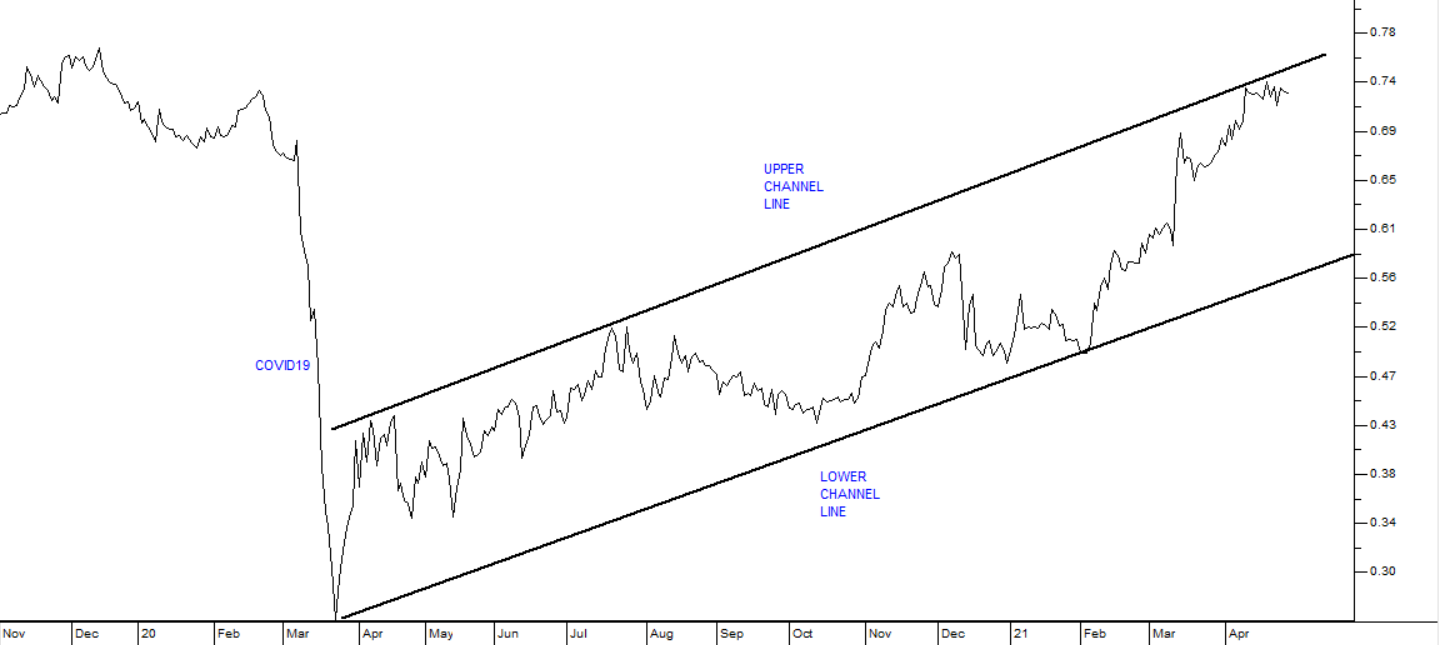 ALARIS
Alaris Holdings (ALH) is a designer, manufacturer and marketer of RF antennas and related equipment. Its products are used in communication, frequency spectrum monitoring, test and measurement, electronic warfare and other specialised markets. Its products are sold all over the world, mostly outside South Africa. The company listed on the Alt-X in July 2008. It has a subsidiary, Cojot, operating in Finland and another, M-Wave, operating in the USA.
In its results for the six months to 31st December 2019 the company reported revenue up by 60% and headline earnings per share (HEPS) up by 256%. The company said, "The strong results of the Group can be attributed to a noteworthy first half in revenue for both Alaris Antennas and COJOT, compared to the corresponding interim period. Alaris Antennas was able to execute on three major orders, while COJOT delivered on orders received in the second half of the previous financial year. Another contributor to the significant improvement is that mWAVE has been consolidated into the Group for the full six-month period, compared to only three months in the comparative period. During the comparative first half of FY19, the Group was impacted by a lower order intake".
This company does not appear to be much impacted by COVID19 beyond a slowdown in demand for its products. The share has a reasonable volume traded which would allow a small investment (up to R20 000), but Alaris operates in a very specialised market which would require the investor to obtain specialised knowledge before investing, in our opinion.

You can view a visual presentation of this report here.
To be added to our mailing list for the next webinar, click here.
For more up to date, expert opinions on JSE listed companies, subscribe to our online software by clicking here.
DISCLAIMER
All information and data contained within the PDSnet Articles is for informational purposes only. PDSnet makes no representations as to the accuracy, completeness, suitability, or validity, of any information, and shall not be liable for any errors, omissions, or any losses, injuries, or damages arising from its display or use. Information in the PDSnet Articles are based on the author's opinion and experience and should not be considered professional financial investment advice. The ideas and strategies should never be used without first assessing your own personal and financial situation, or without consulting a financial professional. Thoughts and opinions will also change from time to time as more information is accumulated. PDSnet reserves the right to delete any comment or opinion for any reason.
Share this article: