19 July 2021
By PDSNET
As a private investor, you need to develop a view on where exactly you think the market is in its cycle – is it expensive and close to the top, cheap and close to the bottom or somewhere in the middle? There can be very little doubt that investors generally move from being optimistic about the future to being pessimistic - and back again over long periods of time. So, where exactly are we in this cycle?
After the sub-prime crisis of 2008, markets bottomed out in March 2009. Business and consumer sentiment at that time was terrified and fear was definitely the dominant emotion. The world economy was then subjected to unprecedented economic stimulation and sentiment gradually stabilised. By February 2020 sentiment was finally beginning to move towards optimism and consumers were beginning to spend again - when the pandemic hit.
COVID-19 caused a short, eight-month hiatus during 2020, but by the end of the year, with the US elections over and additional stimulation, consumer confidence was once again rising strongly while the S&P was breaking new record highs. Now, in mid-2021, with the roll-out of vaccinations gaining momentum world-wide, spending levels, especially in America, are again reaching extraordinary levels and the stock market is becoming more and more optimistic.
So, the question must now be, "Are we close to the top of this cycle?" Analysts point out that this is the longest bull market since World War II and that the price:earnings ratio (P:E) of the S&P500 index is at a historically high 46. Share prices are moving further and further away from the profitability of the companies which they represent.
You need to take a view on whether the market is at or close to its highest level or whether it still has some distance to go. There can be little doubt that greed has now replaced fear as the dominant emotion in markets worldwide and we must certainly be closer to the top of this cycle than the bottom, but that does not necessarily mean that you cannot still make good money from shares.
The level and duration of monetary stimulation and fiscal stimulation of world economies has been unprecedented and inflation, although beginning to show signs of emerging, remains mild. A new monetary policy tightening cycle still appears remote, even with the US Federal Reserve Bank's monetary policy committee (MPC) now talking about 2023 rather than 2024.
Markets are still able to shrug off bouts of negativity by considering the amazing and on-going growth in S&P500 companies' profits. A swarm of new technical innovations promise massive disruptive leaps in productivity which must surely be reflected in future share prices. The oil price, while rising, is still only about half of its mid-2008 peak. Our view is that this market still has some distance to run, despite the negativity of well-known analysts like Michael Burry, Cathie Wood and even Warren Buffett.
But, the fact of the matter is that we are in uncharted waters and nobody really knows where this market is going. There has never been a situation like this in the world economy before. Indeed, the concept of the "world economy" in its current form is itself a relatively new development which has not really existed as it does today during previous cycles. Nobody can really say what the impact of new technologies like those being brought to market by Elon Musk and others is going to be. And, in the background, looms the significant, apparently imminent and undeniable impact of climate change which investors are definitely not yet factoring into their calculations.
Here in South Africa, we are at the whip-end of the world economy. Booming commodity prices are yanking us out of the recession while compensating for both COVID-19 and the recent civil disturbances. If we can just maintain stability for a year or two without shooting ourselves in the foot, the prospect of a strong economic recovery seems inevitable. Consider the chart: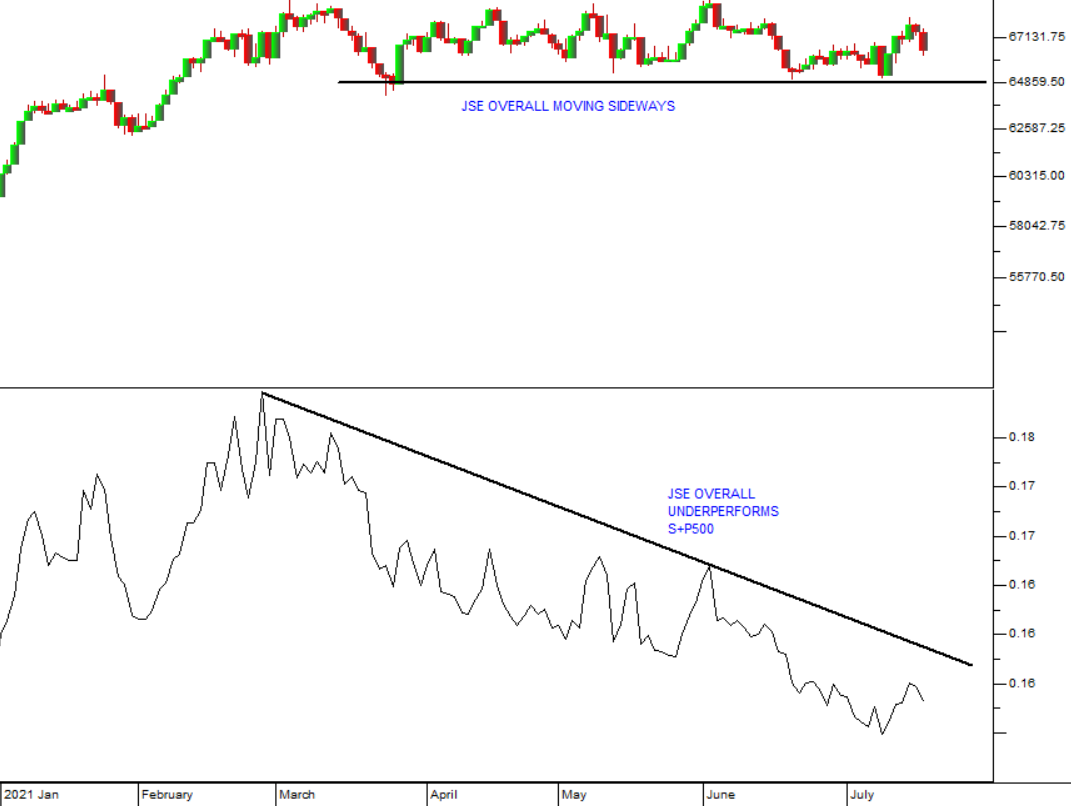 Unlike the overseas markets, our JSE Overall index is still on a P:E of just 19 and there is certainly considerable value in our blue chips. The same can be said of our government bonds which offer some of the best real returns available in the world. What is notable is that since February this year the Overall Index has been moving sideways (the upper chart) while Wall Street has been breaking new record highs. In our view, this relative under-performance (shown in the lower chart) offers the opportunity for catch-up as international sentiment shifts back towards "risk-on".
We believe that international shares like Prosus on a P:E of 25 and Naspers on a P:E of 20 look very cheap. The JSE Banks Index is on a P:E of 17,3 and the JSE Property Index (JSE-SAPY) has broken clearly up into a new bull trend. So, provided the world economy continues to become more optimistic and we don't do anything foolish, there is definitely an opportunity to profit from high-quality JSE investments over the next two years.
DISCLAIMER
All information and data contained within the PDSnet Articles is for informational purposes only. PDSnet makes no representations as to the accuracy, completeness, suitability, or validity, of any information, and shall not be liable for any errors, omissions, or any losses, injuries, or damages arising from its display or use. Information in the PDSnet Articles are based on the author's opinion and experience and should not be considered professional financial investment advice. The ideas and strategies should never be used without first assessing your own personal and financial situation, or without consulting a financial professional. Thoughts and opinions will also change from time to time as more information is accumulated. PDSnet reserves the right to delete any comment or opinion for any reason.
Share this article: