23 November 2020
By PDSNET
Property shares on the JSE have had a torrid time over the last few years. It began with the melt-down which resulted from the Resilient crisis, now substantially behind us, and continued with the eventual failure of the Edcon Group and the effects of the COVID-19 lockdown. These events have combined with a generally negative economy to reduce the value of property shares significantly.
Hyprop traded as high as R141 per share on 15th August 2016, but fell to a low of less than R15 in April 2020. It has now recovered somewhat to levels around R28 – but that is a massive discount to its net asset value (NAV) per share of R76. In our view, this represents an opportunity for private investors to acquire really good quality assets at a fraction of their true value.
Hyprop is a real estate investment trust (REIT) which owns a number of well-known high-end shopping malls in South Africa such as Canal Walk, The Rosebank Mall, Clearwater Mall, Woodlands and Hyde Park Corner. Altogether its portfolio is worth R48,5bn after impairing the value of its assets by R4bn during the year to 30th June 2020.
Debt was reduced by R1,2bn during the year, but with the impairments, the loan-to-value ratio worsened to around 50%. This is somewhat higher than investors would usually want, but the company has met all banking covenants as at 30th June 2020 and is financially stable. Further impairments seem unlikely – in fact, the value of Hyprop's properties will almost certainly appreciate as the South African economy recovers and shoppers return to the malls.
One of the major problems which it had was its exposure to the Edcon Group, now in liquidation. That exposure was through Edgars, Jet and CNA which had stores in a number of its malls. That exposure has been reduced and new terms agreed with the new owners of Edgars, CNA and Jet.
The company has also reduced its exposure to sub-Saharan Africa by selling its Ikeja City Mall, Achimota Retail Centre and Manda Hill Shopping Centre.
Technically the share made a high of R141 in August 2016 and then entered a long downtrend. Our advice to investors was always to wait for a convincing break up through the 200-day simple moving average (200-day MA). That upside break has now occurred, and we believe that the share has entered a new upward trend. Consider the chart: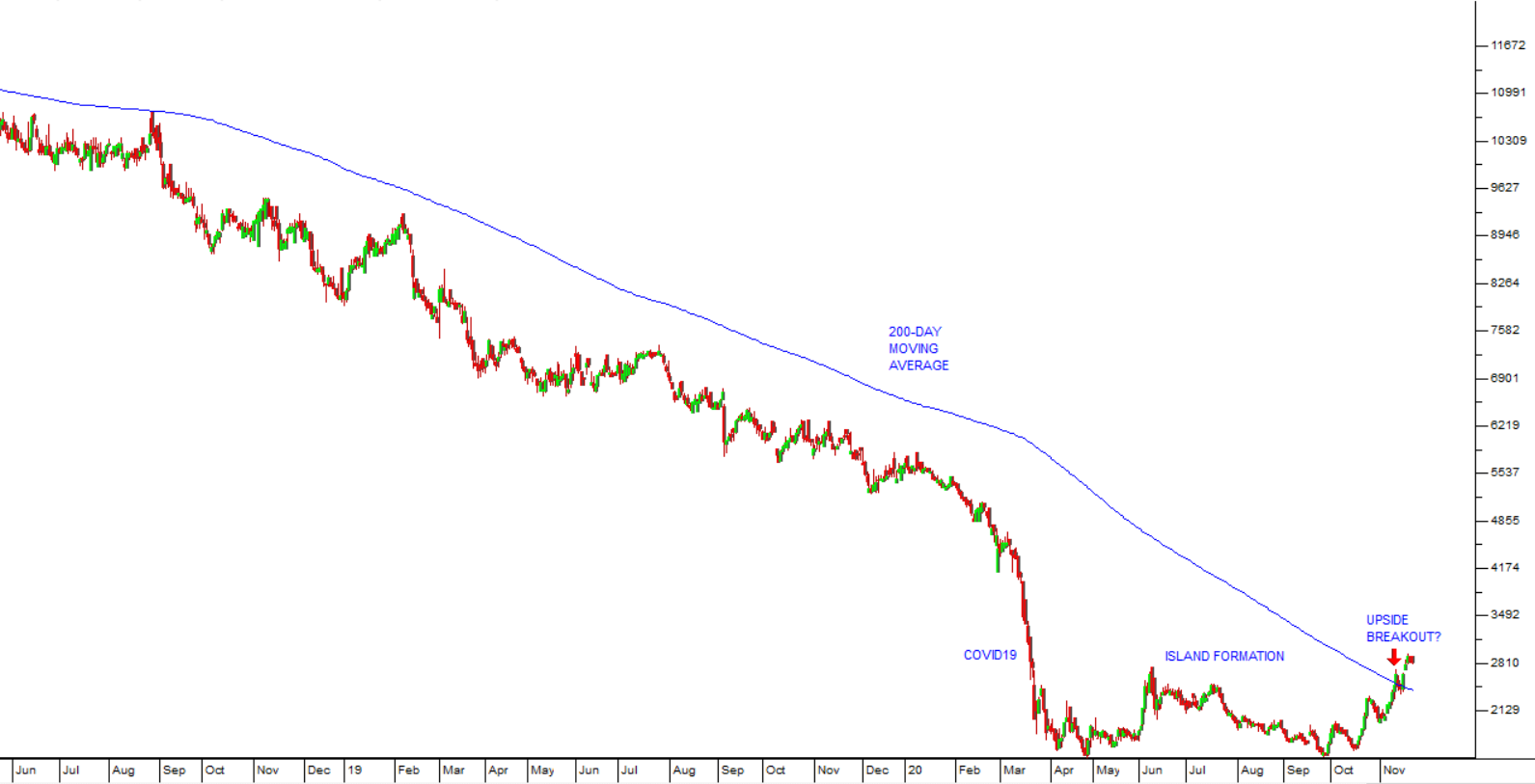 You can see here the steady downward trend in the share's price since 2018 which culminated in a collapse due to the COVID-19 pandemic. That was followed by a protracted sideways market, or "island formation". That island formation has now been broken to the upside with the share climbing above its 200-day MA.
As a private investor you should take note of the way that the 200-day MA kept you out of the share during its long sideways market between March and October this year. Now that the buy signal has been given and confirmed we expect the share to continue on a steady recovery towards at least its NAV and probably well beyond. So, this is a rare opportunity to acquire these excellent assets at a bargain price.
DISCLAIMER
All information and data contained within the PDSnet Articles is for informational purposes only. PDSnet makes no representations as to the accuracy, completeness, suitability, or validity, of any information, and shall not be liable for any errors, omissions, or any losses, injuries, or damages arising from its display or use. Information in the PDSnet Articles are based on the author's opinion and experience and should not be considered professional financial investment advice. The ideas and strategies should never be used without first assessing your own personal and financial situation, or without consulting a financial professional. Thoughts and opinions will also change from time to time as more information is accumulated. PDSnet reserves the right to delete any comment or opinion for any reason.
Share this article: