25 May 2020
By PDSNET
Afrimat (AFT) is a share that we have liked for a long time. In May last year we wrote an article in which we did a point-and-figure horizontal count on its upside breakout from a lengthy period of sideways movement. Unfortunately, the coronavirus made a nonsense of our predictions, but the underlying fundamentals of this company have only improved since then and it now represents one of the best buying opportunities on the JSE, in our opinion.
In its most recent financials for the year to 29th February 2020 the company reported that it had reduced its debt/equity ratio to just 8,2% - which means that the company is virtually ungeared. It is also strongly cash-generative. Much of this good fortune is due to the rising iron ore price - which, in turn, is due to supply difficulties in Brazil where the coronavirus is interfering with production plus early signs that demand for iron in China is picking up.
The results also showed that the company had improved its headline earnings per share by a whopping 48,5% and that its profits were up almost 53%. Along with most of the mining industry, this company has been allowed to operate for most of the lockdown. The CEO, Andries van Heerden, says that the lockdown has cost them about R70m which will obviously impact the first half results to August 2020.
As the South African economy begins its recovery from the pandemic, the government is likely to boost infrastructure spending, especially on roads which will benefit Afrimat's industrial materials division. It will also probably get additional demand from other countries in Africa for the same reason.
The company is also looking to continue diversifying into other base minerals like manganese, chrome and coal. This will obviously diversify the company further and reduce its reliance on iron ore.
The pandemic took the Afrimat share back down to within the sideways market that it has been in for the past four years, but we believe that the latent potential of this company has only increased and that the upside move will be all the stronger. Consider the chart: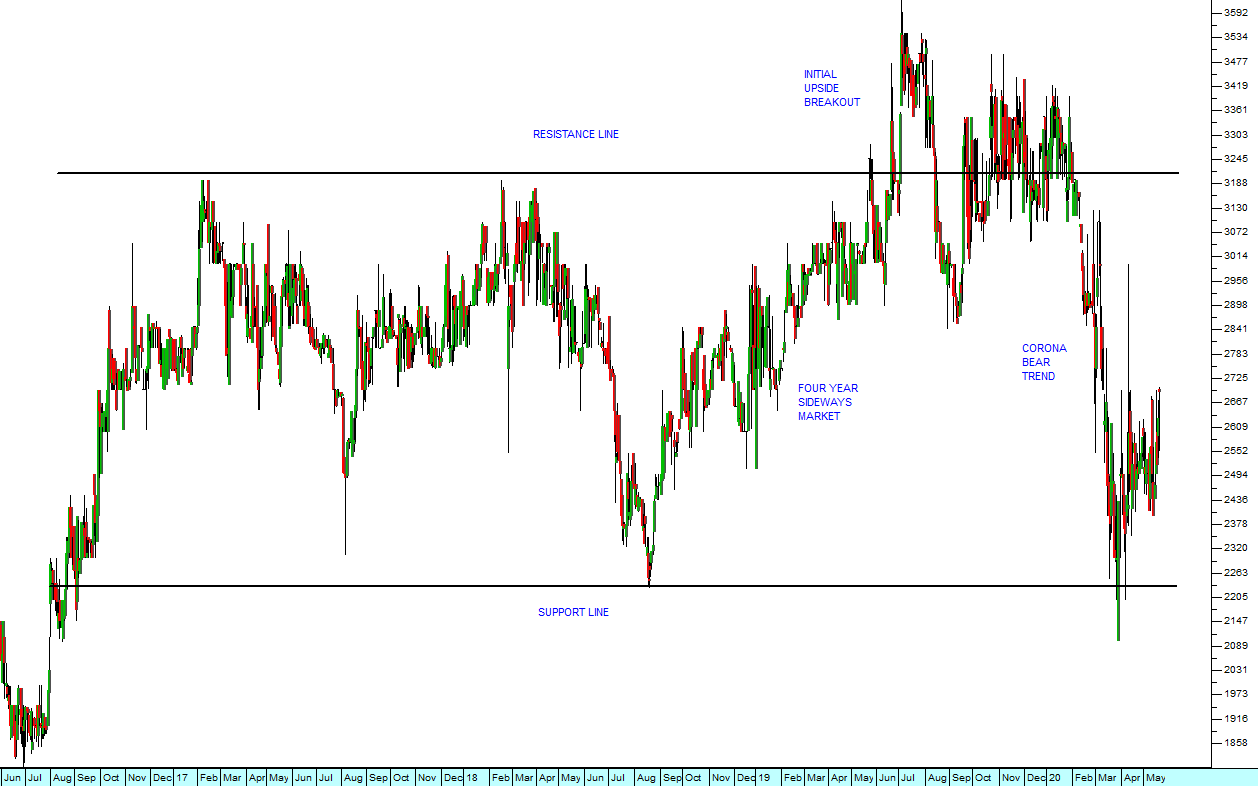 You can see here the lengthy sideways pattern which developed as Afrimat shifted away from construction towards mining of base metals and minerals. This pattern was broken in mid-2019, but that upside break was brought to an abrupt halt by the spread of the virus in 2020. The share has since come down to test the lower support line and is now in a recovery phase. We believe that following its excellent results it will move up to break back above the upper resistance line before the end of this year.
DISCLAIMER
All information and data contained within the PDSnet Articles is for informational purposes only. PDSnet makes no representations as to the accuracy, completeness, suitability, or validity, of any information, and shall not be liable for any errors, omissions, or any losses, injuries, or damages arising from its display or use. Information in the PDSnet Articles are based on the author's opinion and experience and should not be considered professional financial investment advice. The ideas and strategies should never be used without first assessing your own personal and financial situation, or without consulting a financial professional. Thoughts and opinions will also change from time to time as more information is accumulated. PDSnet reserves the right to delete any comment or opinion for any reason.
Share this article: